On 1/18/07, Johnny Dutch broke the twelve-year-old national high school record in the 55m hurdles when he ran a 7.07 in the finals of the Eastern High School Challenge at UNC-Chapel Hill. It was a very big deal, leading to many interviews, articles, accolades, and headlines. A week later I'm still trying to get a grasp on the scope of Dutch's accomplishment. When it happened, I was standing near the finish line, filming the race, praying no one would bump my elbow. When the official time flashed across the scoreboard, I yelled out a whoop just like everybody else. But oddly, I wasn't all that excited. Based on how he'd been looking in practice sessions leading up to the meet, I was predicting that he'd run under 7.00. So I actually felt a little disappointed. Plus when looking at the film, I saw some mistakes we could work on. Two minutes after the race my mind was already plotting ideas of workouts we could do to improve.
7.07 is a big deal because it's a record. If it weren't a record it wouldn't be a big deal. That's why I try not to get caught up in fast times. Plenty of athletes run fast times. My coaching partner, Aaron McDougal, who started working with Johnny when he was still in diapers, always harps on the idea that, in hurdling, the rhythm matters more than the time. If you focus on running fast you won't run fast; if you focus on quickening the tempo, the time will take care of itself. The hurdles, he says, are a rhythm event. The hurdles are a dance. Over and over again he exhorts his athletes to "dial in" to the rhythm. No one I've ever coached, no one I've ever witnessed, dials into the rhythm as well as Johnny Dutch.
Track is an individual sport, but success is always the result of the amalgamation of many people's efforts. When Johnny broke the record last week, the difference between that race and the 7.13 he ran as a personal best in 2006 was his start. The reason the start was better is because that's the part of the race we specifically worked on every time we met in the weeks leading up to the meet. The reason we worked on the start so much is because both Coach Curtis Frye of South Carolina and Mike Holloway of Florida, in their recruiting visits, stated that Johnny's start was the weakest part of his race. Meanwhile, Kevin Watson, a post-collegiate athlete I'm coaching now, is real big on filming practice sessions and races. I film all of his hurdle workouts, and the habit carried over to where I started filming Johnny's training sessions as well. By filming the practice sessions, Kevin and I were able to pick out the details of Johnny's start, which enabled me to give him specific suggestions when it came time for the next workout. Finally, when my club team practiced on the weekends, one of my athletes, James Robinson, did starts with Johnny to help Johnny get into competitive mode. Johnny ran over the hurdles while James sprinted without any obstacles in his lane. James did this even though he had already done his own workout and was very tired. He didn't mind pitching in to help Johnny. Without the input of Coach Frye, Coach Holloway, and Kevin, and without the aid of James, Johnny wouldn't have run 7.07. His start wouldn't have been good enough.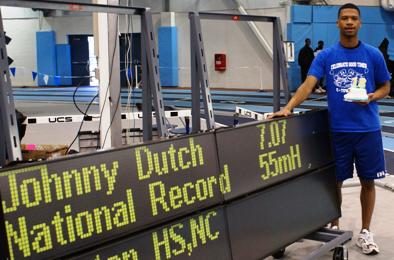 Dutch enjoys his birthday cake after breaking the 55mh high school record.
Aaron McDougal is a special man. It seems that his goal in life is to help as many kids as possible while receiving as little credit as possible. I don't know of anyone else I can say that about. When he and I started our track club two years ago, we decided that I'd work primarily with the older males, and that he'd work primarily with the females and younger kids. Which meant that I would be coaching Johnny, who was a sophomore at the time (in the intermediate age group for the USATF Junior Olympic schedule). At the time, Johnny had already tied the national freshman record in the 110's, and had won many age group national championships. There is no doubt in my mind that if Aaron had continued to coach him, Johnny would have continued to develop the same as he has under my tutelage. But Aaron saw my enthusiasm for coaching, so he entrusted me with Johnny's development. He didn't have to do that. Twenty years my elder, he was pushing me forward the way an older brother would push a younger brother forward. He was giving me an opportunity to do what he knew I could do, even if I couldn't yet see that I was ready.
Around that time two years ago, I had a dream in which I was standing in the middle of a country road somewhere. A big German Shepherd approached me, carrying a kitten in its mouth. At first I was like, "Oh sh-t, that dog's gonna gobble up that kitten in one gulp." But then I noticed that the dog was carrying the kitten tenderly, at the scruff of the neck, like a mother would. As it came closer, I realized that the dog wanted me to take the kitten. He was offering it to me. I understood that the dog felt the cat needed to be protected, that it needed to be transported safely to the next stage of its journey. The dog was entrusting me with this task. I accepted the offer, forming a cup with my hands and letting the dog drop the kitten into my waiting palms. That's where the dream ended.
At the time, I had no idea what the dream was trying to tell me, but I remember feeling it was significant. Now I see that the dog represented Aaron, and the kitten symbolized Johnny. The German Shepherd fits Aaron's personality – aggressive, assertive, but loyal, dignified, and filled with integrity. And the kitten fit Johnny's personality – a quiet, intelligent soul who trusts people instinctively. I remember feeling very strongly that I could not let Aaron down. I also remember feeling very confident that I wouldn't.
Johnny Dutch is a gifted athlete. He is an extraordinarily talented hurdler. He's been running over obstacles since he was ten. And with McDougal guiding him, he never developed any bad habits. At his current stage of development he has remarkable hurdling instincts. His ability to make minor adjustments through the course of a race or the course of a rep is awe-inspiring.
Today I had a very good practice with the other guys on my club team while Johnny was away racing at Virginia Tech. Johnny has set the standards that they are trying to reach. Because they see him breaking records, they believe they can do it too. And his humility lets them see how to handle success. Yes, the 7.07 is a big deal. But the real big deal is that he started something that will continue to flourish after he moves on. Good job, Dutch.
© 2007 Steve McGill