One of the most rewarding experiences I've had as a coach has been the opportunity to work with Johnny Dutch the past two years. Not only because he is one of the best high school hurdlers in the nation, but also because he's one of the best people I've had the good fortune to know in my lifetime. In May of 2006, I designed a workout specifically for Johnny in preparation for the Nike Outdoor Championships that would be held at Irwin Belk Stadium on the campus of NC A&T University Greensboro, NC on the third weekend of June. The schedule was set so that the gun for the 110 final would go off 90 minutes after the 400 hurdles. In 2005, Johnny ran both races, but fell and crashed in the 110s. It seemed obvious that his fall was due to the quick turn-around and lack of recovery time between races. He wasn't strong enough to run all-out over the 110s ninety minutes after running the 400 hurdles – arguably the most demanding race in the sport.
About a month prior to the 2006 meet, I emailed the meet directors at the meet website requesting that the finals of the 110s and 400s be flip-flopped. I knew that ninety minutes would be enough time between races for Johnny to come back and run all-out over the 400s. But not vice versa. Two weeks passed, and I didn't hear back from the meet directors. Then one night, in the middle of the night, the words came to me from out of a dream: if they're not gonna change it, then train for it.
So that's what we did. Two weeks prior to the meet, I had Johnny do the following workout:
— 1×300 all-out over first 8 intermediate hurdles
— 5-minute recovery
— 1 rep all-out over first 7 high hurdles from three-point stance, with the hurdles moved in one foot.
— 15-minute rest
— Repeat the double, this time with a 3-minute rest after the 300.
Johnny's first 300 was in 37, only a half-second slower than his 300h personal best in an actual race. He finished the second one in 38. On both reps, he 13-stepped six hurdles before dropping down to fifteen. The 37 shocked me. That's when I knew he could not only go under 52.00 in the 400 hurdles, but maybe even under 51.00.
He hit a few hurdles in the 110 portions of the workout, but was blazing. The workout definitely was serving its purpose. Johnny knew that if he could come back five minutes after a 37-second 300h and blaze through the 110s, doing all of it by himself, then he would have no problem meeting the demands of the Nike Meet schedule.
His 300h reps intrigued me for another reason. Dropping down to 15 steps between the hurdles, instead of dropping down to 14 and switching lead legs, seemed to work. And I think it worked largely because of his experience as a 110 hurdler. In an earlier workout, I had had him do 8×150 over the last four IH's, working on stride pattern. On the sixth rep, he ran a 21, thirteen-stepping the whole way. On the seventh rep, he ran another 21, fifteen-stepping the last hurdle. I couldn't believe it. How could he run the exact same time taking two extra steps? For the last rep, I instructed him to consciously drop to fifteen on the last hurdle, no matter how he felt. This time, he ran another 21. At that moment, a clear race strategy began to develop in my head.
The finals of both hurdle races would be on Saturday June 17th. On that Tuesday, the 13th, we did the Nike workout again, slightly modified. We didn't repeat the IH/HH double this time, but just did one set. Also, the high hurdle rep was out of the blocks instead of using a three-point stance. He ran the 300h in 38, and looked even better over the 110s than he had two weeks earlier. He didn't touch a hurdle, and although I didn't record his touchdown times, I'm sure they were in the neighborhood of 1.0. He was ready for Nike.
Going into the meet, Johnny and I discussed strategy for the 400 hurdle race. I told him that that since he had been able to 13-step for six hurdles consistently in practice, we should go for seven hurdles in the race, because the added adrenaline would carry him through one more hurdle. After that, 13-stepping would be a stretch, and could potentially cost him the race. What we decided is that he would drop to fifteen for the last three hurdles. This is where his 110 experience helped me to coach him. "Coming into the final straightaway," I told him, "think like a high hurdler. Shorter, quicker steps, shorter take-off distance, quick snapdown off the hurdle." He nodded in understanding and agreement.
In the next couple days we continued to discuss strategy and mental preparation. In my mind, there was no doubt that he could win both races. Mainly, he needed to get over his fear of failure, based on his fall the previous year. Also, Cordera Jenkins out of Texas had defeated Johnny at the Nike Indoor Championships in March, although Johnny had been a slight favorite. Johnny is a very laid-back kind of guy who doesn't show a lot of emotion, so it's hard to tell when he's nervous. But I knew that he had to be nervous heading into this meet. With this being his first outdoor meet against national competition, and his first race against Jenkins since the Nike indoor, how could he not be nervous?
So I reminded him of all the work he had done to get to this meet. I reminded him of how he had trained on Christmas Eve and New Years Eve, of how he had cleared 300 hurdles in a single workout on two occasions, of how he had done the Nike Workout twice. "You've earned your lane on the track," I said, "so now all you gotta do is go out there and handle business in your lane. This ain't about Cordera Jenkins or anything that's happened in the past. This is about Johnny Dutch doing what Johnny Dutch came to do."
On Friday, June 16th, it was time for the high hurdle prelims. Johnny won his heat in 13.82, which was the fastest qualifying time. But hurdlers generally don't run prelims to impress anyone; they run to make it to the next round. Like Johnny, the other heat winners probably ran just fast enough to win their heat. Certainly, there would be plenty of competition in the finals. Jenkins looked kind of sloppy in his heat, but he was still the one I was most worried about because he's such a fierce competitor. Plus, I wasn't sure yet that Johnny was convinced he could beat Jenkins. The biggest psychological hurdle Johnny would have to face the next day would not be the double, but lining up beside Cordera Jenkins and finding a way to beat him. I knew Johnny was a better hurdler technically, but he would have to match Jenkins' will.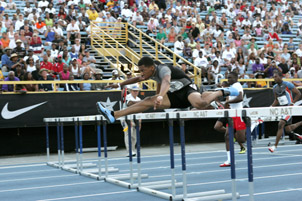 Dutch en route to victory in his preliminary heat.
The weather was beautiful for the finals. One thing I've always liked about the Nike meet is that it takes place in the evening, as the sun is descending, making for ideal running conditions. The intermediate hurdles were being run as a timed final. There were five heats, and Johnny was to run in the last heat – the fastest one. David Klech of California, who had the fastest time in the nation, wasn't at the meet, so it was looking like Johnny's stiffest competition would come from an old rival – Trey Charles of Georgia. Johnny and Trey had been battling over the hurdles in youth track ever since they were little boys. There were a couple other guys whose personal bests were under 52.00, but, based on how well the Nike Workout had gone both times, I felt very confident Johnny would win.
He set down his blocks in lane five. A good lane, but not ideal. For the intermediates, the best lane if you're a favorite is lane three. The curves aren't too narrow, and your stiffest competition is in front of you, in lanes four, five, and six, where you can keep an eye on them and make sure you don't lose contact. Still, five was good enough. We had come too far and worked too hard to worry about lane assignments.
At the sound of the gun, Johnny exploded out of the blocks and reached the first hurdle before anyone else. He continued to swallow ground and made up the stagger on everyone in the lanes outside of him by the third hurdle. I couldn't believe what I was seeing. I knew he was in peak condition, but still found myself wondering if he was going out too fast. Down the backstretch and into the second curve, he kept on rolling, 13-stepping all the way, increasing his lead on the field.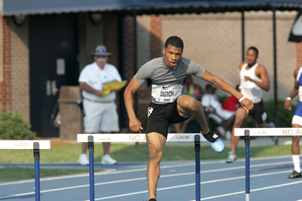 Dutch opens up a lead in the 400m hurdles.
But I wasn't excited yet. I knew he'd be good for seven hurdles. The last three were what I was worried about. I knew that choosing to drop down to fifteen strides between hurdles was a gamble. Johnny does have the ability to switch lead legs, but doesn't trust his left-leg lead nearly as much. Still, it's functional. It was my decision to go with fifteen, based on the last couple reps of that 8×150 workout. In a race against this caliber of competition, it could certainly backfire. If it did, it would be my fault, not Johnny's, because he had done everything I had asked him to do.
Sitting in the bleachers on the finish-line side of the stadium, I must have looked downright disinterested as the drama of the race unfolded before me. Beside me, Johnny's family, including his mother Deborah and sister Ashley, was screaming for him to keep pushing on. Aaron McDougal, my coaching partner, was filming the race on his video camera. All around us people were making noise, standing up, cheering. . . .
I just sat there, my hands on my knees, my back straight, taking in deep inhales, letting out slow exhales. Trying to stay in Buddha mode. Trying to stay cool.
Heading into the eighth hurdle, Trey Charles began to make his move. He was gaining ground. I felt my shoulders tense. Johnny couldn't afford to make a mistake. If he stuttered at any of the remaining three hurdles, Trey would capitalize and overtake him. Johnny had to maintain his rhythm. He nailed the eighth hurdle in fifteen strides, losing no time in the air. Same thing over the ninth hurdle. Trey was still close, no more than a half second behind. Trey wasn't closing the gap, but the tenth hurdle still loomed ahead. Johnny had to nail it.
He did. When he snapped down off the last hurdle, that's when I stood up, raised my fist and let out a "WHOOOOO! That's what I'm talkin' 'bout!" As Johnny crossed the finish line in first place, he too raised a tired fist and smiled a smile of exhaustion.
Celebrating with Coach McDougal and Johnny's family, I was overwhelmed with joy. Not just because he had won the race, not just because he was the Nike Outdoor National Champion in the 400m hurdles, but because he had run the race just the way we had strategized it. He had executed the game plan to perfection. His winning time of 50.97 was more than a full second faster than his previous personal best of 52.06. I was so happy I was shaking.
The medal ceremony took place shortly afterward, and all of us in the Dutch section of the bleachers cheered and took pictures as Johnny received his gold medal and waved to the crowd. Then I remembered that I needed to remind Johnny to get a massage before the 110 final. We were there to win two medals, not one. There was a massage table for competing athletes near the check-in tent on the visitor side of the stadium, so I trotted down the steps and walked around to meet Johnny.
He took forever getting to the check-in tent. Where the heck was he? He had received his medal, so shouldn't he be coming back here to get his hip number for the 110s? I saw one of my club team athletes, David Coe, who was working as a volunteer. David informed me that an official had called Johnny back to the awards tent. I was annoyed. We didn't have time for newspaper interviews and all that crap. We had to get ready for the 110s.
Finally I saw Johnny walking toward me. "Good race, man," I said, "now go get a quick massage. Ain't got much time."
I don't remember the expression on his face, but I remember him saying, "They tryin' to dq a brother, but it's all good. I'll handle these 110s." I still didn't get it. I thought he meant that someone else had been dq'd. He walked away to get his massage, then David, who was still nearby, approached me and said to hurry back to the bleachers because Coach McDougal needed me. Needed me for what?
"They dq'd Dominique," he said. Dominique is Johnny's middle name. That's what most of us close to him call him.
I must've stood there like a marble statue, because David repeated it: "They dq'd him. You gotta file a protest."
"Dq'd him? Dq'd him for what?"
"Hooking."
Oh shit. Hooking. My heart dropped down to my knees. Hooking.
Hooking is a violation in which the trail leg goes around the hurdle instead of over it. For obvious reasons, right-leg leads in the intermediates are very susceptible to this violation because of the tendency to run on the inside part of the lane. Even in the 110s, Johnny has always tended to clear hurdles hugging the left side of the lane. But his trail leg action is very tight and efficient. In the past, I've stood behind him in practice sessions to make sure the trail leg is actually clearing the hurdle, and it does. So, I chose not to mess with that issue leading up to the Nike meet. Why burden his mind with one more thing to think about? Now I found myself wishing I had.
We filed a protest. The guy in the protest booth told me that several officials had seen him do it. He said that if I could provide video footage that proved otherwise, he'd overturn the dq. Aaron and I searched for people on the backstretch who might have taped the race, but could find no one. Aaron's race footage was useless because, from his angle, it was impossible to tell if Johnny was hooking.
We lost the protest, and we lost the $50 it cost to file the protest. Double ouch. I was distraught. I was a mess. The hell with the damn Nike meet, I thought to myself. The hell with this damn meet. Let's go home. Last year he falls and this year he gets dq'd. The hell with this meet.
After countless useless visits to the protest booth and several laps around the stadium looking for race footage, I finally sat back down in the bleachers and awaited the 110s. At the time, Johnny knew that we had filed a protest, but didn't yet know how it had turned out. That's how I wanted it to stay. If he found out before the 110s that he had officially been dq'd from the 400s, that would really mess up his focus. And if he was gonna beat Cordera and crew, he needed to be focused.
About fifteen minutes before the start of the 110s, an announcement was made over the loudspeaker that Johnny Dutch had been dq'd from the 400m hurdles and that a new medal ceremony would shortly take place. The athletes who were now first, second, and third were called to return to the medal stand. Johnny had to give his medal back.
It was time for the 110s. Johnny was in lane four, Cordera in five. I remember saying to Aaron, "Man, if this were me, I'd be done. If they had given me my medal and then made me give it back fifteen minutes before my next race, I'd be done. There's no way I'd be able to amp myself back up. I just hope Dominique can. If he can, he's a better man than me."
I don't really remember much about the race because I tried not to watch it. I hadn't moved on from the 400s yet. I was still thinking there must be someone around here with a video … someway he can get his medal back….
What I do remember about the race is that Johnny was absolutely flying down that track, running with an intensity and fierceness that I had never before seen from him. But Cordera was right there with him, stride for stride. I remember thinking, Come on, Johnny, don't lose to this kid again. Not when you're running this fast. Please win this damn race.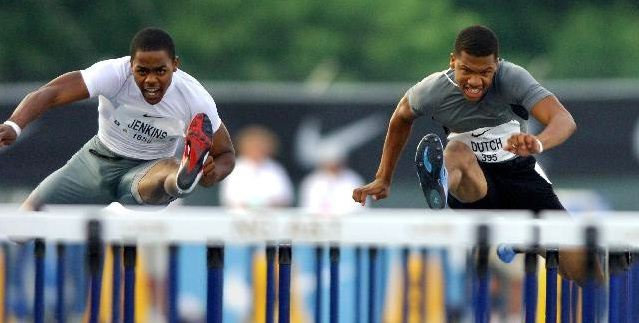 Jenkins and Dutch battle it out.
Finally, at the eighth hurdle, Cordera made a mistake. Not a big one, but Johnny didn't need a big one. Cordera clipped the hurdle with his trail leg, lost his balance a little, and Johnny gained a visible edge that he carried over the last two hurdles and through the finish line. The winning time was 13.54. Cordera finished in 13.62. I felt no joy. Only relief. At least we got one, I thought to myself. All around me, the Dutch crew was shouting, "Now take this one from 'im! Go 'head and try to take this one!"
I leaned back and ran my hands over my face, trying to get a grip on my emotions. The valor Johnny had shown … to run that race … to win that race … to step into the starting blocks, alone, and give it his best, after giving back his medal. It touched me very deeply.
During the medal ceremony for the 110s, there were more shouts of "Take this one!" I must admit I was feeling the same way.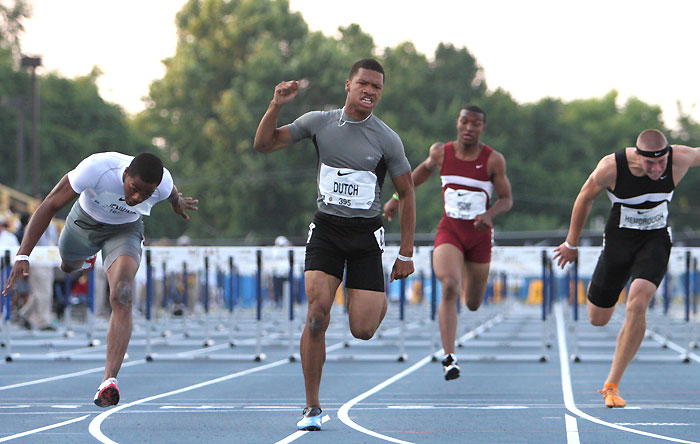 Dutch celebrates his close victory in the 110 final.
When Johnny returned and joined us in the bleachers, we all hugged and congratulated him. Besides the gold medal, first-place finishers were also given a pair of running shoes and a small bouquet of three flowers. After the meet, we were all standing around reliving the night's events when Johnny pulled out the three flowers. He gave one to his mom, one to Coach McDougal, and one to me.
I'm so ignorant when it comes to flowers that I don't even know what kind it was. But I'm telling you, I have never in my life felt as gooey, soft, and mushy inside as I did when he put that flower in my hand. Man I'm telling you….
Mainly I felt happy for Johnny. He was going home with a gold medal. Defeating Cordera would've been a monumental task under the best conditions. That he did it with little recovery time between races validated all of his training. That he did it after enduring so much emotional tumult proved that he had the inner strength to go along with his athletic ability and technical efficiency. After all the disappointments of previous races, he had finally gained a measure of redemption. Johnny Dutch was a national champion.
© 2006 Steve McGill