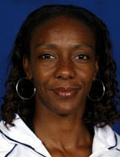 Developing the ability to negotiate ten barriers in a hurdle race is a daunting task unto itself, so just think how difficult it would be to master six additional technical events as well, and to compete in all seven events in the space of two days. Such is the challenge that heptathlete Shelia Burrell has faced for the past ten years. (The heptathlon events include the 100m hurdles, long jump, high jump, 200m dash, javelin throw, and the 800m run). Burrell, who finished fourth at the 2004 Olympic Games in Athens, currently resides in Chula Vista, CA and trains at the nearby Olympic Training Center in San Diego. Between training regularly, coaching a group of young athletes, and running her own fitness center, the 34-year-old Burrell stays a busy woman, to say the least, but she still was kind enough to recently give up some of her time in order to answer some questions about her athletic career and what life has been like as America's leading heptathlete since the retirement of Track & Field legend Jackie Joyner-Kersee.
The 5'8", 145 lb. Burrell was born and raised in Albuquerque, New Mexico, where she graduated from Rio Grande High School in 1990. A three-sport star as a prep, Burrell lettered and excelled in volleyball and basketball, in addition to track, earning all-state honors in all three. Burrell says that her volleyball career began in her freshman year at Rio Grande, when her physical education teacher, who also happened to be the volleyball coach, noticed her athleticism. "So instead of playing with the other kids," Burrell explained, "I would go into the corner with her and learn how to pass." As for basketball, Burrell grew up playing with the boys in her neighborhood all the time. She started in youth track as a twelve-year-old, competing for the Albuquerque Olympic Club. No matter the sport, Burrell enjoyed testing her skills against the boys. "My goal was always to beat the boys in races," she said. "In basketball I could jump as high as some of the guys." Although Burrell could not recall thinking of herself as an exceptionally gifted athlete as a teenager, she does admit to being "somewhat" of a prodigy among her peer group.
Recruited in all three sports coming out of high school, Burrell chose to focus on track as a collegian "because it was the only thing I saw on TV that [a woman] could do," she noted. "I graduated [from high school] in 1990; I didn't see any beach volleyball players, there wasn't any WNBA, so it looked like the only sport you could do after college was track." Burrell also pointed out that, even before she had started running track at the age of twelve, she knew in her heart that she would want to compete in the Olympics one day. "When I saw the '84 Games on TV," she said, "I knew right then I wanted to go to the Olympics. I remember Carl [Lewis], Evelyn [Ashford], Valerie [Briscoe-Hooks]. By the time I got to high school, I wanted to run track because it was something I would be able to do after college."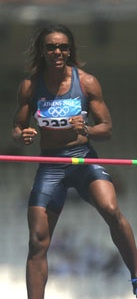 Burrell acknowledges that advancements in women's sports that have been made since the early '90's may have affected her decision to put all her energies into Track & Field. If those advancements had been in place at the time, she might have gone in another direction. "Women's athletics has changed so much since [I left high school]. What women are able to do in sports has been completely revolutionized. Now it's like, even if you have a little bit of talent, there are so many things you can do, and it can get you an education. You may not be able to go to a Division I school, but you can go to a school. There are so many more [female] athletes in the public eye than when I was a kid."
Coming out of Rio Grande, Burrell was recruited by several major universities, including LSU, Stanford, Illinois, Wyoming, and UCLA, which is where she ended up matriculating. It would be an understatement to say that Burrell did not enjoy the recruiting process. "It was horrible," she said. "No one had ever been recruited out of my high school, and my family didn't know anything about the process. I was pretty much raised by my grandparents; they had no experience, so they didn't know what was going on. My coaches didn't know. So I had this huge decision to make all by myself. The rationale for going to UCLA, besides the program, was that if I was ever going to do anything [athletically] after college, Los Angeles would be the place to do it. I couldn't see myself living in Wyoming after college."
UCLA alum Gail Devers, who was serving as an assistant coach at the time, was the contact person with whom Burrell most often communicated in her final year at Rio Grande. Sprint/hurdle coach Bob Kersee also played a role in convincing her to come to L.A. Having focused on the sprints and jumps in her prep years (she won the 100, 200, 400, long jump, and high jump), Burrell says that "I didn't even know what a heptathlon was coming out of high school. UCLA was the only school, and Bobby was the only person, recruiting me as a heptathlete. When I came in as a freshman, I didn't know how to hurdle. I didn't learn how to hurdle, how to throw the shot and javelin, until I got to college."
Once she arrived on the UCLA campus, Burrell figured out how to hurdle very quickly, and it eventually became her best event in the heptathlon, as well as one of her favorites. "By my junior year I qualified for [NCAA] nationals," she said, "and made it as far as the semis. For not knowing how to hurdle when I got there, I picked it up pretty fast in three years." An English and History major while at UCLA, Burrell particularly enjoyed the intellectual challenge that hurdling presented her. "As I started to learn the hurdles," she said, "I began to like getting better at them. I began to really like to work on stuff. In the hurdles, there's always something you can correct to get better at it, to run faster. It's more fun to run when you win, obviously, but as a heptathlete, I loved being able to run against the open hurdlers." Similar to her attitude when it came to competing against boys when she was younger, Burrell "had this mental thing in my head, where I wanted to know who I could beat as a heptathlete in the hurdles. Now at thirty-four it's harder," she said, laughing. "Jenny Adams kicked my butt in practice the other day. But that comes with getting older."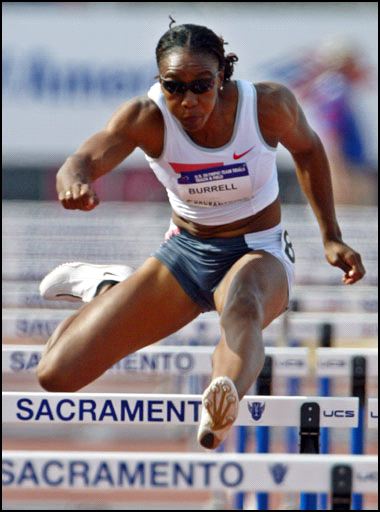 Although Burrell had some success in the heptathlon as a collegian, including a fourth-place finish at the 1995 NCAA Nationals with a score of 5720, she did not begin to fulfill her potential in this most demanding of athletic disciplines until her post-collegiate years, when she began to train under Cliff Rovelto in Manhattan, Kansas in 1998. That year, she finished second at the USA Outdoor National Championships with a 6294, and ended the year ranked fourth in the nation by Track & Field News. In 1999, she won the USA Outdoors with a 6101, and went on to finish eleventh at the World Championships with a 6162, good for a ranking of second in the nation by T&FN. In the Olympic year of 2000, Burrell earned a spot on the Olympic team with a 6339 showing at the Olympic Trials, but a knee injury at the Games led to a disappointing 26th-place finish. She was ranked second in the nation again by T&FN, having improved her personal best all the way up to 6422. In 2001, she had another second-place finish at USA Outdoors, but went on to earn a bronze medal at the World Championships with a score of 6472, which still stands as her personal best in the heptathlon. Her third-place finish made her the first American female heptathlete to medal in a major international championship meet since her friend and mentor, Jackie Joyner-Kersee. For the first time in her career, she finished the year ranked by T&FN as the number one heptathlete in the United States. She continued her success in 2002, earning her first national championship with a 6299, ending the year ranked number one in the U.S. and number three in the world.
By this point in her career, the possibility of earning a medal in the 2004 Olympics seemed like a very realistic goal. In 2003, Burrell repeated as national champion with a 6159, but a knee injury kept her out of the World Championships. Still, she was once again ranked number one in the nation, and the prospects of a successful 2004 were looking good. However, the physical demands of the heptathlon were beginning to take a toll on her body, and at the age of 32, she knew the 2004 Olympics represented her last chance to push her body to its limits and garner an Olympic medal. After earning her first Olympic Trials victory with a 6194, she did not go into Athens confident that she could compete for gold, as a foot injury suffered at the Trials was proving to be very problematic during her training for the Games.
At Athens, Burrell finished a heroic but unfulfilling fourth with a 6296. The heartbreak that seeped into her soul after coming up short in her attempt to realize a lifelong dream has taken Burrell quite some time to get over, and it would be fair to say that being forced to deal with such overwhelming disappointment went a long way in leading her to re-evaluate her relationship with the sport of Track & Field in general, and with the heptathlon in particular. "I went into the Games not expecting to medal," she said, "but with the attitude that I still was gonna find my way onto that medal stand. I competed injured. I had a stress fracture in my foot for about a month before the Games. I hurt the foot at the Trials and competed hurt with no [medical] help at all. That's when it really, really got bad; at the Games, I had to get treatment just to get through the next event. I had my foot injected five times, just to compete."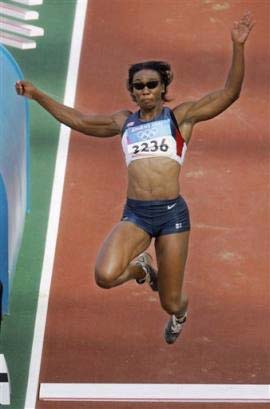 The conclusion of the 2004 Olympic Games heptathlon left Burrell with mixed emotions. Recognizing that it took an enormously courageous effort to go out there and compete on a broken foot, she "walked off the track feeling like I had won the gold. I gained a lot of respect for competing as I did, and not giving up. I was very proud." Still, once the concrete reality of the fact that she did not medal at all sunk in, the despondency she felt was impossible to ignore. "Going into the Games," she explained, "having dreamed since I was twelve of going to the Olympics, I felt like a little kid again, having a shot at winning a medal." Then, after the dream did not come true, "I was like a twelve-year-old kid whose heart was broken." The emptiness she felt led Burrell to back away from the sport altogether for a while, and to even contemplate retirement. All the injuries she had endured, all the sacrifices she had made, had worn her down emotionally and physically, and she needed some space.
"I had been living in Kansas for four years," she said, "and I didn't want to go back. I was tired of the cold; I wanted a change. I moved out to San Diego, fired my coach and manager. I told [my coach] Cliff [Rovelto] that I wasn't going back to Kansas, and it was one of those things where he knew I wasn't coming back. I was just so disillusioned by my Olympic experience, even though it's something I'm very proud of. I'm still dealing with it."
Burrell admits that she came very close to retiring. "I gave away my uniform," she said. "I gave away my competition tights. It was like, 'I'll never need these again.'" Instead of retiring, however, she took off the entire year of 2005 and gave herself a chance to "shift my perspective, change my goals." The fourth-place finish at Athens "really made me re-examine what I thought a medal represented. What does this medal represent for me when, for twenty-plus years of my life, it had been part of why I was who I was, why I was able to do the things that I did? Every day I'd go to practice thinking about nothing but the Olympics. And then not to receive a medal . . ."
Burrell, who had consistently proven herself to be an athletic warrior over the years through her willingness to train rigorously for all seven of the heptathlon's events, as well as through her willingness to fight through multiple painful injuries in her quest for Olympic gold, had to muster up a different kind of courage in order to raise herself out of the depths of sorrow that she had reached while wallowing in her post-Olympic blues. The athlete who had run faster and jumped higher than the boys as a teenager now had to find the ability to bounce back from a type of experience that was new to her – athletic failure. "When I got back to the states," she said, with no trace of shame or regret in her voice, "I was messed up. For like four months. I was depressed. You really have to be careful. . . . I didn't really think a medal would make me rich; it was more that, all your hard work and everything you've been working for – there you go, there's your reward for it. And I didn't get the reward. So it was like, why am I still doing this? Am I passionate about it? Am I still motivated?" To her own surprise, Burrell found that she was.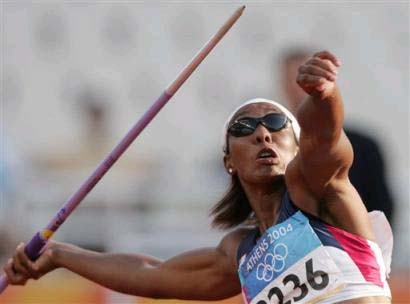 "It must be God," the very spiritually-centered Burrell commented, "because I don't even have a uniform. I started training again in October [of 2005]. It felt better than it used to. It didn't take me forever to warm up," she added, only half-joking. Burrell sees herself as a wiser, more mature person than the one who entered the city of Athens, Greece with visions of Olympic gold burning in her heart. "My perspective has changed," she explained, "in that the medal doesn't define who I am as a person, or who I am as an athlete. Now that I'm healthy again, I'm taking it year by year, and I wanna have fun. The Olympic year was so hard. I competed injured in '02, '03, '04. Now it's about having fun." Burrell has also gained a deeper appreciation for all she has achieved in the sport. "I'm still the only American since Jackie to medal at a World Championships or Olympic Games. No other American has come that close. I've won big meets, five national championships. So now I'm like, I think I did well."
In 2006, Burrell plans on competing in no more than two heptathlons. The maximum she has ever done in one season is four, and with her history of foot and knee injuries, she feels it would be more prudent to cut down on competitions in order to keep her body healthy. She also plans on competing in specific open events in various meets throughout the year. "You get ready for the heptathlon," she explained, "by doing specific events. You do open events, working on all your events at different open meets. The key to being a successful heptathlete doesn't lie in just being able to run fast and jump far, but in knowing how to transition from one event to the next, and in knowing how to balance out your strengths and weaknesses. I don't have any events that I dread, except the 800."
In regards to her training, Burrell likes to emphasize a lot of variety and change in order to avoid boredom. "We have cycles," she said. "Speed, skill, strength, stamina. I don't repeat weeks in training; that's not how I train. I go based on emphasis or focus. Typically, you cover one or two events per day. I don't train for the 800. You do your 800 simulations when you need to by doing compatible and complimentary events. Today I worked on my high jump and javelin; the approach in each event is more or less the same. Tomorrow I'll do long jump and hurdles. Wednesday I'll rest. You can be really creative with the training."
In addition to her own workout regimen, Burrell also coaches a group of young athletes, which she enjoys immensely. "I have always wanted to teach, and coaching is teaching," she said, noting that she tried her hand at coaching at the collegiate level a few years ago, but didn't derive much pleasure from the experience, citing low salary and office politics as the reasons why. Now, she does some private coaching on the side; she has about twelve kids ranging from nine to sixteen years of age, and she also works with a group of collegiate hurdlers at Mesa College in San Diego. "So that's how I get my coaching fix in," she laughed.
Another form of coaching Burrell does is through SheBe Gold Athletics – a fitness and training center she runs that features such services as fitness consulting, performance exercise classes, and nutrition therapy. At Rohr Park in Chula Vista, Burrell conducts performance exercise classes every Saturday for ordinary people of all ages who are looking to improve their fitness level. What she likes most about the work is that she gets to coach and interact with everyday people who are not a part of the competitive athletic world that has come to define her. "I love working with regular people," she said. "I love working with non-athletes because you see people do things they didn't know they could do. I teach them to do dynamic warm-ups, circuit training, the medicine ball – the same things that I do. Get their knees up, their toes dorsi-flexed. My idea is, how can I take sprinting, or just being an athlete, to the masses? I love working with that population of people because I learn so much from them. Their life experiences are different" from those of people who have been involved in athletics all their lives. Many of my really good friends haven't been athletes. I get a huge kick out of [the program]. We're still trying to get it to grow and evolve. When I finish with track, I wanna be able to still be me, still do what I do. Fitness is an area where I would like to establish myself."
Burrell's approach to SheBe Gold Athletics is no different from her approach to coaching, which is no different from her approach to competing, which is no different from her approach to training. She puts all of her energy into everything she does, expecting nothing less than excellence from herself, demanding nothing less than maximum effort from herself, and always seeking to learn more than she already knows. As she put it herself, "My perspective about my life as an athlete mirrors my perspective about life as a human being. I approach the heptathlon and life in the same way in that I not only want to be good at what I am doing, but I want it to mean something. It's crazy because even my struggles mirror each other." Burrell takes on the philosophy that, in her life, "everything is symbolic, poetic, and prosaic," which explains why, both literally and figuratively, she is a master of all trades.
© 2006 Steve McGill
–Statistical information on Burrell's career was gathered from her bio page at USATF.org.