Making the transition from high school to college often proves to be more difficult for some than it does for others. Porscha Dobson, a junior at the University of North Carolina at Chapel Hill, knows how difficult the transition can be. As a senior at Kent Place High School in northern New Jersey, Dobson's 13.50 at the New Jersey Meet of Champions in 2003 made her the second fastest high school female in the nation in the 100 meter hurdles, and the third fastest in the history of the state of New Jersey. In her first two years at UNC, Dobson has had her fair share of success, but has yet to reach the heights of achievement that she knew as a prep. I recently had the opportunity to talk with Dobson about her outstanding high school career, her struggles at the collegiate level, and her intentions of returning to the top of the hurdling heap as she embarks on her third season of collegiate competition.
The 20-year-old Dobson, who was born in Elizabeth, NJ and raised in Roselle, NJ, did not begin running track until her freshman year at Kent Place – a small, all-girls private school more known for its rigorous academic standards than for the feats of its athletes. Prior to beginning her track career, Dobson participated in gymnastics for six years. Then, encouraged by friends and family members – particularly her older sister, who also ran track – Dobson decided to give it a try. However, she admits that, at first, she was not interested in the hurdles, and didn't attempt to test her abilities in the event until the outdoor season of her sophomore year. "Like everybody who goes out for track the first time," she said, "I wanted to be a hundred meter runner. But everyone was like, 'You'll be a natural in the hurdles' because gymnastics and hurdling have a lot in common." Dobson laughed when acknowledging that, with her gymnastics background, when she first saw a hurdle race, "it looked like everyone was doing splits over the hurdles." So it was only a matter of time before she would go ahead and hurdle herself.
Dobson recalls that her first hurdle race took place in an invitational meet in which she competed in three other events – the 100 meter dash, the high jump, and the 4×400 meter relay. Quite a vast array of events, to say the least. In the meet, she won the high jump, finished third in the 100 meter dash, and the 4×4 team finished second. In her first hurdle race, she won in 14.9, totally unaware if that was a good time or not. Her coaches informed her that, yes, for her very first time ever running the event, that was a very good time. After that meet, Dobson, says, "People started to notice my name in New Jersey."
Still, the fact that she attended such a small school (her graduating class was comprised of less than 50 girls) prevented her from facing top-notch competition on a regular basis. "I didn't see the really fast girls until our state meet," she explained. "We didn't have sectionals; we had a parochial state meet. I won in 15.01, and that qualified me for the Meet of Champions. I ran in the last heat, ran 14.7, which got me to the finals, where I ran 14.53 and came in sixth. After that, I started working on hurdles more. That's when I realized, because my mom was telling me to focus more on the hurdles, that I could be really good at it." In addition, a coach from another private school took an interest in her, asking her how serious she was about running track. "His specialties were the hurdles and long jump," Dobson said. "He spent some time working on my start, as I was taking seven steps to the first hurdle," she laughed. "He switched me to eight, and he also got me to compete indoors my junior year."
In the indoor season of her junior year as a prep, Dobson competed in all the meets on the Kent Place schedule, and also ran for the Jaguar Track Club out of Maplewood, NJ, who enabled her to run in the Colgate Women's Games in Brooklyn, NY – one of the most prestigious indoor meets in the United States. This meet exposed Dobson to many athletes outside of her home state, thereby helping her to sharpen her hurdling skills. "Girls from New York ended up being my biggest competition," she said. "At first, [the Colgate meet] was overwhelming. I didn't really know what was going on. It was after school on a Friday for us high school kids. So you're tired from being in school all day. And there were just so many people there." One of the New Yorkers who ended up being one of Dobson's chief rivals was Fatmata Fofanah of the Bronx, who Dobson still competes against regularly, as Fofanah, last year's ACC champion in the 100 meter hurdles in 13.32, runs for Georgia Tech University. Later that winter, at the Eastern State Championships, ran an 8.09 in the prelims of the 55m hurdles before going on to finish fourth in the final in 8.33. Competing so well against the likes of Fofanah and Shenae Dawkins of New Rochelle, NY, Dobson feels that "that's the meet where I was recognized as one of the best hurdlers" in the country. In the outdoor season, however, Dobson was bothered by an ankle injury, and never ran faster than 14.47, making her all the more determined to end her high school career with a strong senior year.
As a senior, Dobson won the Eastern State Championships 55m hurdles in 8.02, previously running 7.96 in the semi-finals. She also won the Colgate Women's meet, and she finished second to Ronetta Alexander of Buffalo, NY in the 60m hurdles at the Indoor Nationals, crossing the line in 8.52. (Alexander now competes for the University of South Carolina). This time around, Dobson's indoor success proved to be a precursor of even greater things to come once it was time to take it outside. Throughout the year, Dobson says, "everyone knew I was on pace to run sub-14, but we didn't know how far under fourteen, because none of our meets had automatic timing. I was running 13.9, 13.8, 13.7, 13.6 hand-timed."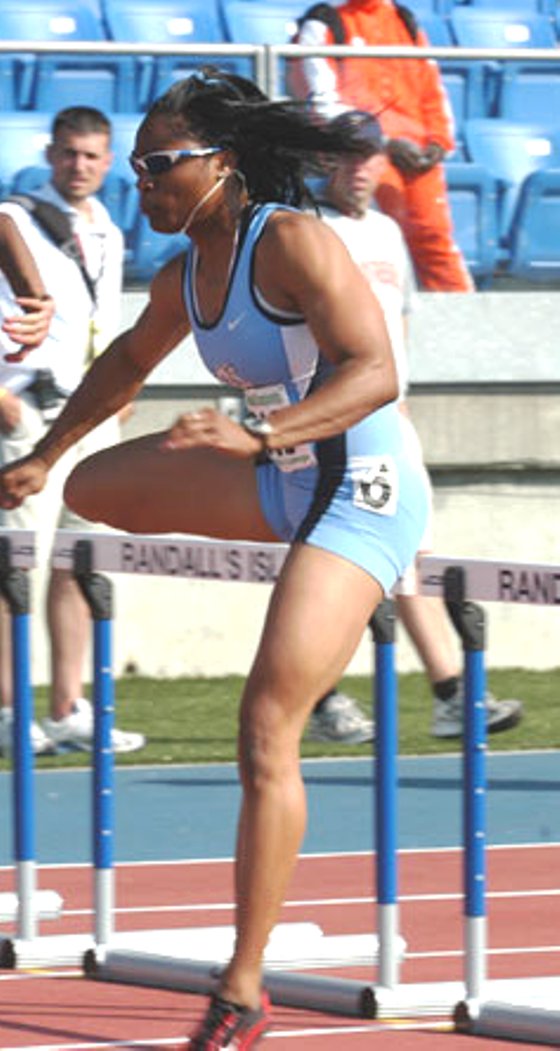 With all of the fast times she was running, Dobson knew she had a big race within her, just aching to get out. Although Kent Place did not have any hurdles, or even a track, Dobson continued on in her quest for hurdling excellence. Her coach, Robert Abdullah, would drive her around in search of training facilities. "Working out by myself a lot," she explained, "I learned to run against the clock; it didn't really matter who was running against me. So I knew that at the big meets, I could probably run even faster. At the [New Jersey] State Meet [of Champions], I had a lot of nerves, because I wanted to break the [state] record [of 13.33] so badly." Dobson ended winning the 100m hurdles in 13.50, which made her the second fastest female hurdler in the nation, the third fastest in New Jersey history, and still stands as her personal best. Reflecting back on that particular race, Dobson commented that "that's how I know anything can be done."
Since arriving in Chapel Hill, Dobson has yet to find the same level of athletic success that she knew as a prep, but does not regret her decision to leave the Northeast; nor does believe in the least degree that her best days on the track are behind her. In regards to her decision to attend UNC, Dobson made the following observations: "I visited many colleges. My mom and I drove all over the Northeast. Nobody [in my family] wanted me to go any further south than Virginia; they wanted me to stay relatively close to home. I wanted to go some lace where I wasn't the best on the team. I had opportunities to go to schools that were real strong academically, but the track team wasn't the best. It was gonna be like high school all over again. I didn't want to go to a prestigious school but still have to train all by myself. I wanted to train with fast girls and be part of a team. Someone had mentioned UNC to me, and my mom was like, no, that's too far, but it turned out to be one of the best schools on the east coast, and it had the best combination of academics and athletics."
Dobson described her transition from high school to college as "really interesting," and admits that it "wasn't the smoothest. Sometimes, being here, so far from home, I kind of second-guessed myself." In her freshman year, while sticking to a regular weight-training program for the first time in her life, she gained a lot of muscle weight. "My physical appearance changed drastically," she says. "At the Penn Relays, everybody who knew me from high school was looking at me funny and making comments like 'Maybe you need to stay off the weights a little bit.' Everyone seemed concerned, they were wondering what had happened, because I wasn't running as fast." In the indoor season of her freshman year, Dobson ran a personal best of 8.41 in the 60m hurdles, which made her the fifth-fastest in that event in UNC history. "I was happy," she notes, "but I wasn't. I had terrible shin splints, and I had treatment every day for that. It got so bad I could barely walk to class. In the first outdoor meet, I didn't even finish the race. I had a slight pull of my hamstring, which had me out for most of the year. I pretty much fell off the map pretty quickly once I got to college," she admits. "In high school, I didn't run anything over 200 meters in practice. Everything was block work, technique, drills. I never did long runs, 300's, 400's, anything like that, so the transition was a bit rocky. Plus, being away from home, it all kind of hit me kind of hard."
In her sophomore year, Dobson continued to struggle, finishing with seasonal bests of 8.47 indoors and 13.72 outdoors. In regards to her frustrations, she points out that "not only have I not run as fast, but I haven't had the same feeling, the same love for track that I had in high school. Last year, I tried to communicate more with my coaches, but you're kind of afraid to do that sometimes because you don't want them to feel you're trying to over-ride the program. But you know, I used to be a really good athlete in high school."
In spite of the disappointment she has suffered in her first two years of collegiate competition, Dobson feels confident that things will be much different, for the better, in her third campaign. "I had a long talk with my coaches before the start of the school year," she said, "and I kept in contact with them over the summer. A lot of things have changed. Workouts cater more to people's specific events, so I feel happy, I feel comfortable; this is the best pre-season I've had so far. We'll see how things go, but I know I'm gonna do well."
As difficult as the past two years have been for Dobson, she feels that the experience will provide her not only with motivation, but also with the wisdom that comes with being humbled. "I've grown up more as a young woman, in life, and in school, through track," she says. "Right now, I'm probably in the best shape that I've been in. I haven't been lifting too many heavy weights, so I'm not as heavy as I was, but just as strong as I was. It's like I told my coaches, I'm running out of time. I don't want to say that I peaked in high school. I want to peak in college, then peak again after college. I have so much talent that I don't want it to go to waste."
With her maturity, and the increased emphasis on speed work in her training, Dobson feels confident that her talent will not go to waste. Her goals are lofty, but she does not doubt her ability to achieve them. "I would definitely like to run between 13.00 and 12.80," she said. "I want to qualify for nationals and make it into the finals there. I know that seems far-fetched, but I know it can be done. I have the potential. I also run the four-by-four, and last year I was running 54 splits. This year I'd like to split in the 53, 52 range. I'm very spiritual, so I know God put me here for a reason. I need to find that reason. I'm far from home, far from my mom, my sister. I've just gotta see what happens."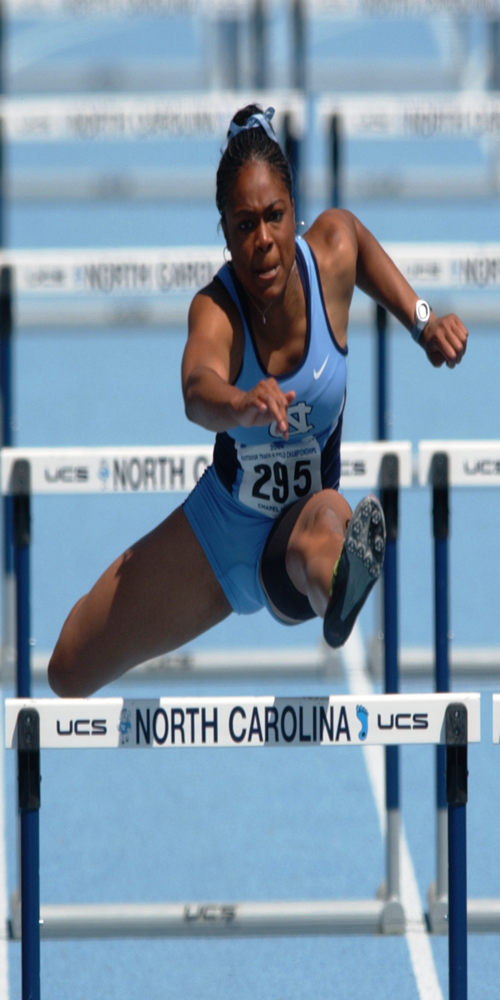 Continuing along this line of thought, Dobson defines her first two years at UNC as "a growing period. I had to get over individual losses quickly because I wanted to contribute to the team. When you don't do well, you try not to affect everyone else with your disappointment. I would run to the bathroom or hurry up and put my warm-up clothes back on. But [the losing] definitely hit hard. When I would talk to Coach Abdullah back home, he could hear it in my voice. He knew my confidence was gone. In high school, I was like, 'I'm number one,' so it was definitely hard to deal with at first, but you learn to accept the fact that it happened, and that you need to make adjustments and work harder."
Describing the hurdles as "a sprint race that requires technique," Dobson understands how the hurdles serve as a perfect metaphor for the mental obstacles that she is in the process of overcoming. "People are afraid to run the hurdles," she said. "Field events, like shot-put, require a lot of technique too, but people aren't afraid to do it. To me, it feels good to tackle a technical event like the hurdles. It shows what kind of person you are. I've taken many spills, I have scars to show. When that happens to some people, they don't want to run anymore. To be great at the hurdles, it takes a lot of time and dedication; you have to put in more time than everybody else, you have to have a strong mind. For me personally, I feel you also have to have faith in God; you have to have the strength – inner strength, mental strength – because it's not easy. To be the best, you have to go out and do more. That's an easy thing to say, but when you actually do it, it's a different story. In high school, I was the one who went driving around, looking for a track with hurdles to train on. Even when it was raining outside, I trained; I didn't know anyone else who worked out in the rain. I'm the third-best hurdler to come out of New Jersey, I was ranked in the world. People couldn't believe it, but I could. If you do that extra push-up, that extra sit-up, it takes you further than you think."
Indeed it does. In the case of Porscha Dobson, indeed it has, and indeed it will.
© 2005 Steve McGill