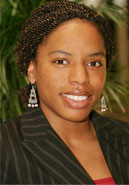 In modern American society, the hurdling events in Track & Field have become a primary metaphor for the concept of overcoming obstacles, of falling and getting back up. To a hurdler, however, the need to overcome obstacles and to continually get back up no matter how many times one falls is a very real, concrete one, not just an abstract, romantic notion. One hurdler who embodies the spirit of the event in the way she has lived her life and continued on with her career is 28-year-old Nadine (pronounced 'nah-deen') Faustin, a native of Long Island, NY whose greatest accomplishment in the sport thus far was the 12.74 she ran in the semi-final round of the 100m hurdles at the Olympic Games in Athens, Greece in August, 2004. The 5'4", 128-pound Faustin runs internationally for Haiti – the homeland of both of her parents – but lives and trains in Raleigh, NC. Recently I sat down and chatted with Faustin before one of her training sessions; as she told me the story of her hurdling life, I felt inspired by the feeling that I was in the presence of greatness – not the obvious greatness that screams out at you like that of a Michael Jordan or a Michael Johnson, but the quiet greatness of a hurdler who understands who she is and has dedicated herself to finding the best that lies deep within herself, not just as a hurdler, but as a person.
The story of Nadine Faustin begins in Brussels, Belgium. At the time of her birth, her parents, Daniel and Micaele, were studying there at the University of Brussels. Faustin was raised in Long Island, however, along with her younger brother Edward and older sister Anne. On the track, she was primarily a sprinter at Herricks High School, with her shining moment coming in the form of a first place finish in the 55m dash at the Colgate Women's Games in Madison Square Garden as a senior. In her early years at Herricks, she focused exclusively on the sprints. As a sophomore, she had pr's of 11.9 in the 100 and 25.2 in the 200. Pretty fast times, but New York is a big city, with a whole bunch of fast people. So, as a junior, Faustin decided to try the 400m hurdles (New York is one of a handful of states that features the longer distance for the intermediates at the high school level), citing the fact that "there were so many sprinters in my section, I wanted to be dominant in an event."
Her junior year on the track almost didn't happen at all, however, due to an injury she suffered in September of that year, during volleyball practice. "We were doing spikes," she explained, "when I hurt my knee." It turned out she had a condition called "Osgood Schlotters," in which the bone detaches from the bone at the knee. It is very painful, and can be quite debilitating. Deciding against surgery, Faustin's leg remained in a full leg brace – from ankle to hip – for two months, and in a half leg brace for another month after that. When asked if she had trouble adjusting from being healthy one day to being encased in a full leg brace the next, Faustin laughed as she responded, "I was afraid of getting knocked over or falling down while walking up the stairs at school." Her tone changed quickly, though, when she noted that "the doctors didn't know what the outcome would be. They weren't sure that I would ever be able to run again." Not only did she run again, but she ran again that very same year, and ended up having her best year on the track up to that point, highlighted by an indoor 6.9 in the 55m dash. Such resiliency, as demonstrated in her ability to come back from such a serious, frightening injury, has come to define Nadine Faustin's athletic career.
Her next stop was in Chapel Hill, North Carolina, where she ran for Curtis Frye, who coached the Tar Heels' sprinters and hurdlers for the first two years Faustin was there. The story about how she ended up at the University of North Carolina is an amusing one. "I sent an athletic bio to all of the schools I was interested in," she said, "but I didn't get a response from UNC. I was like, 'fine, if you guys don't want me, then I don't wanna go there.' Then a friend of mine went to visit the campus, and Coach Frye thought she was me. He was like, 'You don't run the 400 hurdles?' He was a little mixed up. So I called him, went on two visits – the first one with my dad, the second one by myself. By then, I knew UNC was the place for me."
Faustin connected with Coach Frye instantly. "He's a great guy," she said, pursing her lips and nodding matter-of-factly, "he's like a father. One of the first places he took the freshman ladies was the church. And I really thank him for that because you need somewhere to call home, and church has always been that place for me. Coach Frye is a very straightforward person, and so am I. That made things very easy. We related well to one another. He's very motivational. He helped me to be the person I am today, to get to this level. I was fortunate to have him as my coach. He saw something in me that I didn't even see myself. He believed in me, and it worked."
What did Coach Frye see in her? A 100m hurdler. As Faustin recalls, "Frye said, 'you have a lot of speed and coordination; I want you to try the 100 hurdles.' I was terrified, but I said okay and smiled. I didn't believe I could be good in that event, but he kept pushing me." She ran a solid 14.16 her freshman year, then dropped down to 13.73 as a sophomore. Coach Frye then left UNC to take the head coaching job at the University of South Carolina, but the seeds of success had already been planted, and Faustin continued to improve under Frye's replacement, Halcyon Blake. She dropped all the way down to 13.49 as a junior, and 13.23 as a senior – her collegiate pr.
Faustin graduated from UNC in 1999 with a degree in Physical Education and Sports Sciences, but she had used up all of her eligibility in 1998. Not convinced that she had reached her peak as a hurdler, she looked to pursue a post-collegiate career. With that thought in mind, she approached Trevor Graham – one of the best sprint coaches in the world – with the hopes that he could help her to compete on an international level. Graham, whose Sprint Capitol group has garnered dozens of medals in major international competitions throughout the past decade, answered Faustin with a simple but straightforward no when she first came to him in July of '98. "I didn't understand why," Faustin said. "I did know I wasn't a phenom, but I was still learning the event. I'd never even run the sprint hurdles 'til I got to college." Two months later, she called Graham again, and this time he agreed to work with her. Faustin quickly found out that the difficulty level of Graham's workouts was something she had never faced before. As she re-tells it, "he told me that he always thought I would never come back. Every Monday that he saw me coming down the hill [toward the track at North Carolina State University, where the Sprint Capitol group trains], he was amazed. But he worked hard with me. I was working full-time as a teacher, trying to keep up with my training at the same time. I had some breakdowns. I remember one time I started to work out, I was tired, tried to hide in the corner. He found me and asked me what was wrong. He told me he cared about me, told me he believed in me. . . . Ever since then, we've had a great relationship. I thank him."
In the summer of 2000, while still under Coach Graham's tutelage, Faustin competed in the Olympic Games in Sydney, Australia, running under the Haitian flag. In explaining how it came to pass that she ran for Haiti instead of the U.S., Faustin told the following story: "I was running for USA up until '99. Then Dudley Dorival [bronze medallist in the 110m high hurdles at the World Championships in 2001] and I were approached by Haiti because our parents are natives. We were just out of college – twenty-one, twenty-two years old. I jumped at the opportunity because I was running fast, I would be in a position to be a role model for Haitian children, and I'd have the chance to put my country on the map. But it kind of backfired because if you don't run for the U.S., it's hard to get the sponsorship that'll get your name out there, and that will enable you to support yourself. Dudley was blessed to sign a contract with Asics, and that was with a [World Championships] bronze. It's hard to pick up a sponsor when you run for a small country. And Haiti is so small that they can't really provide [the necessary financial backing]."
In speaking of her parents' homeland, Faustin spoke with a glowing smile on her face. "I've been to Haiti several times," she said. "I still have family there. It's a beautiful place. A beautiful, beautiful place. But you can't always tell just by looking at it. Walking or driving through the market areas, you wonder, 'How can people live like this?' You see cardboard covering the ground, ladies carrying bags of potatoes on top of their heads, people calling out for what they want. That's how they sell stuff. It's nothing like we're used to with shopping malls and department stores. But it's a beautiful place. There are beautiful beaches, beautiful people. Despite the poverty, people are happy, which is something people over here can't understand."
Faustin's first go-round as an Olympian in Sydney was not a fulfilling one, as an injury suffered three weeks before the meet "kind of took away my whole Olympic experience." The injury occurred while she was warming up right before a 100m hurdle race. "I went over the hurdle," she explained, "but didn't attack it with my knee; just flicked at it with my foot." When her foot hit the hurdle, "I felt trauma in my right side, but I didn't understand it. I ran on it. I think I won the hurdles, but in the 100, I was already in major pain. By the time I got back to the hotel, I couldn't move my thigh." Two weeks before the Sydney Games, she went to a rehab center where she used to work. There, she did physical therapy twice a day for two hours at a time. She thought she might have broken a bone, so she had x-rays done, as well as an MRI. That's when her doctor informed her that she had ruptured her ovarian cyst. "I should have done something for it," she said, "but as an athlete, I just tried to run through it." Unable to lift her leg the way she wanted to, Faustin still managed to make it to the quarter-finals at Sydney, barely missing qualifying for the semis.
In the spring of 2001, Faustin left Sprint Capitol and took an offer she couldn't refuse: the opportunity to train in Paris without having to work. But the move didn't prove beneficial to her progress as a hurdler. "That's when I realized you can't just train with anybody," Faustin observed. "I didn't improve like I had those two years prior. I wasn't working in Paris, I didn't have any savings, any sponsors." She ended up returning to the states, this time living in New Jersey, where she landed a teaching job. In October of 2003, she came back to North Carolina to train with Coach Graham. This reunion led to Faustin having the best year of her career in 2004, culminating with the previously-mentioned 12.74 in the semi-final round at Athens. Even though she finished last in her heat, it was one of the fastest semi-final heats ever run, and you can never be but so disappointed when you've just run a pr. Faustin was, indeed, very happy with her performance. In the moments immediately after the race, Faustin "wasn't sure where I had finished. I looked at the board, was looking at all the names going up. I was shocked to see I wasn't even in seventh place. Tears were ready to come down. But then I saw that I had pr'ed. I said, 'Thank you God, You didn't let me leave unhappy.'"
Faustin described her two weeks in Athens as "great, because it was my first real Olympic experience. It was just great to be there knowing I was running faster than I had my whole life. Everything I had worked so hard for – I was getting the pay-off for all of that. I got pictures of all the basketball players," she said, laughing. "I was like a little kid. The first day of heats, I was real excited, nervous, ready to get the first round over with. It went well, but not as well as I had hoped. I ran a 12.94, and I had been running 12.80's all summer. So I figured I must've been more nervous than I thought. On the second day I realized I had set my blocks wrong. I adjusted them and said 'now I'm ready.' When the gun went off for the second round, I was in there, I was rollin' with those girls. Then around the eighth hurdle, my levers got big, everything opened up. I didn't want them to get away; I didn't stay sharp with my technique for the last two." In saying that her levers opened up, Faustin meant that, in her effort to keep up with her competitors, she didn't maintain the tight arm motion and quick stride cadence that had carried her through most of the race. Still, she left the stadium that day feeling very satisfied. "I gave everything I had," she said. "That was the way it was supposed to be for me."
At 5'4", Faustin is not the tallest hurdle at the starting line in any of her races, but when asked about the issue of raising the height of the women's hurdles to 36", she replied in her typically straightforward fashion, her competitive instincts apparent in the tightening of her jaws: "They say that the women's race is a lot more of a sprint compared to the men's race. I guess that's true, but raising the hurdles wouldn't necessarily put me at a disadvantage. Allen Johnson's not the tallest. Colin Jackson wasn't the tallest. Gail [Devers] isn't that tall. The 5'9", 5'11" girls don't have the turnover that girls my size have. It's really all about your training. Whatever you train for, you'll be ready for." In other words, Faustin seemed to be saying, raise the hurdles to 39" for all I care; I'm a hurdler.
Of course, when speaking to a world-class athlete, the issue of performance-enhancing drugs is one that cannot be avoided, but Faustin does not allow all the drama surrounding her sport to phase her in the least. "I'm not really knowledgeable in that area," she said. "You hear a lot of things, and based off how I am and the people in my circle of friends, I'm not knowledgeable. I only know what the public knows." As for those athletes who do choose to gain an edge through illegal means, Faustin holds no bitterness toward them. "That's something they gotta deal with between themselves and the Lord. It's not me they have to deal with in the long run."
Faustin's primary goal for 2005 is to make it to the finals in the Outdoor World Championships, which, of course, would be taking it to the next level of accomplishment she achieved in 2004. Taking it to the next level is something that Faustin has consistently found the ability to do throughout her career, in spite of the injuries and disappointments. As she explained, "I've always been determined. In high school I was determined to be the fastest. At UNC I was surrounded by outstanding athletes – Latasha Collander, Marion Jones, Milton Campbell, Monique Hennigan. I was placed in that atmosphere, so that was all I knew. So for international competition, I was already structured in that environment. The training was harder, but I was already prepared for that. For me, it was more so knowing how to carry myself as a young lady in the profession. On a social level, you have to watch yourself. But mentally, I pretty much stayed the same."
The man who will guide her in her attempts to run faster over hurdles than she ever has before is Anthony Parker, who was an assistant with Trevor Graham in 2003 and 2004, and is an alumnus of Division II powerhouse St. Augustine's College in Raleigh, NC. Faustin feels confident that Parker, a true student of the sprints and hurdles in addition to being a master motivator, is the right man for the job. "I didn't want to be with someone who didn't know Coach Graham's program," Faustin explained. "[Parker] agreed to coach me; he knows what I can do. He watched me last year in training; he knows my strengths and weaknesses, so he can devise a plan that builds on what he saw last year. He's made up his own program for me based on what I was doing before, but also bringing out what he knows."
Ironically, Faustin had planned on sitting out the 2005 season, but, as seems to be quite typical with her, she decided to come back. "I talked to Coach Parker," she said, "and my parents a lot. They know my passion is to run. My dad, even though the sponsorships aren't coming in, told me not to let that stop me from trying to fulfill my dreams. He asked me, 'If money wasn't the issue, would you still be running?' God is good. I pray that something will come through for me. I had a breakthrough last year. Most of the time, when you have a breakthrough year, you have a really big year the following year."
The fact that sponsorships still aren't coming in despite the fact that she has run a 12.74 is something that frustrates Faustin, but, as her father advised, she has decided to approach the lack of financial backing as just another hurdle that she must negotiate, just as she has negotiated so many hurdles before. It is quite disturbing to know that even elite athletes such as Faustin have to struggle just to stay active in their sport while athletes in other sports are making million dollars doing what they do. Faustin strongly feels that a major reason for her outstanding 2004 season was the fact that it was the first year in her post-collegiate career that she didn't have to work full-time (except for the year in Paris, when she didn't have the coaching). "I lived off my savings from the teaching I did the year before," she said, "and used it to get me through the Olympic year. I had my best performance of my career, and I really attribute it to the fact that I wasn't working. My body was able to rest." Even her injury in 2000 had financial implications. Her decision to soldier on and continue running through the pain wasn't solely based on grit and determination. In explaining why she didn't seek treatment more aggressively, she stated that "that's another thing that has to do with money; I was just trying to do what I could to get by."
Throughout her career as a hurdler, Nadine Faustin has not allowed any setbacks to prevent her from attacking each hurdle as it comes. Therefore, it should come as no surprise that her advice for young athletes is to be persistent in their efforts to excel. "For any athlete," she said, "once you choose to go that route, once you make that commitment, you have to realize what that commitment entails. You basically have to know what you want out of the sport – whether it's just to get in shape or to achieve big things. You have to stay focused; you can't let a lot of distractions come between you and your dreams. You're gonna come up on some hurdles. That's why the Lord places some great people in your life – to help you get over 'em."
For Faustin, the great people have included her parents, Coach Frye, Coach Graham, and Coach Parker, among others. But the greatest person in her life has been herself. After all, she's the one who keeps clearing those hurdles; she's the one who keeps coming back. Nevertheless, Faustin takes little credit for the success she has achieved in the sport of Track & Field, citing her faith in God as being the anchor that has supported her through all the tough times. "I give all the praise to our Father God," she stated, nodding her head firmly. "God is good."
© 2004 Steve McGill
Update: Faustin has been competing in Europe and Brazil throughout May and early June. Her seasonal best thus far is 12.85, which was good for second place at an invitational meet in Belem, Brazil.