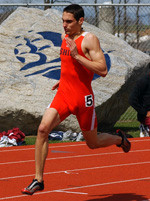 Whenever hurdlers and hurdle coaches get together to talk about hurdling, there is a certain basic vocabulary that serves as the foundation of the conversation. Words such as "technique," "rhythm," and balance," to name a few, constantly appear. Another word that perhaps does not come up as often as it should is "efficiency," as hurdlers want to do what they do with more than just speed, power, and agility, as none of those qualities add up to much if a hurdler is not being efficient when it comes to stepping over the hurdle and getting back on the ground. Mark Piccolo, a twenty-one-year-old senior at Division II Shippensburg University of Pennsylvania, is someone who has learned the value of efficiency throughout his career. Piccolo, who specializes in the 400 meter intermediate hurdles, does not have the type of talent that will land him in an Olympic final, but with his work ethic and drive to excel, he has demonstrated that being a hurdler involves much more than merely amassing awards and honors, but is really about maximizing one's own athletic potential, whatever that potential may be.
A native of Quakertown, PA (about one hour north of Philadelphia), the 5'11", 150-pound Piccolo first started hurdling as a seventh grader at Quakertown Middle School. "The coach said that everybody with speed had to try the hurdles," Piccolo explained. That coach sounds like a man of my own heart. In the seventh grade, the hurdle distance for Piccolo was sixty meters, and the hurdles stood thirty-three inches high. Track is the only sport in which Piccolo has participated, as he knew from a very young age, by out-running his playmates on the playground, that he was faster than most kids his age. Piccolo went on to run four years of indoor and outdoor track at Quakertown High School; the events he ran included the 300m intermediate hurdles, the 400m dash, the 800m run, and the 110m high hurdles. With pr's of 38.6, 50.0, 1:59, and 15.4 in the respective events, it became obvious that the intermediate hurdles was Piccolo's best event. In explaining the disparity between the 300m pr and his 110m pr, Piccolo commented that "I wasn't really serious about the one-tens; I just ran it in low-pressure meets."
It wasn't until Piccolo arrived at Shippensburg – one of the strongest Division II programs in the eastern part of the nation, that he truly began to flourish. Although he could have enrolled at a lower level Division I program, Piccolo felt confident, coming out of high school, that Shippensburg was the right fit for him. "I got looked at by Bucknell [University in Lewisburg, PA], he said, "but I wasn't really recruited that hard. At a Division II school, I knew I'd get a chance to compete, and have a shot at being successful. And things just worked out. Ship had a need for a 400 hurdler, and that's the event I wanted to do in college. Plus Ship had a winning tradition. My senior year of high school, we didn't win one meet, so I wanted to go to a winning program."
Shippensburg University, a school of approximately 10,000 undergraduate students, located just west of Harrisburg in South-Central Pennsylvania, proved to be the perfect program for Piccolo to further develop his skills. Thus far, he has pr's of 52.82 in the 400 hurdles and 47.95 in the 400. In 2002, his freshman year, he won the PSAC (Pennsylvania State Athletic Conference) 400m hurdle championship with a 53.46, which qualified him for nationals. In 2003, as a sophomore, he only finished fourth at the conference meet in the intermediates with a 53.60, but that was mainly due to the fact that he also competed in the open 400 in order to help Shippensburg win the conference title. In 2004, as a junior, he doubled in both events again, this time winning the open 400 in 48.13 and finishing third in the intermediates. Such a team-first attitude, although it may have hurt his chances of going further in his preferred event, had led to Piccolo being voted a team captain, and typifies the selflessness that he has exhibited throughout his career.
Piccolo credits much of the success he has achieved at Shippensburg to the team's outstanding coaching staff. He described Head Coach Steve Spence as a "really smart guy" who has established a winning mentality that is the foundation of the program. In regards to his growth as a hurdler, Piccolo credits sprint and hurdle coach Doug Knol for helping him to get this far. Knol, who ran the 400m hurdles himself for Shippensburg in the late '80's and early 90's, is the man from whom Piccolo has learned the importance of being efficient with his printing and hurdling technique. "Coach Knol," Piccolo said, "puts an emphasis on doing hurdle drills, being flexible, being able to alternate lead legs. I didn't really do that," he added, referring to using his left leg as the lead. "Coach has us do a lot of plyos, too, and that's really helped the core of my body. I didn't have anybody in high school who really understood the intermediates the way he does." In regards to his ability to come up big in big meets like the conference meet, Piccolo said that "Coach Knol is so good with tapering. He really gets us ready for the championship meets. And it's great because I wouldn't know how to do it myself." In addition to Spence and Knol, another Shippensburg coach who has had a hand in Piccolo's development is Dave Osanitsch, who serves as the team's multi-events and jumps coach. Osanitsch, who starred as an All-American 110m high hurdler for Shippensburg in the mid'90's, "has given me good pointers, too," Piccolo noted. "He's technical, a very technical guy, and he knows the hurdles inside and out."
With such supportive, knowledgeable coaches, it is no small wonder that Piccolo has progressed as he has. His appreciation of the details of running and hurdling technique has increased tremendously during his collegiate years. "In college," he stated, "I learned how to use my hands – cheek to cheek, pocket to pocket. I learned the importance of having a good knee drive; not just leading with the knee, but really driving with it. I learned about keeping my arms in a tight box, keeping my trail leg dorsi-flexed. It's amazing how much of a difference all that stuff makes. Having a good knee drive really helped me out a lot. I can remember a few distinct workouts that felt different, that entirely changed my career, when I would use my arms properly or start getting that knee drive the way I wanted to. I used to bring my arms way too far back and that really slowed me down."
When it comes to stride pattern in the intermediates, Piccolo feels that being able to alternate lead legs has been a key element to being able to shave precious tenths of seconds off his time, although he still doesn't trust his left leg as much as he would like to. He takes twenty-two steps to the first hurdle, fourteen steps between hurdles through the sixth hurdle, and fifteen steps between hurdles the rest of the way. For the hurdles that he fourteen-steps, being able to alternate leads has proven to be an invaluable skill. "It took a while to get the stride pattern down," he said, "but once I did, my time dropped dramatically." Piccolo has hopes of ending his collegiate career with an outstanding senior year, citing that "I really wanna get down to the mid-51's [in the intermediates], be an All-American. I think I can do it. I have the talent, the 400 speed. I just need to get my left-leg lead as comfortable as my right." Part of Piccolo's confidence stems from the fact that he will be able to focus on the intermediates this year. In his freshman year, when he won the conference championship, he didn't have to run the open 400 because the team "had so many seniors who were really good." In his sophomore and junior years, he doubled in both full-lap events so that the team could benefit from his point production, but in 2005 he believes that "we have enough guys so I shouldn't need to do that." Still, in Piccolo's estimation, the most important key to success is mastering the stride pattern. "You gotta have the stride pattern down to a science," he declared firmly. "I count steps in my head. You gotta have it down to science."
While speaking of the science of hurdling, Piccolo brought up the name of one of his main athletic heroes, Edwin Moses, who ruled the intermediates throughout a career that spanned over twelve years. Moses' 47.02, though run over twenty years ago, still stands as the second-fastest 400m hurdle race ever run. "He's the man," Piccolo remarked. "I have a poster of him in my room that I found in my coach's office. Yeah, he's the man."
Though Piccolo has never run against anyone in the class of Moses, he has run against some great athletes, which, although it has kept him humble, has also led him to become a better hurdler than he ever would have been were he only to run against competition he knew he could defeat. "We see Division I schools a lot," Piccolo observed. "We go to Bucknell, Penn State. It's fun." Shippensburg is also one of a handful of Division II schools that competes at the Raleigh Relays at North Carolina State University every April. In the 2004 version of that meet, Piccolo got a chance to see, but not run against, Bershawn Jackson of Division II powerhouse St. Augustine's College. To say that he came away impressed would be an understatement. "That guy is incredible," Piccolo said in reference to Jackson, the fourth-place finisher at the 2004 Olympic Trials. "He runs the 400 hurdles almost as fast as I run the open 4. That's kind of hard to believe." Still, in spite of his willingness to acknowledge the greatness of the likes of Moses, Jackson, and all those who battle on that elite level, Piccolo does not envy such talented athletes or wish he could be in their position. "You've gotta be realistic about your ability," Piccolo said. "I'm just happy I got into a competitive conference, in a program where I can succeed. I'm comfortable with my work ethic and my abilities, so I don't waste time wishing I could be like this guy or that guy."
A Criminal Justice major, Piccolo plans on entering law school after he graduates from Shippensburg in May of 2005. But he would also like to stay involved in track as well, probably as a coach at the high school level. As he puts it, "A lot of kids don't get the coaching they need to excel, or just to get better. Plus, after running track for ten years, I wouldn't wanna just give it up."
Along the lines of coaching, he feels that the key to success for beginning hurdlers is to get in tune with their body so they can get the most out of it. "You've gotta be mechanical and precise with it," he stated. "You have to use every part of your body to your advantage. Don't waste motion. I've learned to be very efficient. Efficiency is the key. And don't get frustrated when things aren't going right. Especially in practice. You can put the hurdles away on bad days and just do straight running stuff. Not every day is gonna be a good hurdle day. It's a process. Working hard, getting better, seeing results. It's a process."
For Piccolo, that process is not yet quite over, as his best races are still ahead of him. As he embarks on his last year of collegiate eligibility, efficiency – with his technique, his work habits, and his mental focus – will remain the key to his success.
© 2004 Steve McGill
Update: On 4/9/05, Piccolo finished first in the 400m hurdles at the PSAC East Challenge Meet in a time of 53.35. On 4/23/05, Piccolo finished first in the 400m hurdles at the Widener Invitational at Widener University in Chester, PA, in a time of 52.98.