Every now and then real life gets in the way of track and field. All the aspirations dreams and goals get put on hold for a while as we're reminded that death is an integral, inescapable part of life. And we realize, quite ironically, that awareness of death is what gives life its depth and meaningfulness, and that it motivates us to live more authentically. This past fall one of my former athletes endured a scary ordeal that served that not only threatened his promising track career, but also his life.
In the Beginning
When I first met Booker Nunley in the summer of 2006, he was a tall skinny kid who had just finished his sophomore of high school. He didn't seem to stand out in any way, except that he asked a lot of questions. Very eager to learn, he was always seekingout new tips, new ideas, listening in when I was explaining something technical to one of my other athletes. Be patient, I told him. Although he was the same age or even older than the most of the other kids on the team, most of them had been hurdling for longer than Booker. So while it seemed to him that he should be beating them, he was the actually the one who had the least hurdling experience of the group.
But patience was not a word that existed in Booker's vocabulary. At first I felt a bit annoyed that he thought he could gather in a couple months the hurdling knowledge the other kids had accumulated over a period of years. As a hurdling purist, I felt he was being disrespectful to the event by not acknowledging how difficult it is to understand and how complex it is to master. But what I soon came to realize was that his passion for the hurdles matched my own. And he had the physical gifts, the natural inquisitiveness, and the type of hurdling IQ that would enable him to develop rapidly.
By the end of that summer, Booker whose personal best in the 110s had been somewhere in the 15-low range, had dropped all the way down to 14.31. His junior year he continued to progress, finishing the year with a personal best of 13.82, as well as a 55.31 in the 400 hurdles. His senior year he was ready to battle the best in the nation when his outdoor season was suddenly derailed by an academic technicality. He had already earned enough credits to graduate in the winter term, but because he wanted to run spring track, he stayed in school and took two classes in the first semester. Later – too late, obviously – he was informed that, in order to be eligible for athletic participation in the second semester, a student must take at least three classes the previous semester. So Booker was declared ineligible to participate in spring track.
This unfortunate set of circumstances ended up becoming a prototypical blessing in disguise. Because he could not compete for his school team, Booker had more time to practice and thoroughly address his technical flaws instead of constantly preparing for races. The time spent in the training lab, so to speak, served him well. No longer was he in rush to get better so he could beat a rival at the next meet; now he was becoming a true student of the event. Also, because he could run as an unattached athlete at local college invitationals, he began working extensively over the 42-inch hurdles. As a result, he got a head start on his college career by running several races over the 42's, getting his personal best down to 13.91. Also, when it came time to come back down to the 39's for the post-season high school meets, the lower hurdles presented none of the problems they had presented before.
The summer of 2008 proved to be a stellar one for Booker. He won the Junior National Championships with a nation-leading 13.40, went on to finish second at the World Junior Championships in Poland with a 13.41, and concluded his career over the 39's with a 13.41 victory at the US Junior Olympic Championships. Everything seemed to be going Booker's way. In addition to all the victories and accolades, he would be heading to the University of South Carolina in the fall on a full athletic scholarship. He was on top of the world. Little did he know that that world would soon fall apart.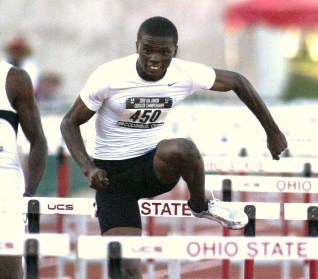 Booker on his way to victory at the 2008 Junior Nationals.
Gilbert Syndrome
On Tuesday October 28, 2008, according to Booker's mom Jackie, Booker missed class and track practice due to what Booker described as flu-like symptoms. The following day, Jackie wrote in an email, "he called [home] and told us that he hadn't left his room because he was having some stomach pains and was throwing up."
According to Booker himself, "I hadn't eaten for a couple days b/c my stomach was hurting. I threw up three times, dryheaving. It was killing my intestines. I also had chest pains because I was throwing up so much."
Finally, on the morning of Friday October 31, talked to the team trainer and told her his stomach "was messed up." The night before, he had been urinating blood. "I didn't know what was going on," he said. "I should've gone to the hospital that night. But first I just looked it up on google. I was like, Is red urine bad? When I looked it up, the site said to go to a doctor immediately."
The following morning, the trainer took him to the local hospital in Columbia, SC. After doctors ran several tests, they diagnosed him with Gilbert (pronounced "zheel-bayr) syndrome, a mild liver disorder in which the liver doesn't properly process a substance called bilirubin. This condition was the reason for the red urine, which probably came about because Booker hadn't eaten for three days. This rare illness, which is not even considered a disease because of its benign nature, affects only three percent to seven percent of the US population. Symptoms rarely appear, so people may live with it without even realizing they have it. In Booker's case, its discovery may have saved his life.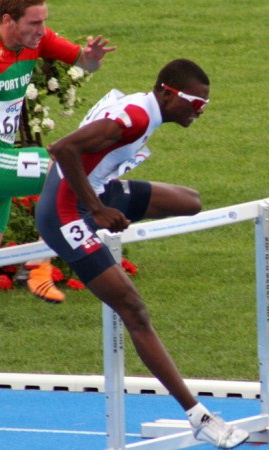 Booker wins his semi-final heat at the 2008 Junior Worlds.
Wolff-Parkinson-White Syndrome
The chest pains brought on by the constant vomiting led the doctors to perform an EKG later that same day, just as a precaution. The test revealed that Booker had another condition, Wolff-Parkinson-White Syndrome, which is much more serious than Gilbert Syndrome.
At www.medicinenet.com, Wolff-Parkinson-White Syndrome is described in the following manner:
Wolff-Parkinson-White syndrome is a condition characterized by abnormal electrical pathways in the heart that cause a disruption of the heart's normal rhythm (arrhythmia). The heartbeat is controlled by electrical signals that move through the heart in a highly coordinated way. A specialized cluster of cells called the atrioventricular node conducts electrical impulses from the heart's upper chambers (the atria) to the lower chambers (the ventricles). Impulses move through the atrioventricular node during each heartbeat, stimulating the ventricles to contract slightly later than the atria.
People with Wolff-Parkinson-White syndrome are born with an extra connection in the heart, called an accessory pathway, that allows electrical signals to bypass the atrioventricular node and move from the atria to the ventricles faster than usual. The accessory pathway may also transmit electrical impulses abnormally from the ventricles back to the atria. This extra connection can disrupt the coordinated movement of electrical signals through the heart, leading to an abnormally fast heartbeat (tachycardia) and other arrhythmias. Resulting symptoms include dizziness, a sensation of fluttering or pounding in the chest (palpitations), shortness of breath, and fainting. In rare cases, arrhythmias associated with Wolff-Parkinson-White syndrome can lead to cardiac arrest and sudden death.
As Jackie put it, Booker has been "a walking time bomb" all his life. But Booker never experienced any of the symptoms listed above. As he said himself, "I went to Ohio [last summer for Junior Nationals], Poland [for Junior Worlds], and Nebraska [for Junior Olympic Nationals], and it could've happened at any time. I could've just fainted or fallen dead at any time, and I didn't even know it."
And to top it all off, Booker found out the same day that "I had a hereditary adult form of jaundice. I was like man, college is really messing me up."
To address the Wolff-Parkinson-White syndrome, the doctors would have to perform surgery, which they did the next day. Booker's not-so-medical explanation of the surgery is as follows:
"They scoped out my heart by taking a tube camera and they stuck it in my groin and looked at my heart to see if there was a nerve that wasn't supposed to be there. There was, so once they found that out, they did some type of electro-test and put an electrical charge into my heart. If the nerve that wasn't supposed to be in there reacted, they would have to take it out. It reacted. They said that if they didn't take it out, I'd have to stop running track or it would possibly kill me. So basically they went in there and burned the nerve out."
Booker has had no side effects from the surgery. He was up the next day walking around, and ended up missing only four days of school. According to his doctors, there's a 1% chance that the syndrome will come back. It's highly unlikely, and they've never seen it happen.

Booker after he signed with South Carolina.
Lessons Learned
Ironically, Booker's ordeal hasn't done much to change his outlook on track. He sees it as just another of the many obstacles he has overcome on the way to becoming an elite athlete. When playing football he was told he wasn't strong enough, when playing basketball he was told he couldn't shoot well enough, and when he got started in the hurdles he had to deal with being the new guy in a training group that included current South Carolina teammate Johnny Dutch and current #1 ranked high school 60m hurdler Wayne Davis. In each case, he managed to prove the doubters wrong. "This has been my story throughout my athletic career," he said. "In all sports, there's always something that tries to keep me down, but in the end I fight to be the best I can be."
Despite missing much training due to his illnesses, Booker has no plans to take off either the indoor season nor the outdoor season of 2009. In fact, he has already competed in his first race, finishing tenth overall at the Kentucky Invitational in the 60m hurdles with a solid 8.08. "People are saying I should red-shirt," Booker said, "but I'm not about to do that. Despite missing so much time from training, I still don't consider myself behind. I don't feel that way. I'm motivated to keep working hard so people can see I didn't lose anything. Besides, with the hurdles being hurdles, it's all about technique. I think I have the technique to compete at a high level."
The biggest lesson Booker has learned from the past few months is that he should treasure the time he spends running track, because it could be taken away from him at any time. "Don't take anything for granted," he says. "Anything can happen to you. You gotta look at everything that could happen, not just a sprained ankle or whatever. So when you have an opportunity to do something big, take it."
© 2009 Steve McGill