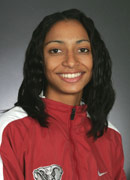 While most hurdlers don't get started hurdling until sometime in their high school years, there are those who get started a little earlier than that. One such athlete is Beau Walker, a recent graduate of the University of Alabama who still has one remaining year of collegiate eligibility. The 22-year-old Walker, who has been hurdling since she was eleven years old, holds the school record at Alabama in the 100 meter hurdles with a personal best of 12.96, and she also owns a personal best of 56.28 in the 400 meter hurdles. Earlier this week, I had a very pleasant conversation with the engaging and insightful Walker about her life as a track athlete as she looks to wind up what has thus far been an outstanding collegiate career.
A native of Aurora, CO, just outside of Denver, the 5'9", 130-pound Walker started running at the age of five. Her dad, Marcus Walker, was the head coach of the Marcus Walker Track Club – a youth track club that regularly participated in USATF meets. Marcus, who originally hales from Wichita, set a lot of records at Wichita East High School, and also ran at the University of Colorado back in the early seventies, where he still holds the school record in the 110 meter high hurdles with a hand-timed 13.3 that he ran in 1970, and also in the 4×100 meter relay, as he sprinted on a team that ran a hand-timed 39.5 in 1971. In addition to her father, both of Walker's older brothers also ran track, as did her older sister. Her brother Julian hurdled for Idaho State and then Colorado State, while her sister Marqus hurdled for Hastings College in Nebraska. With such a family history, it was virtually a natural consequence that Beau would get involved in hurdling as well.
Walker began hurdling as soon as she was old enough to – at the age of eleven, when she was in the "midget" age group for youth track, which is the first age group that includes hurdling. Actually, she was so eager to get going that she did so before she was tall enough to clear the hurdles. To prepare her to compete in hurdle races, "My dad would flip 'em over for me," she said, "and I would go over the low bar." Walker then began competing in the 80 meter hurdles, and she has been hurdling ever since. "I always knew I wanted to be a hurdler," she explained, "because my older brother and sister were hurdlers. And my dad, who is hands-down my best friend, was a big-time hurdler. I would read about his accomplishments, and that made me want to get involved in it."
Because she competed in youth track all her life, long seasons are nothing new to Walker. When she reached the ninth grade she enrolled at Montbello High School in Denver, where she was coached by Wayne Vaden – one of her dad's former athletes. "I ran club track every summer," Walker noted. "We'd always run from January to the end of the summer. Before high school, I would run the indoor season with my dad's club. Then when high school started, we ran high school track. Depending on the competition level, I would run Junior Olympics in the summer, or do the Golden West and the Arcadia, depending on how my body was feeling." The Golden West and the Arcadia are both premier invitational meets that take place in California after the conclusion of the outdoor high school season.
In spite of the long seasons and packed schedules, Walker never grew tired of all the training and competing. The level of competition was challenging, but not overwhelmingly so. Many of the girls she ran with and against "went to school with me or to neighboring high schools. I wouldn't compare [the competition] to California or Texas by any means, but every year we have somebody who can compete on a national level. We're not as deep as other places, but we hold our ground." Because track was a family affair for Walker, and because she had developed so many friendships through her participation in the sport, burn-out was never an issue for her. "I didn't really experience burn-out," she said, "until I got to college, because the competition and training are so much more intense. In high school, I would sometimes get frustrated because, as a teenager, you want to do things other teenagers do. But all of my friends were there with me. All the kids I hung out with ran track." Walker did add that when she volunteers at youth meets these days, "I'm impressed with the kids out there now, because I know how much they go through."
As a high-schooler, Walker won two state championship titles in the 100 meter hurdles, and in her senior year she also won the 300 meter hurdles and ran a leg on the winning 4×200 meter relay team. Indoors, she was a two-time All-American in the 60 meter hurdles. After her very impressive prep career, she took her talents to the University of Alabama – a school that was very far from home. Considering that her older siblings had chosen schools in the Midwest region of the country, the obvious question to ask was how did Walker end up choosing UA? "The coach that recruited me," Walker explained, "Carol Smith, who is at the University of Tennessee now, was originally from Colorado. For a very short time, she used to run for my dad. I hadn't considered Alabama at all, and I didn't want to go there. So it was like, whenever she called, I wouldn't answer the phone, because I didn't want to talk to her. But when I finally did talk to her, she really convinced me to come there. When I visited, the people there were really nice, so it wasn't a hard decision. Plus, I think I'm a person who can make it anywhere, so I wasn't afraid of moving away from home."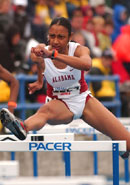 At UA, Walker has trained under the guidance of sprint/hurdle/horizontal jumps coach Sidney Cartwright, a former decathlete himself. Walker described Cartwright as a "nice guy" that she feels comfortable talking to on and off the track, but she also pointed out that he is very intense when it comes to coaching. "We have a good relationship," she said. "Coach Cartwright is aggressive, but his aggressiveness gets the job done. I'm someone who needs a coach who believes in me, someone who pulls my talent out of me. He does that; I have developed so much since high school. Some of my workouts," she added, pausing for emphasis, "I don't know how he comes up with this stuff. But when I see myself improving every week, when I start to produce and see I'm going in the direction I need to be going, I have to thank him for helping me get there." According to Walker, one of Cartwright's strengths as a coach is his confidence in his vision. "He believes in his methods a lot," she said, "and his methods have helped me and my teammates. I've improved every year, every weekend."
In regard to Coach Cartwright's training methods, he likes to place a heavy emphasis on conditioning, Walker said, as opposed to speed and strength. "His thing with weights is just to be strong and toned," she elaborated, "not heavy. I don't really like lifting weights either," she added, laughing, "so that helps me out. I'm naturally built slim, so I don't really have it in me to get big anyway. Coach feels that if you can maintain your speed, you can [win]. But everything you do needs to be monitored regularly, and the coach and the athlete have to come to a decision together. For me, it's all about speed-endurance." The fact that Walker is one of those rare athlete who seeks to succeed in both hurdle events, the need for a solid conditioning base is even more essential than it would be for hurdlers who choose to specialize in one or the other. She admits that training for both is "hard; I believe each individual likes one race over the other," she continued. "I think I may be better in the 400's, but I really like to train more for the 100's. It's tough training for both, but that's where a coach comes in – being able to understand which one you can be better in, and accommodating your workouts accordingly."
Up to this point, Walker's best day on the track occurred at the Drake Relays in 2004. Although a junior at the time academically, she was a red-shirt sophomore athletically, having red-shirted the 2002-03 year with a stress fracture in her fibula. In regards to the Drake Relays, Walker noted that "it was my first year there, so I really didn't know what to expect. I had never seen such a huge crowd before." She competed in five events at the meet – the 100m hurdles, the 400m hurdles, the 4×100 relay, the 4×400 relay, and the shuttle hurdle relay. Talk about a busy weekend. She won both hurdle races (college division; the Drake Relays feature a collegiate division and an invitational division for most open events), she anchored the 4×100 and the shuttle hurdle teams to victory, and, for her efforts, was named Outstanding Performer of the Meet. She says she was surprised to have earned such an honor. "One of my friends was telling me, 'You know, Beau, that's really a big deal,' and it made me think that maybe I'm somebody who can compete."
Walker went on to have a remarkable 2004 season. At the SEC Championships, she finished second to Lolo Jones of LSU in a time of 12.99, becoming the first Alabama 100m hurdler to ever break 13.00. At the same meet, she finished third in the 400m hurdles to Lashinda Demus and Shevon Stoddart of South Carolina in a time of 56.28. Later, at the Mideast Regionals, she won the 400m hurdles in a meet record time of 56.50, and placed second in the 100m hurdles in a new school record of 12.96, which still stands as her personal best. At the NCAA Outdoor Championships, she finished 12th and 10th overall in the short hurdles and long hurdles, respectively.
In 2005, Walker was off to another fantastic season early on in the outdoor season. At the Mt. Sac Relays in mid-April, she finished first in the university division of the 400m hurdles, in a 56.43. In the 100m hurdles, she finished fourth – tying her second-fastest time ever in 12.99 – behind 2003 World Champion Perdita Felicien, professional hurdler Nichole Denby (formerly of the University of Texas), and eventual NCAA champion Virginia Powell. Then, at the Drake Relays at the end of April, Walker won the university division of the 400m hurdles in a meet record time of 56.48, but that race ended up being the peak of her season. In the 100m hurdles, in which she was competing in the invitational division, she tangled arms with one of her competitors and didn't finish the race. "I was on my way to having a good meet," Walker said, reflecting philosophically, "but I had an accident. I appreciate my wins, and I'll take 'em where I can get 'em." When asked if how bad her fall was, Walker again took a philosophical approach, acknowledging the inherent dangers of the event: "I wasn't injured, just a few scrapes and bruises. My pride was hurt. But it's part of being a hurdler."
Without any bitterness or obvious disappointment in her voice, Walker went on to explain that "after the fall, my season just kind of went down. I pulled up in practice the week of SEC's, so I didn't compete in the SEC's. I thought I'd be ready for regionals, but I was in the four-by-one, which was before the hurdles, and I pulled up in that. And you know, if you don't run in regionals, then you can't run in nationals, so that was out. From there, I didn't feel there was any point in competing in the US Championships. I wouldn't have been able to bring my A-game. It was disappointing," she admitted, "because I had had a great season up to that point, and I had high expectations. The good thing is, because I didn't run in 2003, I still have another year left."
In evaluating herself as a hurdler as she looks forward to 2006, Walker feels that her strength lies in her consistency and ability to focus, while she needs to work on the start of her race in the short hurdles, and would like to develop the ability to lead with either leg in the long hurdles. In regards to her ability to focus, she noted that she is always able to "stay in my race. Whether it's the 400 hurdles, the open quarter, or whatever, I don't really run off of another athlete. It's all about knowing my ability, knowing what I am capable of doing on the track." As for her start in the 100m hurdles, she remarked that working on her start is one of her favorite things to do in practice, mainly because her start "is so slow, and I can see where I can gain a tenth or a hundredth of a second by making little adjustments. Knowing there are always things you can do to improve your time helps to keep you motivated. Plus, we have a lot of fun at those practices because there's time to laugh." Being 5'9", it's a little harder for someone of Walker's height to get those legs moving out of the tight confines of the starting blocks, and also to fully extend her sprinting stride once she gets up and going. Still, she doesn't see her height as something that puts her at a disadvantage. "I wouldn't use it as an excuse," she said. "Maybe I haven't developed the sprinting part of it, but I'm sure there are athletes my height who are able to sprint well. But," she reiterated, "I won't use my height as an excuse in hurdling."
While just about every hurdler and hurdle coach has his or her own opinions and theories about alternating lead legs, Walker feels that learning to switch leads in the long hurdle race would benefit her overall race performance. "I really need to [learn how to do it]," she said. It's a real hard thing to me. It's something that if I can get down, I can have a lot smoother race and knock some time off my personal best. It would help out with any stutter-stepping that I do throughout the race. Athletes who are able to [alternate lead legs] are far more elite because they have the mental aspect down to where they're confident enough to just run and go at it."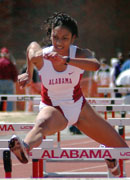 Now that Walker has been hurdling for over a decade (dating back to her days as a youth athlete), the question begs to be asked, how long does she plan on staying in the game? Walker prefers not to think long-term, but to focus on clearing the hurdle in front of her, which, in this case, means preparing for the 2005-06 season – her last season of collegiate eligibility. "The thought [of running professionally] has crossed my mind," she conceded, "but I try to block it out because I think it would take my focus off of this season. If I run well this season, those things will come to me. If I lose my focus, then this season might not go as well. I would like to do [the [professional circuit], if even just for a season, but I have to get ready for next year first." As for goals in 2006, Walker would like to finish the outdoor season ranked as highly as she is in the beginning of the season. "I was ranked in the top five this year," she said, "but things didn't work out at nationals. I would like to finish where I'm ranked going into nationals. My goal is to train and get myself together and put myself in a position where, whatever happens on the day and time of a race, happens. If I'm more prepared, the success will fall on me; if not, it will fall on someone else, and I'm okay with that. I'd like to make it to the finals at the US Championships, and run my best time there. I can't say about life after that. I don't have any specific times or numbers to shoot for, because those'll come with the training."
Competing in a very tough conference like the SEC, and having hurdled and sprinted against some of the fastest girls in the nation all her life, Walker has a healthy perspective on the up-and-down nature of athletic competition. She does not admire or look up to any of her opponents, but has respect for all of them. "I'm not really a star-struck person," she said. "I raced Lashinda [Demus] when I was sixteen. I was impressed, but I finished second, so I was impressed with me too. I do look up stats and see where some women were when they were at the stage of their career where I am now, just to see if I'm on the right track." But in regards to heroes, she has to look no further than her own living room, as her dad set the standards of athletic greatness in the Walker household. Growing up in a family of hurdlers has provided Walker with a special appreciation for the uniqueness of the hurdle events. "I like the fact that it's the same race every time," she said in reference to the 100m hurdles, "but it's so different for each person. The hurdles are always the same height, the same distance apart, and you can only take a certain amount of steps through the course of a race, but it's different for every person." As for the 400m hurdles, Walker said that "it's a race that really shows character. It's really tough just to get there, and not everybody can do it."
Off the track, Walker, who graduated this past May with a degree in Business Marketing, keeps herself very busy as well. She has applied to the University of Alabama Graduate School for sports management, and would like to do image development and event planning for athletes and athletic organizations. She has also applied to the school's undergraduate program for a degree in public relations. At UA, Walker has served on the Board of Directors for the Lady Warriors, Inc. – a girls' athletic organization, and she runs the "If the Shoe Fits" scholarship program, in which she works with the Footlocker shoe company to encourage kids to pursue academic excellence. Walker also volunteers at youth track events; she most recently worked at the USATF Junior Olympic National Championships in Indianapolis this past July.
Walker's advice for young athletes is to "stay focused, stay committed." For further explanation, she added that "as I watched the Junior Olympics, I thought it's really good that these kids are running real fast, but I was also thinking that success on the track kind of doesn't really matter unless you transfer your success to your education, because you don't want to waste what you did athletically once your athletic career is over."
Regardless of how her 2006 season goes, Walker has already made good on the potential that she showed as a youth athlete. Anyone who has the fortitude to train for and compete in both hurdle events at such a high level, and who cared about her teammates enough to compete in five events at the Drake Relays in 2004, certainly has my respect. In addition, the fact that she has already earned her undergraduate degree, and that she actively involves herself in serving the community in which she lives, informs us that she is not relying on her athletic achievements to provide her with an easy life. You don't see too many 22-year-olds who are already giving back so willingly. It seems apparent that, both on and off the track, Beau Walker is truly hurdling in her father's footsteps.
© 2005 Steve McGill