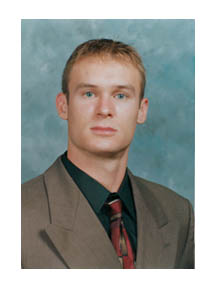 One of the best high school intermediate hurdlers to ever compete in the state of North Carolina was Aaron Sink, a 1998 graduate of Sanderson High School in Raleigh, NC. While at Sanderson, Sink won a 4A state championship in the 300m hurdles and pr'ed in a hand-timed 37.0, which is currently listed on ncpreptrack.net as the seventh best time ever in the state in that event. In the year he won states (1997), he was also listed among the top ten high school intermediate hurdlers in the country by Track & Field News by the end of the spring season. He went on to compete for Georgia Tech University, where he starred in the 400m hurdles and was also an integral member of their 4x400m relay team that achieved All-American status at the NCAA Outdoor Championships in 2000. A few days ago I cooked up a dish of my world class lasagna and invited Aaron over for a chat. Through the course of the interview, I came to realize something about him that I had recognized previously, but hadn't fully appreciated: he is a very competitive person who appreciates the value of hard work. The athletic success he has achieved is no accident.
Born in Raleigh in 1978, the twenty-six-year-old Sink started hurdling during his freshman year at Sanderson. He was playing linebacker on the football team, and one of the football coaches – Allen Gore, who was also the track coach – encouraged him to hurdle to get faster. "After one practice, I loved it," Sink said. "In hurdling, you had to be extremely aggressive, but you had to do it with timing and speed. That's what I loved about it." Being a two-sport athlete was an enjoyable experience. As he explained, "I liked the team aspect of football, the camaraderie. In track, I liked the meets, the competition. In track, it's all about you; you can't count on anyone else to do it for you. And the person with the strongest work ethic usually wins." Sink needed a strong work ethic because he didn't really have a hurdling coach. He therefore had to teach himself how to hurdle by experimenting in practice and by reading up on the event. "That's why my 110s were never that good," he said (his high school pr in the 110s was a hand-timed 14.7; he didn't run the 110s in college), "I never had anyone to teach me the technical stuff." At 6'1", 180 pounds, with a very long natural stride, Sink was able to make up for the lack of technical coaching by utilizing his outstanding athletic ability and his exceptional competitive instincts.
During his freshman year at Georgia Tech, Sink found that transitioning from high school competition to Division I collegiate competition forced him to totally retool his mindset; he had to adjust to the fact that he wasn't going to win every race he entered, and that, in college, everyone he ran against had been all-world in high school. "It was incredibly competitive," Sink said, grimacing a bit with the memory. "I got humbled . . . deeply. I had to reset my mental preparation. Instead of trying to win all the time, I had to try to lose to less people, try to beat more people. It really happened in practices. Then it carried over to the meets." Sink trained with the likes of Angelo Taylor, Derrick Adkins, Octavius Terry, and Derek Mills, all of whom have achieved major success as hurdlers and/or quarter-milers. The latter three were alums of Georgia Tech when Sink was there, but they trained with the team often. Sink emphasizes, however, that the big-named guys weren't the only ones who brought out the best in him during training sessions. "Everybody was good," he said, shaking his head. "Everybody."
Sink points to the 4x400m relay in 2000 at Duke University as definitely being his greatest moment as a track athlete. Georgia Tech's team consisted of Michael Johnson (no, not that one), Sink, Sharif Azim, and Bryan Swarn. Tech finished sixth in a time of 3:05.46, qualifying them for All-American status. Sink also points out Swarn as being the best teammate he ever had. "There were so many good ones," he said, "but Bryan stands out because he was always so positive. Even when we were doing tough workouts, he always brought positive energy. That made training a whole lot easier."
Training became a whole lot harder after a knee injury during Sink's junior year derailed his hopes of making big noise in the 400 hurdles. The injury was an odd one, but a very painful one. While clearing a hurdle, a bone in the knee of his trail leg collided somehow with his tibia, causing a bone bruise where the patella is attached. It hurt to put any pressure on it, even after sitting out for a long time. Eventually, the injury caused him to drop out of track. He currently works as a mortgage broker in Raleigh, but would eventually would like to get back involved in the sport he loves. Having just gotten married in August of 2003, (his wife Julie was a heptathlete for Georgia Tech), he wants to get his personal life settled down first. Looking back on his track career, he does feel a bit saddened by the fact that the injury to his knee prevented him from maximizing his potential. "After my sophomore year, when I ran a 51.9 in the intermediates, it looked like things were stacking up right. I missed the B standard for the Olympic Trials by a tenth of a second, I think. But then, with the knee thing, I never had a chance to build on it." Sink also regrets never having had the opportunity to compete in the 110s at Georgia Tech. "I couldn't figure out why I never ran under fifty-one," he remarked, running a hand through his sandy-blond hair as a frown of concentration, mixed with frustration, swept across his face. "I did workouts where I ran three 200s over hurdles in twenty-four seconds, with three minutes rest between each one. So I should have been able to run 50-flat. Just do the math. But it never happened. I didn't run the 110s in college because coach wanted me fresh for the four-by-four. That's where the team needed me most for points. But not running the 110s hurt my technique. As you get tired late in the race, you lose that technique. I think that's why I never broke fifty-one."
When asked to identify the major influences in his life, Sink immediately mentioned his dad as being someone who was always there for him, was very supportive of him athletically, both in track and in football. "He always had something positive to say, positive advice to give, even when I lost." Athletically, Ronnie Lott is the one Sink singled out as being someone who competed with an unmatched level of intensity. Sink said that Lott, the former all-pro safety who played for the San Francisco 49ers back when they were winning Super Bowls on an annual basis, "was the epitome of a ferocious, tenacious athlete. He had a love of the game that you don't see much anymore."
Sink obviously applied the lessons and examples of Lott to his own athletic career. When asked what he has learned about himself through his participation in track, and in the hurdles in particular, he responded by saying that "hurdling taught me that there's nothing in life I can't accomplish if I work hard enough. In hurdling, you have to do the work. There's no way around it. You can't compare yourself to other people, talking about how good they are, or how it's not fair they're doing better than you if you aren't willing to work hard enough. When everybody's as good as you are, like it was for me at Tech, it's all about who puts the time in. It's not about talent anymore, 'cause everybody's got talent."
Sink's advice to young hurdlers is simple: Don't give up, because once you get it, you'll really enjoy it.
Amen to that.
© 2004 Steve McGill