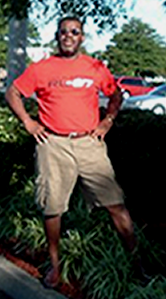 When I first moved to Raleigh, North Carolina in 1994, one of the first people I met was Aaron McDougal, who was one of the coaches for the Carolina Eagles – a local age-group track club. Coach McDougal and I formed an instant friendship based on our mutual love of the hurdles, and we have remained good friends ever since. The 58-year-old McDougal has been a father figure to me throughout the past ten years, as he has been for many of the athletes he has coached throughout the years. I can say quite honestly that I've gained more wisdom listening to him talk during long car rides to out-of-state track meets than I have in any other avenue of life. Recently I paid a visit to his house and sat and talked with him for several hours, and our conversation is the basis for this profile. Hopefully, after reading it, you will admire this man's integrity and dedication the same as I do.
Aaron McDougal, who stands about 5 feet, 10 inches tall, weighs about 165 pounds, and sports a black-gray beard on the skin of his dark brown face, was born in 1946 in Washington, D.C., where he was raised in the inner city. He didn't get involved in hurdling until 1964, his senior year at Eastern High School, mainly because Eastern already had the top three hurdlers in the city. When asked what attracted him to the hurdles, he responded that it was "the grace of the event, the fluidity." Naturally flexible, learning to hurdle came quite easily for McDougal. He practiced a lot on his own, and then, in his senior year, decided to go ahead and run a full flight of ten over the 110's.
McDougal joined the armed forces after briefly attending the University of the District of Columbia (UDC). While overseas, he ran in the Pacific Track Championships in Japan, finishing first in the 110m hurdles and the 400m hurdles. He didn't have a hurdle coach, so he taught himself how to hurdle and was able to get his PR in the 110's down to 15.0, but army duties and arthritic knees forced him to give up the hurdles at the age of 21. Little did he know at the time that his experience of being forced to coach himself would prepare him for a future career as a hurdle coach. It wasn't until fifteen years later, after having moved to Raleigh, NC, that his ten-year-old daughter, Dee, asked him if she could run track. So McDougal began coaching her, along with a few other kids. He has been coaching youth track ever since, first with the Carolina Eagles, and now with the Raleigh Junior Striders.
Unlike many coaches who specialize in the hurdles, McDougal's first love was not the hurdles, but dancing. Then, as an adult, he became seriously involved in the martial arts – specifically, Tae Kwon Do. He actively studied Tae Kwon Do from the ages of 40 to 53, and has earned a black belt – the highest level that can be achieved. McDougal notes that "a lot of my training regimen is based in the martial arts, even more so than in hurdling." Concepts such as "training past the normal point of exhaustion, learning to focus, to concentrate, to use the force of one's will, are all things I learned while studying the martial arts." Hurdling and martial arts are very similar disciplines, McDougal observes. The focus that is necessary, the control (physical and mental) necessary to be effective, are the same. In both disciplines, you must "stay within yourself" and "concentrate on what you are doing." In the hurdles and in the martial arts, when you lose focus, you make mistakes, and give your opponent(s) an advantage. So there is a certain mental toughness needed in both. "Very few people reach the level of being true martial artists, although many people take classes in the martial arts. Same with the hurdles. Very few people are truly hurdlers, although many people have run hurdle races. It's a matter of approach, not competency. You can't have fear." In reference to fearlessness, McDougal points out that he's not talking about a reckless abandon of reason, but "fearlessness from a track perspective. You can't be afraid of the obstacle. There's a lot of pain involved in the hurdles, we all know that. So you have to be dedicated, you have to be a hurdler, not a sprinter who runs the hurdles, in order to excel."
When asked about his athletic influences while growing up, McDougal says that he didn't really have any, and that he had never really thought about it until I brought up the question. He has, however, had athletic influences in the realm of coaching. Two in particular whom he points out are the legendary Russell Blount, as well as current University of South Carolina head coach Curtis Frye. In regards to Coach Blount, McDougal says that he had the good fortune of sitting near him at an age-group meet a few years ago. "It was at regionals," McDougal says, "I just saw all these generations of athletes passing by, greeting him, chatting with him, and it made me realize how many people he had influenced over the years, just by coaching, just by giving back. I want to be able to have that kind of influence on kids too." As for Coach Frye, McDougal has always admired the success he has had with hurdlers. Last year, McDougal attended Coach Frye's coaching clinic, where "Frye reinforced a lot of what I was doing with my kids. Frye says that a coach shouldn't have all the answers, but should always be looking for the answers. A coach's focus should be on problem-solving, on coming up with your own solutions. Frye emphasized the importance of being innovative, of trusting your instincts, and that's the approach I've always taken." Another thing Coach Frye emphasized was the importance of coaching each athlete as an individual. "He's right," McDougal says, "the solution that works for one athlete might not work for another, even if they both have the same problem. So you have to keep trying new things, keep looking for new solutions."
Athletes McDougal has coached extensively include Ashley Dutch, who was the North Carolina 4-A champion in the 100H and 300H in 2001, and has since gone on to compete for the University of North Carolina. Ashley's younger brother Dominique Dutch last year tied the national high school freshman record in the 110's with a time of 14.16 at the North Carolina 3-A state meet. Dominique also was a national champion in the 100m Hurdles in the 13-14 year old age group in 2003. McDougal says that his greatest moment as a coach came when Dominique tied the national freshman record in the 110's. "That solidified for me that what I'm doing is working." Wayne Davis won the national championship in the 80m hurdles for the 11-12 year old age group in 2003, and Keare Smith won the national championship at the same distance in 2002. In 2004, Gabrielle Mayo finished fourth at the national championships in Oregon in both the 100m hurdles and the 400m hurdles for the 15-16 year old age group. In the 100's she ran a personal best of 14.41 in her first year of running the event. Coach McDougal is counting on her to do bigger and better things in the next few years, as she starts to "get some reps in." In spite of all this success, McDougal remains a humble, hard-working man who enjoys coaching the less talented athletes as much as he enjoys coaching the stars. One of the athletes of whom he is most proud from this past year is Danielle Davis, who finished ninth at the national championships in the 11-12 year old girls 80m hurdles, just missing making the finals by a couple tenths of a second. Danielle couldn't even three-step when the season began, so her progress warms McDougal's heart just as much as that of the national champions.
When asked why he is willing to coach on a voluntary basis (which means he doesn't get a dime for all the work he does), McDougal explains that his mother raised him to look out for others, to not just think about himself all the time. "I was blessed to survive the inner city more or less unscathed," he explains, laughing when he says 'more or less.' "It's important to build up a good community, regardless of people's backgrounds, race, and all that. I've gotta do more than just do for me. All grown-up people have to, so that we don't have crumbling communities like the one I grew up in."
Along those lines, McDougal understands that when he is coaching athletes, he is not merely coaching athletes, but is coaching people. "You cannot develop a successful athlete," he says, "without developing character. I can't, anyway; I can't separate the two. The willingness to work hard, to listen to instruction, the ability to manage difficult situations, to perform under pressure – these are personal skills, not athletic skills. As a coach, you have to produce an individual who is capable of being trained by someone else, other than yourself. You form a bond with the athlete, but they're not your athlete. They have to know how to get on in life without you."
Like many track coaches, McDougal is greatly disturbed by the out-of-control drug scandals going on in the world of Track & Field these days, and worries about how it is affecting the kids who admire the professional athletes and aspire to be like them. "I worry about it every day," he says. "I'm ready for some serious repercussions, because it's putting a blight on the sport. I don't know how to get rid of it. I don't care if it's for an Olympic gold medal, I don't care if there's a lot of money at stake. In the end, it's just an athletic competition. You compete, you do your best, you shake hands whether you win or lose, and you go your way."
For young athletes trying to decide if they want to try the hurdles, McDougal offers the following advice: "You have to go with your heart. If you don't know what you want to do, then certainly no one else does. But youth shouldn't be expected to know because they haven't had enough experiences yet. Youth should diversify, touch on everything, try different events, so they have options. Track & Field is too broad a sport to get stuck on one event too early. If one of my kids wants to try the pole vault or the long jump, I tell him to go try it. Parents and coaches should encourage kids to explore until they're old enough to know for themselves what they really want to do."
There can be no doubt that Aaron McDougal is a good man and a good coach, but he is so much more than that. He is someone who influences lives for the better, who gives of himself on a regular basis without asking for anything in return. As the saying goes, they don't make 'em like that anymore.
© 2004 Steve McGill