Now that the 2007 version of the Track and Field World Championships in Osaka, Japan have drawn to a close, I have some closing thoughts I'd like to share regarding the hurdling and sprinting events, starting with the hurdles first. It was an exciting week and many American athletes came through with huge performances while others fell to disappointment. After this meet, we have a clearer picture of who the favorites are for next year's Olympics in Beijing. Stars who shined brightest on the world stage include Tyson Gay, Allyson Felix, Michele Perry, Kerron Clement, and Jeremy Wariner. It'll be exciting to see who does what next year.
110 Meter High Hurdles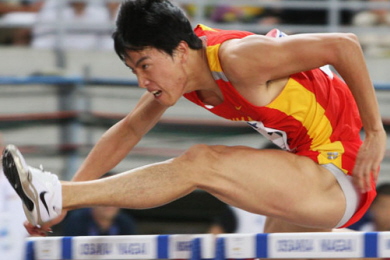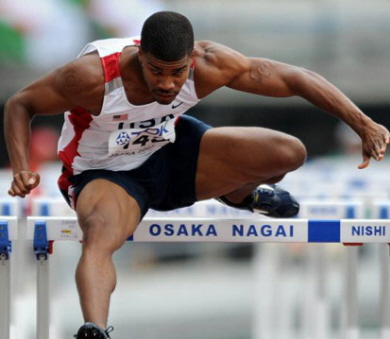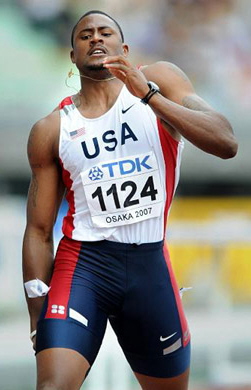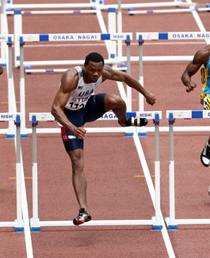 Liu Xiang did his thang once again in the 110s, and had to come back on Trammell to do it. David Oliver suffered a hamstring strain in the semis, and David Payne flew in at the last
minute to win a bronze medal.
Liu Xiang is still the man in the 110s. Out of lane nine, far away from where the action was in the middle of the track, he defeated fellow big dogs Terrence Trammell and Dayron Robles, as well as American David Payne. This World Championship victory cements his status as one of the greatest ever.
Give Trammell his due. Two sub-13.00s in one season is phenomenal. I could be wrong, but it seems to me that by not messing around with the sprints the past couple years, his hurdle times have gotten better, and he just might give your boy Xiang a run for his money in Beijing. Right now, though, you really can't call it a rivalry because Trammell hasn't beaten him yet.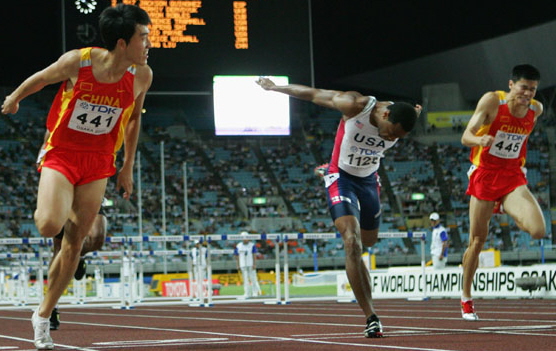 Xiang, in lane nine, looks for Trammell as he crosses the line. Trammell cannot be seen in this photo.
It was a monster performance from Payne. A last-minute entry after Dominique Arnold dropped out due to injury, Payne earned himself a bronze medal, pulling off a big upset, as no one gave him much of a chance to medal, especially with Robles in the race.
Tough break for David Oliver. Hamstring problems in the heats made him tentative in the semis, costing him a spot in the final. But we know you'll be back, D.O!
I'm a bit surprised Robles didn't run better. That 13.25 in the rain at the Pan-Ams in July had me thinking he would be ready to make a big challenge. Plus his technique has been much better this year. But it makes you appreciate just how hard it is to run in that 13.00 or under range on a consistent basis.
400 Meter Intermediate Hurdles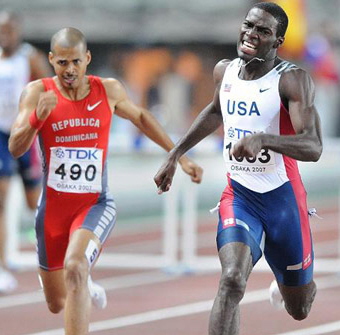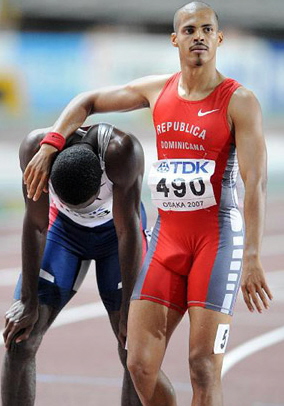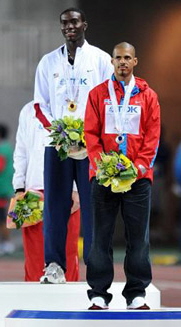 Sanchez and Clement battle it out on the homestretch, share a post-race embrace, then stand together on the victory podium.
Congrats to Kerron Clement for grabbing his first victory in a major international competition. He was the only one under 48-flat, and he looked good doing it.
Tough pill to swallow for James Carter. He's had the best season of anyone in this event, and looked great in the rounds. Next year he'll have another chance to go for the gold, but there are never any guarantees when there are hurdles in your way.
Ditto Bershawn Jackson. Looking like he would easily qualify for the final, he clipped the last hurdle in his semi-final heat, stumbled badly, and fell behind some fast-closing opponents. Unfortunately, his time wasn't fast enough to get him in. It's been a tough season for Batman, but he'll bounce back in '08 just like he did in '05 after just missing making the '04 Olympic team.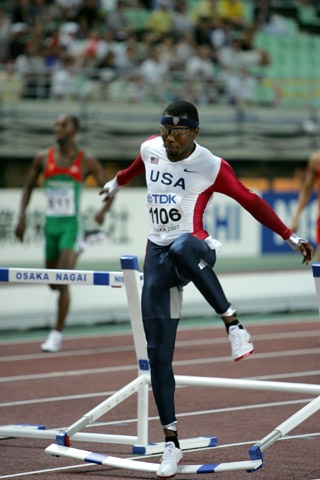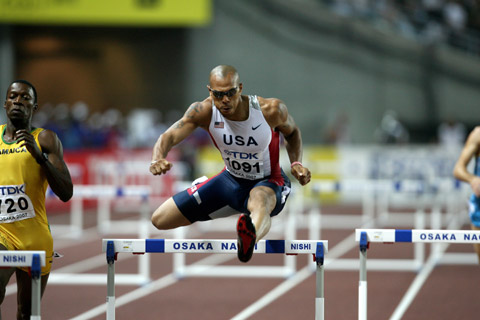 Jackson and Carter both suffered major disappointments in Osaka, but should be back for redemption in '08.
Much congrats to Felix Sanchez. You always like to see the old-schoolers come back strong, and that's just what he did. He's healthy and back among the elite again, so he should definitely be a prime contender next year in Beijing.
100 Meter Hurdles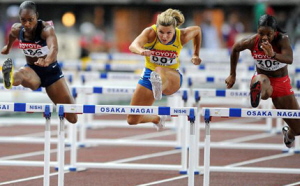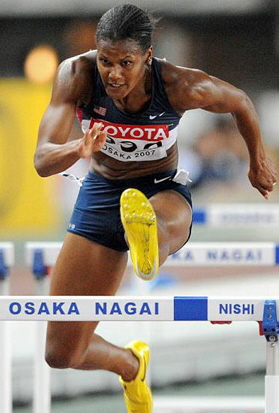 Perry battles against Kallur and Felicien, while Powell runs alone in lane nine.
Michele Perry has established herself over the past two years as the best 100 meter hurdler in the world. Even though she only won the WC's by a lean, that lean makes all the difference in the world. She dealt with contact throughout the race, as she and Susanna Kallur were bumping the hell out of each other. Perry has come up big in big races time and time again, so, like Xiang on the men's side, she doesn't always win by much, but she has set herself apart and therefore has established a mental edge over her opponents.
Felt bad for Ginny Powell way over in lane nine. It's really hard to get a race feel when you're way over there by yourself. All the more reason Xiang's victory is so amazing. I think lane nine really hurt Powell, because she was well ahead of the women in seven and eight, but couldn't get a feel for where the women in the middle of the track were.
Congrats to Perdita Felicien for getting herself back "on the podium," to coin a phrase the American broadcasters kept using. She has battled with psychological demons ever since her crash at the '04 Olympics, and this race finally signals that she has made it all the way back.
400 Meter Hurdles
Very disappointing meet for the Americans. Tiffany Williams was the only one to make it to the finals, and she didn't do much when she got there. Well, maybe next year for this one.
Men's 100 Meter Dash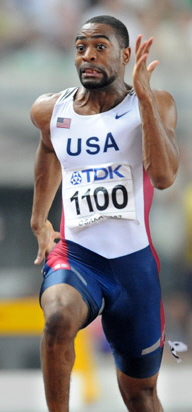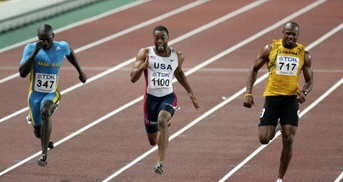 Tyson Gay sprints to victory in the 100, while Atkins and Powell race on either side of him before Gay pulls out the victory.
You gotta give it to Tyson Gay. On the big stage of the World Championships, he basically dominated the sprints, starting here in the 100. His finals race was one that many a coach will show to their athletes as evidence of the importance of patience in the 100. Gay never lost his composure when he fell behind early, didn't try to make up too much ground too soon, but just kept running, all the way through the line. It was a masterful sprint race.
Let's not dump too much garbage on Asafa Powell. Yes, he seemed to check out about two steps before the finish line, and no, he didn't live up to the hype of being the world's fastest man, and yes, he did admit that he panicked when he saw Gay coming up on him, but before you go calling him a choker who can't stand the pressure, you get into the starting blocks and run 100 meters as fast as you can with the whole world watching and your nation counting on you to come through. Like others who fell short of expectations this time around, Powell will be back. One race doesn't ruin a season. Nor should it define a career. In other sports, people like Peyton Manning, John Elway, and even the immortal Michael Jordan took a while before they finally reached the summit. But they were great before they ever won championships, and so is Powell. But yes, he does need a major international victory to seal his status as an all-time great.
Derrick Atkins is the forgotten man in all of this. His silver is no fluke, despite Powell's late-race meltdown. Atkins has been running fast all season long. He didn't just come out of nowhere in Osaka.
Men's 200 Meter Dash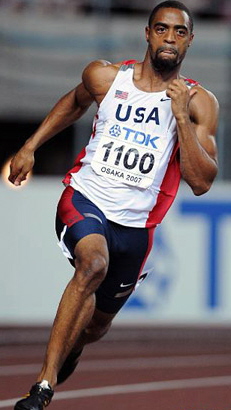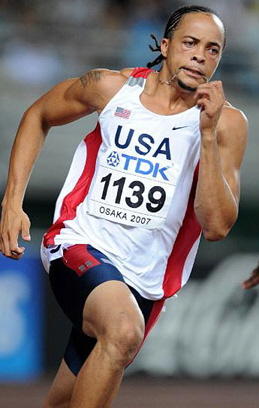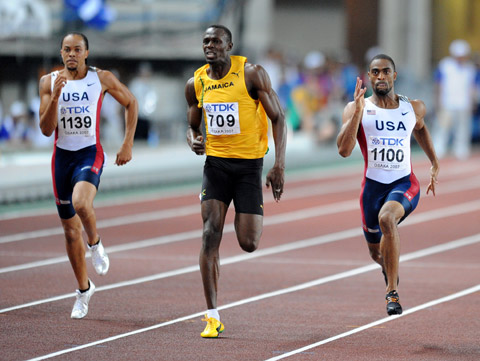 Gay and Spearmon work the curve, then Gay bolts past Jamaica's Bolt and his fellow Arkansas alum.
More Tyson Gay. I can't get over what a beautiful sprinter he is. Textbook form, fluid, relaxed upper body, quick turnover, and always in control mentally. In this race too he fell behind early, then made up ground on the straight-away and took over the race by the end.
Usain Bolt, who blazed out of the blocks and ran an exquisite curve, will continue to be Gay's toughest competition in this race. Wallace Spearmon is right there too, and Rodney Martin has quietly been building a nice resume for himself since turning pro in '06.
Gay is the first sprinter since Carl Lewis who is equally adept at the 200 as he is at the 100. Other sprinters have done well in both, but because Gay was primarily a 200 guy first, he has equal capacity at both. Those who focus on the 100 first have more trouble going up to the 200 than those who come down to the 100.
Women's 100 Meter Dash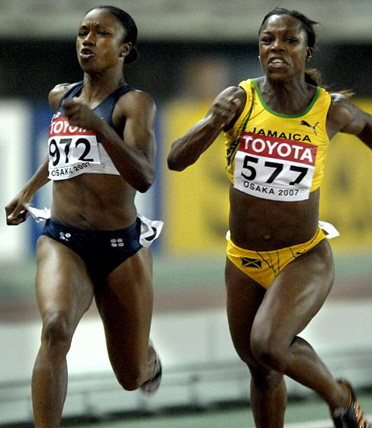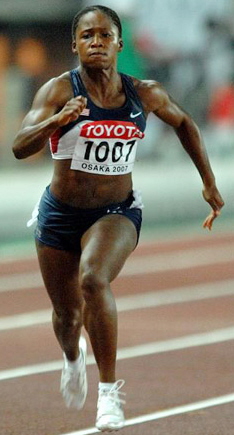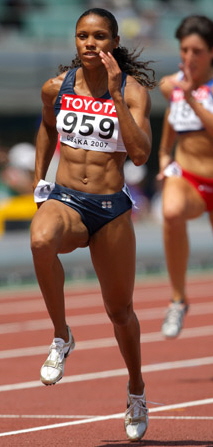 Jamaica's Campbell surges ahead of Carmelita Jeter of the US to claim the gold. Williams claimed the silver in a photo finish, while Edwards finished fourth.
Wow, one of the closest races ever. Veronica Campbell and Lauryn Williams both ran heroic races from start to finish. Campbell did much to make up for Jamaica's heartbreak over Powell's loss in the men's race. As for Williams, she salvaged a season that had been headed for the dumpster, and she showed all of us just how much heart and courage she has.
Big disappointment for Torri Edwards. Throughout the season, and throughout the rounds, it was looking like she, not Williams, who would be battling Campbell for the gold. She actually ran a very good race, but not as good as she would've liked.
Women's 200 Meter Dash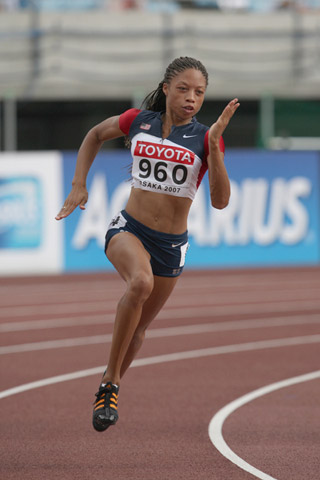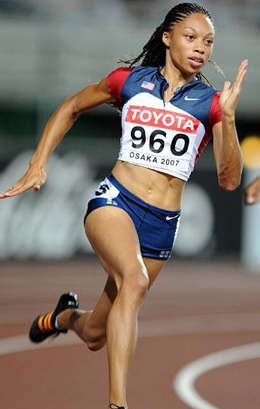 Felix delights the crowd with her beautiful running form in the women's 200.
The 200 has become the hot event in both the men's and women's sprints. Here, Allyson Felix totally crushed a very good field in running a personal best of 21.81. Talk about a beautiful stride! Felix runs as effortlessly as anyone I've seen in a long time, male or female.
Sanya Richards gave a valiant effort, but the 200 is obviously not her forte. She's a quarter-miler, and if she had made the team in that event, she would've most likely won it handily. That's gotta hurt. But there's always '08, and the talk is already that Richards and Felix might both try to double in the 200 and 400. That would be hyped.
Men's 400 Meters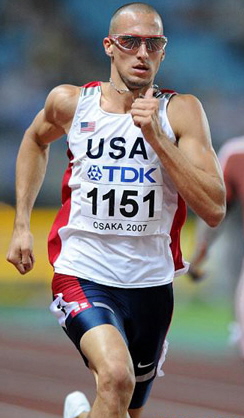 Surprise, surprise, Jeremy Wariner won again. He's one of those guys who just does whatever he has to do to win. LaShawn Merritt goes under 44, so Wariner goes under 43.50. Ho hum. Wariner is another one with a very fluid running stride. It's nice to see such an emphasis on fluidity and ease of motion among so many younger sprinters (Wariner, Felix, Gay, Spearmon, et al). I for one have grown very tired of the heavy emphasis on power in the sprints and hurdles in recent years.
Angelo Taylor, Olympic gold medalist in the 400 hurdles in 2000, has done a nice job of digging himself out of the grave after many years in obscurity. In 2007 he has run both the hurdles and the open quarter, and his bronze medal performance in Osaka puts him on the map as a legitimate quarter-miler who could definitely make some noise in that event in Beijing if he doesn't choose to go back to the hurdles.
Merritt, meanwhile, looks like the greatest threat to Wariner's gold medal hopes in Beijing. Wariner is, was, and will be the favorite, but Merritt is close enough behind that Wariner can't afford to relax.
Women's 400 Meters
What a mess. You got this woman from Britain just off a drug ban who comes out and wins the gold. She might be clean, but hell, who knows? And with Richards out of the running due to her 4th-place finish at the US Trials, this event just held no luster for me this year. Blah.
Relays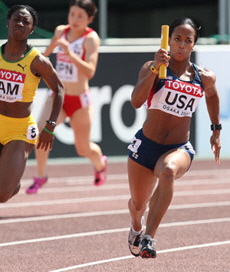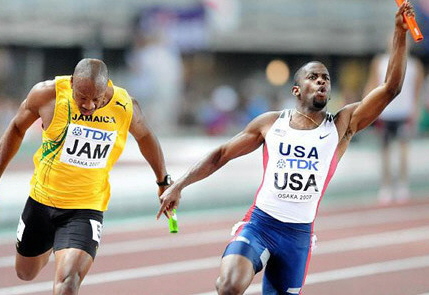 Miki Barber and Leroy Dixon ran great legs for the US 4×100 teams.
Pretty impressive that the US swept the relay medals for men and women. That's never happened before. I was really happy for Miki Barber in the women's 4×100, who traveled to Osaka not even knowing if she'd be on the team for the finals. Her 11.02 victory at the Pan-Am games is probably what earned her a spot, and she came through in a big way with a blazing third leg.
In the men's 4×100, I was very impressed that they got the stick all the way around despite a couple of potential fiascos. Spearmon really showed his relay experience when, after running up on Gay in their exchange, Spearmon actually grabbed Gay's hand and put the baton in there to make sure they had a fair exchange. How many sprinters do you know of who have the presence of mind to do that?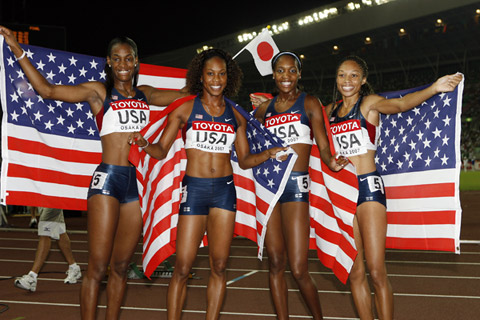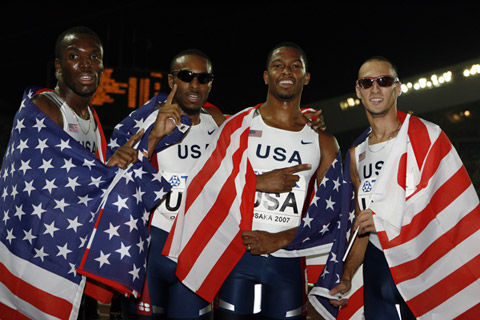 The men's and women's 4×100 and 4×400 teams celebrate their victories.
I liked the post-race celebrations of all the US teams. No ugly American antics this time around. Just respectful acknowledgment of the crowd, posing for photos, etc. No posturing, no flexing for the cameras. So lovely.
Bernard Lagat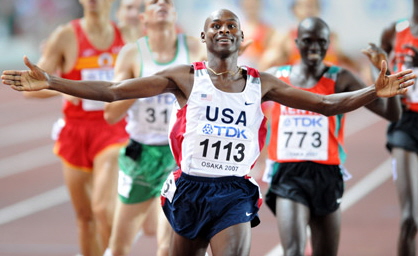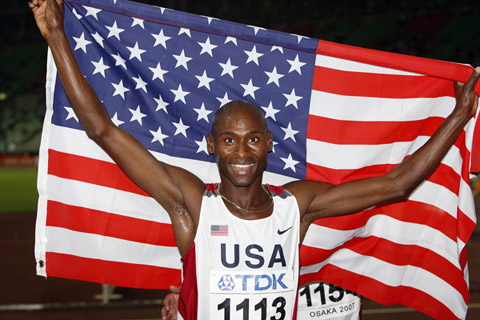 Lagat, originally of Kenya but now an American citizen, becomes the first American to win the 1500 in over a century, then celebrates by draping himself in the American flag.
I know Lagat's not a sprinter or a hurdler, but he's the truth. He's glad to be an American, and the way he's running, I'm glad he's an American too.
TV Coverage
The TV coverage was good. I liked the fact that the Versus channel picked up the meet and provided two-hour blocks of coverage at a time that allowed me to stay up and watch. I don't mind tape-delayed coverage. I mean, the meet was in Japan, after all. The commentators were okay. That sideline guy, Bob Neumayer, was asking some dumb questions, but it's hard to interview people right after they just raced, so we can give him the benefit of the doubt on that one. Personally, I wouldn't mind if these sideline reporters were allowed to let the athletes pee in a cup first before interviewing them. It's all tape-delayed anyway. But that's the way that goes. Ato Boldon did nice work, and was definitely an upgrade from Carol Lewis doing the color commentary by herself. But usually I would turn the sound off once the race started anyway. Nothing is more annoying than someone talking when the gun is about to go off.
© 2007 Steve McGill