In Track & Field, when discussing who is the "best," we all like to use rankings as a barometer. Whether they be world rankings, national rankings, regional, state-wide, city-wide, county-wide, when the rankings are listed, we all flock to the newspaper or internet to see where the athletes we care about stand in comparison to the rest of the pack. While I must admit that I'm as guilty of this behavior as anyone else, I would also say that one of the problems with this infatuation with rankings is that it takes away emphasis from performance on the track itself, which is where the magic happens.
On the professional level, Track & Field is one of the few sports – perhaps the only sport – in which you can be the world champion but still not be considered the best in the world. In professional football, for instance, would you have ranked the Steelers above the Patriots in 2004-05? Although the Patriots beat the Steelers in the AFC Championship game, the Steelers finished the regular season with a better record, and they defeated the Patriots in their only regular season meeting. So, based on how Track & Field rankings go, it would be a toss-up in deciding whether the Steelers receive a higher ranking than the Patriots, even though the Patriots won the Super Bowl! So, obviously, there's something basically illogical about ranking systems to begin with. In international Track & Field competition, the World Championships or the Olympic Games is the meet that everybody trains for, it's when everyone wants to peak, so that's when everybody is supposed to be at their best. Logically speaking, therefore, the athlete who wins when everybody is at their best should be the one who is considered the best once the season is over. Sure, the championship race is only one race, on one day, but it is the one race that everyone agreed upon was the race that would prove who is the best.
Justin Gatlin won't be ranked #1 in the 200 meter dash this year because he didn't run it often enough, even though he won the world championship in Helsinki. As far as I'm concerned, winning the world championship should automatically give you the #1 ranking, and let all the other criteria matter only for the rest of the places. How are you going to rank Gatlin below anyone else when he won the big one? What if Asafa Powell, because of his world record, had been given the #1 ranking in the 100 even though Gatlin had won the world championship? A lot of people feel that a world record equals, or even trumps a world championship, which leads me to my next point.
How are you going to tell me that a world record trumps a world championship? One of the negative effects of rankings is that they put too much emphasis on times, and not enough on victories. In the Powell/Gatlin argument, for instance, Powell's 9.77 is undoubtedly an outstanding performance, an historic performance, but still, in my mind, that's like Kevin Garnett scoring 55 points in a regular season game. It's a phenomenal, awe-inspiring performance, but it didn't occur when the season was at its peak. Also, there are so many factors that go into a world record that there are plenty of near-misses that may well have been, when considering all the factors, better races than the world record itself. The biggest and most obvious factor of all is wind readings. A 9.9 with a tailwind behind you isn't as fast as a 10.0 with a headwind in front of you, for example. Track is a sport that puts way too much emphasis on times when it comes to determining who the highest-ranking athletes should be. Gatlin, for instance, has never lost to Powell in a major competition, so why are we even talking about Powell in the same breath as Gatlin? In the men's 110 hurdles, I know that Ladji Doucoure didn't come in first place in many of the races in which he battled head-to-head against the likes of Allen Johnson, Liu Xiang, and Dominique Arnold, but he did win the world championships, which is the meet they all geared their training and competition schedule toward, so why should he earn anything other than the #1 ranking? The women's 400 raises another interesting slant on the subject. Darling-Williams and Richards were pretty much even in head-to-head battles, and Richards ended the season with the fastest time in the world, and she beat Darling-Williams in that race. However, Darling-Williams is the world champion, which, again, to me, trumps all.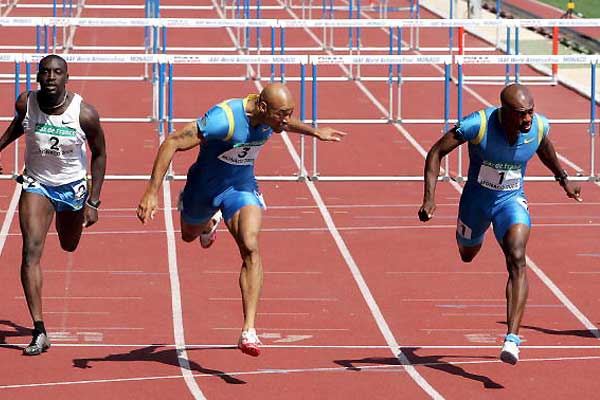 Although Johnson won this meeting in Monaco, Doucoure's World Championship victory should make him #1 over AJ, Arnold, and Xiang (not pictured).
One benefit of rankings is that they can serve the practical purpose of letting an athlete know where he or she stands in relation to the other athletes in his or her event. In high school, for instance, the dyestat rankings serve that very purpose. As a coach, I frequently visit their rankings page to see who is doing what in other parts of the country, and to see how athletes that I coach stack up. Besides dyestat, every local area around the country will have its own rankings lists, whether they be state-wide, city-wide, or whatever. These rankings serve the same purpose as dyestat's, but on a more regionalized level. These types of rankings are relatively harmless, and they're also useful in the sense that they give athlete's motivation to keep improving. From the coach's perspective, that's a very good thing, because you're always looking for ways, throughout the grind of a long season, to keep the athletes motivated. But these types of rankings, too, can be deceptive in that they can give athletes a false sense of how good they are or of how good they aren't. Let's say, for example, you're a high school boy who has run 14.46 in the 110 meter high hurdles at your state meet, which barely puts you in the top 100 in the dyestat rankings. But if you look down the list, you see that if you can drop a mere one-tenth of a second, you can pass as many as twenty hurdlers ahead of you on the list. Which means that, if you had a chance to run head-to-head against some of those kids ranked higher than you, you would have a good shot to beat them, as long as you keep a positive frame of mind going into the race. But focusing on the fact that someone is ranked twenty places ahead of you can make you believe you have no chance of defeating him in a competition, even though you're not that far behind him at all. On the other hand, there may be kids who didn't even make the top 100, but whose personal bests are only a few hundredths of a second slower than yours whom you better watch out for if you see them in post-season meets. In an earlier article on this site I talked about the dangers of putting too much stock in seed times; rankings lists present the same dangers – you can get so caught up in rankings that you forget you have to run the race.
Rankings may be a lot of fun to discuss and banter about, and they may have their practical usefulness, but in the end, they really don't add up to much. I've heard many a boxing analyst say that for a fight that isn't won in the ring, but is instead decided by the rulings of judges, the outcome is always going to be suspect. I remember Marvelous Marvin Hagler once holding up both fists during a pre-fight press conference and saying, "These are my two judges, K and O." I say the same thing for track – run the race on the track, focus only on the athletes you're lining up against on that given day, and leave the rankings for the stat fanatics and the pundits.
© 2005 Steve McGill