Coach McGill's Blog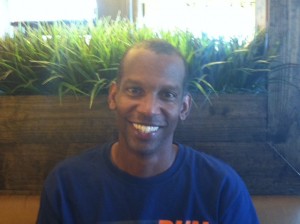 March 8, 2014
For today's blog post, I'm giving my pick for the most thrilling hurdle race ever. While there have been dozens of races over the years that could be considered serious candidates, I'm going with the men's 400m intermediate hurdle final at the 1987 World Championships in Rome. Edwin Moses finished first in 47.46, with Danny Harris second in 47.48, and Harald Schmid in third also in 47.48. Moses had a sizable lead for a good portion of the race, and was clearly ahead coming off the last hurdle. But both Harris and Schmid made a mad dash for the finish line. They both closed the gap considerably, but Moses held on for the victory. For three athletes to run sub-47.50 in the same race is something we hadn't seen before and haven't seen since. Moses' dominance in that era pushed his competitors to the limits of their potential, and this race serves as an epitome of the heights this event reached during the Moses years.
Here's YouTube footage of this timeless classic:
Sunday March 2, 2014
Was watching the SEC indoor track and field championships on ESPN3 yesterday, and after the women's 4×400 relay, felt I had to post something about the controversial call that gave the Florida women the championship over Texas A&M. Heading into the event, A&M was the leader in team points, with Florida second. A&M didn't need to win the 4×4 to win the meet, but they needed to score enough to prevent Florida from overtaking them. As the race took shape, it appeared that A&M had the team title on lock. Entering into the final leg, A&M and Florida had separated themselves from LSU and Kentucky. So as far as team points were concerned, it didn't matter which team won the 4×4; A&M was going to win the meet.
But on the last turn of the last lap of the last leg, the A&M athlete made a move to pass the Florida athlete. The A&M athlete did pass her by a slight margin, but not by enough to cut in front of her into lane one. However, the A&M athlete did cut in a little bit, to the outside edge of lane one. The Florida athlete made a surge to get back in front, but ran into the elbow of the A&M athlete. The collision caused both to stumble, but the Florida athlete was able to keep her momentum better, and Florida went on to win the 4×4, with A&M second, and LSU a distant third.
Watching on the live stream, viewers were informed by the commentators that a yellow flag had gone up, and the officials were going to make a decision on the 4×4 contact, and thereby make a decision on the winner of the meet. The color commentator pointed out that the only way A&M could lose the meet was if they were to be disqualified, as they would score no points in the 4×4 if that were the case.
Initially, the commentator informed us that the officials had ruled "no harm no foul," meaning that even though the A&M athlete had cut in too far into lane one before being far enough in front to do so, no change had occurred in the results. If there'd been no contact, the order of finish would've been the same.
But then the commentator informed us that Florida was protesting that ruling, for the obvious reason that they wanted the team title.
Ultimately, after the broadcast went off the air, the initial "no harm no foul" ruling was overturned. A&M was disqualified. Florida won the SEC team championship.
I've always been a spirit of the law kind of guy, not a letter of the law guy, so the final ruling upsets me. To win a championship on an official's ruling isn't the way to win a championship. But of course if I'm the Florida coach I have to do whatever I need to do to help my team win. What if the Florida coach doesn't protest the initial "no harm no foul" ruling? He's not doing his job.
If you look at the replay, it does seem clear that the A&M athlete did in fact commit the violation. But it still makes me sick to my stomach to think of the heartache that A&M anchor leg is going through right now, after running her heart out only to feel that she let the entire team down with her rules infraction.
But I guess it's fair to say that sort of things happens all the time in track and field. Part of the gamesmanship in big meets involves getting points anyway anyhow without regard for kids' feelings and without regard for the fact that these are, in fact, kids. I for one would be perfectly fine with taking out the entire team-point aspect of track and field and allowing each event to have its own champion, and that's it. There aren't any team points in the Olympics, in the World Championships. So you don't have this sort of common insanity that you see in collegiate and high school championships, where a kid's dream is shattered in the name of a team victory.
Sunday February 23, 2014
There are moments when sports goes beyond winning and losing and has a huge emotional impact. For me, one of the most memorable of such moments occurred on January 3, 1999, in the NFL wildcard playoff game between the San Francisco 49ers and the Green Bay Packers. The moment I'm referring to is what is now referred to as "The Catch 2," when 49er quarterback Steve Young threw a game-winning touchdown to receiver Terrell Owens.
After making the catch, Owens lie down in the field, swept up in emotion, as his teammates surrounded him to celebrate. Walking off the field to the sideline, Owens was in tears. He hugged teammates and coaches with one arm as he clutched the ball in his other hand, almost as if he hadn't believed he had caught it.
Earlier in the game, Owens had dropped three balls. As an up and coming star at the time, he wasn't supposed to drop three balls. And as the clock was winding down, it was looking like Owens' drops would go down in history as a huge reason why the 49ers lost that game. There was no reason to believe that Young would go to him with the game on the line. Not with the legendary Jerry Rice on the field.
But Young did go to Owens. Stumbling as he backpedaled into the pocket, Young righted himself before throwing a perfect strike through four Green Bay defenders. Owens caught the ball in the end zone, took two big hits from Green Bay defensive backs, and held onto the ball.
The thing about it is, we now know Owens as a petulant diva who would later go on to trash his own teammates, particularly quarterbacks Jeff Garcia (with the 49ers) and Donovan McNabb (with the Philadelphia Eagles), and who publically ranted and acted the fool when Philly wouldn't renegotiate his contract after his stellar 2004 season in which he helped lead Philly to a Super Bowl berth.
But in that shining moment on January 3, 1999, T.O.'s emotions were real. He had gotten a chance at redemption that he didn't think he would get, and he had come through.
What makes it even crazier is that this magical moment never would've happened had instant replay been in effect at the time, as, earlier in the game-winning drive, Rice had clearly fumbled a caught pass but the officials missed it. What a crazy, dramatic game, as two of the greatest quarterbacks ever –Young and Brett Favre, dueled on the game's last two drives.
The YouTube link below has footage of the game-winning catch and T.O.'s emotional reaction. Fast forward to 7:55 for the catch.
Wednesday February 19, 2014
As a lifelong lover of reading and writing, I've written my fair share of poems, and a lot of them are either about hurdling or include something hurdle-related. Yeah that's me; everybody else is writing poems about flowers and trees and I'm writing about hurdles.
I find that writing poetry is a good medium by which to probe into the deeper layers of ordinary life, so that the ordinary is appreciated for how extraordinary it actually is. Earlier this week I wrote a poem that was inspired by one of my many distance runs in my neighborhood. It's entitled "Hurdles on my Mind." Here it is:
Hurdles in my Mind                        2/15/14
I run down a road that doesn't end.
Past construction sites,
bus stops,
family barbecues,
growling dogs,
children drawing suns on the sidewalk,
teenagers hanging out on the corner.
I run up hills,
I run down hills,
I run on winding turns,
past street lights,
stop signs.
I run past office buildings,
banks,
shopping centers,
single-family homes.
Then out into the countryside,
past farmhouses,
cows and horses behind fences.
I run in the searing heat,
through the driving rain,
with the wind in my face,
with the wind at my back.
I run past strangers,
I run past friends.
Past geese and songbirds
and pigeons on the rooftops.
Every ninth step
I pretend there's a hurdle in my way.
I push off the back leg, drive the knee,
hammer down the lead arm,
keep on going.
This is how I dance.
This is how I celebrate life.
Monday February 17, 2014
For my first blog topic, I'm gonna go to the NBA, as I've been a big fan of NBA basketball since my childhood.
Recently Lebron James was asked to identify the four players he would put on his NBA Mt. Rushmore. To put it another way, he was asked to name his top four players of all time. He named Michael Jordan, Larry Bird, Magic Johnson, and for his fourth he named Oscar Robertson. I guess throwing Robertson's old-head ancient-history name in there was his way of showing he had some knowledge of basketball history.
Kobe Bryant was asked to name his Rushmore crew, and he too identified Jordan, Bird, and Magic. His fourth was Bill Russell. Kevin Durant also went with the big three, and his fourth was Kareem Jabbar.
To Lebron, Kobe, And KD I say, Come on bruh. How can all three of y'all ignore the most dominant force the game has ever known, Wilt Chamberlain? Wilt was so dominant, they had to change the rules to prevent him from absolutely destroying everyone. Because of Wilt, the three-second lane was widened. Because of Wilt, offensive goaltending was made illegal.
Wilt averaged 50.4 per game in one season. He averaged 30.1 per game for his career. He averaged over 20 rebounds a game 10 times. Not to mention that he scored 100 points in one game – arguably the most impossible-to-break record in all of sports. As of now, it's only stood for a mere 52 years.
When naming the top players in the NBA of all time, Wilt's name should come first. Period. Even the next greatest player – whether you think it's Jordan, Bird, Magic, Kareem, or Russell – is a distant second. Wilt is hurt not only by people's short memories, but also by the perception that he was a selfish player who cared only about his own stats.
Wilt did win two championships – one in 1967 with the Philadelphia 76ers and one in 1972 with the Los Angeles Lakers. But even despite his relatively small collection of championships, Wilt was not selfish, and he did play to win.
If Wilt is guilty of anything, it's of lacking the obsession with winning that our cultures demands of its sports heroes. He didn't like losing, but he could live with it. He didn't equate losing a basketball series with being a loser. He didn't measure his self-worth by how many rings he had on his fingers.
In a lot of ways, Wilt was a dreamer. He liked to look up at the sky at night and gaze upon the Big Dipper.
We don't like dreamers; we like conquerors. We like ruthless competitors. Jordan was ruthless. Russell was ruthless. Magic and Bird were ruthless.
Wilt wasn't. So we can't find a spot for him on our Mt. Rushmore. I think that says more about us than it does about him.
Saturday February 15, 2014
Since the inception of the new hurdlesfirst website back in September of 2013, I had been planning to start doing some blog posts to supplement the monthly issues of The Hurdle Magazine. Finally, with a little help from my friends, the blog is here.
For the blog, I'll be posting about various topics, most of them hurdle-related, obviously, but I'll touch on various things that may come to my mind from many walks of life, as the hurdles aren't the only interest in my life, just the main one. I'm sure that is the case for you readers out there as well.
The plan is to post somethng two or three times a week. Some posts will be longer than others, but I'll try to keep them entertaining and engaging, and hopefully a little thought-provoking as well.
So keep coming back to check on the latest post. Peace love and  hurdles!