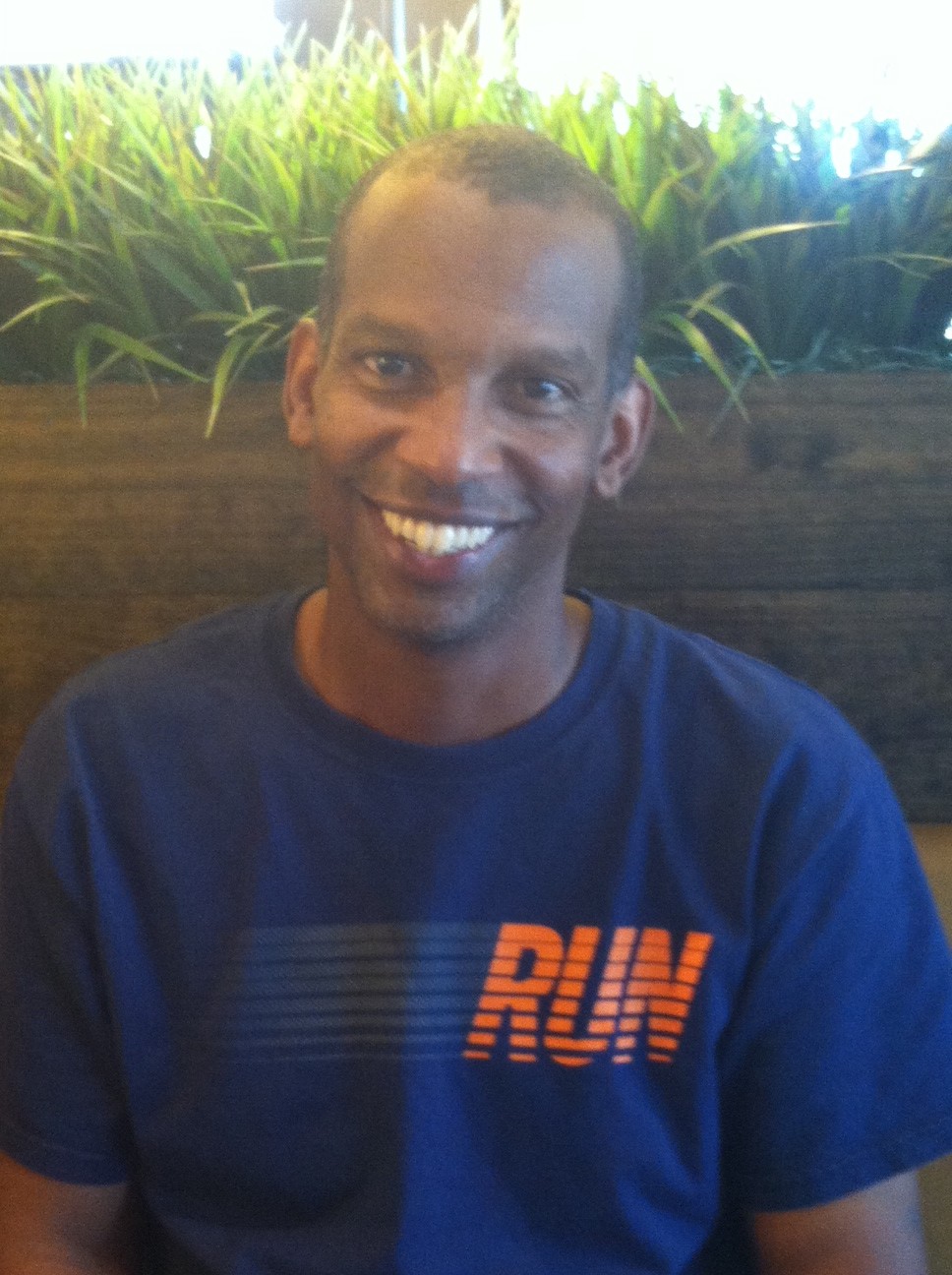 Steve McGill, the webmaster of hurdlesfirst.com, was born in Philadelphia, PA in 1966, and was raised in the small, quiet suburban town of Glen Mills, PA, about 30 miles west of the city. He began running track in the sixth grade, and began running hurdles in tenth grade. He chose to try hurdling after watching Renaldo Nehemiah's world record race in Zurich, Switzerland in 1981. As he was viewing a tape of the race in his coach's office, he turned to his coach and said, "Wow, I want to learn how to do that."
His high school personal bests were 14.9 in the high hurdles and 41.5 in the 300 hurdles. His collegiate personal bests were 15.63 over the 42's and 58.0 in the 400 hurdles. In October of McGill's senior year of high school he was diagnosed with a rare potentially-fatal blood disease called aplastic anemia. He was administered an experimental treatment that led to a miraculous full recovery. McGill believes that his love of hurdling helped him to heal, as his desire to return to the track served as his primary motivation for overcoming the illness. This episode inspired McGill to dedicate his life to his passion for the hurdles.
McGill graduated in 1991 from Cheyney University of PA with a B.A. in English, and went on to earn his Master's degree in English from Shippensburg University of PA in 1994.
In the fall of 1994 McGill moved from Pennsylvania to North Carolina to teach high school English and coach track at a private school in Raleigh. It is a role he maintained for 19 years, until June of 2013. In that time, he also coached hurdlers for various youth track clubs in the Raleigh area, and he also served as a private coach for many hurdlers. McGill has coached several independent school state champions, 4A state champions, and a handful who went on to become national champions.
In September of 2004 McGill started the hurdlesfirst.com website as a way to share his love and knowledge of the hurdles in a broader context. Since then, the website has grown to the point where it is one of the leading hurdle-related site on the internet. McGill has interviewed some of the greatest hurdlers who ever lived, and his keen insights have been quoted in articles that have appeared in Track & Field News and cnnsi.com.
Track & Field News Issues in which McGill has appeared include:
April 2013
March 2013
November 2009
April 2009
In July of 2013 McGill took a leave of absence from teaching in order to devote himself full-time to the maintenance of hurdlesfirst.com and the newly-created The Hurdle Magazine – a monthly online magazine dedicated to all things hurdle-related. This move on McGill's part was inspired directly by the tragic passing of his former athlete, Cameron Akers, in February of 2012, at the age of 28. McGill coached Akers from 2000-2001, and Akers was the first national-caliber hurdler McGill ever coached. The two of them remained very close friends until Akers' death.
McGill currently lives in Mooresville, NC, just north of Charlotte, where he has resumed his career as an English teacher and also serves as a private coach for several hurdlers at various levels.
Notable male high school hurdlers McGill has coached include:
Johnny Dutch (13.46, 36.09, 50.07)
Wayne Davis II (13.08)
Booker Nunley (13.41, 37.99, 53.14)
Malcolm Nunley (14.26, 37.64, 53.53)
Cameron Akers (14.21, 38.74)
Notable female high school hurdlers include:
Keni Harrison (13.49, 41.41, 59.08)
Jacklyn Howell (13.68, 42.94, 1:01.07)
Victoria Robinson (43.23)
Summer Knowles (14.32)
Allie Johnson (14.71, 43.41, 1:01.18)