It happened again, and every time it happens we all agree with the following advice: "If you don't hear a second gun, keep going." But if it were only that simple. At the World Indoor Championships March 7-9 in Valencia, Spain, Cuba's Dayron Robles got left in the blocks in the semi-finals of the men's 60 meter hurdles. Based on having run 7.33 and 7.36 earlier this winter, Robles stood out as a heavy favorite to capture the gold. In his semi-final heat, Robles was matched against, among others, outdoor 110 world record holder and 2007 outdoor World Champion Liu Xiang. Xiang got an amazing start. His reaction to the gun was barely within the legal limit. Robles, assuming Liu must have false-started, stayed in his blocks as the rest of the field sprinted to the first hurdle. Finally, Robles got going, but too late to catch anyone. So the favorite was eliminated from the competition. In the final, Liu went on to win in 7.46 – an excellent time, but well off Robles' seasonal best.
Unlike in the olden days when sprinters and hurdlers could "catch flyers" by anticipating the gun, modern electronic starting blocks eliminate that human element – at least at the big national and international meets. So even though, when looking at the race in slow motion, it does appear that Xiang got out well ahead of all the other competitors in that race, the electronic blocks don't lie. He had a great reaction, but a legal one. Robles' hesitation therefore can be said to be a huge mistake. Knowing that the blocks are connected to the gun, there's no way he should have slowed up without hearing a second gun.
But I don't blame Robles. And I don't think it would be fair to. I don't care what anyone says; if you're in the blocks and you sense that the athlete next to you false-started, you're going to hesitate because you're expecting to hear a second gun. It's a natural, instinctive reaction, and it happens all the time, at all levels. The most memorable moments for someone my age would be at the 1984 Olympics and then again at the 1988 Olympics. In '84, favorite Greg Foster hesitated in the blocks because he thought someone false-started, then ended up losing the gold to Roger Kingdom by .04. In '88, Tonie Campbell's feet remained glued to the starting blocks when he thought Arthur Blake false-started in the lane next to him. Campbell therefore started out in last place and was able to recover well enough to earn a bronze medal. But to this day he feels he would've defeated Colin Jackson for the silver had he gotten out with the rest of the field.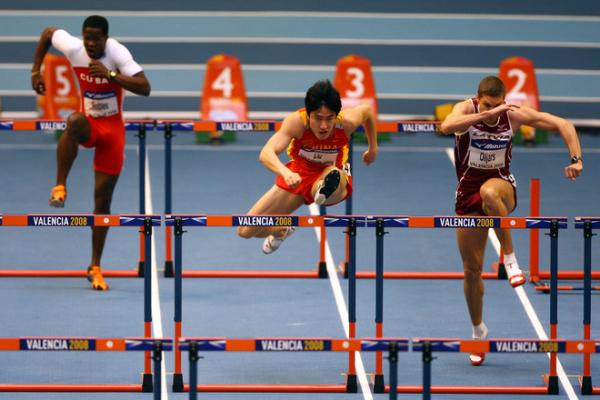 Xiang (center) and Stanislav Olijars (right) move on while Robles unsuccessfully tries to catch up.
I think the only way to avoid the disaster of being left in the blocks due to erroneously assuming that an opponent false-started is to practice it. Same as everything else in the sport, if you don't practice it, you don't get better at it. So when it happens, you're not ready for it. Really, preparing for the "false false start" is just another thing to add to the checklist of things to prepare for in leading up to a race. Anything you prepare for won't catch you by surprise if it happens in a race. You prepare for a headwind by doing reps into a headwind. You prepare for a tailwind by doing reps into a tailwind. You prepare for contact by doing reps side-by-side with a teammate. You prepare for technical errors by getting in the habit of running through them and recovering your balance in your practice reps. Your start itself gets better and better by practicing it over and over again, making technical adjustments along the way.
So, preparing for the false false start is simple. Have three or more hurdlers and/or sprinters lined up against each other in practice, and designate one of them to false start intentionally, instructing all the athletes to keep running unless they hear a second clap (or whatever you use for "go!" in practice). Or you could have one non-sprinter/hurdler in there with the rest of the group, and designate him or her as the one who will false start all the time, but move him or her around from lane to lane each rep. Enough reps of such a drill will teach athletes to focus on their own lane, and to focus on the sound of the gun. Also, once the gun goes off in a race, the athletes will know instinctively how to react to the false false start, because they will have dealt with it before in practice.
As a coach, I can't blame an athlete for a mistake that I didn't cover in practice. I blame myself, and learn from the mistake by making sure I do cover it in practice. To continue running after seeing an opponent leave the blocks early doesn't come naturally. But if practiced often enough, it will.
© 2008 Steve McGill