Liu Xiang's 12.88 in Lausanne on July 11th, 2006, breaking the old world record of 12.91 held by himself and Colin Jackson, has sent shockwaves through the hurdling world. On a personal level, he instantly made my All-Time Greats list outdated, so now I'll have to revise the whole thing. More importantly, on a large-scale level, Xiang's superb race forces all of us who live and breathe hurdles to sit down and take a serious look at this new hurdle master and ask ourselves, Who the hell is this cat, and how did he get to be so good?
Really, our wake-up call should have come at the 2004 Olympics, when he dominated the field and tied the world record. At the age of 21 he was already running faster than the greatest hurdlers ever, including Renaldo Nehemiah, Allen Johnson, Roger Kingdom, Greg Foster, Colin Jackson, and anyone else you might care to mention. Back then, it should have seemed obvious that it would only be a matter of time before he claimed the world record all for himself.
Speaking strictly for myself, I let my American arrogance when it comes to the hurdles get in the way. I assumed that if Allen Johnson hadn't fallen in the prelims, he would've found a way to beat this young upstart. Now I can look back and see how foolish that reasoning was. Though Xiang hasn't been a dominant force in the hurdles since his Olympic victory (Ladji Doucoure won the World Championships in 2005, and Americans Dominique Arnold and Terrence Trammell have also garnered victories over Xiang), he has consistently remained among the world's best, running sub-13.20 on a regular basis. Still, because he hadn't broken 13.00 since the 2004 Olympic final, I, along with many others, assumed that he had run the race of his life in Athens, and he most likely wouldn't reach that level of achievement again.
We were wrong.
The 12.88 changes the whole game. Now, Xiang is the standard of excellence in the high hurdles. He is the one whose form we all need to critique, whose training methods we all need to gather information on, etc. In short, he is The Man. He is to the modern era what Rod Milburn was to the early '70s, what Nehemiah was to the late '70s, what Kingdom and Foster were to the '80s, what Jackson and Johnson were to the '90s. It seems to me that the days of the timber-topplers have come to a close. Kingdom, in his glory days ushered in an era of power hurdling that lasted for over a decade. Johnson also hit a lot of hurdles, but did so with grace and style, not with power and wrecklessness. Now Xiang has brought back the importance of technical precision, of rhythm in motion, and of hurdling cleanly.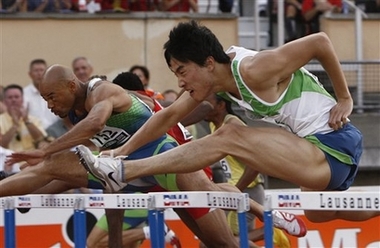 Arnold and Xiang battle for victory in Lausanne. Xiang won the duel,
12.88 – 12.90, with both hurdlers breaking the old world record. Notice Xiang's
technical precision: toe of the lead leg is pointing up, knee of the lead leg is
bent, elbow of trail arm is bent, hand of trail arm is on the hip, lead arm is already
beginning to rotate downward, chin is up, eyes are looking forward, chest is
over the thigh, but not impeding the action of the lead leg.
Take a look at the 12.88 race. The only hurdler who could keep up with Xiang was Arnold, who set a new American record of 12.90, breaking the old world record in the process. Like Xiang, Arnold also ran a clean race. Both Xiang and Arnold have a very tight motion with their arms. Both Xiang and Arnold employ a minimal lean from the torso, preferring to rely on their flexibility in the hips and groin to get them over the hurdle and back on the ground quickly. It seems to me that a lot of hurdlers either don't understand or don't appreciate how essential it is to keep the arm motion as tight as possible. I don't agree with the theory that a high lead arm provides more force on the way down. You can get the same amount of force with a tighter motion, and the motion of a lower lead arm (no higher than the nose) is also quicker and more efficient.
Xiang and Arnold are the only high hurdlers I see out there now who don't swing their lead arm across their body or over their head. The only flaw I see in Xiang's technique is that he pulls his lead arm too far back as he touches down off the hurdle, throwing his shoulders slightly off-line. If he fixes this problem, he can probably go under 12.80. Really, I think that Arnold has the best technique of any high hurdler competing today. He too has raised the stakes in this event. He and Xiang have jointly served notice that 13.10-13.00 is no longer the A-standard in the 110s. Now, breaking 13.00 is no longer a luxury, but a necessity. For that reason, more so than just the breaking of the world record, the race in Lausanne was a landmark moment in the history of the event.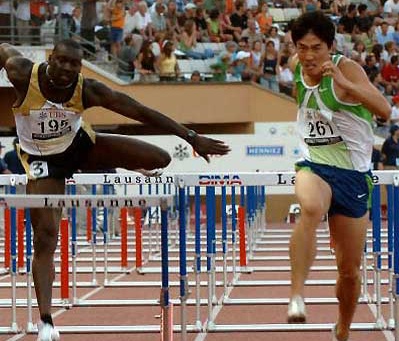 In this photo, you can see the effect of Xiang pulling his lead arm too far back.
The shoulders are not square, but he still has a very good trail leg action. As for
Doucoure (left), his technical problems are too many to mention.
I feel that Trammell and Aries Merritt (who pr'ed with a 13.12 in Lausanne) could both break 13.00 if they tightened up their lead arms. Trammell, especially, with his speed, could probably go 12.90 or lower. As for Doucoure, he has too many technical flaws to run sub-13.00 on a consistent basis. He's so fast and so powerful that, when he's in his groove, he can beat anybody. But his technical flaws too often disrupt potentially brilliant races. In Lausanne, he smashed the sixth hurdle just as he was surging to the front of the pack, and he practically ran through the tenth hurdle. Similarly, in the 2004 Olympic final, he clobbered the last hurdle, or else he would've been in contention for at least a silver medal.
Well, if you're anything like me, you're gonna watch footage of that Lausanne race over and over again. Being comfortable with the old ways of doing things won't work anymore, because Liu Xiang, with a lot of help from Dominique Arnold, has changed the whole game.
© 2006 Steve McGill
Liu Xiang's 2006 World Record 12.88 World Record in Lausanne