"Soldiers only, McGill. No heroes." The voice belonged to David Coe, a thirteen-year-old hurdler on my youth track team. Beginning his warm-up drills in preparation for another workout, he was repeating a phrase he had often heard me say. The phrase is one that speaks to my disdain for athletes who want to be heroes in practice by sprinting all-out on the last rep of a workout after having coasted and paced themselves on the majority of the previous reps. I have always preached that consistency of effort and consistency of performance is what athletes should strive for, as the stand-out races that occur at championship meets are usually the result of such consistency. David is one of the few athletes I've ever coached who truly understands that. Last summer, he sought to achieve the improbable accomplishment of qualifying for the national championships in the youth boys 100m hurdles in only his first year of running age-group track.
My first encounter with David came when he was about nine years old, back when I was coaching his older brother Joe. As we were walking through the gate on the way to practice, David, playing as nine-year-olds tend to do, jumped up and swung on the metal barbed-wire fence, pulling it off its hinges. Before I even had a chance to ask him his name, my first words to him were, "You broke the damn fence." I didn't start to notice him as an athlete until the spring of 2005, when, as a seventh-grader, he stood out as being exceptionally strong and fast for his age. Being a high school coach, I usually never even take note of jv kids until they hit the ninth grade. But David impressed me. Plus, Aaron McDougal – my coaching partner in youth track – kept making the point to me that the best strategy for developing hurdlers is to get them while they're young, before they develop any bad mechanics or bad practice habits, so that by the time they get to high school, they already have good sprinting form, refined hurdling technique, and a solid work ethic. With Aaron's voice in my head, I approached David one day toward the end of the school year while heading out to the track, where I found him in the infield tossing a football back and forth with a friend.
"Hey man," I said, "wanna run track this summer?"
He pointed to the football in his hand and explained, "I can't. I gotta get ready for football."
Football football football. Seemed every time I saw that kid he had a football in his hand. Still, with a bit more nagging over the next couple weeks, as well as with the help of Joe and their mom, I was able to convince David to at least give summer track a try. We got him registered for the sectional meet that would take place in only one week, but I still didn't feel sure that he would show up for the meet, nor that, if he did, he would take track seriously enough to continue through the rest of the summer.
The sectional meet was held at Sanderson High School, about fifteen minutes from my house in Raleigh, NC. I didn't feel too excited when I woke up that morning, pretty sure that all the kids I coached would have no problem qualifying for the association meet that would be held a couple weeks later in the mountains of Boone, NC. With the top five finishers in each event qualifying, some of the hurdlers would just have to finish the race, as not all age groups had five hurdlers competing. Still, if you don't compete at sectionals, your season is over, so you have to go through the formality of it. David got a ride to the meet from Joe and Nic – the middle Coe brother, whom I had also coached. Upon arrival at the venue, David looked like he had just rolled out of bed. His hair, which he usually kept in tight cornrows, was wilding out all over the place as he shuffled into the stadium with his head down.
"What's up, McGill," he mumbled.
"What's up, David."
It turns out he had forgotten his birth certificate, so Nic had to hurry back home and get it. Several months later David would joke to me that the only reason he had come to the meet at all was because his mom had made him; having already paid the entry fee, she didn't want her money to go to waste. Once Nic came back with the birth certificate, we finally got down to the business of getting through this 100m hurdle race David would have to run. I told him to "just clear all ten hurdles and don't let five people beat you," and that would be good enough to make it to the association meet. I knew he hadn't gotten in any hurdle practice to speak of, so if he could make it through this race, we'd have some time before the next meet to start working on things, assuming he were to start getting serious about training. The only other advice I gave him was to stay low and try not to sail over the hurdles. "You're a football player," I said, "so just pretend they're trying to tackle you."
I sat in the bleachers with Joe and Nic and reminisced about old times while David, down on the track, began to warm up. To my surprise, I began to observe that the other hurdlers in David's age group were looking at him with what seemed to be a "Who's that kid?" kind of fear in their eyes.
"What are those guys afraid of David for?" I wondered aloud to Joe and Nic. "He might not even be able to three-step the whole way." Watching him warm up was painful. His form was terrible, he had all kinds of lateral movement and head bobbing going on between the hurdles. His arms were spiraling like a helicopter blade during hurdle clearance. "Just get through the race," I again said aloud. "Live to see another day."
The race, as it turns out, went well. Although David's form was far from aesthetically pleasing, it was good enough to earn him second place behind his training partner, Wayne Davis, who defeated David in spite of running with a headache that hurt so much he could barely see where he was going. At the North Carolina Association meet three weeks later, David dipped under 15.0 in the prelims by running a 14.94, which was good for third in his heat. He also finished third in the finals, qualifying for the USATF Region III Championships by dropping his personal best all the way down to 14.43.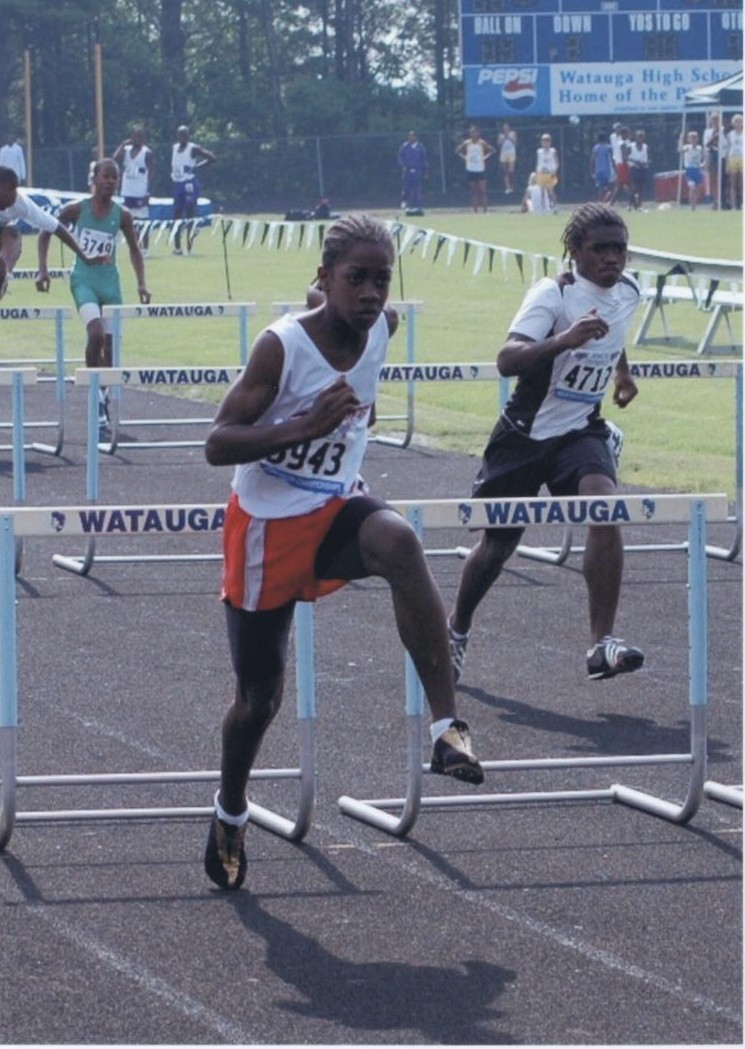 Wayne (left) and David (right) competing at the NC Association meet, June 2005.
Between the sectional meet and the association meet, David's work ethic improved dramatically, and with a swiftness that was startling. Finishing second in the association meet despite running such a poor race woke him up to the fact that if he started to train with some intensity, he could really make some noise. He started coming to practice regularly, he started studying the technique of his teammates in the older age groups, and he started asking intelligent questions about his own technique. He was rapidly becoming a true student of the event. And most importantly, he was leaving his football at home. All these factors were what led to the huge drop in his personal best. Already blessed with a great deal of natural ability, he was beginning to develop the necessary practice habits to go with it.
With another three weeks to prepare for regionals, David and I knew that he would have to surmount daunting odds in order to qualify for nationals. While the top five finishers from the association meet move on to the regionals, only the top three finishers from regionals move on to nationals. Although David was getting better with every race, finishing in the top three at regionals would be very tough. There were three kids in the region who were clearly ahead of him – his own teammate Wayne, another kid from Charlotte who had finished second at the association meet, and a kid from Maryland who, along with Wayne, was a favorite to win the national championship. So, of those three, David would have to beat at least one of them if he was going to make the trip to Indianapolis for nationals. It was looking like he couldn't afford to slow down the pace of his improvement. His 14.43 at the association meet was a great accomplishment, but if he were to run the same time at regionals, it would get him sent home.
The practices heading into the regional meet provided reason for optimism. He was continuing to look more and more comfortable between the hurdles, and his lead leg was really snapping down with authority. Air time was gradually decreasing, and his arms looked ten times better than they had at sectionals. I felt certain he would set a new personal best again at regionals, but would it be fast enough to beat any of the three competitors ranked higher than him? I didn't feel so sure. Plus, I rationalized, he had already come so far in such a short time that the season could be considered a success regardless of what happened at regionals. Being only thirteen, he would have another summer in the same age group next year, so there was no rush to conquer the world all at once. Still, in spite of such thoughts, the competitor in me really wanted to see him make it, and the father figure in me really wanted him to feel the sense of accomplishment that would come with making it. Nevertheless, deep in my gut I couldn't let go of the plain logic that all the other kids ahead of him were older than him, and he had only been hurdling for two months. So, realistically, he really shouldn't make it. Coach McDougal was more confident than I was. "David's not finished getting better," he assured me. "He's gonna catch one of 'em at regionals."
The Region III Championships were held at the beautiful new track at North Carolina A&T University in Greensboro, where the high school Nike Outdoor Championships had been held a month earlier. When we arrived at the track on the morning of the qualifying round, the sun was already blazing in the sky, and the metal bleacher seats were already too hot to sit on. In the warm-up area behind the backstretch-end of the stadium, I chatted briefly with each of our hurdlers in the various age groups, including Wayne and David, giving some simple last-minute instructions before heading back into the bleachers to watch the races. I liked what I saw in David; he appeared subdued, but ready, like he had a quiet fire burning inside of him that he would set free once the gun went off.
The prelims went very well. David finished second in his heat and fourth overall with a new personal best of 14.16. Ahead of him were Wayne in 13.83, the kid from Maryland in 14.03, and the kid from Charlotte in 14.10. In talking to him afterwards, David made it clear that he felt good about the race he had run, and that he felt he could go even faster in the finals the next day. Again, the logical thinker in me wasn't so sure. He had dropped from 14.43 to 14.16 in one race. He would have to drop time again in the finals, as made obvious by the performances of the three hurdlers ahead of him. No, I knew, 14.16 wasn't going to get him to Indianapolis. But did he have a faster race in him? With no time before the next race to practice? I honestly didn't think so, but I desperately hoped so.
At David's request, we went back to the warm-up area an hour or so after his race for a mini-workout session. Although I don't like to work on technical things when there is no real time to internalize them, I did want to get his lead arm lower, which was thrusting upward more than I would like. I believed that if he could get that arm just a little bit lower, then it wouldn't need so much time to pull back into running position, and the adjustment would therefore make his lead leg even snappier. So we set up four hurdles very close together with a short tap-tap-tap between the hurdles, just working on keeping that arm low, and keeping the hand of the trail arm on the hip. It made a noticeable difference in regards to his quickness, so I knew that if he could race the next day keeping his arms tight like that, he could run another personal best. As for David himself, he had absolutely no doubt that he could get his arms right in the finals. "I got this, McGill," he said, "I can do this." And even though he was talking about his arms, I interpreted it on my level, taking him to mean he could make the top three. That's when I found myself thinking, quite involuntarily, This boy's gonna do it; he's gonna make it to nationals. Of the three kids ahead of him, the one he had the best chance of catching was the kid from Charlotte, who had beaten him in the prelims by only .06. Barring some sort of hurdle disaster, it didn't look like Wayne or the kid from Maryland could be caught.
On the day of the race, Aaron and I, along with the parents and other family members of the kids we coached, sat in a section of the bleachers near the finish line. The sun was scorching hot in the sky again, but I was so focused on the upcoming races that I barely even noticed. In talking with David in the warm-up area earlier, there was no doubt in my mind that he was ready to compete. He appeared nervous, but not overly so. "I got this, McGill," he said again, and that was all I needed to hear. He knew what the stakes were, and he knew what the odds were. In the bleachers, as race time drew nearer, I moved up a couple rows from Aaron and everyone else, giving myself room to pace back and forth a bit, and to take deep, loud breaths, just like I used to do back when I was competing myself. When I am most nervous about an athlete's race, I revert back into competitor mode, and I don't like being around people who are still casually conversing as if completely oblivious to the fact that the biggest race in Track & Field history is about to take place.
Usually, when hurdlers of mine are racing, I'm looking for technical elements to critique – the start, the lead-leg snap, the ability to recover from hitting a hurdle, and a number of other things. But when the gun went off for the youth boys 100m hurdles, all I could do was start counting heads, praying that I wouldn't see three heads pass the finish line before David's. At about the fifth hurdle, Wayne and the kid from Maryland began to pull away from the rest of the pack and were engaging in a one-on-one battle for first. Meanwhile, David and the kid from Charlotte had also separated themselves from the rest of the pack, and were battling it out for third. I stopped watching Wayne, thinking to myself, Okay, he's in. Over the last three hurdles, all of my focus was on David. At about the ninth hurdle, when he had reached a point where he was parallel to where I was standing in the bleachers, it became apparent to me that David had surged ahead of the kid from Charlotte, and that, barring a crash-and-burn, he had third place locked up.
He didn't crash and burn. He crossed the finish line in third place. He made it to nationals.
I can honestly say that I can count on one hand the number of instances in my life that I felt as humbled and joyous as I felt when I saw David cross that line. I wasn't merely happy, but deeply fulfilled. For the first time in hours, I sat down. I had to give myself a private moment alone before celebrating with everyone else. I buried my head in my hands as I placed my elbows on my knees. Both of my legs were shaking. Both of my hands were shaking. I whispered a quick prayer, expressing my gratitude to all the higher forces in the universe for having given me the opportunity to make a difference in this boy's life, and for giving him the inner and outer strength to come through when he absolutely had to come through.
The kid from Maryland won the race in 13.71; Wayne finished second in 13.81, and David finished third in 14.04 – another personal best. Unfortunately, it would end up being his last personal best of the season, as he hurt his lead-leg hip after regionals – or maybe even during that race itself – and trained through it. I noticed that his gait didn't look the same in practice, but he assured me he was feeling okay. Silly me, I believed him, not realizing that he was avoiding telling me the truth so that I wouldn't make him take some time off. He ran at the Russell Blunt Invitational the following weekend and aggravated the injury, leaving only a week to get ready for nationals. The injury healed somewhat, but not completely, and although he fought valiantly at nationals, he didn't make it to the finals. The regional meet ultimately proved to be the peak of his season. If I had it to do over again, I wouldn't have let him run at the Blunt meet, and I wouldn't have let him practice in the days leading up to that meet. In retrospect, I can see that that not giving the injury time to heal is what messed him up for nationals.
Another year has dawned, and another track season is surfacing on the horizon. David continues to train, motivated by the disappointment of not making the finals at nationals, and by the same commitment to excelling athletically that I saw in both of his older brothers. Throughout this winter, when we've held hurdling workouts on the weekends, David has done the same volume, with the same intensity, as the high school kids I coach, including Johnny Dutch, who has begun to make a name for himself as one of the best high school hurdlers in the country. But when Johnny clears 240 hurdles in one workout, so does David. When Johnny clears 300 hurdles in one workout, so does David. When Johnny works on his start over the first three hurdles, so does David. This is the reason that I enjoy coaching him – because he's not just trying to get his name in the paper or chasing after glory when the gun goes off; he's willing to do the daily grunt work required to excel and to truly benefit from the experience of training and competing.
It has been my observation that a true soldier never thinks of himself as a hero; he just sees himself as doing what he has to do. While David may be a gregarious, fun-loving kid who likes to joke, tell stories, and gab endlessly on his cell phone, he has the capacity, when it comes time to get down to business, to instantly put on his "game face" and focus on the task at hand. This winter, he has trained on unseasonably warm days, on windy days, on cold days, on rainy days, and even in some sleet, hail, and snow flurries. Not all athletes are willing to do that. But they're the only type of athletes who learn the subtle life lessons that an event like the hurdles has to offer. Soldiers only. No heroes.
© 2006 Steve McGill