The First Hurdle: Wooden Hurdles on a Grass Track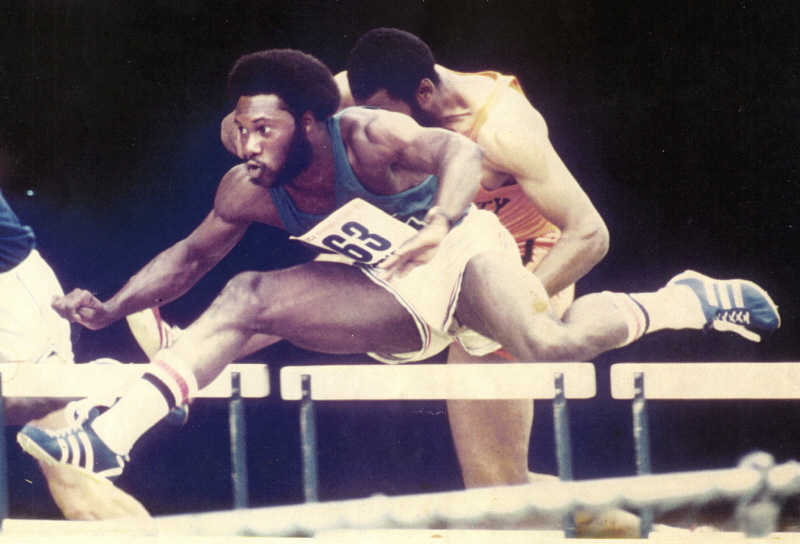 If you go out there and you got it in your heart, you can do somethin' with it. If you don't got it in your heart, then it can't get done." – Rodney Milburn
The hurdles were made of wood. They were built by kids in the industrial arts class. The track was a grass field. Coach Claude Paxton regularly mowed it and lined it himself. If you knew what was good for you, you had better not get caught walking on Coach Paxton's field.
Over hand-made hurdles, on a grass track, Rodney Milburn Jr. became one of history's greatest high school hurdlers. But if the best hurdler at J.S. Clark High School hadn't gotten sick the day of a race early in the spring of 1966, Rodney might never have become a hurdler at all.
"Fulton can't run today," Coach Paxton said as all the team members gathered around him. Fulton Lewis was one of the fastest hurdlers in the state of Louisiana. The boys glanced nervously at each other as Coach Paxton's deep baritone bellowed loudly enough, it seemed, to change the direction of the wind. "Fulton can't run today," he repeated. "I need somebody to run the hurdles."
Nobody volunteered. They looked down at the compacted dirt on the grass track. They shuffled their feet, coughed, sniffled. Anything to avoid eye contact with the small, muscular, thick-framed coach. Hurdling was in no way comparable to running a sprint, middle-distance race, or even long-distance race. The hurdles didn't just involve fatigue; the hurdles involved pain. Sure, the wooden hurdles made by assistant coach Oliver "Chief" Jackson's shop class were sturdy, well-designed, and built according to specifications, but the thought of a knee or an ankle smacking into one of those heavy crossbars intimidated the boys even more than Coach Paxton's rumbling voice. Finally, the young ninth-grader spoke up.
"I can do it, Coach."
The freshman explained that he'd been hurdling on his own after practice and on weekends. Still, Paxton's gut reaction was to instruct the youngster to get back and keep quiet. He had been expecting one of the upperclassmen to step forward. "But something clicked upstairs," Paxton said decades later. "Something said 'Let him run.'"
So he let Rodney run. It was the 180-yard low hurdles. The hurdles were only 30 inches high, compared to the 39-inch height of the 120-yard high hurdles. In his first race, he hit every hurdle. "He ran through 'em all," Rod's brother Jimmy recalled. "He hit every last one of 'em." But he won. That's when Paxton and assistant coach Eddie Guilbeaux realized they may have something special on their hands. They just needed to let him work on his technique, teach him how to really run the hurdles. And that's what they did.
But track was only one of Rodney's three sports; he also played wide receiver and defensive back on the football team, and guard on the basketball team. His speed was his greatest asset, and it was quite obvious early on that track was his best sport. Robert Morrison, head coach of the varsity basketball team said in 2005, "He couldn't dribble. He was too fast; he'd outrun the ball. So I'd tell the guys, if you wanna give Rodney the ball, throw it way down there and let him go get it." In football, Milburn never had much of a problem getting open, but wasn't reliable when it came to making catches. Huey Hawkins, an alderman in Opelousas who used to referee J.S. Clark football games, remembers that "Rodney was fast, very fast. If he caught a pass you could forget keeping up with him." Milburn's gift was his speed, and his ability to step over those high hurdles with an uncommon grace and ease that belied the remarkable power of his densely-muscled frame.
Maybe Paxton saw himself in Rodney. In the 1930s, Paxton, too, had been a hurdler while running for Long Branch High School in New Jersey. Paxton perhaps was looking for athletes who had the physical tools and mental toughness required to excel in his own specialty. At 5-feet-11, 170 pounds, and having enough motivation to practice hurdling on his own, Rodney fit the bill.
Paxton, who graduated from Long Branch in 1938, is one of the best prep hurdlers ever to come out of New Jersey. He went on to Xavier University in New Orleans, where he starred in both football and track. His collegiate career was interrupted when he served in the US Army during World War II. His Olympic hopes also ended; he would have been a heavy favorite to make USA's 1940 Olympic team in the high hurdles had the Games been held.
In the late '40s, after the war, Paxton starred as a two-sport athlete at Xavier. He and teammate Isaac Tatum graduated together in 1948, then Tatum came to J.S. Clark the following fall and started the first football, basketball, and track teams for blacks in Opelousas. Paxton followed Tatum to J.S. Clark in 1951. They worked together coaching the football team, and Paxton took over as head track coach, quickly developing Clark into one of the most consistent and well-respected high school track programs in the South. He also organized and directed the J.S. Clark Relays – an annual relay carnival that he created in 1951. More than thirty black schools in pre-segregation Louisiana, Texas, and Mississippi participated each year.
Coach Jackson assisted Paxton with the track program on a volunteer basis, but is most proud of the fact that his students built the hurdles that Rodney skimmed over on his way to becoming a high school legend. The work was done after school hours. The kids, hand-picked by Jackson himself, did the work in addition to their usual class work. They built enough hurdles for six lanes, ten flights, for a total of sixty hurdles.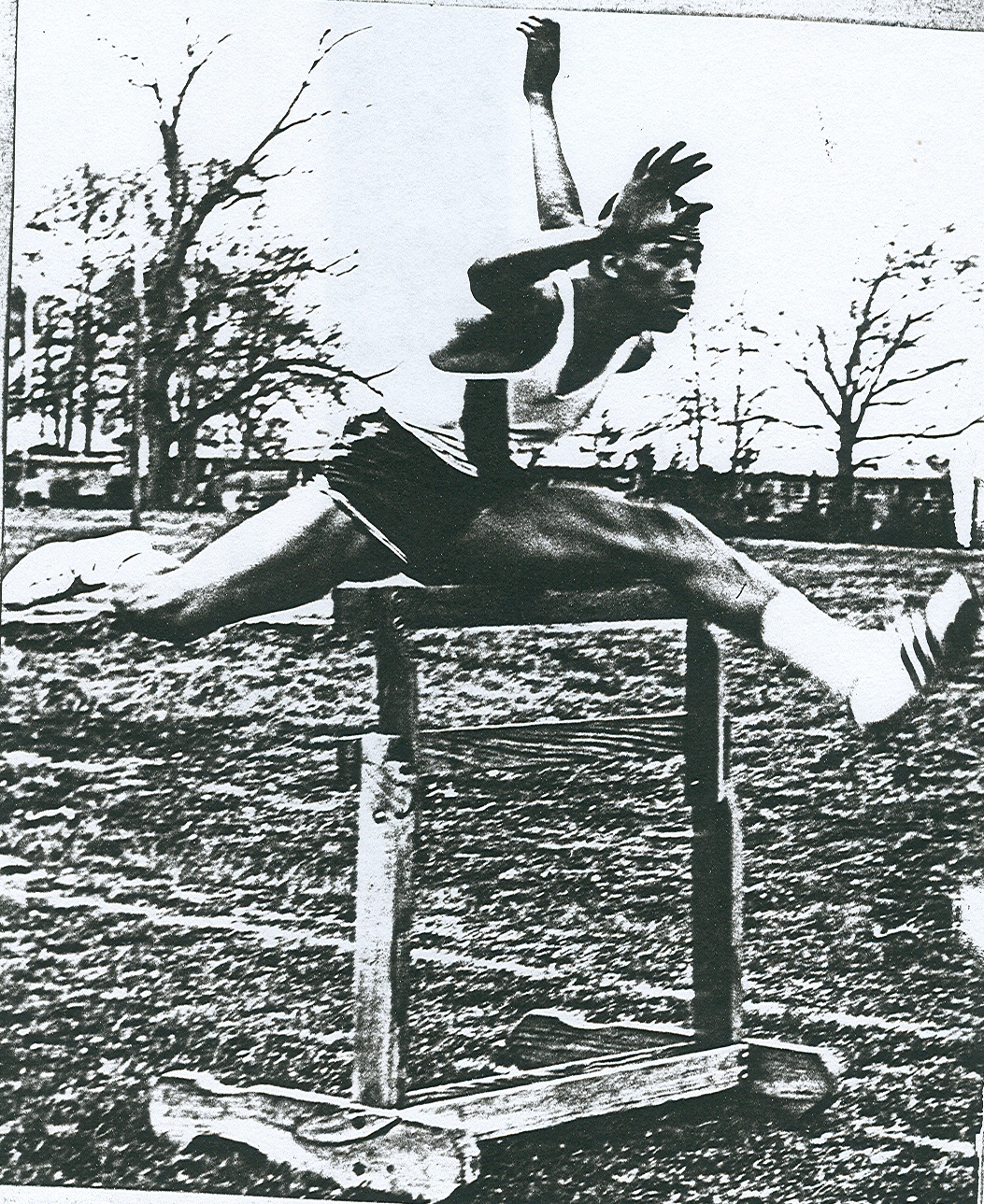 Fulton Lewis (pb 14.1), the best hurdler at J.S. Clark High School prior to Milburn, clears one of the hurdles built by the students in assistant coach Oliver Jackson's shop class. This photo is from the 1967 school yearbook.
Jackson's students made the hurdles light enough to do minimal damage to a hurdler's legs. "We checked 'em out," Jackson said, "to make sure that if a guy hit one of 'em, it didn't stand up to hurt 'im. It'd tip over." Still, after knocking into every single one in his first race, Milburn wasn't feeling sure he wouldn't be better off returning to the sprints. "At first I started to quit. My legs took an awful beating," Milburn told the Opelousas Daily World in May of his senior year. But when Milburn informed his coach that he didn't want to hurdle anymore, Paxton "gave it to me good," Milburn said in a Boys' Life interview with Frank Litsky in August of 1972. "He said I had the speed and height, but I wasn't dipping my body over the hurdles and that's why I was getting hurt. He said I could be one of the best hurdlers who ever lived. I liked that. He said I'd have to have the desire, that it wouldn't just come to me. He talked real loud, and all of us were afraid of him. We thought he was mean. He wasn't. He was really a nice guy."
Stories of Paxton's quick temper and in-your-face style of coaching have reached mythic proportions among those in Opelousas old enough to remember him in his robust, boisterous prime. "If you knew Claude T. Paxton," Jackson said, "you knew that everybody around him has got to do somethin'. And don't come half-steppin'." Jimmy Milburn, who also ran on the track team, concurs. "Paxton was the type who would come at you," he said. "He was a screaming coach, and everybody felt threatened by 'im. When he hollered, he didn't need a microphone. You heard 'im from one end of the field to the other."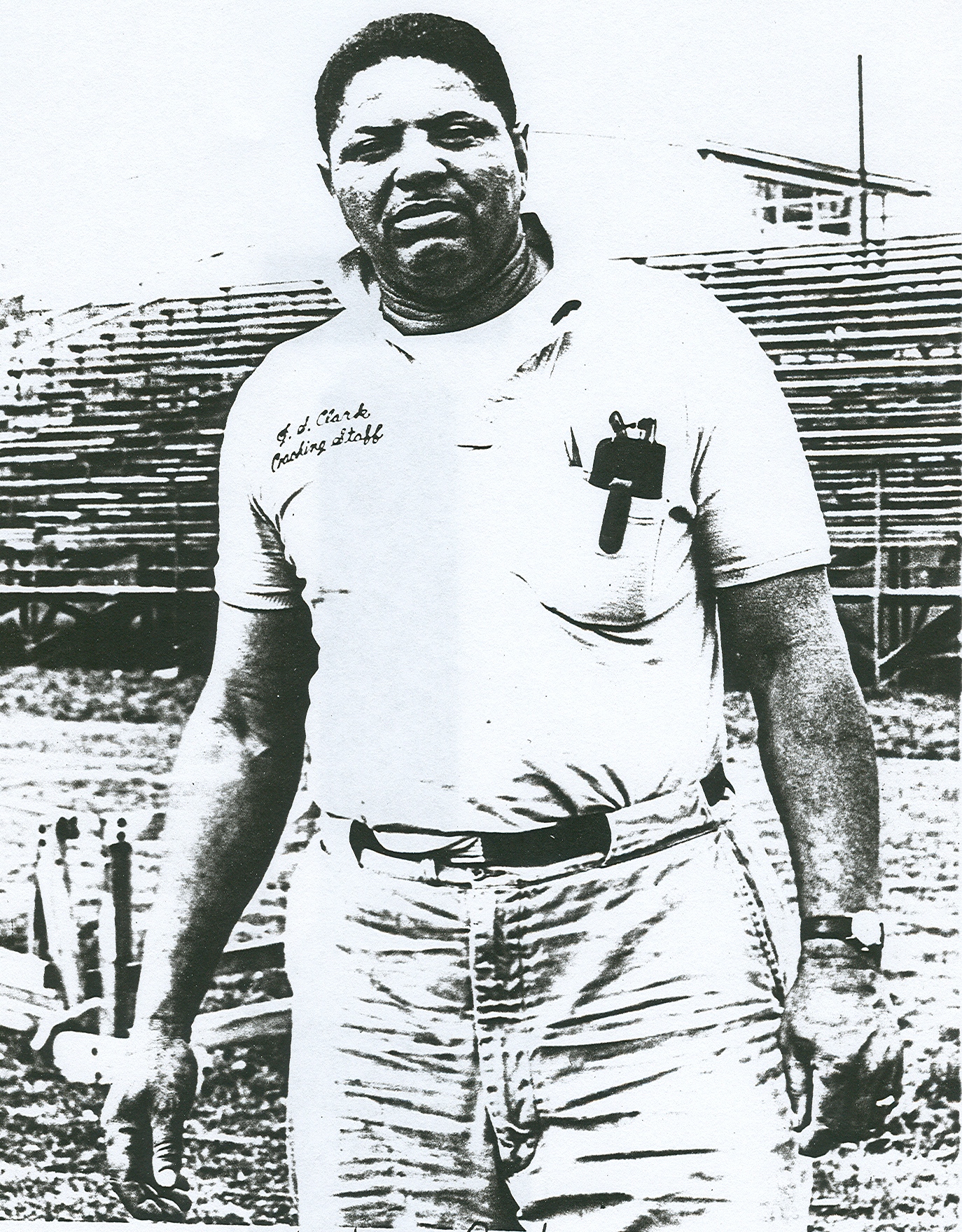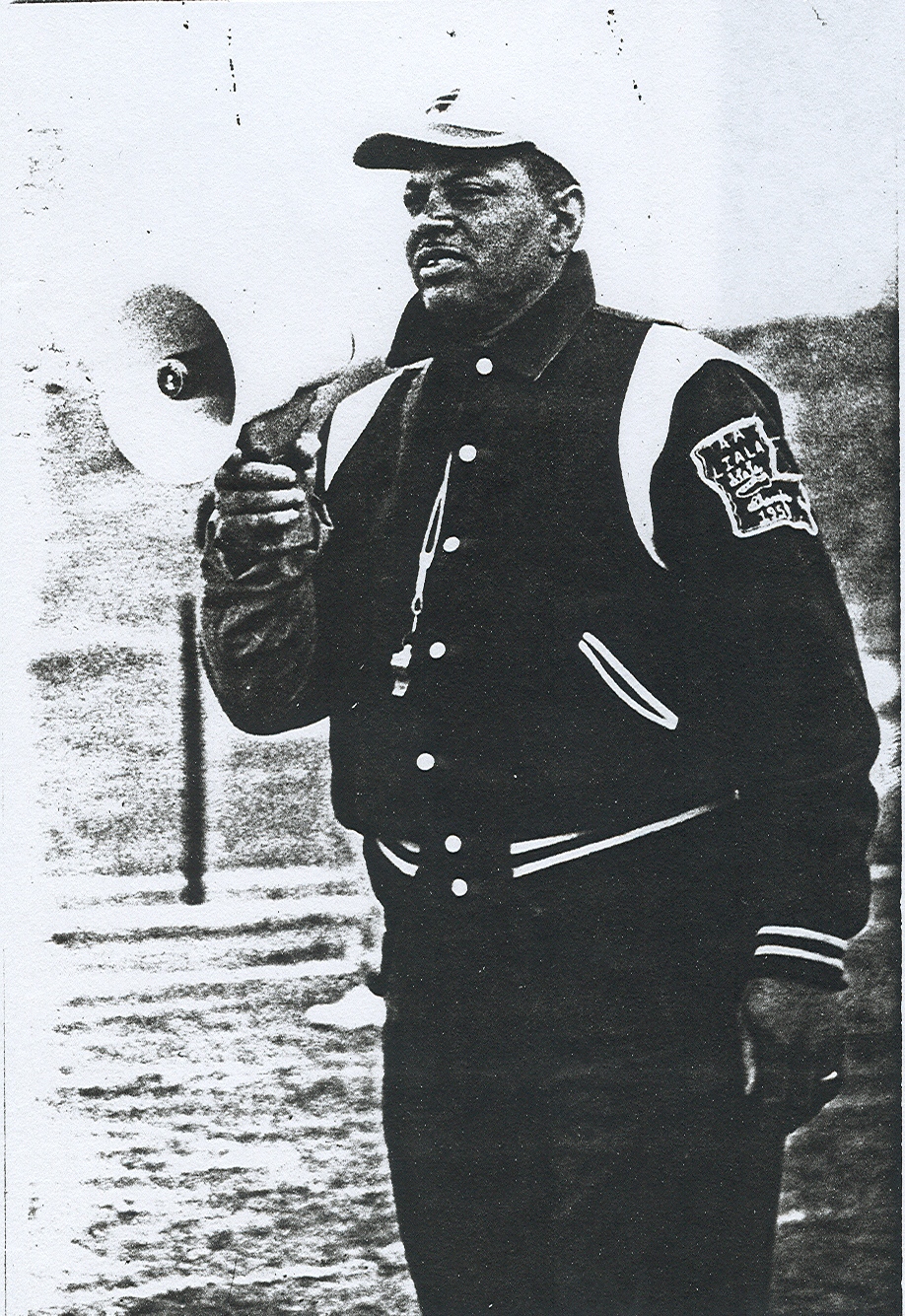 Whether with or without a bull horn, Coach Claude Paxton was an imposing figure who commanded respect. The photo on the left is from the 1967 school yearbook; the one on the right is from the 1969 school yearbook.
Being such a quiet, sensitive kid, Rodney didn't seem like the type who would respond well to Paxton's coaching methods, but Rodney was quickly able to see through his coach's gruff exterior and to recognize that Paxton genuinely cared about him. In his first race, Rodney had "banged my legs, my ankle, my knee, and my heel," yet Paxton still believed in his potential.
Paxton also understood the technical complexities of the hurdling events, as well as the fragile confidence and emotional ups and downs that hurdlers often experience. He understood that it would take time for Milburn to overcome his fear of hitting the barriers, to coordinate his lead leg (the leg that clears the hurdle first) with his trail leg, to coordinate the arms with the legs, to adapt his raw speed to the limited space between the hurdles, and to then cohesively put all these factors together in a race. Paxton allowed Milburn the practice time he needed to learn the subtleties of hurdling mechanics. Instead of requiring that Milburn hurdle a certain way, he gave him the freedom to experiment with multiple technical ideas. Although Rodney was fast enough that he probably could have been a champion in the 100 yard dash, he was pleased to have found an event that required more than speed. His enjoyment of the intellectual challenge that hurdling presented explains why he stuck with it – that and the fact that Paxton wouldn't let him quit.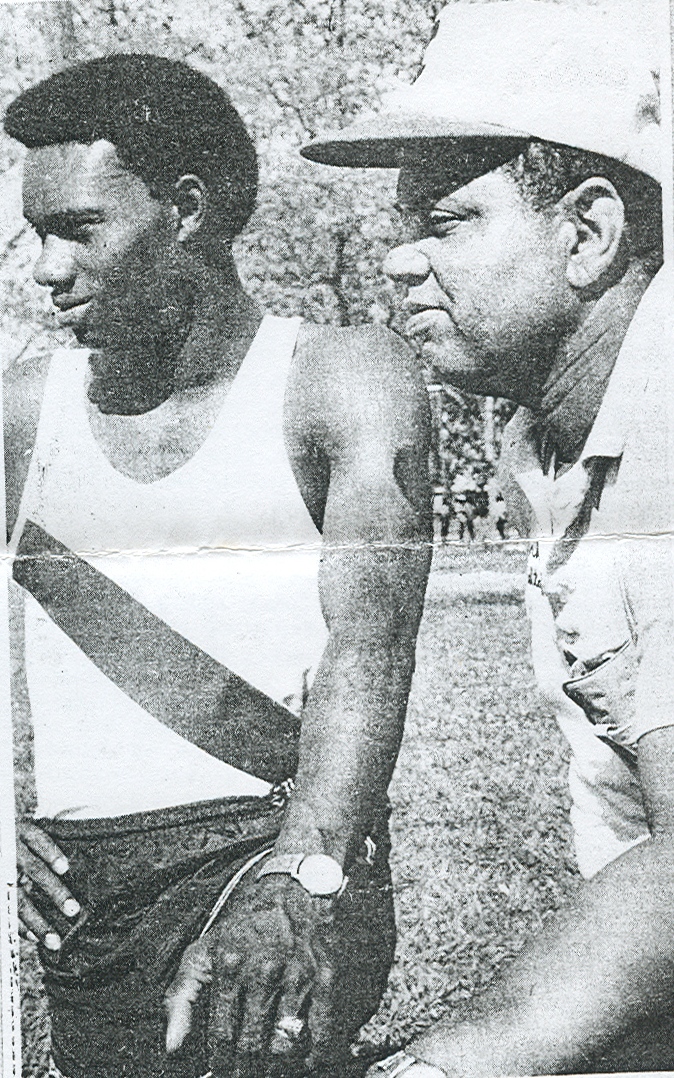 Milburn and Paxton enjoy a relaxed moment together during a practice session. This photo was taken in May of 1969, toward the end of Rodney's senior year at J.S. Clark, and appeared in the Opelousas Daily World.
"Hold on a second, Dice." (In Chapter One it was explained that Rodney had earned the nickname "Dice" because of his proficiency at that game). Coach Paxton fished in his pockets and pulled out three dimes. He placed one atop each of the first three hurdles. Rodney had finished third in his first race over the 120-yard distance, and Paxton felt that his young protégé needed to learn to step over the hurdles. The coach's logic was typically straightforward: you can't run fast if your feet aren't on the ground. So he created a workout that would help Milburn learn to clear the hurdles on more of a horizontal plane. In this workout, the "dime method," Paxton instructed Milburn to drive the foot of his lead leg directly at the dime, trying to get as close to it as possible without knocking it off the crossbar.
Through use of this method, demonstrating the steady perseverance that he learned from his mother and father, Rodney gradually learned to hurdle more efficiently, but he was not an overnight success. He spent many hours with Paxton and by himself refining his technique. Coach Morrison noted that Milburn "was self-motivated. During the summers, Rodney would get out there on that grass track and mow the straight-away himself when the grass grew too high, so he could practice." Over time, the hard work began to pay off, but as a sophomore, he still had a long way to go to catch Lewis. He was also entering the beginning stages of what would later become an intense rivalry with Spencer Thomas of George Washington Carver High School in New Orleans. Thomas, more of an all-around athlete than Milburn, excelled in the long jump, triple jump, and both hurdling events.
In May of 1967, in the Zone 1 AAA Track & Field Championships, Milburn finished fifth in the 120-yard hurdles; he was beaten by Thomas, who finished fourth. Milburn's time of 14.7 was very respectable for a sophomore, but he would have to continue to work very hard if he ever hoped to defeat the very talented Thomas, who was also a sophomore.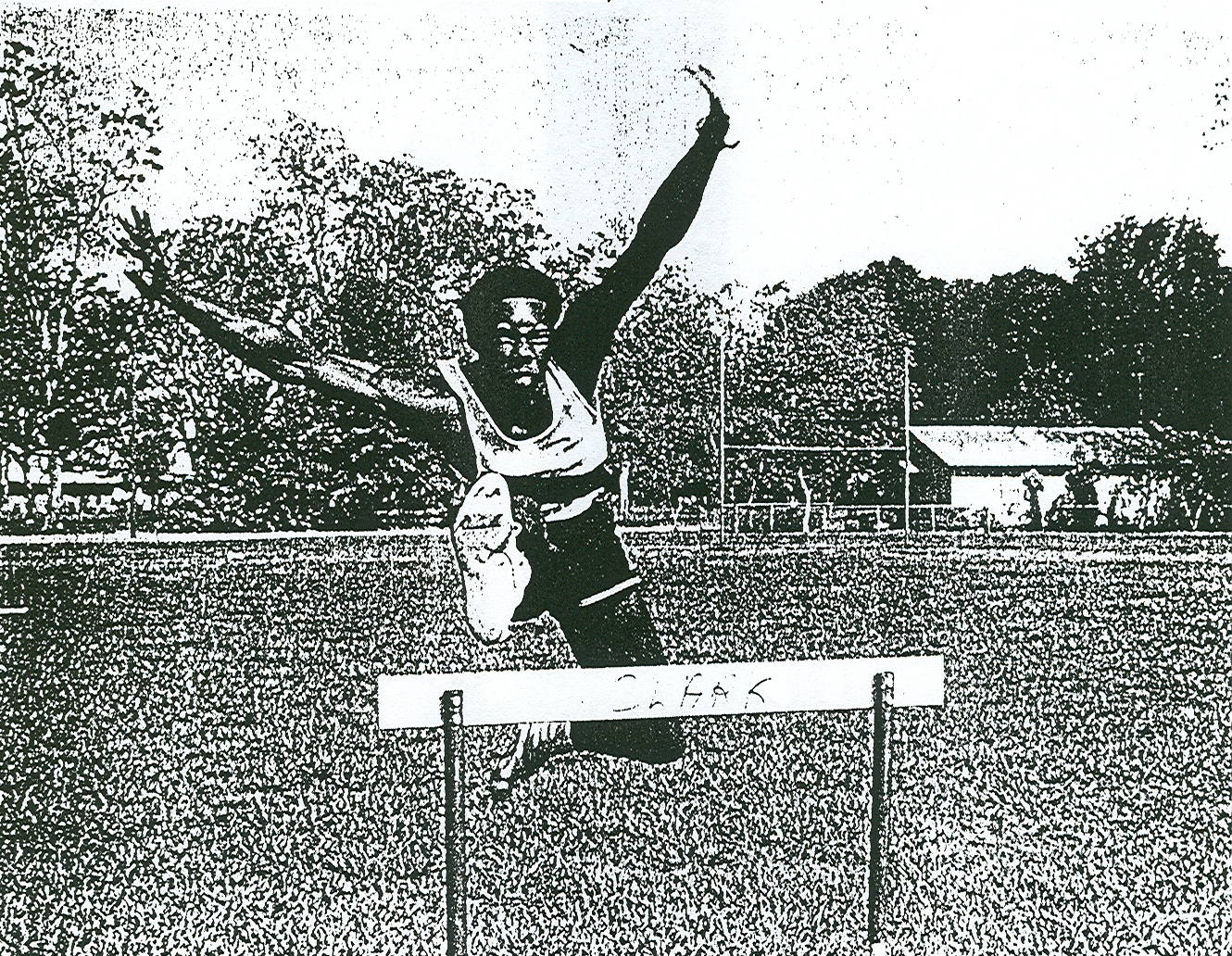 Milburn has fun flying over a hurdle during his senior year at J.S. Clark. This photo appeared in the May 28, 1969 issue of the Opelousas Daily World.
In 1968, Milburn's junior year, he improved his personal best in the high hurdles to 13.9, which he ran twice, making him the third-fastest high school hurdler in the country. In the lows, he dropped down from 19.5 to 19.0. On Saturdays, he could be found working out over three flights of hurdles. He figured that if he could get those first three hurdles down without too much trouble, then chances are he would win. Which he did, almost all of the time. Rodney also developed his own unique pre-race warm-up routine. In addition to running wind-sprints, stretching, and doing calisthenics, he would "go down all ten hurdles, clearing them with just his trail leg," Jimmy said, "then he'd turn around and come back, clearing them with just his lead leg, all in one motion. All the other hurdlers, when they'd warm up, they would go over like, three or four hurdles, or they would just do some stretching over the first one. But Rodney, he would line up and go over ten hurdles. Boom! trail-leg trail-leg trail-leg over ten hurdles, turn around and boom! lead-leg lead-leg lead-leg over ten hurdles. Continuous, like in a race. All full speed." Milburn's intensity in his race preparation added a new level of excitement on the track at J.S. Clark. The sight of this muscular figure striding over those hurdles with his wide, circular afro blowing in the wind put the fans into a fever pitch before the race even began. "The technique with which he could do it was amazing to see," Jimmy said.
Astoundingly, Milburn's warm-up didn't leave him too exhausted to race. He knew how much work his body could handle, and he knew what he needed to do to get himself primed to compete. Also, because most local meets did not include any preliminary rounds, a full, highly-powered warm-up was more important than in the bigger meets, which usually included one or two rounds prior to the finals. Since hurdlers usually run faster with each succeeding round, meets that included no rounds made them prepare so that the actual race felt like it was their second or third race of the day. Typically, right before the race, Milburn would go off by himself somewhere – under the shade of a Catawba tree, behind the bleachers, or on the other side of the track – to be alone with his thoughts, to quietly concentrate before heading to the starting line. Then, "when that gun would go off," Coach Jackson said, "he became a jet-plane."
Still, Milburn had trouble beating Spencer Thomas in the early part of his junior year. At the J.S. Clark Relays in March, Clark won the shuttle-hurdle relay, anchored by Milburn, but he finished second to Thomas in the high hurdles. Milburn did not run the low hurdles. Later in the season, Milburn defeated Thomas at the LIALO (Louisiana Interscholastic Athletic and Literary Organization) State Championships in both hurdle races. (The LIALO consisted solely of black schools in Louisiana; the white schools belonged to the LHSAA, or Louisiana High School Athletic Association; the black schools and white schools had separate state championship meets). Then, at the NORD (New Orleans Recreational Department) Meet of Champions in New Orleans, he won both races again. His time of in 13.9 in the high hurdles made him the second Louisiana prepster to ever break the 14.0 barrier. To close out the season, he ran the exact same times at the Preptacular meet in Alexandria, LA, setting himself up for what promised to be a dominant senior year.
* * *
Rodney still played football in his final year, but dropped basketball to concentrate on track. It was looking as if he'd be that rare black male Opelousan to attend a four-year college instead of catching cotton trucks or cane trucks or being drafted into the army and marching off to Vietnam as a draftee. Quitting basketball was more Coach Morrison's idea; Rodney was willing to play, despite his limited skills, if only to contribute to the team. Morrison saw Milburn's obvious potential in track and encouraged him to pursue it. "I told Rodney we weren't going to win no basketball championships," Morrison said. "The best thing for him to do was get ready for track, because that was his love."
In high school, Milburn was shielded from the draft. And with major track programs nationwide recruiting him, he'd be safe from Uncle Sam as a collegian. Schools seeking his services included some of the best in the country – the University of Southern California, the University of Tennessee, Grambling State University, Cornell University, the University of Florida, Michigan State University, and the University of Texas at El Paso. Some had been recruiting Milburn since his sophomore year at J.S. Clark. "Letters arrived daily from coaches offering full scholarships – tuition, books, room, board, and the legal limit of $15 a month in spending money," Frank Litsky wrote. Most young black males in Opelousas in the late 1960s weren't so fortunate. While the Vietnam War didn't destroy Opelousas in the form of heavy loss of life, the psychological damage done penetrated into the daily lives of many families that were already struggling at or below the poverty line. "Probably about eighty percent of the guys who came back were mentally disabled," Jimmy said. "Maybe about twenty percent were functional."
Rodney made the most of his senior year at J.S. Clark by having an outstanding spring season. He assaulted the record books on local, state, and national levels, making it increasingly clear that Paxton's initial prediction may well turn out to be accurate. The difference between Rodney's senior year and his previous years, besides the natural progression that he made, lie in a subtle shift in attitude. Before, he would work hard in order to please Coach Paxton and because of the intellectual challenges that hurdling presented; by his final year he had developed a true passion for the event, as the accomplishments of his junior year made him realize that he did have the talent to become a good hurdler. "I started to get used to it," he told the Daily World in May of 1969. "The legs didn't hurt half as bad. Then I began to enjoy it. Now I love it."
Even the solo workouts were increasing in frequency. In his sophomore and junior years he would train on his own on Saturdays and a couple days during the week. Now he was doing it every day. Sometimes, instead of training all by himself, Milburn would grab his best friend on the team – fellow hurdler Vincent Hall – and practice with him over the first three hurdles. If  he couldn't find Hall, then he'd get some younger sprinters to run alongside the hurdles. They wouldn't have to jump over them; he would just try to beat them to each one, which helped him to develop his lead leg quickness.
The younger kids were glad to be practicing with Rodney, and he was glad to have them there. Their presence compelled him to focus more on his speed between the hurdles. It also inspired him to come up with the technical innovation of the double-armed lead. Rodney was having problems employing Paxton's dime method. In the attempt to forcefully drive his lead leg at the crossbar, he would flail his arms wildly, delaying the upward motion of his trail leg. The loss of balance was messing up his rhythm between the barriers, causing him to hit a lot of hurdles. To compensate, Milburn began to exaggerate the forward lean of his torso and drive both arms forward, not just the lead arm.
The exaggerated lean helped him to keep his momentum moving horizontally, and the double-armed action helped him to balance his weight. He was generating so much force in his dive into the hurdle that, once his lead foot touched the track, he was able to take a propulsive first stride toward the next hurdle. "The intensity of Rodney as he would go over those hurdles," Coach Morrison said, "was like nothing else I'd ever seen. Every time he hit the ground with that lead leg, it looked like he was just exploding off the track. Even the competition was looking at 'im like they didn't know what was going on."
Coach Paxton was also glad to see Rodney's progress. Although he had guided plenty successful athletes in his tenure as head track coach at J.S. Clark, none had reached Milburn's level of prominence. Paxton's affection for his star pupil did not take the form of pats on the back or laudatory comments; it came in his devotion to keeping the grass track mowed and lined to perfection. "He did it all himself," Jimmy said, shaking his head at the memory, "he did everything. He mowed the field himself, he put the lines down himself. He wanted to be sure Rodney had a good surface to practice on."
Vont Dabney, who was a freshman sprinter in Rodney's senior year, vividly recalls Paxton's zeal in keeping the track in pristine condition for Rodney. "That field was just for Dice," he said in 2005. "When anybody else would walk on it, Paxton would be like, 'Get off that field!' He had one o' them ridin' mowers, and he'd cut the grass all the way around, backward and forward, two times. And the whole time he's mowing it, he's turning around making sure nobody's walkin' on it. Then he'd line that track himself, and you better believe those lines were straight."
They certainly were straight for the 51st running of the J.S. Clark Relays. Thousands of spectators filled the bleachers and lined the edges of the track. The local buzz that Friday afternoon centered around the impending showdown between Milburn and Thomas. It would be their first meeting of the season. "Dice got his hands full today," the Opelousas residents said to each other, the tense expressions on their faces revealing their concern. After his semi-final race, Thomas pumped his fist in the air, having run a faster time in his heat than Rodney had run in his. Rodney, after his race, followed his usual routine of quietly rejoining his teammates in the bleachers, where he started mentally preparing for the next day's competition.
Many observers gave Thomas more than a fighting chance to beat Rodney. He had run a faster semi-final time, he was from the big city of New Orleans, and he had been hurdling longer than Rodney. In spite of Milburn's previous success and his status as one of the top hurdlers in the nation, there was still a widely-held belief throughout Louisiana that nothing good came out of Opelousas. The idea of a track star from Opelousas being better than one from New Orleans just didn't make sense, and many people couldn't make room in their minds for the possibility that Thomas would let Milburn beat him again. Like Milburn, Thomas was receiving scholarship offers from many universities, getting all kinds of national recognition, so very few people bought the idea that he might lose to a country boy from Opelousas.
An even larger crowd arrived for the finals. Everybody had come to see the race between Rodney and Spencer. The shuttle-hurdle relay earlier in the day had served to add tension to the race. Carver High School, anchored by Thomas, easily defeated Clark, anchored by Milburn. Clark's slowest man ran two seconds slower than anybody else, so when Rodney got tagged to take off, he was already five hurdles behind Spencer. He closed the gap, but Clark still lost by more than a full hurdle. Rodney didn't take the loss well, and was intent on gaining revenge in the open hurdle final. "He was incensed," Morrison said. "Rodney was a calm guy, but if you beat 'im, he was comin' after you. So when it came time for the individual race, Rodney was ready to blaze."
The 120-yard high hurdle final was run in the middle of the football field. When the time came for the big race, everybody in the bleachers was standing up. When Rodney's name was announced over the loudspeaker, he gave a short, quick wave and continued shaking out his legs. "Runners take your marks," the starter said. The athletes settled into their starting blocks and awaited the next command. "Set."
The gun went off, and Milburn and Thomas began to pull away from the rest of the pack. It was a two-man race from the start. Rodney and Spencer were sprinting stride-for-stride, hurdle-for-hurdle, for the first seven hurdles. The people of Opelousas were screaming for the local hero to come through. At the eighth hurdle, Rodney gained an edge, and pulled away further at the ninth hurdle. He carried the lead over the tenth hurdle and to the finish line, where he pushed his torso through the tape.
The crowd erupted into a frenzy. "Told you Dice would get 'im! Told you Dice would get 'im!" Thomas' 13.7 broke the all-time Louisiana record of 13.8 set by Jimmy Upton of Minden High School in 1967. Milburn, who finished two tenths of a second faster in 13.5, tied the national high school record set by Richmond Flowers of Alabama in 1965. And they did it on a grass track, on the softest part of the field.
Milburn did not lose a race the entire season. At the prestigious Pelican Relays, held at Southern University in Baton Rouge, LA, he and Thomas engaged in another electrifying battle, this time over the collegiate 42-inch hurdles. Milburn won in 14.1, with Thomas right behind him in 14.2. The winning time in the college division was only a 14.4. Because of all of his success on the track, Milburn was becoming a heroic figure throughout all of Opelousas, but particularly among the young black males. Milburn's victory over Thomas at the J.S. Clark relays, and his dominant season throughout the spring of 1969, was proving to these youths that something good could come out of Opelousas, that someone from this poverty-stricken town could take on the big dogs of New Orleans. Most importantly, he was doing it with a quiet dignity and grace that made the young kids aspire to be just like him. In spite of his reserved mien and introverted approach to life, Milburn cared greatly about his status as a role model.
"Rodney was a few years older than me," said Stanislars Joseph Milburn, a second cousin. "I was still in the elementary school when Rodney was in high school. I used to go to a lot of football games and track meets, and I was watchin' Rodney all the time. Now you talk about exciting. I wanted to be just like him, and compete in Track & Field, but I kinda picked up some bad habits runnin' the streets here with the guys in my neighborhood. Rodney would come by my house sometimes, he'd talk to me, to my mom, try to help get me straight. He was great wit' kids, man."
Vont Dabney, who was old enough to share the same track space with Milburn for a year, remembers how, during his freshman year, "Everybody wanted to be like Dice. One time a group of us younger guys were sittin' around after practice. And you know, Dice was quiet, and he was a great runner, so we didn't think he paid us any mind. So we sittin' around after practice when all of a sudden Dice walks up to us. He must've heard what we was talkin' about 'cause we was all talkin' junk about who was better than who, then Dice walks up to us and says, 'If you go out there and you got it in your heart, you can do somethin' with it. If you don't got it in your heart, then it can't get done.' And I'll never forget that, man. For as long as I live, I'll never forget that. And the thing was, he never talked to nobody. But he took the time to talk to us."
Such moments were typical. "He led by example," Coach Morrison said. "You would never find him arguing. And he was always influencing you to improve yourself. And I've never known him to have any vices at the time of when he was in high school. Not smokin', drinkin'. Nothin'."
Another time, Dabney and one of his friends decided one day after practice that they wanted to give the hurdles a try. So, just like Milburn used to do, they grabbed a set of blocks, set up a hurdle, and prepared to go at it with no coaches around. "Next thing you know," Dabney said, "there's Dice standing behind us. Just lookin', not sayin' anything. I don't know how long he'd been standing there. 'Cause you know what they used to say about Dice – if you didn't see 'im, you didn't hear 'im. So then he says to us, pointin' to the hurdle, he says, 'Y'all wanna try that?' We was like, 'Yeah, we wanna try.' He was like, 'Okay, let's see what you can do.' And that was all he said. Didn't give us no instructions. He wanted to see if we really wanted to do it."
On a national level, many black athletic stars were coming into prominence. Jim Brown in football, Muhammad Ali in boxing, Tommie Smith in track, and Lew Alcindor in basketball were just a handful of the African-American athletes who were rapidly changing the complexion of sports in the United States. But in Opelousas, where schools were still segregated, the hero of choice was not any of the professional superstars who could only be seen on television; the only hero who mattered was the one who could be seen on the track at J.S. Clark High School striding over wooden hurdles with the grace of an equestrian horse.
"One time Coach Guilbeaux had us younger guys out there on the grass for a time trial in the 100," Dabney recalled. "So Paxton comes out and sees us out there in our regular shoes, and he says to Guilbeaux, 'Why the hell you got these guys out here doin' time trials with no track cleats on?' Then he gets all the varsity guys to lend their shoes to one of us junior varsity guys. So everybody's lookin' at Dice 'cause we all want Dice's shoes. But Dice didn't have his shoes wit' 'im. So Sugar Bear – he was another sprinter – he didn't have his shoes wit' 'im either. So Dice goes into the locker room and comes back out with a pair of shoes and gives 'em to me. I went out there and won that time trial, boy, because I was Dice. I wasn't no Vont Dabney. I was Dice. Then I found out later they wasn't Dice's shoes, they was Sugar Bear's shoes!"
Rodney finished his senior year with two brilliant performances. On May 30, he ran another race over the 42-inch hurdles, this time at the Meet of Champions in the Houston Astrodome. This meet featured many collegiate stars. Although a senior in high school, Rodney was nineteen years old at the time (having repeated a grade during his elementary school days). Except for his lack of experience over the 42-inch barriers, there was no reason to believe that he couldn't compete with the nation's premier collegians. Rodney won the race in a blistering 13.7, four tenths of a second faster than his first race over the collegiate height a month earlier. In the process, he tied the meet record and broke the national high school record of 13.8 set by Richmond Flowers in 1965.
Rodney was already the most accomplished high school hurdler in history, but his performance at Houston convinced him he could run with anybody. At 5-feet-11, he couldn't be sure that he'd be able to make a smooth transition to the higher hurdles. Although the 14.1 he had run at the Pelican Relays was quite impressive, such a time wouldn't hold up among the world's best. But the 13.7 would. It was only five tenths of a second off the world record. On May 30, 1969, Rodney Milburn Jr. emerged as a force to be reckoned with in the 120-yard high hurdles.  "That race was a turning point for me," Milburn told Frank Litsky a month before the 1972 Olympic Games. "That was the first time I thought I was good."
Milburn's final meet was the Golden West Invitational in Sacramento, CA. In its tenth year of existence, the Golden West was the season's premier schoolboy meet – the unofficial high school national championships. Just being invited was a tremendous honor, since only the eight best seniors in each event receive an invitation to take part. Milburn was only the second J.S. Clark track athlete to ever have the opportunity to compete against the nation's elite, preceded by sprinter Aaron Thompson two years earlier.
Ironically, Milburn had been invited to the nation's premier high school track meet even though his national high school record of 13.5, run at the J.S. Clark Relays, was not officially acknowledged because the LIALO was not recognized by the National High School Federation as a legitimate state association; in Louisiana, only the LHSAA was recognized by the National Federation.
Milburn wanted to go to the Golden West Invitational, Paxton wanted him to go, and so did the colleges that were bidding to land him as a prize recruit. The problem, of course, was money. Thompson's trip had cost $500, and Rodney would need at least that much for airfare and other expenses. If Milburn was going to make his first trip to the west coast, he was going to need a lot of help from a lot of people.
Paxton first turned to the City of Opelousas for financial backing, but the bulk of the money was donated by the school community at J.S. Clark. "Everybody asked how much we needed," Jimmy said. "For the flight, the hotel room, the entry fee, and meals, it was something like six hundred dollars, but that was like five thousand back then. The teachers [at J.S. Clark] donated the money. No city council, none of that, because they didn't know anything about track; they didn't realize how significant it was to get invited to a meet like that. Turns out we were still forty dollars short right before it was time for Rodney to leave. A teacher came up and said 'I got it,' and they sent him over there." A total of $560 was raised among the people of Opelousas. "The trip would never have been possible without a lot of help from everyone," Coach Guilbeaux told the Daily World at the time.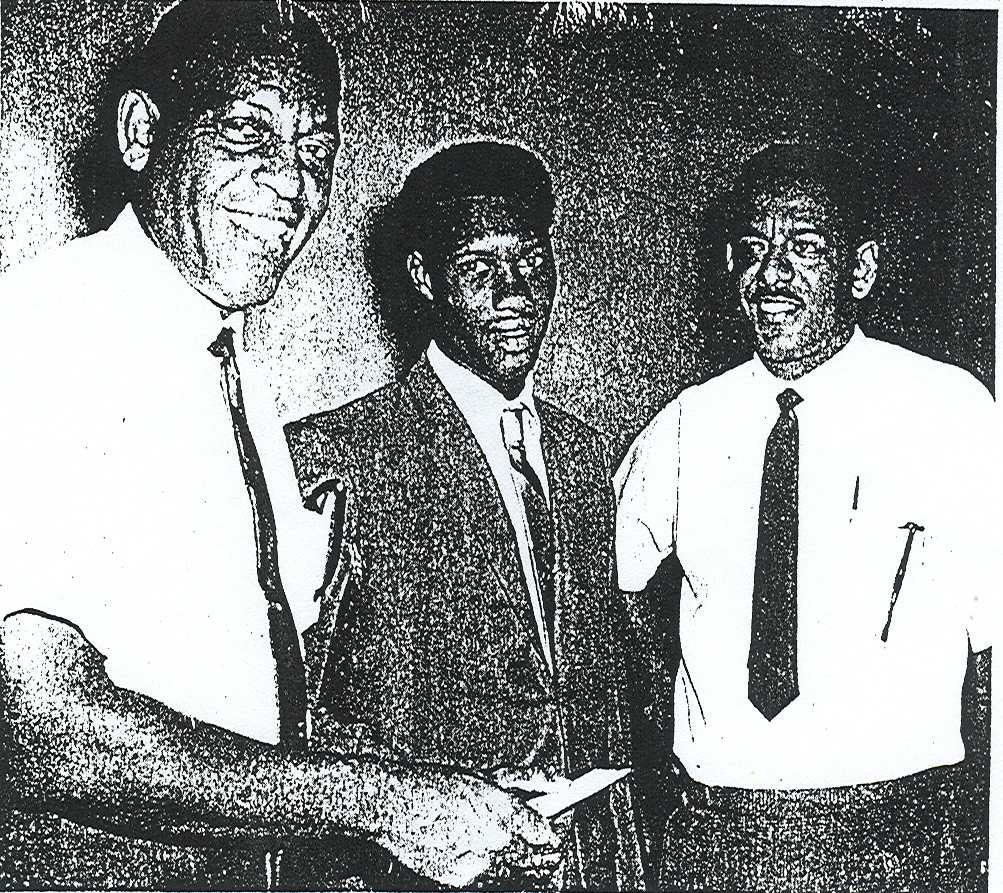 In this photo, Opelousas businessman Willie J. Daniel hands a check to Rodney that will help pay the cost of his trip to California for the Golden West Invitational. Observing the transaction is assistant coach Eddie Guilbeaux. This photo appeared in an issue of the Opelousas Daily World from the first week of June, 1969.
In Sacramento, Milburn did not let down the people who pitched in to send him there. He won the 120-yard high hurdles in 13.4, bettering the time that he ran at the J.S. Clark relays by a tenth of a second. His time would have broken the national record, but the tailwind was too strong to allow for a legally-established mark.
Milburn also ran the 330-yard intermediate hurdles, since the 180-yard hurdles was being phased out of the sport in most states. In this race, over 36-inch hurdles, Milburn finished fourth in 39.1. Not bad for someone who had never competed in the event before. But he didn't like the longer race, and vowed to never run it again. With his high school career complete, Milburn was ready to leave behind the 39-inch high hurdles and take on the best hurdlers in the nation over the 42-inch height. The only question was, what college would he be running for?
There was no reason to assume that Milburn would be going to college at all. His biggest obstacle was neither the war nor the track record of local black males, but his inability to read at twelfth-grade level. He had to go to all-white Opelousas High School for summer classes. Coach Guilbeaux paid for the classes out of his own pocket. Rodney had never been around white people before, and integration of schools had just started, so Guilbeaux would walk him over there. Lawrence Emerson, principal of J.S. Clark at the time, also helped to make sure Milburn got through the special remedial reading classes. The day after Milburn won the Olympic gold medal in Munich, Emerson explained to the Daily World that "it is up to us in school administration to see that the athlete make it in school."
Surely, if Milburn hadn't had such a reliable support system, he wouldn't have been prepared to handle the academic rigors of college; he may not have been able to meet college admissions standards to begin with. While Milburn was certainly a model student of hurdling, and a very serious student of life, he wasn't much of a student in the classroom. "He did his athletics, and he did his academics," Coach Morrison said. "He was not the type of athlete to look for an easy ride. In college, he wasn't an A student, but he was a good, solid C student."
The college that he ended up choosing was the one he had gone to for several of his greatest moments on the track – Southern University, a school of 7,000 students. Several factors led Rodney to attend Southern Not the least: his coach would be going with him.
On August 9, 1969, Paxton was officially named interim head Track & Field coach at Southern. One week earlier, Rodney had signed an athletic scholarship to attend the university. Paxton would be filling in for Dick Hill, who was taking a one-year sabbatical from his coaching duties in order to complete his doctoral studies. Southern being nearby was another factor. Rodney was very close to his mother and sister, and didn't want to move too far away. Besides, he had no reason to trust the hundreds of coaches pursuing him. Did they have his best interests in mind? Or were they just under severe pressure to win? Success at the major collegiate level often had more to do with recruiting well than coaching well. A program that stockpiled the best athletes could be assured of contending for conference and national titles. In such programs, athletes were often treated as commodities.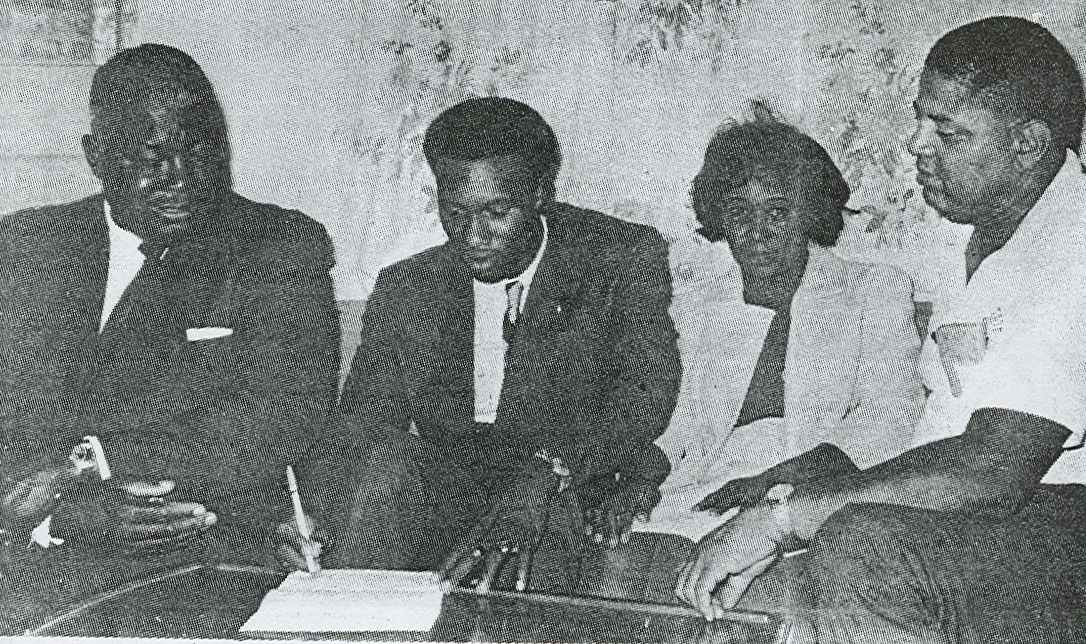 Rodney signs a letter of intent to attend Southern University on a track scholarship. Present at the signing are (from left to right) Southern coach Horace Moody, Rodney's mother Mary Milburn, and Coach Paxton. This photo appeared in the August 2, 1969 issue of The Louisiana Weekly.
Rodney was not a great student or an enthusiastic one. But he did want an education. As he told Litsky, "I decided I wanted three things: a good education and a degree because I knew there was a life after sports, a good track program, and a school where I would be accepted as a person and not just an athlete. Southern University gave me all of these, and it was close to home."
Rodney's decision came down to two schools – Southern and Texas Southern, both of which were smaller schools with low athletic budgets. He was strongly considering Texas Southern since it was in Houston, home to his sisters Lillie and Alice. So, why did he choose Southern over Texas Southern? Paxton.
It was now time for coach and athlete to make the 45-minute drive down route 190 to Baton Rouge.
© 2010 Steve McGill