In the days leading up to the Nike Indoor National Championships last week, I kept a journal where I recorded my thoughts prior to the day of the hurdle rounds, all of which took place on Sunday, March 11th. The events that took place that day in the boys' hurdles races were among the most bizarre that I've ever witnessed or been a part of. Below is a transcription of my thoughts, including my post-meet reflections a few days after the meet.
Friday March 9, 2007
All the hype leading up to this meet is more than I can remember before any meets last year. Johnny Dutch, Josh Hembrough, Terry Prentice, Brendan Ames. Super soph Wayne Davis. All the hurdlers from NC. And then you got Dutch with the 55h record and Josh with the 60h record at 42 inches. Don't remember all this hype last year or even before outdoor nationals last year. Now it's like Dutch's name is all over the internet and magazines. I'm happy he's getting the recognition he deserves, but at the same time I'm wondering why is everybody making such a big deal over this kid? He's just doing what he was always doing. He was winning age-group championships in USATF youth meets when he was a little boy, he tied the national freshman record over the 110 distance three years ago, he broke the sophomore 60h record two years ago. Now all of a sudden he's "Johnny Dutch." I guess I'll get used to it, but I'm not used to it yet.
With all the hype leading up to this meet I find myself wondering sometimes why does it matter whether he wins or not? Why do I care? It's not that I don't care or that I don't want to care; I'm just curious, and I get this way all the time before big meets because the training is the fun part – watching kids become better hurdlers right before my very eyes, watching them develop, watching them go beyond their training, teaching me things about the hurdles just by going out there and doing what they do. I remember seeing Dutch whip his trail leg around one day during practice and I blinked and thought to myself, I didn't teach him how to do that. When I'm out there on the track with him and the rest of the guys – that's the part I enjoy the most, and that's the part that's most real. Meets are more for validation, reputation. I think the reason I care whether my guys win or lose is because I know they will be judged by how they perform in the races regardless of how hard they train, regardless of who they are as people, and I don't want anyone saying that anyone I coach can't handle the pressure of big races.
Now Wayne is coming along and he's entering the spotlight too. I'm feeling pretty certain that by the time we get to Nike Outdoors Wayne will be Dutch's toughest competition because Wayne is so fiercely competitive despite how goofy he can be away from the track. The other day he came over to do some starts with Booker Nunley, and just when he was doing his drills I was like, Whoa! For the first time I felt myself thinking, Man, he looks the same as Dutch going over those hurdles. Wayne won't stop until he catches everybody. Even if he doesn't catch everybody, his goal is to catch everybody. He never goes into a race thinking he can't win, he never goes into a race conceding first place. Even last year at Junior Olympic Nationals he wasn't conceding first place to William Wynne. He felt he could beat William Wynne. And even though he didn't, his attitude has led him to do many things no one thought he could do. Ran 14.18 before his 15th birthday. Got 2nd at indoor states last month with a 7.32 in the 55h after setting a new personal best in the prelims of 7.51. Kid dropped two tenths in a race that short in the space of a couple hours. Don't ever sleep on Wayne.
The biggest reason I want Dutch to win is because I don't want to read on the internet and in the newspapers about how he lost. I don't want people who don't know anything about him to write negative things about him, talking like they do know him, like they do know what went wrong.
When I first started developing hurdlers at Ravenscroft I found it easy to make them competitive simply because most other coaches didn't pay much attention to the hurdles. Get a guy to three-step and lead with the knee and he's in the game. As I started coaching more talented athletes in the summer I found the same thing to be true. The level of competition was higher, but because the athletes were better, leading with the knee and a quick three in between almost guaranteed success. Now with the hurdlesfirst guys I'm finding the same thing to still be true. All things being equal, a hurdler who is technically sound will always beat a hurdler who is not.
Saturday March 10, 2007
Hurdle rounds are tomorrow. Prelims, semis, and finals. Sunday March 11, 2007 has the potential to be one of those days of my life that I look back upon years from now and say to myself, That day was a turning point. Here's what happens ideally: Dutch wins in a new national record time, Davis shocks the world with a second-place finish, shattering Dutch's old sophomore record, and Nunley makes the finals.
I stayed in Raleigh today to coach some of my kids who aren't going to Nike. I'll be heading up to Landover in the middle of the night with Troy Baker – one of my coaching partners – so we can get there about two hours before the races start. Wayne is already up there with his parents, and so is Dutch and Booker. Part of me wants to be there now, and feels like I should be. But I had good workouts with the other kids, and their dreams are just as important, even if they aren't as fast. What if I had left today, like I wanted to? I wouldn't have been there for those who needed me. Sometimes I wonder if it's possible to be there for everyone who needs me.
I'm feeling edgy not being up there yet but I can't afford to stay in a hotel every damn weekend, so I have to do it this way. What was cool about The Simplot games a few weeks ago was I could hang out with Dutch and Wayne, get to know them better, and get a good feel for their moods, their energy levels. Now I won't be there until the day of the meet, so my anxiety level is higher than usual. But with three rounds, I'm feeling very confident. Dutch always improves round by round, and so does Wayne. And Booker too, although to a lesser degree. Plus they're not competing in any other events, so their focus will be 100% on the hurdles.
As a coach you always feel like you've left something undone, unsaid. But you know that once that gun goes off there's nothing you can do but watch. You can't run the race for them. And no matter how well or poorly they may perform, you can't allow yourself to take it personally. You can't internalize it. You have to be able to move forward to the next meet, the next workout. Otherwise you'll just live your life in fear, wondering what the next thing is that will go wrong.
Wednesday March 14, 2007
March 11, 2007 was a crazy day, man. Crazy day. Bottom line is Dutch won and Wayne got third. But it was a long, circuitous route to get there. And Dutch's victory wasn't nearly as satisfying as I would have liked for it to be. More on that later. Booker didn't make it out of the prelims, which was very disappointing for him. He just hasn't gotten in enough hurdle reps yet to really put things together in a big meet like this. I just hope he doesn't get too discouraged about falling behind Dutch and especially Wayne, who is making remarkable progress. Fool went and broke Dutch's sophomore record twice – in the semis and then again in the finals.
The boys' hurdle races were filled with drama, tragedy, heartbreak, redemption, and triumph. I was so drained the next day that I took off from work just so I could grade some papers and remind myself that I'm still an English teacher. Right now I really can't say that I'm happy – more like bewildered and somewhat relieved – but I can say that I'm proud of the guys for how they came through under stressful, circumstances that entered the realm of bizarre.
Okay, let me get to the point: the semi-finals of the boys' hurdles. That's where the drama took place. In the prelims, Dutch and Wayne both breezed through their heats pretty easily and looked primed to run faster in the semis. There were three semi-final heats – Dutch was in the first one, in lane four, and Wayne was in the second one, in lane four as well. Let me describe the events as I remember them:
In the first heat, Dutch got out horrendously slowly and was way behind the whole field straight out the gate. Running from behind the whole way, he was making up ground but he was pressing, and he had a whole lot of ground to make up. Heading into the fifth hurdle it looked like he could get up in the thick of things and qualify for the finals, but he crashed the last hurdle and skidded across the finish line in last place.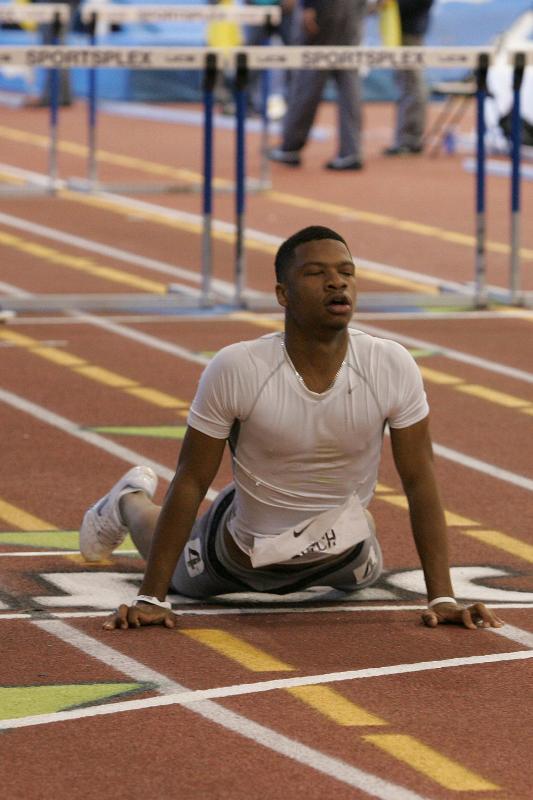 Dutch barely crosses the finish line after his fall.
I had been filming the race. Around the third hurdle reality started to set in for me. I dropped the camera from my eye and looked to see what was happening. Why was Dutch melting down? Then he crashed that fifth hurdle and my mind instantly flashed back to the Nike Outdoor meet two years ago, when he fell in the finals. I couldn't believe what I was seeing. I couldn't believe it was happening again. He was so ready for this meet. We'd had good practices, he'd been looking sharp, and mentally he was focused and relaxed. What happened? I turned off my camera and buried my face in my hands. His dream had turned into a disaster, and I knew there was nothing I could do to change that, nothing I could say to make him feel better.
In the next heat, Wayne false-started again, the same as he did in the prelims. Wayne knows that the start is the best part of his race, and that he has to get out well before all those bigger guys start tracking him down. Anyway, the difference between his prelim false start and his semi-final false start is that the officials called the one in the prelims, but he got away with the one in the semis. I had given up on filming by now. The Dutch fiasco had put an end to my calmness. I was no longer a coach, but a useless spectator. So I had a very good view of Wayne's false start. He had taken about five steps before I realized they weren't going to call him back. He won the heat in a new sophomore record of 7.86, beating the 7.90 Dutch had run back in '05. I was like, Wow, he really got away with one that time.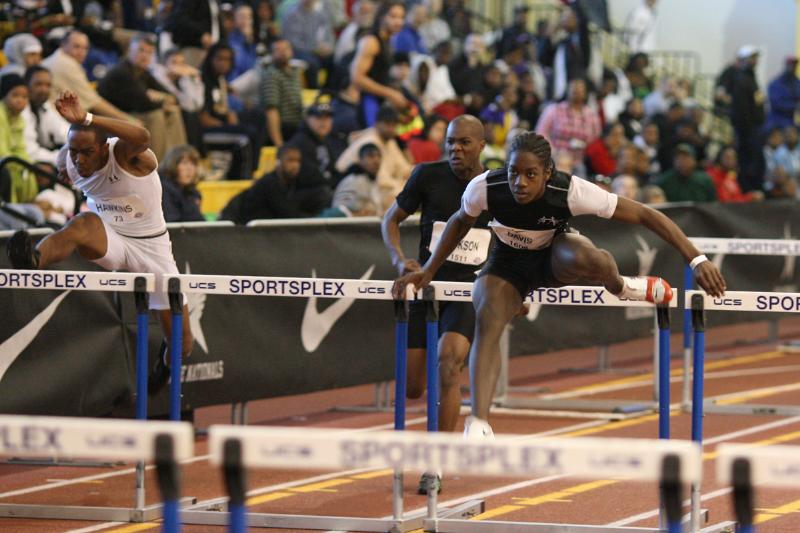 Davis leads the way in his semi-final heat.
In the third heat, there was another blatant false start that wasn't called back, but I don't remember who did this one. What I do remember is that Josh Hembrough – the co-favorite, along with Dutch, to win the meet – was left in the blocks. He managed to keep his composure and to come back and win the heat, but the slow time of 7.99 proved the point that the uncalled false start had messed up his race. He had run 7.94 in his prelims, basically jogging through the finish line. The slower time in the semis was obviously attributable to the officials' oversight.
After Hembrough's heat, Dutch's sister Ashley approached me and suggested I file a protest. She said that the spectators near the starting line were crying out about false starts, and that there had been a huge one in Johnny's heat. My immediate reaction was to think to myself, What's the point? I had seen what had happened. He had gotten an awful start, fell behind, pressed to catch up, and fell trying to catch up. What was there to protest? Plus I remembered the agonizing frustration I had dealt with last summer trying to protest the hooking DQ called on Johnny in the 400m hurdles at the Nike Outdoor meet after he'd won the race in 50.97. I didn't want to go through that again.
But I had to take a shot. As a coach, you have to advocate for your athlete. If I left Landover that day unable to say that I had at least tried to protest to give Dutch a second chance, I wouldn't have been able to forgive myself. First I rewound my film and took a look at the start of Dutch's race. Daaaaaammmnnn, I said to myself when I viewed it, that was a blatant false start. No wonder it looked like Dutch was glued to his blocks. Two or three cats took off before the gun went off. In spite of myself, I now felt like there might be a glimmer of hope we could win this protest.
I walked up to the press booth and asked if I could talk to someone about filing a protest. I didn't even know if false starts were protest-able, so if someone were to tell me they weren't, I would've sat back down in the bleachers. But the lady in the press booth told me I could file a protest. She explained that I would need to put the protest in writing. I already knew that from the summer meet. She then explained that I would need to pay $50 for filing a protest, which I would get back only if the protest were upheld. I already knew this too.
I looked in my wallet and all I had was two twenties and a ten. Fifty dollars exactly. Damn. Guess I'd be drinking water on the way home. The lady then directed me to the protest official. My heart sank to my knees when I saw it was the same guy I had unsuccessfully filed the protest with last summer. Okay, I thought to myself, I might as well just flush this fifty dollars down the toilet, 'cause I ain't never gonna see it again. Not that the guy wasn't reasonable, but I knew he must've remembered me the same as I remembered him, and I knew that, regardless of who the officials are, winning a protest is very unlikely in even the best-case scenario.
The protest official talked to me for a little while, asking me what I wanted him to do. I answered that I'd like for him to take a look at footage of the race and judge whether or not there was a false start in Dutch's heat that gave the runners who false-started an unfair advantage. I also pointed out to him what I had written on the protest sheet – that I'd like for his heat to be re-run. He shooed me away and, I assume, took a look at the footage. He emerged a short while later and said that he wanted to talk to the starter. "I'll be back in a bit," he said.
So I stood there outside the press box, getting bumped into from the back and the front and the left and the right by people walking by. I called Dutch on my cell phone and talked to him a little bit. I asked if he was okay, and he said no, that it would be a few days before he was okay. He was walking around outside the stadium, just wandering around the Prince Georges County Sports Complex, walking off the pain. I tried to encourage him, explained that the long-term goals for outdoors were still in place, that although this felt like the end of the world, it really wasn't. I also mentioned that I was filing a protest for a false start. "Gotta take a shot," I said. He agreed, but expressed about as much hope as I did.
I couldn't even enjoy Wayne's 7.86 – the fastest time in the prelims and a new sophomore record. I couldn't enjoy it because I was too worried about Dutch and because I knew it wasn't legit anyway. Wayne had false-started and the officials missed it so why should I celebrate it? Shit. I was in about as dark a mood as I had been in for a very long time.
Why Dutch? That was the question that repeatedly popped into my mind as I stood there outside the press booth, waiting for what seemed like centuries for the protest official to return. Why Dutch? Here's a kid who is humble, hard-working, great with kids, a true role model. Why do these bizarre things keep happening to him? Here was more fuel for the fire for those who wanted to claim that Dutch wasn't a big-meet performer. I found myself feeling disillusioned with the whole world of elite track and field. We put too much pressure on these kids, I found myself thinking. Let a kid be a kid. Let him run his race and do his best. Does it really matter whether or not he has a championship medal if he has championship character? Aren't we all missing the point here by putting so much value on who wins a race?
I saw Josh Hembrough pass by with his dad. I congratulated Josh on his semi-final race and his dad offered condolences on Dutch's fall. "They'll race dozens of times in the next ten years," he said. Those Hembroughs are good people, and Josh is a great, great kid.
Finally the protest official returned. He told me to wait, and he had someone else with him – a very important-looking person in a blue blazer – and that person looked at the footage with him. After standing alone for another five minutes, awaiting their verdict, wishing they'd just hurry up and give me the bad news, I saw the protest official re-emerge. He had my money in his hand. The first thing he said was, "Here's your fifty dollars back."
I about peed my pants I was so happy.
And it wasn't about the money. It was about Dutch. He'd get another shot. He'd get to race again. The protest official then explained to me that they wouldn't re-run the heat as I requested, but that they would run a two-heat final. Dutch would be in the slow heat, but he could win the meet on time from the slow heat. I thanked him and went my merry way.
I called Dutch again and told him the news. He expressed no joy, but I definitely heard relief in his voice. I walked outside and found him. He seemed to be okay overall, but a bit shaken. He had some scrapes on his knees and blisters on his hands, and he was still carrying his head low, looking very mentally fatigued. But he had come back from that Nike Outdoor DQ and run the race of his life in the 110s less than an hour later, so he could do it again. And that's what I reminded him of: you've been here before, you've done this before. You can do it again. In typical Dutch fashion, he nodded, expressionless – the usual indication of his readiness.
In the finals, there were no false starts. In the first heat, Dutch got out well and ran one of his better races, crossing the line in a personal best of 7.73, equaling the time Cordera Jenkins had run last year to win. Relieved and joyous, I gave a hearty high-five to Dutch's mom Deborah, feeling so proud of him for overcoming adversity the way he had. It's difficult to explain the enormity of what he accomplished. What a lot of people don't understand about hurdling is how hard it is to get back up after a fall. Every time Dutch falls, he gets back up. That's what makes him a great hurdler even more so than any records he has set or victories he has earned. Sometimes hurdlers never recover mentally from a fall. They retain a fear of the obstacles that prevents them from ever running with reckless abandon ever again. Some just quit hurdling altogether and pick up a different event.
Two hours after crashing, Dutch came back and ran a personal best.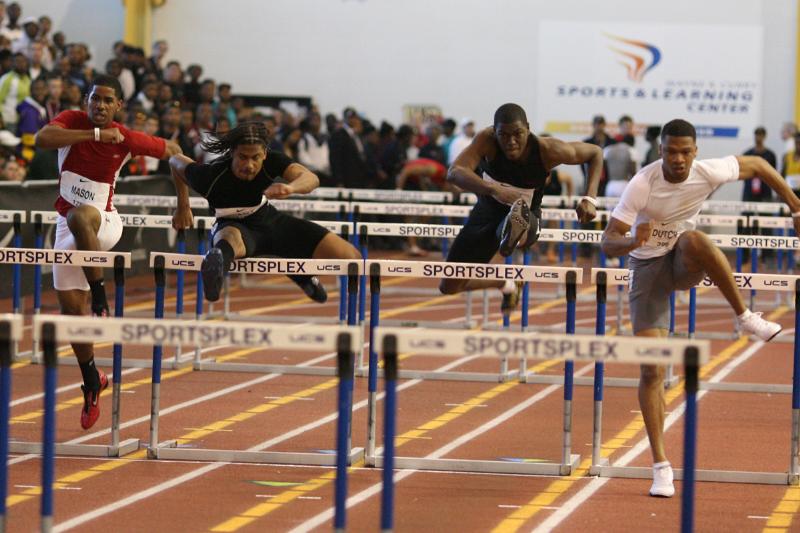 Dutch, in lane one, opens up a lead in the first heat of the 60m hurdle finals.
In the second heat, Wayne got out fast – but cleanly this time – and held the lead for most of the way before Brendan Ames of Wyoming passed him over the last hurdle and beat him by .05 – 7.78 to 7.83. Josh crashed into the fifth hurdle the same as Dutch had in the semis, and crossed the line in last place.

Davis, in lane four, and Ames, in lane six, are tied at hurdle four, as Hembrough, in lane five, begins to have trouble.
I feel very, very bad for Josh Hembrough, and my joy over the accomplishments of Dutch and Wayne is tainted by the hurt I feel for Josh. Really, it wasn't fair that the guys in the second heat had to run after Dutch had already run. They were put in a position where they had to chase his time. When you see the guy in the heat before you run the fastest time of the year, of course you're going to press. For Josh the pressure was greater than it was for the other hurdlers because he was the one expected to bust a fast time, to challenge the high school national record. When I saw him go down, I let out a groan with the rest of the crowd, and thought of the bitter irony that his dad had been consoling me just a couple hours ago, and now his son was going through the same thing Dutch had gone through. Bitterly, however, Josh would not have the chance at this meet to redeem himself. If you ask me if I think that's fair, my answer is no.
Yet at the same time, I don't apologize that Dutch did get a second chance. The false starts were so blatant that something had to be done to save the credibility of the meet. I'd've preferred a re-run of the heat, and that's what I asked for, but that's not what the officials chose to do. And I must say, for all the hype leading up to the meet, I find it downright bizarre that Dutch and Hembrough never actually raced against each other. Meanwhile, Brendan Ames crossed the finish line in first place in the fast heat but cannot claim the satisfaction of being declared the winner. I guess it's time for electronic starting blocks at these big national meets, because the level of chaos that unfolded on March 11, 2007 cannot happen again.
© 2007 Steve McGill
Photos are from nc.milesplit.com