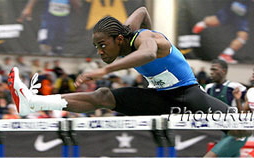 On Sunday March 15, 2009 Wayne Davis II, a senior at Southeast Raleigh High School in Raleigh, NC, did something that no other high school hurdler has ever done. He ran the 60 meter hurdles in 7.60 seconds. This new national record that he set at the Nike Indoor Nationals at the Reggie Lewis Center in Boston, MA almost didn't happen. In fact, the miracle was not that Davis set the record, but that he was able to compete at all.
On Friday March 6, Davis was in P.E. class shooting baskets with some friends when he jumped up to see if he could touch the rim. Not only did he touch it, but he grabbed it with ease. One of his friends said that if he could get that high, he should be able to dunk. So he tried. After two near-misses, Davis, on his third attempt, threw the ball through the hoop with authority. "I was like, yeah, that's a dunk right there," Davis said.
A few minutes later the boys chose teams for a pick-up game. Toward the end of the contest Davis' team was up one point, with the ball, with a chance to win. Davis received a pass, saw an opening to the rim, drove down the lane, and dunked over one of his opponents to end the game. "Then when I came down, crack."
While Davis' teammates celebrated their P.E. championship, Wayne struggled to stand back up. The bell rang to end class, and all but one classmate left the gym. The one who stayed behind helped Davis get up and hobble to the training room to put an ice pack on his ankle. After taking off his shoe, Davis says, "I started seeing it swell up really big. I think that walking over there actually hurt it more. After putting the ice on, I couldn't move. I was like, 'I'm not going to be able to run next weekend.' The ankle was the size of a grapefruit. It was hurting pretty bad."
That's when it hit him that his P.E. shenanigans might have ruined his chances of owning the 60 meter hurdle record all by himself. At the time, he shared it with three others, including two-time Olympic silver medalist Terrence Trammell. He realized that his game-winning dunk might have cost him the chance to claim the record – something he'd been training all year for. Also, the previous spring, he had missed much of the outdoor season of his junior year because of a sprain to his left ankle, preventing him from competing injury-free at the state championships and the post-season national championship meets. Now, it looked like a sprain to the right ankle would abort another dream.
Throughout the rest of the school day, Davis stayed in a dark mood. "I was mad at myself," he explained. "I was like, 'Man, I've been going all year for this record just to get this far and twist my ankle? You know what, I'm not even gonna run at Nationals. I'm just gonna give 'em hell outdoors.'"
That afternoon after school Davis went to a doctor who diagnosed him with a third-degree sprain. That would mean at least two weeks and maybe up to a month in a cast, on crutches, and constantly applying the R.I.C.E (rest, ice, compression, elevation) treatment. Davis' doctor, a laser therapist, measured his ankle. "A normal one is 24 centimeters around," Davis noted. "That's what my left one was. My right one was 31 centimeters around. That's seven centimeters difference. That's huge."
The laser therapist treated the ankle, and after one treatment, he reduced the size of it to 30 centimeters. "It started feeling better already," Davis said, "but not good enough to stand on or to put any weight on it at all. It had gotten to where my toes started swelling up and it was getting so sore."
After repeated treatments, the size of the right ankle was reduced to 27 inches by the Wednesday before the meet. The 60 meter hurdles – the only event Davis would be competing in – would take place on Sunday. So he still had four days before he had to race. "I got those laser treatments, and that took it down four inches. I was like, 'I'm not that far away. I might actually have a chance to race.' We wouldn't be leaving until Friday. It went down another half-inch, and that's where it stayed the rest of the week. But the swelling in my toes and in the top of my foot went down, and a lot of the inflammation was gone. And it felt better and better every day."
On Thursday the 12th, a day before getting on the plane for Boston, Davis felt confident that he'd at least be able to get through the first of the three rounds. "I was icing every thirty minutes," he said. "I wanted to be safe so I kept using the crutches, kept the boot on it, kept keeping my weight off it, which really helped me to get it healed to where I could actually run. Keeping it elevated also helped. A lot of people don't actually follow the full regimen, but I was determined to get better in time." Every day that week, after arriving home from school, he would sit in his room, ankle elevated, and watch hurdling videos. Prior to departing, Davis visited his regular doctor, who, incidentally, would also be traveling to the meet as part of the staff who would help injured athletes. After checking on Davis, the doctor told him, "You really look like you can run."
By the time he arrived in Boston on Friday the 13th, Davis could walk without the crutches, but in trying to do anything track-related, "the problem was actually getting on my toes," he said. "My balance was off, and being on my toes hurt my ankle. I was worried because I knew that just being able to walk on it wouldn't enough. I would need to be able to put force into it."
At the racing venue, Davis was filled with tension, unsure if he'd be able to do what he had come there to do. "On Saturday I tried to jog, but that hurt more than sprinting, actually, because of the pounding. Keeping the ankle dorsi-flexed when sprinting made it hurt less. I did an achilles stretch and got back up and ran, and it really felt great. I was like, wow, my pain went down dramatically."
Unable to warm up as he was accustomed to, Davis placed a heavier emphasis on mental preparation. That night, "I just visualized my race, visualized my rhythm, then did it again in the morning." To win the event, he'd have to run three races – a preliminary round, a semi-final round, and the finals. With not much down time between each race. At the venue on Sunday morning, "I was nervous. My heart rate was up, because I didn't know, 'Can I really race? Can I really win this?' That was the first time I had those thoughts in a long time. I hadn't had those thoughts since sophomore year, when I was still coming up and there were a lot of older guys better than me."
Davis' preliminary race was ugly, but he got through it. His time of 7.83 was slow by his standards, but it made him the fastest qualifier for the semis. "Everyone was in front of me at the first hurdle," he recalled. "Then I got my rhythm in my mind, and between the first and second hurdles I took the lead. Then once I got into my rhythm I cruised and slowed down across the finish line, which actually caused my ankle to hurt more. I should've slowed down gradually. That's why my ankle actually hurt more, and my achilles was tight."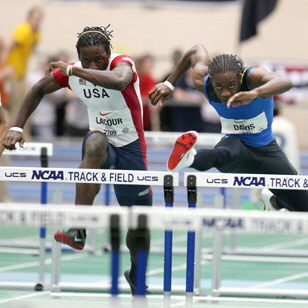 Davis (right) battles Cameron LaCour of Texas.
After the prelims, Davis was thinking that while he should still have a good shot to win, t there was no way he was going to break the record. After an ice bath, he put the boot back on and grabbed the crutches. Then he went into the medical tent for a massage. The massage therapist flushed out all the toxins, then "I drank water and thirty minutes later it was time for the semis."
By this time the ankle was feeling much better. The first round had helped to warm it up, and all the treatment and stretching had helped too. "So I kept stretching my achilles. Then I put on my nice new Nike uniform. I'm thinking, 'Man, if I run bad in this new uniform, that's gonna suck."
He ran well. He again finished with the fastest qualifying time – 7.74 – good for the fastest time of the year in the entire nation. "This time," he said," I ran out harder, not so timid. It felt more like a normal race. I rose up [out of the blocks] a little early, but not nearly as bad as the first race. I went all-out, and after the first hurdle I didn't see anybody, so I just focused on my technique and my steps in between. I ran through the line this time, didn't slow down, then I limped off the track. I heard the announcer saying, 'Wayne Davis, with a sprained ankle, just ran a US number one time,' and that really pumped me up. I figured if I could keep dropping a tenth every round, then maybe I actually could break the record."
But the euphoria was short-lived. "That was the most pain I'd been in the whole meet. After my ice bath, they put this foam thing under my foot to squeeze out all the inflammation out of my foot and out of my achilles. It hurt so bad. They were pushing all that fluid out, and thank God they did. Then I was crutching around, feeling the pain. As I was crutching around, that kind of served as a cardio workout. Being on crutches is uneasy, especially when you gotta get somewhere fast. My opponents were asking me why I was still crutching around with the finals coming up. They thought that meant I wasn't going to run. But I was like, 'I gotta play it safe.'
"So I get up and get off the crutches. They tape my ankle in a special way. I tried to jog, but you know that doesn't really work. So I'm like, 'How am I gonna warm up?' I try high-knees. It hurts a little bit, kind of a stiffness thing. But the ankle is getting support from the dorsi-flexion. I remember seeing someone doing toe-walks in his dynamic warm-up and I think, 'That would be a great way to stretch my ankle.' So I did that and as time went on it kept feeling better and better. Then the high-knees kept feeling more comfortable. I started doing high-knees to my rhythm of running. And I did it over a few hurdles. The high-knees really gets your cardio up. I was sweating more than I ever have during a warm-up.
"Going into the finals after warming up, I felt ready. I was going over 42-inch hurdles, feeling no pain. Other guys came over to warm up and they were like, whoa, those hurdles are kinda high. That helped bring my confidence up. Then everybody just moved over and started their own lane. That's how I ended up getting a tiny little strip for myself. About 30 feet long. That was all the space I needed to warm up.
"I felt like everything was popping. Everything was tight. I wasn't really worried about technique. I was more worried about my steps in between. When you look at the race you can tell I wasn't worried about technique. My lead leg sort of went everywhere because it wasn't at full health.
"When I got up to the starting line, I was so focused. I totally forgot, as they shot the gun for the girls race [before ours], I actually forgot that my ankle was taped up and I was hurt. I was focusing on the rhythm of the race the whole time. I could hear the beat in my head. It was all or nothing. If my ankle goes down, fine, so be it, and I'll just go for it outdoors. But hey, this is something I really want. This is my last chance to get this record. So I'm going all-out. I can't be timid this time.
"So I got up to the line. I didn't even notice the girls race. I walked up and set up my blocks, looked straight down the track, looking at the finish line, visualizing, seeing myself. The dude next to me said good luck. I don't even know what came out of my mouth. It wasn't words. I was so focused. It was like I was in another world. It just happens that at that moment I looked down and saw my ankle and I remembered again. I mentally hit myself in the head – 'Forget about it, let's run this thing.' Then I start doing high-knees again, getting into my rhythm. Feels great, feels great. Did a start over two hurdles. Felt great.
"I false-started. Me false-starting kinda made me angry. I wanted to get this race over with. I liked the nervous energy, but when it's that strong, it's kind of overwhelming.
"The next time my reaction time was great. I was first to the first hurdle, first to land. I saw the foot of the dude next to me [Cameron LaCour of Texas]. I kept seeing his foot. I nicked the fourth hurdle with my lead foot because I started getting crowded. Then I didn't see the dude's foot anymore. I tried to find another gear between the fourth and fifth hurdle. Ran as hard as I could to the finish line. This was the hardest lean I've ever done in my life. I threw myself on the ground. It was like suicide. It was a suicide lean.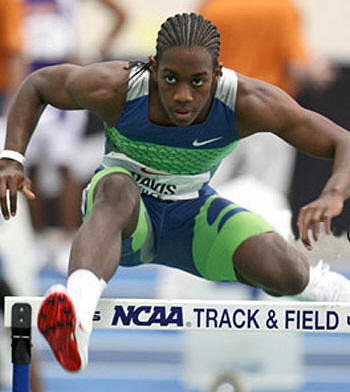 Davis sports the special tape job on his right ankle that helped him get through the finals.
"I fell on the ground, slid, scraped myself up. Didn't think I got the record. Turned over, lie on my back, looking at the clock. An official came and picked me up, I'm looking up, hands on my knees. I see 7.60 on the board. I'm like, 'Is that an 8? Is that 7.68?' The announcer hasn't said anything yet. 'Is that an 8? Is that an 8?' Then some guy next to me says 'Seven-six-oh, seven-six-oh – that's a record.' Then other people started saying it. The doctor walked up and hugged me, then finally the announcer says, 'Wayne Davis, on crutches all week, comes out to win the national championship and break the record he owned along with three others, including Terrence Trammell. This is one of the most amazing things we've seen ever. This young man is just amazing.' I was so happy. I went to all the doctors who helped me out and gave them a big hug.
"About five minutes later, the tape got tighter. My ankle – it felt like someone took a balloon and blew it up. I was in more pain than ever. Still, I'm looking around, thinking, 'Yeah, it's all worth it.' All that adrenaline really helped. In my interviews I thanked all the doctors by name. I was so thankful.
"I always wanted to do that thing where you stand in front of the clock after setting a record. So I went up there and put my hand on top of the clock and gave a big, big smile. That's my profile picture on Facebook."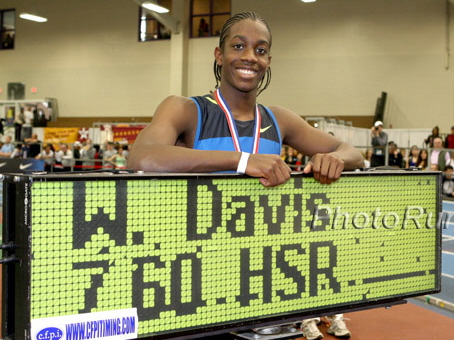 Posing with the official timing clock.
Despite his elation, and the enormity of his accomplishment, Davis knows that there's still work to do. It bothers him that his personal best outdoors in the 110 meter hurdles is still 13.65, which he ran his sophomore year. "7.60 and 13.65 just don't go together." Also, he knows that being considered perhaps the greatest high school indoor hurdler ever doesn't amount to much if he can't duplicate that level of achievement outdoors. He understands that because of his size (5-10), not everyone believes he can ever be as great outdoors as he is indoors. But he's determined not to just prove the doubters wrong, but to accomplish the goals that he has set out to attain.
Reflecting back on the whole ordeal of the past two weeks, Davis states that he is a different person, a different athlete, a different hurdler as a result of the trials he has endured. Though he had already earned many medals in his track career, this was the first time he had done something he really didn't think he could do. "This meet is really gonna change everything," he said. "It's gonna change the way I warm up and the way I run. I'm gonna do a high-knee warm-up all the time now. It really gets the blood pumping and you don't need a whole lot of space to do it."
Besides the warm-up, there is more: "I've learned a lot of things about myself. Getting hurt was a blessing, and I'm actually thankful. Since I went through this experience, I will keep it for the rest of my life. I know what to do and what not to do – how to prepare my body, how to prepare my mind. And it just opens my horizons to what's possible. I know now that when I have limitations, I can deal with it. It amazes me. It's like, mind-boggling."
© 2009 Steve McGill
Click here for footage of the NIN 60m hurdle final in which Davis runs his record-breaking 7.60.