All kids need is a little help, a little hope, and somebody who believes in them.
–Earvin "Magic" Johnson
When most people think of the country of Malaysia, the hurdles are probably not the first thing to come to mind. As an American, when I've thought of Malaysia, I've envisioned thick, lush forests, wild animals, exotic birds, and the only other thing I've known about Malaysia is that it is one of the places where Nike makes its shoes. Athletically speaking, Malaysia is probably best known for its badminton players, who have had consistent success on the international level. However, for Jerry Lim, a youth track coach who resides in the capital city of Johor Bahru in the state of Johor, on the southernmost tip of Malaysia, life is all about the hurdles, and it has been for several years.
The forty-four-year-old Lim, who was not a hurdler himself, got involved in coaching the hurdles when his son Eugene, who was nine years old at the time, "came back from school one day saying that his teacher said he wasn't good enough to take part in the school sports." The rejection that Eugene, who is now sixteen, received from his teacher made Jerry think long and deeply about the direction Eugene's athletic life should take. "It was kind of shocking for me," Jerry said. In his day, he had been a multi-sport athlete, participating in "badminton, track, table-tennis, hockey, and basketball," but never making it to the state level in any of them. Realizing later that he had probably spread himself too thin, thus disabling any chance of excelling in any particular sport, Jerry came to the conclusion that he "didn't want [Eugene] to end up like me, so I decided that I'd start focusing him on one sport – athletics."
The young Eugene fashioned himself to be a sprinter, so that's what Jerry focused on in training him. "We trained hard, very hard," Jerry noted, "and when the next school sports season came about the following year, he easily could out-sprint the twelve-year-olds in his school. So I knew he was relatively fast over the hundred meters." In Malaysian age-group track, there are four levels of competition – Inter School, Inter District, Inter State, and Nationals. The Inter School competition takes place in March, the Districts are in April, and the State meet and National meet take place in May. In Eugene's first year of running track, "he made it to the final of Districts and ended up fifth," Jerry said. "There were seventy-five schools in our district, so it was a big stage for a ten-year-old. Plus it was his first competition, so I was quite pleased with the results."
Nevertheless, Jerry could read the writing on the wall informing him that Eugene would only be able to go but so far as a sprinter. As he pointed out himself, "it was during this meet that I realized how difficult it is to excel in the 100 meters. There were so many runners, and some of them were so much bigger and stronger than Eugene. That's when I decided to switch Eugene to the hurdles."
This decision was definitely not one of convenience, as Jerry's knowledge of the hurdling events was minimal, not to mention the fact that equipment was not readily available either. "It was tough," Jerry admitted. "I had to buy my own hurdles and we practiced on the grass at the school field. Every time we trained, I had to measure the placement of the hurdles, and I had very little knowledge on this event." With few resources available, Jerry did his best to learn more about hurdling by looking up various websites on the internet. "Eugene and I learned how to hurdle together," Jerry observed. "I made sure he knew how to lead with both legs. He was a very determined boy and also a fast learner. The most important thing was that he didn't fear the hurdles and he would sprint aggressively toward them. Sometimes he would have a bad fall, but he would pick himself up and try again."
With Eugene's determination and resiliency, coupled with Jerry's willingness to learn as much as he could about an event that is highly technical and therefore very difficult to coach, Eugene was gradually able to make significant strides as a hurdler. Eugene's first break came at the age of thirteen, when he finished second at Districts and qualified to hurdle at States. At this young age, he was already competing over the 110 meter distance over 33" hurdles. Five-stepping, he was able to qualify for the finals at States, and ended up finishing sixth. It was also at this meet that Jerry saw the winner three-stepping to win the gold. "He outran the entire field to win miles ahead of everyone else," Jerry said. "His name was Shafiq. To me, his technique was flawless (at that time), and I was stunned. How could a thirteen-year-old develop enough strength and muscles to three-step over 9.14m? I found out later that he was already pumping iron and his father was a former state hurdler. It was enough to spur me on. I told Eugene, 'You'll beat him one day.'"
From there, "it was back to more training, reading, and research," Jerry said, "and we decided to work on four-stepping. In the following year, when he was fourteen, he clipped a hurdle in the final and did not make it to the States." "It was much tougher than I had expected," Jerry said. "All it takes is one mistake, and we have to wait another year." The next year, at the age of fifteen, Eugene made it to Districts again, this time winning the 110's four-stepping the whole way; he also finished second in the 200m hurdles. Five years had passed since he had first taken up the hurdles, so advancing to the State meet was very gratifying for coach and athlete alike.
At the State meet, the hurdles coach of the State team took Eugene out of the 110's, feeling that his ability to alternate lead legs gave him a better chance to achieve victory in the 200m hurdles. Eugene made the finals in the 200m hurdles, but "did not make it to the podium." The situation was very frustrating for Eugene because, as Jerry explained it, "He had thought it was an advantage to lead with both legs, but it became a stumbling block instead." In the 110's, he never got a chance to see how he could fare among the best in the state. Jerry commented that Eugene "was demoralized" at not getting a chance to compete at the State meet in his favorite event, and that his disappointment led to Jerry's next decision: "It was time to move on to three-stepping."
Getting Eugene to transition into a three-stepper was, according to Jerry, "a big challenge. I had limited resources, and I couldn't understand why Eugene was struggling to three-step while the national and international hurdlers I saw on TV were doing it effortlessly. Was it because he didn't have the strength? Or was it because there was something that he was doing wrong. I had a video recorder, but it wouldn't be helpful unless somebody could tell me what he was doing wrong. It was at a small local meet that I noticed this small-sized girl hurdler. She was already miles ahead after the fourth hurdle. As she approached the last four hurdles, I had all my attention on her. I saw how she folded her lead leg and thrust it forward when the knee was raised. That could be it, I thought." From that point on, Jerry made sure Eugene led with his knee, keeping his shoulders parallel to the hurdles.
In addition to making this technical adjustment, Jerry also started working on Eugene's strength, having him do lots of hill running. Within weeks, sixteen-year-old Eugene was able to three-step between the 39″ hurdles, but the effort it took to get there resulted in an injury. He finished third at Districts and did not compete at the States. After taking some time off to heal, he came back as a seventeen-year-old determined to achieve his goal of winning States to compete at the National meet. And that, I suppose, is where I come in.
**************************************************************************************************************************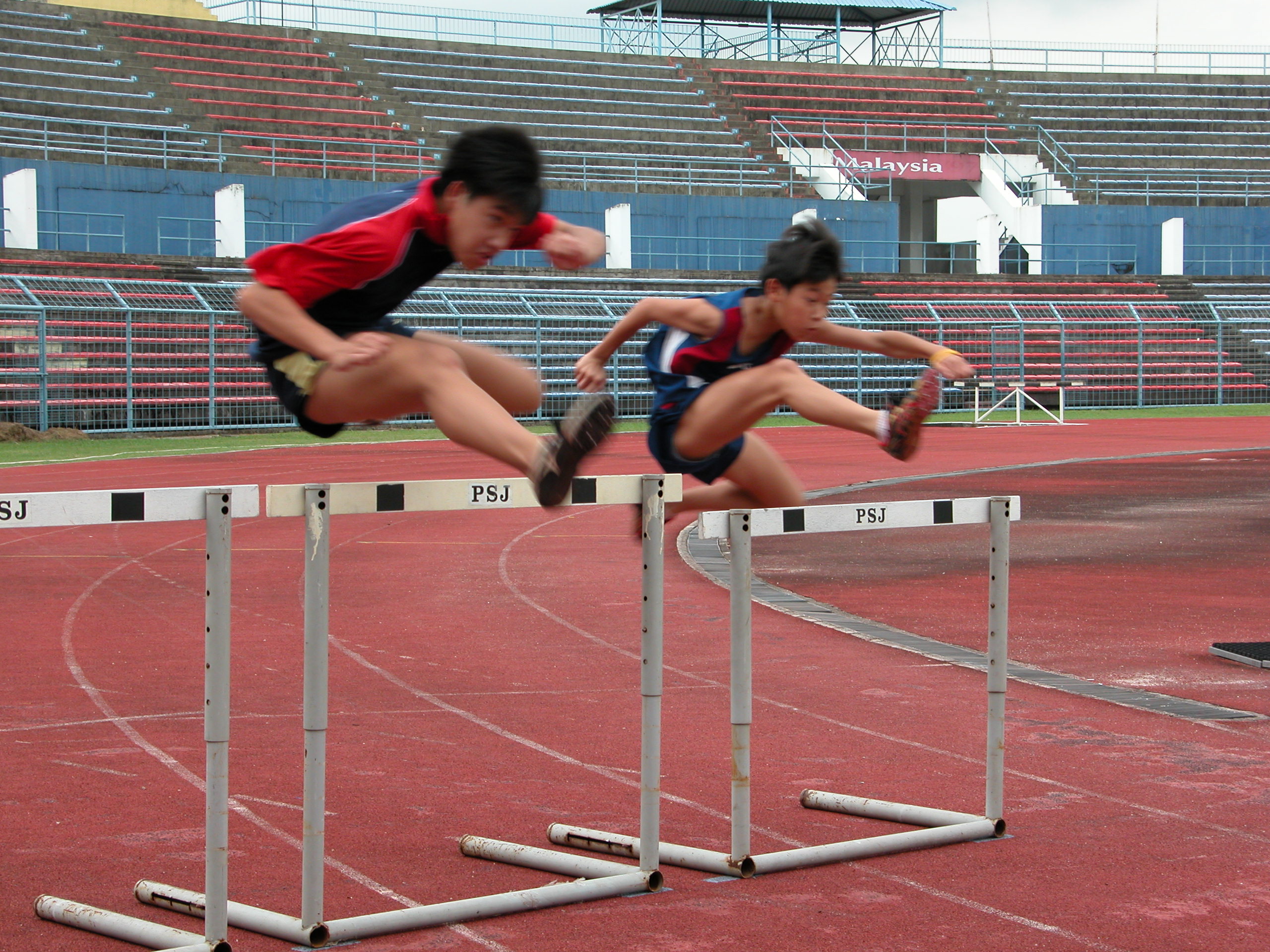 Eugene Lim hurdles in practice next to his younger brother Roy.
In January of 2005, I received an email in which the words "Greetings from Malaysia" were written in the subject line. It was from Jerry. After some complimentary words about my website, Jerry wrote that "I am crazy about track and field – especially hurdles," and that's all I needed to hear. From there, a friendship developed in which Jerry informed me of Eugene's progress in his last season as a secondary school hurdler, and I offered advice and encouragement whenever I could. In the emails that we sent back and forth to each other over the next several months, I could see that Jerry was the type of coach that a hurdler needs – knowledgeable, yet ever seeking to increase his knowledge so that he can help his athletes to excel. It seemed to me from the beginning of our correspondence that Jerry knew much more about the hurdles than he gave himself credit for, as his questions were very insightful and detailed – the kinds of questions you couldn't ask if you didn't know what you were talking about.
At the District meet this past March, Eugene set a new meet record of 15.64 in the semi-finals, then, after a thunderstorm that delayed the final for two hours, he went on to capture first place in 16.02 on a wet track. His confidence level was very high after that, but he knew he'd be facing much stiffer competition at the State meet. As it turns out, the State meet, which took place a few weeks later, proved to be another showcase of Eugene's talent, as he took the gold medal in 15.30, defeating the second-place hurdler by more than a half-second. The victory was even sweeter when Eugene realized that the runner-up was Shafiq – the boy to whom he had lost when he was thirteen. With one dream fulfilled, it was time to prepare for another one, as the Nationals would be taking place during the second week of May.
Eugene would be one of the favorites at Nationals, but there was also a kid from another state who had broken the 15.00 barrier, so it was evident that Eugene would have to run the race of his life to garner the gold medal. To help Eugene prepare, Jerry brought in a new hurdler, named Thiru, to train with Eugene. Thiru, the runner-up at the State meet in 2004, was a year older than Eugene, and could provide good friendly competition in practice sessions. Jerry had Eugene and Thiru do the zone drill together on one occasion, and he also had them do some work over 42's in order to make the 39's feel lower. Going into the meet, Eugene was in the best shape of his life, and felt ready to make magic happen. Then, on Thursday, May 12, 2005, I received the following email from Jerry:
Hi Steve,
You wouldn't believe what happened.
I set off on Monday night and arrived in Penang the next day. I looked Eugene up at the school hostel where he was staying and intended to make him relax with us the whole day, maybe relaxing at the hotel pool or just simply spending some time at the beach. By noon he told me he wasn't feeling good and had developed a fever. I brought him to the doctor and requested for an injection, hoping that he could recover in time for his race the next day. I sent him back to the hostel early to enable him to rest.
At the stadium, the following day, I saw him warming up as I arrived, so I didn't get to talk to him. I found out that he was drawn in the same semi-final as last year's winner. Eugene was in lane two, the other guy was in lane seven, and from the papers, I also knew that the guy in lane one was also one of the early favourites. I thought that it would be a good race, but it was not to be. Eugene matched them stride for stride until the third hurdle, and faded off after that. I was shocked that Eugene couldn't even give them a fight. He ended up last in that semi-final. I got a bigger shock when I saw him after the race. He was down with Chicken Pox! It was all over his face and hands. He told me that he just lost power after the third hurdle. So the Nationals was all over for him. It was sad; he worked very hard and this had to happen. He knew that he was sick, but he wanted to race so badly that he didn't care. I didn't know how to console him after that.
We are now back home and he is resting in his room. Could he have created an upset? We will never know.
Regards,
Jerry
Now I've heard of some crazy things happening on the day of a race, I've heard of some disappointing misfortunes occurring to athletes at unfortunate times, but a seventeen-year-old stricken with chicken pox on the day of the biggest race of his life? That's gotta be some kind of record. Nevertheless, Eugene was able to bounce back from the heartbreak he suffered at Nationals, and competed in the National Juniors (for athletes nineteen years old and younger) over the 42-inch hurdles. At sixteen years and five months, Eugene was easily the youngest hurdler in the field, but managed to finish seventh in a time of 16.77 in only his second time ever running over the higher hurdles. Eugene's future as a hurdler, and as a participant in the sport of Track & Field in general, remains unclear. As Jerry stated, "There is totally no future in Malaysia for track and field athletes. Many friends sent me congratulations messages when Eugene won the States recently, but deep inside my heart, I knew that the end was near. This is Eugene's final year in a secondary school, and full-time college studies will most probably spell an end to his track and field career." Still, in looking back on the span of the last six years of Eugene's development, Jerry observed that "when a nine-year-old boy came home from school crying over not being selected to run in his school sports, I never expected to make it this far."
As for Jerry himself, he will continue to coach age-group track, "out of love for the sport," as he said, and also "to get the kids to lead a healthy lifestyle and stay out of trouble." In addition to his oldest son Eugene, Jerry coaches several other kids, including his younger son Roy.
In Malaysia – which has a multi-racial population of 26 million people, consisting of 70% Malay, 20% Chinese, 5% Indian, and 5% others – track has never been one of the strongest sports because, as Jerry said, "Government funds for sports development do not channel to the grassroots. Sports Associations here are ruled by politicians and royal family members who use the publicity to gain extra mileage in the media."
In the men's 110m high hurdles, only two athletes – Nur Herman Majid and Rubani Hassan – have run faster than 14.00 in Malaysia's Track & Field history, and the national record in the 110's is 13.73. Due to the evident political agendas and the lack of support for athletes beyond their secondary school years, it is plain to see why the level of Track & Field performance in Malaysia remains sub-standard in comparison to the level of performance among the best athletes in many other countries. Hopefully, this situation will change in Malaysia, so that athletes like Eugene do not have to hang up the spikes when they're only seventeen years old, so far away from realizing what their potential might be.
In the end, we all must applaud the work of those like Jerry Lim, who give of themselves to a degree that can never be measured, providing kids with memories that will sustain them through the entirety of their adult years. Thanks, Jerry.
© 2005 Steve McGill