Hurdle Six: From College to the Pros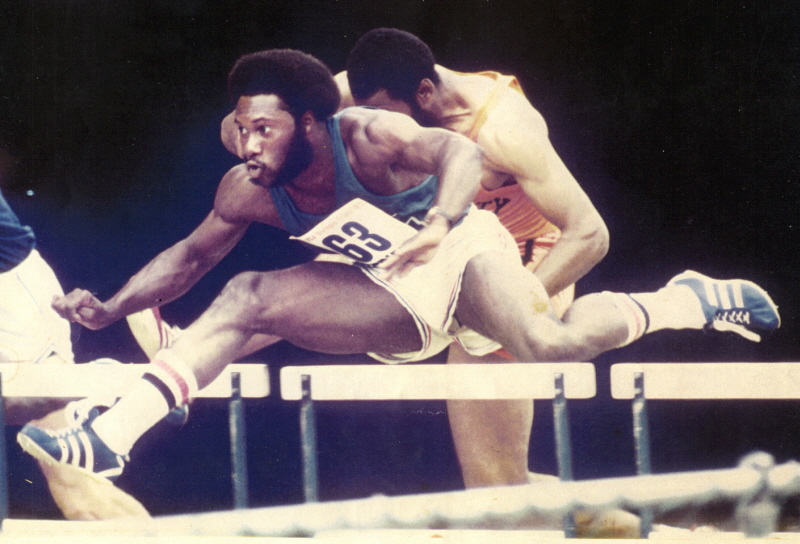 "You can't run around a track and make a living." –Rodney Milburn
Rodney liked Munich but was homesick. Instead of sticking around for the closing ceremonies, he "booked passage on the first thing heading home," as he told a reporter shortly after the end of the Games. Throughout his stay in the Olympic village, he had been sending postcards to his mother Mary and sister Mary Ann.
His mother didn't see the race on TV. Mary Milburn was working as a housekeeper when the gun sounded for the 110 hurdles. Even if she had been home, she couldn't have viewed the race. "I wouldn't have been able to watch him run since the set's broken," she said the day after the race. She found out that Rod won while at work, when she received a phone call from her employer at the other household she worked for.
While proud of her son and happy for him, she wasn't nearly as excited as other Opelousans. "I was more concerned about Rod's safety than whether or not he had won," she said, referring to the terrorist attack. "I'm just glad he's coming home," she added.
Rodney's brother Jimmy did see the race, but not in his own house. Jimmy was in a patient's room in a Houston hospital, where he worked as a respiratory therapist. "Right when his race came on," Jimmy recalled, "I said, 'Hold up, my brother's gonna run in this race. Can you let me watch your TV for a minute?' The guy was like, 'Your brother?' I said, 'Yeah, he's about to run this race right here.' And sure enough he said, 'Aw, that's not your brother.' I said, 'Yeah it is.' He said, 'Your real brother?' I said, 'Yeah.' And boom, there goes the race. Boom he won a gold medal. It happened that quick. I had wanted to take the day off to watch the race, but I had to work."
Rodney also had to work as soon as he got back to the States from Germany. He arrived in Baton Rouge on September 10th after landing at JFK Airport in New York earlier in the day. Even in the glow of victory, Rodney's plan of leaving track for football hadn't changed. If anything, he felt even more certain that he was done with track. "This is my last Olympics," he said to reporters at JFK, wearing his gold medal around his neck. "There are too many political hands reaching into your pockets."
The political hands he was referring to were those of meet directors, shoe company executives, and the AAU. These were the groups making money off the athletes' efforts and performances. Rodney was not taking a shot at Collett and Matthews for their "political" statement on the victory stand, as some journalists tried to claim. The local papers in Louisiana, especially, painted Milburn as the heroic, patriotic antidote to the poison of the treacherous quarter-milers.
Rodney did not receive a hero's welcome upon his return. Family members, friends, and a few schoolmates greeted him when he stepped off the plane in Baton Rouge. Among them was Rev. Dr. Charles Bryant, pastor of Little Zion Church in Opelousas. Years later, Rev. Bryant reflected on the occasion: "I remember when he came back from Germany. He made everybody so proud. But there was no band at the airport, no celebrities waiting at the airport to greet him. He came back humble."
The day after his arrival, Rodney, along with Coach Paxton, was called to the governor's mansion, where the governor planned to declare a holiday in Louisiana in Rodney's honor and to give Rodney an honorary medal. At the governor's mansion, Rodney, according to Rev. Bryant, "thanked America for giving a poor boy, whose mother took in washing in order to put clothes on his back, a chance to make it. He represented this city and the world with so much dignity."
Once Rodney got himself settled again on the Southern U. campus, he began classes and joined the football team as a wide-out. Now that one dream had been fulfilled, it was time to make good on another. A senior, he didn't have much time to show his talents before hoping to latch on with a professional organization. Yes, other track stars had made the transition before him, but most of them had played football throughout college. Still, Rodney was not lacking in confidence.
"I played three years in high school and was pretty good at it," he said the day after the Olympic final. "I scored most of my touchdowns on defense. I was a wide receiver and a defensive back. I feel my experience in track will help me. I can play. I got good hands and moves."
That football involved contact and collisions didn't faze Rodney either. "I'm not worried about getting hit," he said. "I just want to get to the football – the hitting will take care of itself. If you want to be something you can. And I want to be a great football player."
He didn't want to be a great football player. He knew track was his better sport. Or else he would've played football his first three years of college. His desire to step onto the gridiron was at least partially based on ego. He had no realistic reason to believe he could transform himself into a professional wide receiver when he hadn't done so much as play two-hand touch for three years.
But America in those days was no different than it is now: football was the "real man's" sport. Track was entertaining and could even be exciting, but if you wanted to prove yourself as an elite athlete, you had to play football. While Rodney may have been quiet and modest compared to others, he had complete confidence in his physical abilities.
Dwight Stones commented in 2006 that for sprinters and hurdlers, cockiness and bravado are basic job requirements. "You can believe," Stones said, "that every one of those eight guys in the final of a sprint or hurdle race believes he can win. As for football, there had been examples of people who could do both well. Bob Hayes, Earl McCollough, O.J. Simpson. There were just enough successful examples that Rodney probably felt like he could do it too."
Rodney also felt that track offered him no more challenges. Willie Davenport had been the king of the hurdles when Rodney first came to Southern, but Rodney had bumped him down to second-best hurdler in Baton Rouge. Hill and Drut had been worthy opponents, but Rodney had proven himself better than them too. No one else was out there.
Three weeks after his return home, while relaxing on the Southern campus, Rodney made it clear he was bored with track. "I've won the NCAA, NAIA, AAU and Olympic championships," he said, "in addition to setting a new world record, getting the Track and Field Athlete of the Year award and the James Corbett Award here at home in Louisiana. What else is there for me in track?"
But he did plan on running one more indoor season before hanging up the spikes for good. After that he'd graduate with a Physical Education degree and get ready for pro football. "It's time for me to look out for Rodney Milburn now," he said.
On Wednesday September 20th, Rodney left football practice early to attend a banquet in his honor in Opelousas. The "Rodney Milburn Banquet," held at the Downtowner Inn, was attended by over 200 people. For the occasion, Rodney trimmed his beard and combed the part out of the middle of his afro. He wore his white US Olympics team jacket over a blue button-down shirt and striped tie.
Guest speaker Lieutenant Governor James E. Fitzmorris gave him two scrolls – one declaring him a Colonel on the governor's staff, and one making him an honorary member of the Louisiana Senate.
Mayor Wilfred Cortez presented Rodney with a plaque recognizing his achievement as the first gold medalist from Opelousas. "When you stepped into the blocks on that track in Munich," Cortez said in his speech, "we were with you. We rose as one, we shared as one your moment of glory." He went on to describe Rodney as "a man of the world and a symbol of the potential of black people everywhere."
Fitzmorris agreed. In his speech, he said that he had come to the banquet "to represent all 3.7 million people of Louisiana in a salute to a fine young American. This is the typically American story," he said. "Rodney comes from a poor family, did not have the advantages many others have. He experienced failures, but he never stopped. He has the kind of determination and drive and desire of the kind of man who may lose, but will never be beaten. He is a young man who can contribute much to the world, and there is much more to be done. He can lead the way with his desire and determination."
Never in Opelousas had such glowing words been spoken about a black citizen. "To see him breaking all those records at J.S. Clark," raved long-time Opelousas resident Gil Deville in 2005, "it was simply amazing. Then he went to Southern and it was the exact same thing – breaking one record after another, winning all kinds of trophies and medals. Then he went to the Olympics, and there he was on TV!" By winning the Olympic gold, Rodney had transcended race.
Now the only question was whether he could transfer the success to the football field.
A reserve wide receiver for Southern in the fall of '72, Rodney caught some passes and scored a few touchdowns, but did nothing to make anyone believe he could make it in the NFL.  Then, just prior to the start of his last indoor season as a collegian, a new curiosity was brought to his attention: the ITA.
On November 13th, at a press conference in a posh New York City restaurant, several of track and field's best athletes announced that they were leaving the amateur ranks to join the International Track Association – a fledgling professional track circuit that would begin its competitions in March of 1973. Among the big names were quarter-miler Lee Evans, pole vaulter Bob Seagren, hurdler Richmond Flowers, shot-putter Randy Matson, and middle-distance runner Jim Ryun. These were some of the most recognizable figures in the sport. Their commitment to the new league gave it instant credibility. Other pro track ventures had failed in the past, but this one might be for real.
The president of the ITA, Mike O'Hara, was known for establishing start-up, anti-establishment professional sports leagues. Most notable of these was the American Basketball Association, which featured a freewheeling, entertaining style of play that contrasted the more conservative, structured style of the teams in the National Basketball Association. O'Hara was big on gimmickry, such as odd, elaborate half-time shows, scantily-clad cheerleaders, and quirky innovations such as a red-white-and-blue ball and a three-point shot.
O'Hara saw the destitution of America's track athletes and decided to do something about it. Whether or not his intentions were honorable is open to debate, but the ITA offered athletes a welcome alternative to being crushed by the tyranny of the AAU. Like the ABA, O'Hara wanted the ITA to be fan-friendly, so most meets would take place indoors, and only twelve events would be contested, with no more than six athletes in each. The indoor setting would provide a more intimate feel, and the limited number of athletes would allow fans to follow the circuit closely.
Gimmicks would include races for throwers, celebrity races, man vs. woman races, and pacer lights for the mile and 2-mile. Long-time Track & Field News writer Bob Hersh pointed out in 2005 that "the ITA had more indoor meets than outdoor meets because they emphasized the entertainment value of the meets. The pacer lights were set up along the infield to set a four-minute pace. The lights were set to go off one by one. If you reached the lights before they went off, you knew you were ahead of the pace. They had a number of showbiz type things that were more effective indoors than outdoors." Also, distance legend Marty Liquori would serve as the emcee for the meets while retaining his amateur status.
At the press conference, the athletes gushed about finally having the opportunity to make legal, over-the-table money, just like their peers in other sports. They would now be motivated by more than just the pride of competing for their country and striving to win a gold medal. They'd be training and competing to support themselves and their families. They would be free to work out more regularly without seeking full-time employment outside of the sport. And if they wanted to take on endorsements and sponsors, they could supplement their income that way.
As Seagren said at the press conference, "When I was an amateur I always had to worry about accepting certain kinds of work involving the publicizing of my name. Now I'll be able to accept that kind of work."
Evans, the 1968 gold medalist in the 400 meters, had missed out on a chance for another gold in '72 after finishing fourth at the Trials. Then, in Munich, the ejection of Collett and Matthews ruined Evans' chance for a gold in the 4×400 relay. He felt that the new league had come at just the right time to rejuvenate his career. "Now [running] is my job," he said, "and that gives me the incentive when I'm training."
For Rodney, the new pro league might be a viable option if his football hopes were to fall through. But first he still had an indoor season to complete. He started off lethargically, finishing fourth in his first meet, losing to Jamaica's Godfrey Murray, LSU freshman Larry Shipp, and Davenport. He then won three races in a row before finding out on February 1st that the Los Angeles Rams had picked him in the 13th round of the NFL draft.
Despite the odds that such a low draft choice could make the cut, Rodney believed he could do it if he just put forth the effort. "If you want to excel in another sport, it's up to you to make it," he said. "Some track guys don't want to badly enough. I figure I can be as good at pro football as anybody else if I work at it. I feel like I can hit someone else just as hard as they can hit me."
But could he catch passes? Could he run routes? "The first thing I've got to do is work on fundamentals," he said. "I haven't learned all the techniques yet. I try to concentrate on using fluidness instead of just speed."
Rodney's brother Jimmy said in 2005 that Rodney was serious about trying to make it big in football. According to Jimmy, Rodney prepared by traveling to Houston one weekend to work out with Houston Oilers' all-pro quarterback Dan Pastorini. "They hooked up at one of the local colleges," Jimmy said. "Pastorini threw him some passes. That was the first time I had ever seen a professional quarterback throw the ball. Those passes were like, whew! So naturally, Rodney wasn't used to anybody throwing a straight bullet to 'im, so he just dropped 'em. Then he finally started catching a few of 'em. But he was droppin' 'em, droppin' em. About every fourth ball, he would catch one."
Meanwhile, the indoor season rolled on, and Rodney, back in his familiar domain, continued to roll over his opponents. On February 11th at the Houston Astrodome, he set a new world indoor record in the 120-yard high hurdles with a time of 13.3. A week later in New York, he equaled the world indoor record in the 55 meter hurdles with a 7.0. Then on March 12th he won the NCAA championships in the 60 yard hurdles with a 6.9.
After the NCAAs, Rodney had a decision to make: take a shot with the rams, sign an ITA contract, or finish out his final year of collegiate eligibility?
The situation with the rams was looking bleak. They weren't offering him much, which was to be expected. A ram spokesman remarked that Rodney had great physical tools, but "the chances of any 13th-round draft choice making our club are slim."
Rodney, for his part, was beginning to see the writing on the wall. "I won't play football unless it's worth my while financially," he said. "I have to feel I can make it this year. If I didn't there would be no reason for even trying football."
The ITA seemed more fitting. There was no doubt he had the skills to stay at the top in the hurdles. The gold medal he brought home from Munich said all that needed to be said on that subject. But making the leap to pro track would mean forfeiting his chance for another gold medal in '76. "I want to make sure," he said, "that the ITA lasts more than just one year before I commit myself and lose my amateur status."
Besides, it wasn't like the ITA was begging him to join. "I've gotten one letter and that's all," he said. "Anyway, I think it's a little too risky. I think it would be taking a chance with nothing to fall back on. If it was a sure thing, I definitely would be there right now."
So the safest thing to do was stay in school and run outdoors for Southern. If the rams or the ITA came knocking at the door with an offer he couldn't refuse, he could always abort his senior season and follow the money trail.
For sure, Rodney was discovering what other Olympic heroes had found out before him: gold medals didn't translate into dollar bills. It was proving a tough lesson to learn. Black athletes in particular were finding post-Olympic life to be a struggle. In that context, Rodney was far from alone.
Leon Coleman, fourth-place finisher in the 110s at the Mexico City Olympics, said in 2005 that race had a lot to do with why many former Olympians weren't getting a fair shake. "They blackballed a lot of the black '68 athletes," he said. "Tommie [Smith], John [Carlos], myself. A lot of athletes didn't get anything. Carlos had to be a plumber, and Tommie had to be what he was – coach at Santa Monica. Was it because they put their fist up? Because people didn't understand why they put their fist up? I ended up teachin' in California, and then in Africa. You gotta feed your family. Even Larry James, [the quarter-miler] out of Villanova – real good guy, real intelligent guy – he ended up working as a manager for Burger King. That's not bad, you know, but you figure someone like him can do better than that."
But it wasn't just the '68 Olympians. In a Washington Post article from March of 1973, coach Brooks Johnson made the following observations:
"Charley Jenkins won the 400 meters in 1956 and the next summer he was working on a garbage truck. What ever happened to Charlie Dumas, the first man to go over seven feet in the high jump? Look how much better Bill Toomey did after winning the decathlon in 1968 than Rafer Johnson did after winning it in 1960. The gold medal probably helped [1964 110m hurdles gold medalist] Hayes Jones. He became the head of recreation in New York City. But I'm talking about the really big money. . . . Wilma Rudolph won three gold medals in 1960. She's worked for the Job Corps, but really, she's still scuffling compared to Jutta Heina of Germany. She only won the silver in the 200 that year, but she's set. She's from Cologne and I visited her after the Olympics. She has a lunch business, two apartment houses in Cologne and a couple more in Hanover, and she's a TV personality. . . . [Figure skater] Peggy Fleming didn't do anything bigger in her sport in 1968 than Wilma Rudolph did in hers in 1960. So where's Wilma?"
Ironically, Willie Davenport, who ended up working locally in Baton Rouge after winning his '68 gold medal, felt sure that Rodney would have more opportunities available to him. "Rodney Milburn will never have the trouble I had," he said in the Washington Post article. "I think more things will come his way than I ever dreamed of. The tradition is there. The idea of a black man doing well has been implanted. Society accepts it. . . . What I think he needs is an agent, somebody working for him. I think he can get endorsements, I think he can be successful on a national basis, but he needs somebody to push it."
But Rodney was still an amateur. Only by joining the ITA or NFL could he endorse any products or accept any sponsorship. And he didn't have the type of personality that was marketable anyway. Though friendly and good-natured, he valued his privacy and lacked the charisma required of pitchmen. "I once had to interview him," Bob Hersh said in 2005, "and it was not the easiest interview in the world."
Even white athletes, if they lacked charisma, couldn't count on cashing in on Olympic gold. Mark Spitz won an unprecedented seven gold medals in swimming in Munich, but he too struggled after returning to the States. "If you're white," Leon Coleman said, "and you speak well, that's great. But if you don't speak well, then they gonna kick your ass out. Mark Spitz was a good swimmer, but he had a stuttering problem, so he wasn't marketable because he couldn't speak the way they wanted him to."
Renaldo Nehemiah, who works as an agent for several elite track athletes, said in 2006 that marketing opportunities don't happen for everyone. "There has to be an attraction or uniqueness about the athlete," he said. "Just winning doesn't guarantee anything. Personality and presence play a large role. Not every athlete is marketable. What athletes are really saying is 'pay me.' But they have to offer more than just being a great athlete. They have to represent an increase in consumer sales based on their association with a particular brand in order for the company to buy into them."
So on to the outdoor season it was, wearing the yellow and blue of Southern University. Rodney breezed through the early season relay meets, his fastest race coming at the Drake Relays in Iowa, where he ran 13.3 into a 2.4 headwind. In May he won his third straight NAIA championship, and then prepared for his last NCAA meet, which would be held on June 7-8 in Baton Rouge, at LSU.
This meet held intrigue for Rodney for a couple reasons. Firstly, though LSU was located in the same town as Southern, Rodney had never run on the tartan track at Bernie Moore Stadium. Southern and LSU represented contrasting sides of the shifting times. Southern was the traditional black college, competing in the SWAC, which was comprised exclusively of historically black colleges and universities. LSU, competing in the Southeastern Conference, was one of the major universities that was beginning to lure prized black recruits away from black colleges to their more prestigious institutions with larger campuses and lavish facilities.
One recruit that LSU landed was the new kid on the hurdling block, Larry Shipp from Washington, D.C. Shipp decided to enroll at LSU mainly because "I wanted to get away from D.C.," he said in 2006. I wanted to go somewhere the weather was warm. A decent place where I could run. Plus I wanted to study criminology, which LSU had. What topped it off was I knew I could work out with Rodney and Willie. Attending Southern wasn't an option. At that time, in the early 70s, we were still integrating schools. If there was an opportunity to go to a white school, why not go to a white school? Take advantage of the Civil Rights movement, which gave us the opportunity to be at a large school. I could use what LSU had to offer, and Southern was only fifteen minutes away. So I could kill two birds with one stone."
Shipp had already defeated Rodney once indoors, though Rodney admittedly had run a sloppy race. But Shipp was no slouch. Heading into the NCAAs, the hype was that the wunderkind freshman might be able to knock off the Olympic champion. Shipp's mentor who first taught him how to hurdle had been none other than the brash legendary hurdling guru Wilbur Ross. While coaching at Winston Salem Teachers College in North Carolina in the late-50s, Ross made a name for himself when protégés Fran Washington and Elias Gilbert dominated the hurdles at the collegiate and national level from 1957-59. In 1966 Ross wrote the first edition of The Hurdler's Bible – the primary text for all hurdlers and hurdle coaches to this day.
Shipp first met Ross at a youth track meet when Shipp was still a little boy with a big afro in D.C. "He offered to teach me to high jump," Shipp recalled, "but he had a kid there with him hurdling. I was like, 'I wanna try that.'"
So their relationship began. What stood out about Ross was his attention to technical details and his complete confidence in his abilities to make good hurdlers into champion hurdlers. "Wilbur was, by far, the best coach I ever had," Shipp said. "His knowledge of hurdling, his ability to motivate. For him, it wasn't just about beating guys. It was about putting together all the parts of the race. Each step of the training was geared toward mastering the race. His thing was, you were gonna be the most technically sound, in the best shape, and the most mentally prepared to go out there and kill the bear. It wasn't about winning. That was pretty much incidental. He felt that if you had the consciousness to be able to correct mistakes at full speed, you didn't have to worry about anyone else. When it came time to race, Wilbur had you ready."
Rodney was ready too. In Claude Paxton and Dick Hill, he also had great coaches. And Shipp knew that defeating Rodney in a major championship meet was would be a monumental task, despite Rodney's laid-back demeanor. "Rodney wouldn't talk [trash] at all," Shipp reflected. "He wasn't a braggart. He was more shy than anything else. He let his accolades speak for themselves. He could walk into a room and people'd say, 'he's here.' He wouldn't announce himself. He wouldn't say, 'I'm gonna beat you.' He'd just go out there and beat you."
Besides Rodney and Shipp, the other top contenders in the high hurdles were Charles Foster of North Carolina Central and Ricky Stubbs of Louisiana Tech. Both had already run 13.4 earlier in the year – Foster at the Penn Relays and the Martin Luther King Games, and Stubbs at the Texas Relays and USTFF championships.
For the young Shipp, the focus was on Rodney. Not because he wanted it that way, but because the LSU fans were putting it to him that way. This race was to be a match between the big white school and the small black school. But for Shipp, "it was more nerve-wracking to be running the NCAAs at LSU, my home track. The interesting thing was, at that point, running against Rodney wasn't a big deal. It was my first NCAAs, so I just wanted to see what I could do. The LSU people were saying 'you gotta beat this guy from Southern.' But I had already beaten him indoors, and to beat Rodney after he won the Olympic gold, that was great. The only thing I was afraid of was him setting a track record that I couldn't break. My motivation to win was because I was home. His motivation was the same. But something you didn't want to do was piss Rodney off."
Too late. Rodney was already pissed off. So much so that he almost opted not to compete in the meet at all. Though a world record holder and Olympic champion, he had never been invited to race at Bernie Moore Stadium. And LSU had never been open to the idea of a dual meet against Southern, even though Southern had been a nationally recognized track power since Coach Hill first arrived there from Florida A&M in the mid-sixties. In no way was Rodney trying to organize a boycott of the meet or raise anyone's social consciousness. On a simple, personal level, he didn't want to run at a school less than an hour away from his hometown that had refused to recruit him. He didn't want to run at a school that refused to acknowledge the existence of his own. Having done everything there was to do in the sport, he had nothing to lose by refusing to run. In the days leading up to it, he had made up his mind not to attend.
But others convinced him otherwise. Friends and teammates, including trusted training partner Willie Davenport, urged him to compete in hopes that his presence could help to improve future relations between the two schools. Rodney also had a heart-to-heart with Coach Hill, whose perspective as a veteran in the sport enabled Rodney to see that he could make a difference socially through athletics.
So he decided to run.
Distracted by inner turmoil, uncertain about his athletic future, he took out all his anger and frustration on the 42-inch barriers, laying waste to the field in a new NCAA record 13.1. He dominated from the sound of the gun and his lead was never threatened. From a purely aesthetic point of view, this race was even more awe-inspiring than the Olympic final. Rodney looked like a varsity athlete running against a bunch of JV kids. The nearest competitor, Charles Foster, finished a full three tenths behind, in 13.4. Stubbs finished third in the same time, Charles Rich of UCLA was fourth in 13.5, and Shipp ended up fifth in 13.6.
Crossing the finish line, Rodney raised both arms and then swung them down thunderously as he ripped through the tape. It's like he was saying, "Take that, LSU!"
Despite thoroughly destroying the competition, he wasn't all that impressed with his performance. "I didn't feel as much as acceleration as I normally do out of the blocks," he said after the race. "I came out a little wobbly, clipped the seventh hurdle with my right heel, slowed up after the last hurdle and just ran to the tape. If I knew I was on that pace, I could have run 12.8." None of these flaws were visible to the naked eye.
Rodney indirectly acknowledged that racing at LSU gave him all the motivation he needed. "I think it helped that I was performing before the people of Baton Rouge. Most of them had never seen me run except on television. I was mentally and psychologically ready to run a good race."
The following week, at the AAU championships in Bakersfield, California, he was not so ready. With the collegiate season over and the dog days of summer looming ahead, maybe his mind was more on football than track. He ran his worst race of the year, and suffered his only loss of the season, finishing fifth in 13.5. First went to Tom Hill in 13.2. Also ahead of Rodney were Tommy Lee White, Foster, and Stubbs. Rodney was in the thick of things until he smashed into the ninth hurdle and fell behind the others. After the race, he told reporters he was thinking about retiring from amateur track and signing with the rams. But, he added, he would join the ITA if negotiations with the rams didn't start to improve soon. Negotiations with the rams were going nowhere.
On the track, he bounced back a week later at the Hayward Field Restoration Meet in Eugene, Oregon, tying his world record of 13.0 on the same track where he had set the record a year earlier. The crowd gave him a long standing ovation afterwards, perhaps aware that they may have seen this great hurdler run in their home state as an amateur for the last time.
Rodney went on to have an outstanding summer on the European circuit. On July 6, he broke Martin Lauer's 14-year-old world record in the 110s, slashing through the tape in 13.1, a tenth faster than Lauer's time. In the process, he defeated Munich silver medalist Guy Drut once again, and received another standing ovation from the appreciative audience. With modern conversion methods, Rodney's hand-timed 13.1 would translate into a 13.34 with automatic timing. But no such conversions existed yet, so his 13.1 in Zurich was judged faster than the automatic 13.24 he had run in the Olympics. On July 22 in Siena, Italy, he tied his world record and finished the season with his third consecutive #1 ranking in the high hurdles.
It had been a glorious three-year stretch for Rodney. From 1971-73, he had lost a total of two races, had earned an Olympic Gold medal, had broken the world record, and had won numerous national and international titles along the way. He had taken the event into a new era. The only remaining question was, where we would he go from here?
Maybe to a football career. If the rams didn't want him, there was another new league forming – the World Football League – that might be willing to take a chance on someone with his athletic skills. Then there was the option of the pro track circuit. Or he could always follow in Willie Davenport's footsteps – find a job in the local community that would allow him to use his Physical Education degree, and train in the meantime for a shot at another gold medal.
All options were risky. He didn't know what to do.