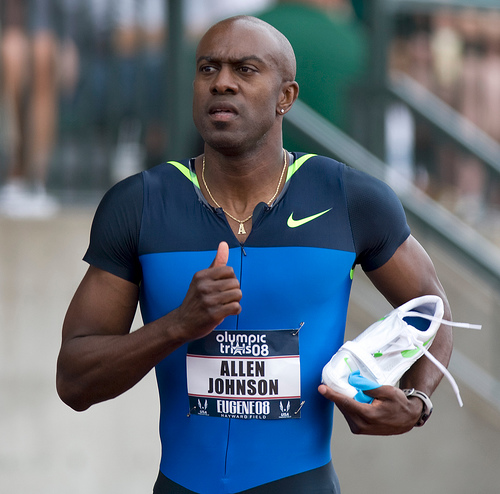 Last week Allen Johnson announced his retirement from track and field. Arguably the best 110m high hurdler of all time, and definitely one of the greatest technicians of all time, Johnson will be greatly missed, as I'm sure that all fans of the hurdles have been inspired by him to one degree or another.
I'll miss Johnson because he was a man of integrity and humility. To me, he embodied all the qualities that distinguishes hurdlers as special athletes. He was a student of his event, he willingly helped younger hurdlers who sought help from him, he was a fierce competitor, and was ultimately a master of his craft.
While he ran many fantastic races, my favorite race of Johnson's was his World Cup victory in 2006, where he ran 12.96 to beat Liu Xiang (13.03) and Dayron Robles (13.06). By that time, Johnson was 35 years old, had been struggling with injuries through most of the year, while Xiang, the 2004 Olympic gold medalist, had clearly distinguished himself as the world's top hurdler, and Robles was the next best young contender on the rise. Johnson had an awesome start, got out clearly ahead of the field, and kept his rhythm throughout the race as Xiang and Robles stormed back, breathing fire down his neck. Xiang and Robles are both tremendous finishers, but Johnson was one of those rare hurdlers who looked no different at hurdle ten than he did at hurdle one. He was in the zone that day, and there was no way Xiang and Robles were going to catch him. It was just a fascinating race. To see this 35-year-old dude blast a 12.96 against the world's best after being injured all season long. Good God.
The moment that, in my eyes, truly exemplified Johnson's character was his reaction after he fell in the second round at the Athens Olympics in 2004. For many of us who follow the hurdles closely, that was about the most shocking thing we've ever seen. Allen Johnson, the master technician, who basically never makes mistakes, fell. While we mourned and wailed and bemoaned the fall of the United States' best chance for a gold medal in the event, Johnson himself handled his disappointment with remarkable serenity. "I fell down. I don't know why," he was quoted as saying. "I have to take this and keep going." He even added that, as captain of the Olympic team, "There's nothing I can do now except cheer everybody up." Wow. He's the one who fell, he's the one who lost his chance for a medal, and he's talking about cheering everybody else up. To me, that summarizes what Johnson is all about, and why he will be missed.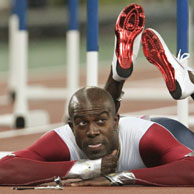 I don't have any personal stories of Johnson to share. While I know people who know him, I don't know him personally. One time I was coaching an athlete while he was coaching his daughter right beside us. I wanted to strike up a conversation or at least introduce myself, but thought better of it because I know I hate being bothered when I'm in coach-mode, so I didn't think it would be cool to bother him.
In closing, let me say thanks for everything, Allen. You don't know how many times I've used you as a reference for what to do when one of my athletes asks me a question about the lead leg, or the lead arm, or the lean, etc. You did everything right, because doing it right mattered to you.
© 2010 Steve McGill
Here are some links to stories on Johnson's retirement; most of them say more or less the same things:
SportsIllustrated.com Article
Universal Sports Article
BBC Article
The best is from David Oliver's blog, without question.