As the 2005 outdoor season kicks into full gear, one name to look out for in the mens' 110m hurdles is that of Selim Nurudeen, a senior at the University of Notre Dame in Indiana. Nurudeen, the Big East champion in the 110's the past three years, has his sights set on higher goals in this, his last season of collegiate eligibility. Earlier this week I talked with Nurudeen about his hurdling past, present, and future. With a current personal best of 13.57, he is striving to make it to the next level of high-hurdling prominence.
The twenty-two-year-old Nurudeen, who stands six feet, one inch tall and weighs 180 pounds, was born in Atlanta, GA, where he lived for the first ten years of his life. He then moved to Durham, NC, where he began running AAU track as a seventh grader for the Durham Striders track club. He started hurdling as an eighth grader, then moved to Friendswood, Texas (about twenty minutes outside of Houston), where he competed for four years for Friendswood High School. Although he had a high school personal best of 13.74 in the 110's, which ranked him fourth in the nation during his senior year, he never even made it to the state championship meet in Texas. Nurudeen cites a couple of factors to explain this apparent discrepancy. "I was really inconsistent in high school," he said. "I ran a few fast times but couldn't do it consistently. When it came down to big meets, I didn't come through. That's what happens when you're young – you're not used to the races, not used to the hurdles." The fact that Texas is one of the most competitive states in the U.S. when it comes to high school Track & Field also contributed to Nurudeen's struggles. "The competition is unreal in Texas," he said. "It's like tough love – you either sink or swim. It's helped me, though; it's kept me humble. Now that I've had some success, I know that I'm always gonna have to work harder than the next guy."
Another factor affecting Nurudeen's development throughout his high school career was that he had to learn a lot about hurdling on his own, as his high school coach was primarily a pole vault coach. "I watched a lot of tapes and stuff; I watched a lot of competition on TV." He would watch the tapes over and over again, looking for different things to pick up on, then he'd go out to practice and try to use what he had learned. "It was sort of like a trial and error thing," he said. "I was definitely coaching myself to a degree; it's a habit now." Nurudeen pointed out the instructional video Renaldo Nehemiah did with Jean Poquette as a great teaching tool, and he also videotaped many of Allen Johnson's races. Another hurdler he studied was Ron Bramlett, who was a high school senior when Nurudeen was a freshman. "Yeah, he was really fast," Nurudeen said of Bramlett, who, among other accomplishments, has been a two-time NCAA champion in the 110's, and also finished fourth in the 110's at the USA Track & Field Olympic Trials in 2004.
Under coach John Millar, Nurudeen has had much success throughout his collegiate career at Notre Dame, and has found the consistency that he lacked in high school. Of Coach Millar, Nurudeen said that "he's helped me a lot; he's a had a few good hurdlers [over the years], so he knows his stuff. He can tell me what I'm doing wrong, and what I've gotta do to get to a certain level." With the help of Coach Millar, Nurudeen has won the Big East title in the 110's in each of his first three years of college (14.31 in '02, 13.95 in '03, 13.91 in '04), he won the Big East 60m hurdle championship as a junior (7.78), and set the school record in the 60m hurdles at the Alex Wilson Invitational as a junior with a 7.75. In February of 2005, he broke his own school record by winning the Big East indoor championship once again in a 7.72. He finished tenth overall at the NCAA outdoor championships in '04 with a 13.61, and ran his personal best of 13.57 at the 2004 NCAA Mideast Regional meet. Nurudeen points out his most recent indoor Big East victory as being an especially gratifying race. "I had the record from the previous year," he explained, "and I wanted to break it. My blocks slipped in the finals, and [the starter] tried to shoot the gun again but it didn't go off. My coaches protested and they were able to get them to re-run the race. So we ran it again after the sixty meter dash, and I was able to come back and break the record again. That showed me that I had it together mentally. Something like that could happen and I was still able to execute. I don't think I'd've been able to do that a year or two years ago."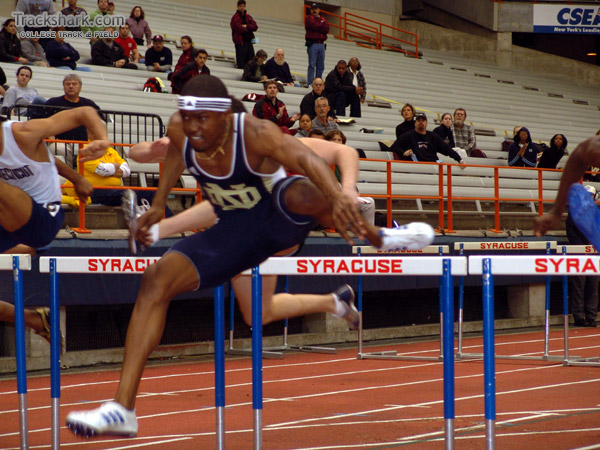 Nurudeen on his way to victory at the Big East Indoor Championships in February 2005.
A not-so-great moment, but one that serves as a great motivator for Nurudeen in 2005, was his performance in the 2004 Olympic Trials. He made it to the quarter-final round, but didn't get any further than that. He described the experience as an "interesting situation," and went on to explain that "I finished [NCAA] nationals and was only two hundredths of a second under the A standard, so I was like, man, I don't think I'm gonna get in. So I took a two-week break, and that's enough to lose your edge. Then when I found out I got in, I had to start training all over again." Nurudeen said that, after the long collegiate season, he was not feeling very motivated to run fast at the trials, so he didn't run very well at all, but he still says that it was a beneficial experience. "Going into competition like that makes you see how much harder you have to work. I was in the lane next to Allen Johnson. . . . It's just amazing how people can get to that level." Having learned from his mistakes leading up to the meet, Nurudeen vowed that "the next time I go will be a different experience."
In discussing his goals for the 2005 outdoor season, Nurudeen stated that he is shooting to win the 110's at the NCAA nationals. Having finished 10th last year, and having finished 6th at the indoor nationals in the 60m hurdles in 2005, he feels that trying to win it all outdoors is a reasonable goal. "I know now what I have to do to achieve that," he said. "I wanna put myself in the position of having the option to run professionally." Nurudeen commented that the decision as to whether or not to run professionally after he graduates from Notre Dame has been "the question of the year," and that he's not sure yet what he plans on doing. "My freshman year, my best time was 14.14, and now it's 13.5, and I still feel like I have so much room to grow. I feel like the way it's going, I have the potential to be as fast as anyone out there now."
Nurudeen believes that the aspect of his race that has the most potential for growth is his late-race strength. His biggest asset, he says, is his speed coming out of the blocks. "My technique needs a little refinement, but strength is probably the weakest part of my race," he observed. "I'm blazing everybody at the start, then by the seventh or eighth hurdle I slow down because I don't have the strength I need. I used to do the back-and-forths [from the Nehemiah video] a little bit in high school, but stuff like that I've forgotten. As a hurdler, you need a combination of speed, strength, and technique. Guys who aren't as fast as me are able to beat me because I don't have the strength." Nurudeen went on to add that "How you go over hurdle one should be how you go over hurdle ten. You need the strength to accelerate, and to maintain that form."
Although Nurudeen feels he can grow in regards to his strength training, there are many ways in which he has already improved dramatically during his years at Notre Dame. "Physically," he said, "I'm a lot faster, and my form is a lot better than it once was. Mentally, I used to get really frustrated running hurdles when things didn't go right. It's way different now. If I'm not having a good practice over the hurdles, I'll just stop for the day and come back at it tomorrow. With the success I've had, my confidence has gone up. Some of the achievements I've gotten have given me confidence that when I run against the big-name guys, I'm not thinking 'Oh no,' but I'm thinking 'I can run with this guy any day.' It's just a world of difference." Another element that has evolved in the past four years is that "my love for the sport has escalated," Nurudeen said, "my love for the sport has grown so much since I've gotten here."
While his focus is definitely on the high hurdles, Nurudeen also contributes to the Notre Dame track team in other events. At the Big East Outdoor Championships in 2004, he finished first in the 110's, second in the 200 (21.48), and he ran a leg on both the 4×100 and 4×400 meter relays, both of which finished second. "I don't mind doing the relays," he answered when asked if running four events at the conference meet drained him of energy, "but I do prefer the individual races like the 200 and the hurdles, but I have no problem doing [the relays] because you wanna support your team." Nurudeen added that, after the conference meet, he took a week off to get rejuvenated. In high school, he ran the open 400, and "thought it was my thing," but not anymore. He also ran the 400m intermediate hurdles as a freshman at Notre Dame, but found that training for that event was interfering too much with his short hurdling. "Switching back and forth was getting in the way of my development," he said, adding that "I don't know of any hurdlers who do both [the 110's and the 400's] well." In the end, all the other events in which he participates play a part in helping him become a better high hurdler. As he put it, "the hurdles are my main thing; everything else I do is geared toward the hurdles." He likes the 200 in particular because it helps him with his speed-endurance, and because it provides a nice mental break from his obsession with the hurdles. "It takes my mind off the hurdles," he said, laughing, "so I don't go crazy."
As Nurudeen's level of performance has increased, so has the level of competition he has had to face, culminating, at this point, with the Olympic Trials last summer. To deal with the pressure, he practices a number of visualization exercises on the days leading up to a race. "I envision my race," he said, "how it's gonna be, how it's gonna end. When you envision yourself doing something, you'll be surprised at how much that helps you to actually do it. It's really helped me and given me a level head going into races against those top guys. Listening to music helps too," he added, citing Kanye West as one of his favorite artists to listen to prior to a competition.
With a personal best of 21.18 in the 200, Nurudeen has felt tempted to see how far he can go as a sprinter, but he remains loyal to the hurdles because he finds it to be such a unique event in that it requires a combination of skills to be successful. "You have to have technique," he elaborated. "In other running events, like the hundred and two-hundred, you can just roll right down the track. If somebody's faster than somebody, then somebody's faster than somebody. But in the hurdles, you have to have speed, you have to have balance. You have to be really precise. Plus the fact, there's longevity to it. You don't see too many sprinters Allen Johnson's age still sprinting, because [in the hurdles] there's a technique involved."
Off the track, Nurudeen's other passion is drawing, which explains why he is an industrial design major, and why he plans on going to graduate school for industrial design. "I've been drawing longer than I've been doing anything else," he said. "That's why I do industrial design." He commented that his vision of a perfect world would be to be able to combine his two passions – hurdling and drawing. "It's interesting balancing the two," he said. "My dream is to run professionally and design my own apparel."
Nurudeen's advice for young hurdlers just learning the event is to be patient, because learning how to hurdle "takes so much time. I'm a senior [in college]," he said, "and there's still so much for me to learn." Pretty good advice coming from someone who taught himself how to hurdle by watching videos of hurdle races, and remains a student of the event to this day. Here's to hoping that Nurudeen learns enough to achieve all of his goals for 2005, and beyond.
© 2005 Steve McGill
Update: Nurudeen ended his collegiate season by finishing seventh at the NCAA Nationals in a time of 13.86. Before that, he finished fourth at the Mideast Regional in 13.88 after running 13.80 in the prelims. Before that, he finished first at the Big East Championships in 13.65 after running 13.78 in the prelims.