At the 2007 USA Indoor Track & Field Championships in February, 27-year-old Ron Bramlett won the men's 60 meter high hurdles in a personal best time of 7.47, making him the third-fastest hurdler (with the fifth-fastest time) in the world this year. Only Liu Xiang and Dayron Robles have run faster. Recently I asked Ron a few questions about that race, his indoor season in general, and his prospects for the 2007 outdoor season.
Hurdlesfirst.com: Did you feel, going into the meet, that you had a good chance to win?
Bramlett: I felt like, with everyone else running in the 7.5's, it would take a 7.4 to win, and I felt I could run that. I definitely felt I was well-prepared. A lot of guys had run three, maybe four meets, and I had run six or seven, and a lot of times I had run twice [semis and finals]. I think the final [of the USA Indoor Championships] was like my eleventh or twelfth race of the season. Over in Europe I had run against Liu Xiang, Dayron Robles. It helped being in there against those guys. It helped a lot. I could work on different things in the rounds. And I had someone film my races, and that way I could go back and see what I did right, what I needed to work on.
Hurdlesfirst.com: Describe the race itself – the final at USA Indoors.
Bramlett: I felt like I got bumped in my semi and I still ran a 7.54. The lanes were really narrow. So I felt if I could get over hurdle one I'd be okay. I felt like if I could be even with the leaders at three, I could pull away. I felt hurdles three, four, and five were really good. Last year I'd get out good and then they'd suck me up at four and five. The later part of the race is stronger for me than it was last year. I haven't done much sprinting and block work yet, so I was kind of behind on that. But the actual hurdling got better since last year. Hopefully the start will be on point outdoors.
Hurdlesfirst.com: Have you been working on your technique a lot?
Bramlett: I haven't been working on hurdling any more than usual, but things are starting to click. I know what it's like to have my hips up, and to be more aggressive over the hurdles. I guess the emphasis before was on running fast between the hurdles, now the emphasis is on getting back on the ground.
Hurdlesfirst.com: Before USA Indoors, you defeated Dayron Robles in a photo finish. What was that race like?
Bramlett: I ran against him all the time over there [in Europe]. He beat me twice, but I got him in Birmingham. He was two lanes over, which was fortunate. He takes seven steps to the first hurdle, but he does it fast. His first step is really long, and that can really throw you off at first. It's like "Whoa, he's a whole step in front of me." I had a chance to work out with him in Karlsruhe, after the meet. We had to stick around another three days, so we worked out twice together. He's really cool, I like him a lot. If I can work out with anybody I'll try to. I worked out with him a couple times and I think that really helped.
Hurdlesfirst.com: Did having three rounds to run at USA Indoors help you get into a rhythm?
Bramlett: Yeah, I'm kind of glad so many guys showed up. I usually avoid the indoor meets in the US because there aren't any rounds. You run the race and you feel like you could've run better if you ran it again. In Europe you can try different things in the prelims and then go for it in the final. The race is so short, plus it's early in the year, so the rounds are like practice. Even after we got done at USA's I kinda wanted to run that again. I felt like a made a mistake here and there, could've run faster.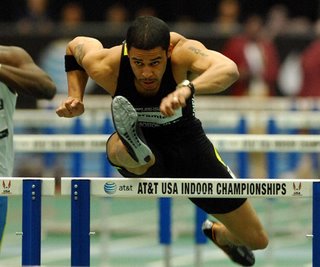 Bramlett on his way to victory in the 60m hurdles at the 2007
USA Indoor Championships. His winning time of 7.47 was a
personal record.
Hurdlesfirst.com: Are you still training in South Carolina?
Bramlett: Yeah, everything's the same, except I'm married, so I got motivation at home. Married life is good, it's cool. It's like hanging out with your best friend every day. Myra ran for LSU so she understands track. But when you're married, it's tougher when you leave. Now when I go to Europe or whatever, I'm not just leaving home, I'm leaving my wife.
Hurdlesfirst.com: What's it like training with Allen Johnson?
Bramlett: Training with Allen really helps. He knows all the tricks. He can watch me do a drill and tell me if I'm in the right position, if my arms are wrong, if my trail leg is wrong. I've been training with him three years and nothing's ever been right. He always finds something wrong. He sent me a fax after the Birmingham meet and said everything looked right. That was the first time he'd ever said that. That's the first time I've gotten a message from him saying that now I'm looking like I'm supposed to look.
Hurdlesfirst.com: I assume the goal for outdoors will be to make the World Championship team?
Bramlett: Yes it is. I figure I got a better shot this year than any other year. I feel pretty healthy, indoors went really well, I was able to fix some things. I'm feeling more motivated now that I've had some success. I expect to see all the same guys outdoors – Allen, Trammell, Arnold, and someone will be uncharacteristically slow, and someone will be fast, but you don't know who. David Payne really came on this year. And Anwar Moore hadn't run that much before USA's but then he ran a 7.50-something in the semis. Aries Merritt didn't run well at USA's, but you know he went back and started working. You know he'll be there for USA Outdoors. This year's gonna be hard. You go into a meet and you think such and such is ready, then everyone else shows up and they're ready too. So I'll do my best.
Hurdlesfirst.com: It makes you feel like you've been out of college forever, I guess, even though you're only twenty-seven.
Bramlett: It's tough – when you go to college you pr every year. Then when you get out of school it's almost discouraging. You can feel like you're getting stronger but you just can't get the time down. I just can't imagine what it's like for a 100-meter guy. They just have to hope the conditions are right on that day. In the hurdles you can fix something. I wouldn't want to be a sprinter.
Hurdlesfirst.com: Do you feel, now that you've pr'ed indoors, you can do the same outdoors?
Bramlett: My pr outdoors is 13.26; I don't think that's representative of what I can do. I think I'm much faster than that. And I'm gonna be mad if I don't run faster than that. Running the pr indoors really helps. It's like if I can drop five hundredths in the first half of the race, maybe I can find another five hundredths in the second half. That would be a full tenth. I'm heading in the right direction, and it makes it easier to train when you're doing well. I don't know yet where I'm gonna open outdoors, but I want my first outdoor meet – my first warm-weather race – to be close to my pr, if not my pr.
Hurdlesfirst.com: I know a lot of times last year you had a strong first half of the race, but then the big dogs tracked you down after hurdle five. Do you think you've got that problem figured out heading into outdoors of '07?
Bramlett: Indoors, my best hurdles were three, four, and five, whereas last year indoors I would get out fast and get sucked up over hurdles four and five. This year, I've felt like I've been in a better position to sprint coming off the hurdle, whereas before the emphasis was on running those three steps. In my hurdling motion, everything's faster – the lead arm, the trail leg. That's because my hips are up and I'm rolling forward. It seems like I'm running 39's. And I've run pretty clean races the whole year. I haven't been hitting hurdles.
Hurdlesfirst.com: How tall are you?
Bramlett: Six feet. I think I'm six feet. Maybe 5-11 ½.
Hurdlesfirst.com: That makes you one of the smaller hurdlers out there, right?
Bramlett: Man, everybody's tall. I got Robles on one side and he's like 6-3, Xiang on the other side and he's 6-2, and David Oliver's like ten feet tall. Merrit's tall. Then you see Allen and he's like normal height, but his legs go all the way to his neck.
Hurdlesfirst.com: All right, Ron, thanks for your time and good luck with your outdoor season.
Bramlett: Okay thanks a lot.
© 2007 Steve McGill