David Oliver, winner of the men's 110 meter high hurdles at the US Olympic trials earlier this month, has been the best and most consistent American hurdler in 2008. He has run under 13.00 three times, including twice at the trials (both were wind-aided) and a legal 12.95 in Doha in early May. After that meet, Oliver was gracious enough to answer some interview questions I sent him via email , and he was gracious enough to do so again after the trials. The content of that interview is below. I tend to ask long-winded questions, but D.O. never fails to respond with detailed answers. His answers this time around reveal extraordinarily deep insight into the mindset, work ethic, and training approach of a champion hurdler, as well as further insight into his extremely close relationship with his coach, the legendary Brooks Johnson. Buckle up and brace yourself before reading any further, because if you're not careful you just might mess around and learn something.
Question #1: I've noticed that, this year, the left side of your body is much tighter and a lot more forceful than it used to be in past years. The lead arm and the trail leg seem like they're really helping you to accelerate off the hurdle now. Have you been working on these aspects of your technique, or would you say they just improved with experience?
Oliver: It was a series of changes that helped that out. After I watched the replay of the race I ran at Milrose Games during the indoor season, I noticed that I was floating my lead leg down, causing me to spend more time in the air. So I went back to practice where I had ten days to work on that before I left to travel to Birmingham, U.K. for another competition. That was the sole thing I spent my time working on during that time. I ran the race in Birmingham and came away with a new personal best at the time (7.55). Upon watching the replay of that meet, I noticed that my lead leg was accelerated, but my trail was slow, causing me to fall to the right of my lane. I found that it was very difficult to stop doing that, so I spent a whole lot of time on 33" hurdles trying to figure it out. I couldn't get it done indoors, but I was still able to put up some good runs and win the USA Indoor title. I found that doing a lot of reps working on getting my trail heel tighter to my butt helped correct that problem, and I figured it out around the time of the Florida Relays [in early April]. It took a while before it became something automatic for me to do. That is still the number one thing I would like to do better. What I figured out was that your quads have to be super flexible in order to execute it well.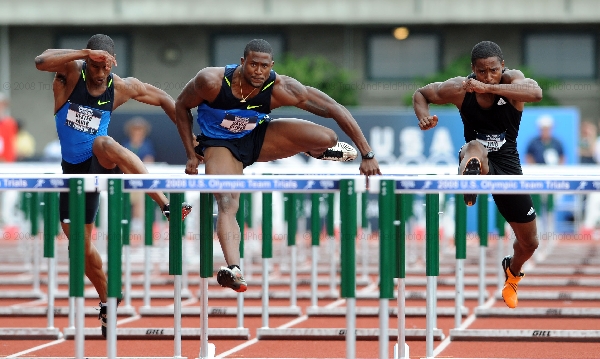 Here you can see the improvements Oliver (middle) has made with his trail leg and lead arm.
When it comes to my lead arm, that has been a two to three year process that Brooks had taken on to correct. If you look at footage of a race of mine in 2005 and one now in 2008, that is the most noticeable change. It was pretty hard to break old habits, but the definition of insanity is doing the same thing over and over, expecting different results, so I knew I had to change.
So in the final analysis, it was a combination of experience and hard work that led to those changes.
Question #2: Once again, you dominated the critical zone of the race – off the last hurdle and through the finish line. Is mastering that part of the race a matter of strength (all the 300s y'all do), or is there something technical involved there as well?
Oliver: The bottom line with that is it comes down to training. I run so many 400s and 300s in the fall and 200s and 300/200 combinations that I'm stronger than Lysol when it comes to strength training. The thing I find is that a lot of people aren't willing to take the pain that comes with that. When I talk to fellow hurdlers and they ask what I do at practice, they are amazed sometimes. I used to subscribe to the theory that I run the 110 hurdles, so why do I need to do anything more than a 150 or at most a 200? But here we train to run rounds and run them negative splitting every round. I told my training partners weeks before we left for the trials that with the way training had been going, I expected to run a series of 13.2x 13.0x, 12.9x and in the final run 12.8x, and it happened to a certain extent. My strength also comes from the weight room. This is the first year I really took lifting seriously. This is the first year I had to pay my strength coach, and I believe I took it more seriously because I was paying for it out of my pocket. I think you take things more seriously when you're spending your cash on it! I think that when you are strong like that, you can hold your positions down the track longer. Last year, I was only holding my positions for around five or six hurdles, then my hips would start to drop, now I don't feel like I have much hip displacement over all ten barriers.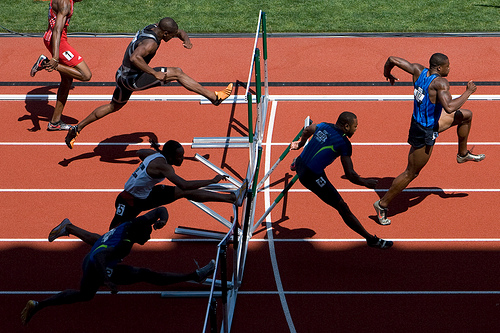 This photo from the US trials final shows that Oliver's hips are thrusting forward as he touches down off the last hurdle and drives toward the finish line.
Question #3: Ron Bramlett once said that the top-tier hurdlers have an uncanny ability to surge at or near hurdle five. You didn't have a great start in either the semi or the final, yet you ran sub-13 both times. You are now one of that small group of hurdlers who is able to surge at hurdle five. To what do attribute this newfound ability, because you weren't doing it last year, were you?
Oliver: I don't think I surge at hurdle five because that is not my race pattern. I break the race up at hurdles 3, 7 and 10. That basically means I try to start the race over again because if you think you are running the same speed at hurdle seven that you were at hurdle two, you are sadly mistaken, the law of physics are working against you. I think that last year I was trying to execute my strategy but I wasn't close to being strong enough to do it all the time. If you look at the races I ran well last season, you can see I do it, I was just inconsistent.
As far as the start goes, I don't put much emphasis on it outdoors. I used to worry about it, but after my race in Doha where I ran 12.95 with a .226 reaction, I showed myself what Brooks says all the time. He says as long as you put yourself in a position to come off hurdle one and accelerate to two and beyond, then you will be in contention in the place where the money is won, in the critical zone. Now don't get me wrong, I would love to come out the blocks faster, but I have seen on several occasions that I can run fast just sticking with what I've been doing.
Question #4: The three-step shuffle between the hurdles is another aspect of the 110 race that you seem to have mastered this year after struggling with it in years past. At the trials, you had wind issues to deal with, but you still managed to maintain your rhythm and dance between the hurdles even with the wind pushing you in the back. Do you credit that ability to your improved technique or have you been doing drills/workouts to specifically address this issue? Or again, is it just a matter of experience?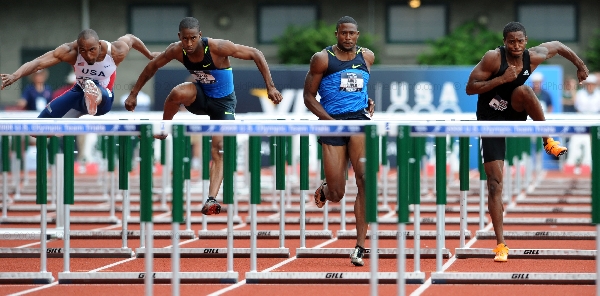 Between the hurdles, Oliver (3rd from left) keeps his knees and arms low for a quick shuffle.
Oliver: I credit that solely to our training. Brooks has trained me to the point that there will not be anything I won't be prepared for when it comes race time. Whether it's false starting or wind. When I came off the bus for the final day of competition, I immediatley looked at the flag. It was standing straight up, which usually indicates a wind reading around the 4.0 range. I instantly said to myself that it will be totally up to me being quick over the hurdles because one float of a lead leg or clip step, it could change the outcome of the race. When I see the wind blowing in my back and a fast track, I really throw the start out the window because the last thing I want to do is catch the underside of that first hurdle by trying to power through those first eight steps.
Question #5: While Xiang and Robles are most likely the co-favorites heading into Beijing, you have done enough to be considered a true contender for the gold. Where is your confidence level right now in regards to facing these two? Are there any mental hurdles you need to clear before stepping into the blocks against them? Is there any aspect of your race that you feel you need to improve upon between now and then in order to defeat them? Does your victory over Robles earlier this year boost your confidence?
Oliver: My confidence level is where it always is and has been even when I was running 13.5s at Howard, and that's high. The difference is is my competence level is [also] high. I'm very competent in my ability to perform and execute my technique. Everyone at a meet has confidence, so being confident is of little consequence. So whether I'm racing Liu, Robles, Terrence or the 32nd entrant at the trials, I am competent that I can get the job done. I have cleared all the mental hurdles I believe I need to, my "I know" list far outweighs my "I wish" list. I just have to execute what I have been doing when the time comes and hopefully I will be able to leave Beijing with a medal. Like I said earlier, I just want to work on my trail leg a little more and get closer to perfecting that aspect of my race. My win against Robles in Berlin doesn't do too much for me. I realized that that was his first race of the season and in the hurdles, it is important to get race callused. I was happy to leave there with a win.
Question #6: Is there any desire to redeem your disappointment at the World Championships last year, or are you keeping the past in the past and focusing on the here and now?
Oliver: My disappointment at the World Championships indoor and outdoor are things I have put behind me. I was unfortunately injured going into the first round at Worlds last year, so there was nothing I could do about that. This year, I couldn't help the guy next to me coming in contact with the backswing of my lead arm over several hurdles. Some things you can't plan for, so I just figured it wasn't my time yet. But believe those incidents were logs I added to my fire coming into this outdoor season.
Question #7: Behind every great athlete there's a great coach. You've mentioned Brooks often in your blog. Specifically, what qualities does he possess that make him stand out to you as a coach and that make you trust him so much? His technical expertise? His communication and motivation skills? All of the above? Also, what did he say to you prior to the final that helped you to focus?
Oliver: I trust Brooks whole-heartedly because I know he wouldn't steer me down any wrong paths. He has been around this game for 50 years, so who am I to question anything he asks me to do? Whether it is on or off the track, he knows the blueprint. His expertise, communication, and especially his motivation skills are second to none. When we were walking to the check-in area for the finals at the trials he gave me a speech that consisted of "that coming out of college, I wasn't hyped up like all these other guys, I had the least amount of credentials and nobody gave me anything. I earned every last thing I have gotten in track and field. I have turned myself in to one of the very best 110 hurdlers in the world, he knows it, now it's just time for me to show everyone else." Then he just walked off. I was ready to go then.
Question #8: (You don't have to answer this one if you don't want to). After the victory in the finals you did an immediate victory lap before coming back to celebrate with Payne and Trammell. Were you just trying to avoid Bob Neumeier and his dumb questions?
Oliver: Lol, I was so happy that I just kept on running. I saw they were trying to get me to come back for the interview but I just kept celebrating. I had no idea what questions Neumeier was asking.
---
Now for some further explanation and discussion of some of Oliver's answers:
In answer to question #1, Oliver mentions that he "spent a whole lot of time on 33" hurdles trying to figure out" how to speed up his trail leg in order to stop his tendency to veer to the right side of the lane. This approach serves as a good lesson to all hurdlers at all levels. If you have developed a bad habit in your technique, lowering the hurdles in practice is essential to being able to rid the body of the habit and retraining the body to make the necessary adaptations. A lot of hurdlers think that lowering the hurdles in practice is like a sort of demotion. But if a sub-13 hurdler over 42s lowers the hurdles to 33″ to fix technical problems, then that should let you know it is a strategy, a practice method, not a demotion.
Also in answer to question #1, Oliver says that improving the lead arm has been a three-year process. So any hurdler hoping to correct technical problems in a couple weeks or in a month or two needs to take heed.
In answer to question #2, Oliver points out that he does a lot of 300s and 400s in the off-season, and continues to do 300s and 200s throughout the season. It should be no surprise then that he gets stronger through the rounds, since that's what he trains to do, and that's what he sets out to do. Oliver makes it clear that strength-based training is done on the track and in the weightroom, not just in the weightroom.
Breaking up the race into zones (hurdles 3, 7, and 10), which Oliver mentions in his answer to question #3, speaks to the critical zones theory as detailed in The Hurdler's Bible by Wilbur Ross. Read that book for a more detailed explanation of that approach to the 110 race.
Oliver's comments about his start (also in answer to question #3) support a point of view that I've held for a long time – that the effectiveness of your start is better measured by where you are at hurdle three than where you are at hurdle one.
In answer to question #4, Oliver notes that as soon as he got off the bus to the stadium for the finals, he looked at the flags to see how strongly, and in which direction, the wind was blowing. This is called paying attention to details. Young hurdlers take note: instead of worrying about the wind and getting upset about it, or going to the other extreme and trying to ignore its existence, Oliver simply took note of it and adjusted his visualization images accordingly.
I'm not sure what the clip step is that Oliver mentions in answer to question #4, but I think it's the last step before the hurdle. If it's too long – which can easily happen when running with a tailwind – you could end up under the hurdle.
Notice the vocabulary Oliver uses in his answer to question #5: "execute," "competence." Like many great hurdlers, Oliver understands that emotions – positive or negative – can only get in the way of performance. The focus must always be on accomplishing the task at hand, which is to execute the race plan.
© 2008 Steve McGill