They got a name for the winners in the world,
I want a name when I lose.
–Steely Dan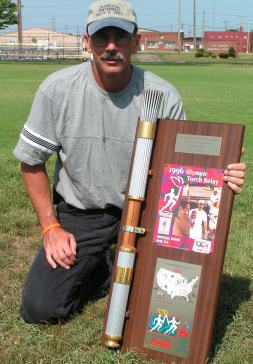 One of my earliest memories of the sport of Track & Field comes from when I was a little nine-year-old boy sitting in front of the television with my mom, dad, sister, and two brothers, watching the 1976 Summer Olympics in Montreal. A young, high-haired Edwin Moses was coming off the second curve and into the final straight-away, on his way to his first Olympic gold medal and a new world record. We screamed with joy as Moses increased his lead, and then we noticed that, behind Moses, in one of the inside lanes, another American, Mike Shine of Penn State University, was pulling away from the rest of the pack to claim the silver medal, cementing a 1-2 finish for the U.S. in the 400 meter intermediate hurdles. I'll never forget the thrilling memory of seeing an elated Shine approach Moses after the race and hug him, and then watching the two of them take a victory lap together in celebration of their accomplishments. A few days ago, I had the very exciting pleasure of talking with Shine about his career on the track and his life thereafter. Listening to the gregarious Shine, who competed in the mid to late 1970's against some of the best hurdlers the sport has ever known (in both the highs and intermediates) was refreshing in the sense that it reminded me that a hurdler is a hurdler, even long after his or her competitive hurdling days are over, and that you don't have to be the best who ever lived in order to have made a significant impact on the sport.
Shine, who will turn 52 on the 19th of September, was born in Youngsville, a small town of about 25,000 people in western Pennsylvania, and he currently resides in Champagne, Illinois, where he has lived for the past twenty-four years. In Champagne, he is the sanitation auditor for Kraft Foods, managing the entire sanitation program at the plant. He also coaches at the local high school, which he started doing three years ago, when his son, who is also a hurdler, entered the ninth grade. "I started off volunteering," Shine said. "During my son's freshman year, I would go out there on Friday afternoons and help out. Then one of the assistants left and I was asked to come on board, and I agreed." Although he was a bit reluctant to make the commitment, he is glad that he did. Shine, who has also had coaching stints at West Point, Penn State, and the University of Illinois (which is the job that led him to move to Illinois initially), is pleased to be involved in coaching once again. "I really love that job," he said, referring to coaching the high schoolers. "Until I got back into it, I didn't realize how much I missed working with the kids."
Shine's own track career began in the seventh grade while living in Youngsville. His older brother, a senior at Youngsville High School, was a hurdler, who, although he only ran one year of track, set the school record in the 180m low hurdles. (Until 1973 – the year after Shine graduated from high school – there wasn't an intermediate hurdle race in Pennsylvania). Eager to follow in his older brother's footsteps, the young Shine set out to break his record. "In my freshman year I broke the varsity record," he said, noting that he did it in a junior varsity meet, as freshmen weren't allowed to run varsity track. By the time he had graduated, Shine had brought the 180m hurdle record down to 19.2, and had also claimed the school high hurdle record with a 14.1. "I never got a chance to run the 300's," he said, "because they went to the 300's the following year. I was always curious as to what I could have run in the intermediates. I found out I could run them pretty well later," he joked.
From Youngsville High, Shine then moved on to Penn State University in Central Pennsylvania. He chose Penn State for the obvious reason that it was fairly close to home – about 2 ½ hours away, and also because he was very familiar with the campus and the track facilities, having run there for three consecutive years in the Pennsylvania high school state championship meet. At PSU, Shine formed a bond with his new mentor, Harry Groves, who Shine describes as someone with a "get-after-it, hard work kind of approach" to Track & Field. Groves, who still coaches at PSU, and who, according to Shine, "is ornery as ever," had a no-nonsense, "straight ahead, do what you gotta do coaching philosophy, which fit my work ethic and mentality. I made up for lack of talent with plain hard work." At PSU, Groves had Shine running multiple events instead of honing in on one or two particular events in which to specialize. Although Shine says that a lot of coaches criticized Groves for using him like that, Shine feels that the methodology made him a stronger runner than he otherwise would have been. "I think it helped me," he said. "It gave me a short recovery turn-around. I could run a 4×400, then come back an hour later and run the highs. I could reach down and pull something out of the hat if I needed to."
One of Shine's favorite meets in which to compete was the Penn Relays Carnival in Philadelphia, as the meet was well-suited to a multi-faceted athlete such as himself, and also for the simple fact that he felt at home at the University of Pennsylvania's track. "Our home track at PSU didn't have a lot of bleachers," he explained, "so the Penns was like my home invitational." When asked to name the events he ran at the Penns, he laughed and said, "In my senior year I think I was in about eleven events. I was kind of a garbage guy; throw me in anything from the quarter down, and I'd be fine, which was a real plus for being consistent in the intermediates. I ran the shuttle hurdles, the sprint medley, four-by-one, the intermediates. And I had heats and semis in a lot of those. So, yeah, over the course of two to three days, I ran about eleven races."
Those of us who remember Shine as the man who finished second to Edwin Moses in the intermediate hurdles at the Montreal Olympics might be surprised to know that he also owned a personal best of 13.6 in the high hurdles, and that he actually preferred the highs to the intermediates when he first came out of high school. "I was recruited as a high hurdler," he noted. "Harry [Groves] was probably looking at my low hurdle times, and had the intermediates in the back of his mind from the start. I didn't think I'd be good in the intermediates; I was more interested in the highs. He steered me toward the intermediates. I was one of the few hurdlers who was able to do well in both races throughout my career. I qualified for the NCAA's and the AAU's in both events three years in a row." To emphasize his proficiency in the highs, Shine remarked that he consistently ran in the 7.2 range in the 55m hurdles indoors, and also pointed out the little-known fact that he once almost beat Renaldo Nehemiah – commonly regarded as the best high hurdler ever – in an indoor race. "We dove at the tape," he said, describing the finish, "and I didn't know who won when we crossed the line. It took [the officials] an hour to look at the photo, and they gave the victory to him. It was like a hundredth of a second difference."
For better or for worse, this propensity for close second-place finishes ultimately became one of the defining characteristics of Shine's hurdling career. As far as he is concerned, however, never having won "the big one" is nothing to be ashamed about. "I did an interview with a guy from ABC [Television Network]," Shine said. "It was the Nightline show. They said they were interested in doing a piece on someone who finished second but still feels successful. I said I felt like I was very successful – with my career, with how I performed throughout my career. You know how society says winning is the only thing that matters, so the reporter was looking for someone with the opposite attitude. I believe you make life what you want it to be; you can reach goals you never thought you could if you keep at it."
Although a very consistent performer throughout his collegiate career leading up to the 1976 Olympic Games in Montreal, Shine did not have as noteworthy a reputation as some of the other intermediate hurdlers out there due to his lack of big-meet first-place finishes. He laughed when remembering just how little-known he was: "During the [Olympic] trials in Oregon, they had brochures out that had profiles of all the athletes. [Jim] Bolding and [Quentin] Wheeler had these long paragraphs describing all they had done; mine was like two sentences. But those guys knew to look out for me. It was like, if Shine ever puts a race together, look out, because I was always like second or third or fourth, right behind the big guys. I always qualified for the finals, but never won the finals."
For the record, Bolding was ranked among the top ten in the world four times between 1972 and 1976, and Wheeler was ranked among the top ten in the world five consecutive years between 1975 and 1979. Also, Wheeler ended up finishing fourth in the Olympic final in '76, coming very close to completing an American sweep in the event.
In the Olympic Trials, Shine finished third behind Moses and Wheeler in a 49-low (he couldn't remember the exact time). Earlier that year, at the NCAA National Championships, Shine thought that his chance for a victory in a major meet had finally come. "At the NCAA's, Edwin didn't show up," he explained. "He was in a Division II school, and I heard that he fell in the final or something, didn't finish the race, and that's why he wasn't at the D-I championships. I'm thinking, this is my year. By the time I made it to the final, I believed I would win. I jump in the blocks and guess who shows up – Quentin! He hadn't done anything all year, then he goes out and runs a 48.55 for a new American record. I got second in 48.7. It was the first time I'd ever run under 49 and I still got second. I'm thinking, what do I gotta do to win the NCAA championship?"
At the Olympic Trials, Shine says that there were nine competitors in the finals, eight of whom had run under 49.0, automatic timing, which was quite remarkable for the era, especially when considering that, up to that point, the only sub-48 ever run was John Akii-Bua's 47.82 in the finals of the 1972 Olympic Finals in Munich, which was deemed an utterly astounding, mind-boggling performance by all who witnessed it. By 1976, breaking the 49-second barrier was still considered the barometer for elite status, so to have eight finalists who had all run that fast or faster was quite phenomenal. "Eight of the twelve in the history of the event who had gone under forty-nine were in that trials final," Shine remarked. "I'm thinking, I gotta finish in the top three. I had never beaten several of those guys – Ralph Mann, Bolding, Edwin. Quentin had beaten me two weeks prior to that. I was going to have to run the race of my life to make the team."
Again, for the record, Mann, who is currently one of the leading teachers of biomechanics in the world of sport, was one of the best intermediate hurdlers during the early to mid 1970's. He was ranked among the top ten in the world nine times, was ranked #1 in the world in 1971, and finished second to Akii-Bua in the 1972 Olympics.
In qualifying for the Montreal Games, Shine humbly stated that "I just happened to put together a decent race. A lot of the guys, like Mann and Bolding, who were out of school, could run one big race and do well, but they couldn't double back. Their ability to go to the well more than once wasn't there. Because of how Harry had trained me, I could run multiple races and still tough it out at the end. By the third day, I still had some gas left in the tank. My forte was my strength, not so much my natural ability."
For those of you wondering how a collegiate athlete could have a competitive advantage over post-collegiate athletes, you have to keep in mind that, in the 1970's, professionalism in track as we now know it didn't exist. Post-collegiate athletes pretty much had to make their own living away from the track in order to afford to run track at all. Track was strictly an amateur sport, and any form of professionalism could lead to being declared ineligible to compete.
The Olympic final, which is widely remembered as the race in which Edwin Moses set a new world record, and is arguably regarded as the signature moment when he revolutionized the event, was also, though much less noticeably, the pinnacle of Mike Shine's track career; it was the race in which he put it all together, overcame his comparatively lesser physical abilities, and earned the silver medal that few people thought he had a chance to win. Unfortunately, but as is often the case, the fact that he did not finish in first place in the finest race of his track career would explain why he remains only a footnote in the annals of history. In discussing the race himself, here is what Shine had to say:
"In the last minutes leading up to the final, I can't really remember the thoughts going through my head. I just really felt confident that I had a shot at a medal. My main thought was just to run without mistakes, to put it all in one basket, as they say, and make a medal. I couldn't have felt any readier than I was. I told myself to just go for it. I had nothing to lose, so I just told myself don't make any mistakes. Looking at the field, based on the times in the semis, Edwin, Quentin, and I felt like we could sweep it. We almost did. If Quentin had run like he did at the NCAA's, we would've swept it. Experience says a lot. That was both of their first international experience, whereas I'd been overseas a couple times, so I felt like I had a pretty good grip on mental preparation." When asked how he felt about his own race on that day, he stated simply, "I ran a perfect race; there's nothing I could have done any better."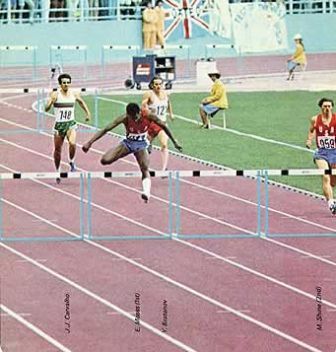 Shine, in lane one, finishes second behind Edwin Moses at the 1976 Olympics in Montreal.
One of the remarkable aspects of Shine's silver medal performance in 48.69 was the fact that he fifteen-stepped between the hurdles all the way around the track, and was still able to defeat everyone else in the race except for the great Edwin Moses himself. Even as long ago as the mid-'70's, the idea of fifteen-stepping an entire race for an elite-level intermediate hurdler was virtually unheard of. Shine says that he was often criticized by many great coaches – except for his own coach, Harry Groves – for choosing to fifteen-step instead of trying to thirteen-step or fourteen-step at least part of the way. In an email that he sent to me, Shine noted that "Leroy Walker, the Coach of the '76 Team, was shocked when he asked me what step pattern I used and I told him fifteen all the way. He said, 'You can't possibly run the kind of splits that you need to be competitive at this level.' My 200m splits used to be right around 21.3-21.5! I guess I was good enough for a second in 48.69."
Shine also points out that, at 6'0" tall with a 32" inseam, he didn't have the naturally long stride length of some of the other hurdlers, but he did have naturally quick turnover. "A lot of sprinters aren't great sprinters," he explained, "but are the next notch down, so they gravitate toward the hurdles." He also added that, on a practical level, "I had to look at the differences in size and natural speed and the performances of some of these guys I was running against. Edwin was 6'2" and had a 36" inseam. In the 110's, I was a good technician, so I could compete with Renaldo, [1974 NCAA champion Charles] Foster, [1975 NCAA champion] Larry Shipp. They're all 6'1", 6'2", 6'3". I didn't beat any of them, but was always knocking on the door. Technique carried over a lot. In the intermediates, it's all about conservation of energy, momentum; I absolutely, really believe that. Every time I do clinic work, that's what I emphasize – maintaining your speed between the hurdles, running efficiently."
When asked to address Coach Groves' position on the stride pattern issue, Shine disclosed that Groves was open to the idea of Shine taking less steps between the hurdles, but wasn't going to force him to do so if Shine didn't feel comfortable with it. "We played with thirteen because there were guys doing that," Shine said. "We tried it in practice a few times. I felt like I was really struggling to get thirteen. It was much more comfortable to run a quick fifteen and stay relaxed between the hurdles instead of stretching for thirteen. I think [1968 Olympic champion David] Hemery was a fifteen-stepper for the majority of the race. I'm pretty sure he might've fifteen-stepped all the way. I'm not even sure Akii-Bua went thirteen all the way. I probably was more unorthodox for my time frame. A lot of guys were thirteen-ing, switching to fourteen. Edwin was at the other extreme, thirteen-ing all the way. But fifteen worked really well for me, better than a lot of people thought it would." Shine gives Groves much of the credit for believing in him and not requiring him to use an unnatural stride pattern. "I really grew to admire the guy," Shine said of Groves. "He has probably forgotten more about Track and Field than most people can ever remember."
Shine also acknowledges that another reason many people were so surprised with his success has to do with the fact that he was a white athlete in an event that was rapidly becoming dominated by African-Americans. "A lot of people didn't think a white guy could run that fast," he stated, with no rancor in his voice. "About that time, though, most of the good intermediate hurdlers were white. Edwin, Quentin, and James King [ranked among the top ten in the world six times] were just coming into the event, becoming more prevalent. It's really turned around since then. Now, almost all of the guys at the top are black."
Shine points out that, in the 110's, seeing a white athlete line up in the blocks was even more of an anomaly. "When you saw a white guy in the highs," he said, "it was like, what's he doing here? I remember I went to Madison Square Garden [in New York] one time. They had five lanes on the track. I was in the final with [1972 Olympic bronze medallist] Tom Hill, [1968 Olympic gold medallist] Willie Davenport, Charles Foster, Larry Shipp, and I was in the outside lane. I joked to the other guys I should be in the middle so we could make this an Oreo. They all laughed. A lot of people didn't give me credit for being a decent high hurdler, but I ran 7.2's consistently indoors [in the 55m hurdles]. Outdoors I was running 13.9's, then I got down to the 13.8, 13.7 range late in my career. At one meet late in my career I watched Renaldo doing drills and said to myself, maybe I should try that. I was a watcher; I always watched my competitors to see what I could pick up. So I watched him do a trail leg drill one time and I picked it up. It got me in that 13.7, 13.6 range." When asked if Nehemiah was aware that he had inadvertently helped him to improve, Shine answered with a straightforward but light-hearted, "He probably doesn't even know who I am."
One would think that being one of the few athletes to have run against the best high hurdler ever (Nehemiah) as well as the best intermediate hurdler ever (Moses) must have made for some nervous moments at the starting line for Shine, but he chose to take a hurdler's philosophical approach to such challenges. "People ask you how you can run against a guy like Edwin," he said. "All you can do is hope for an opportunity. He's a human being, he can make a mistake like anybody else. You just wait for that mistake and hope you can be close enough to capitalize on it." Shine did proudly point out that he was the last American to defeat Moses before Moses went on his decade-long winning streak from 1977 to 1987. Shine does admit, however, that an asterisk belongs next to the victory: "We ran in different heats," he explained.
Shine also mentioned that a large part of Moses' strength as a competitor was the aura of mystique he built around himself. Generally, none of the other competitors knew Moses all that well. "He was quiet, kept to himself," Shine said. "He wanted that separation from everything, he didn't want to be bothered with distractions. It was a very good tactic, I think; it worked well for him. Me, I'm always talking, socializing before races. I would be talking all the way up to the starting line, but I had no trouble focusing once it was time to race. That was my way of relaxing; I did that all the way through high school too."
It took a while for the rest of the world to catch up with Moses, who consistently ran in the sub-48 range throughout the entirety of his illustrious career. Yet one of the things that Shine finds to be amazing is the degree to which the intermediate hurdles have evolved since his days as a competitor. Back then, Moses was the only athlete dipping under 48 seconds, and anything under 49 was considered elite. Now, there are several athletes who are cracking the 48.00 barrier with regularity, and an ocean of athletes who are running under 49.00. "I look at the kind of times these guys are running now and shake my head," Shine said. "I wonder what I could've done if I had kept running in '77. I started coaching then, and took a year off from training, which is the stupidest thing I've ever done. I came back and tried to make the [Olympic] team again in '80. I ran a 49.2 [at the trials], one of my best times ever, but I didn't have the depth I had in '76. I made it to the semi-finals, but then the bottom fell out. I could pop a good race one time, but I couldn't double it up. These guys today are absolutely incredible. I don't keep up with [international competition] all that much, but since I got back into coaching, I'm getting back into it. I just shake my head at these guys today. How do they do that? I couldn't come close to doing that. But if I had kept competing, I could've come down from where I was. I probably could've gone under 48, but not any faster than that with the fifteens, but I don't know." He also added, laughing, that "I'm not even in the top one hundred anymore. The cut-off is something like 48.5. But it's all relative. The records keep getting faster, the guys keep getting faster." When I suggested that the upgrades in facilities that have helped to create faster times since the days of his era would have benefited him, he heartily agreed. "When I go back and look at some of the tracks I ran on, it's like wow, I ran some good times on some pretty crappy tracks. But still, the training these guys do, the abilities these guys have, it's just unbelievable."
Other than the '76 Olympics, Shine remembers his Penn Relays moments as ranking high among his most pleasant memories on the track, as he won the intermediates several times there. But one of his most memorable moments that occurred at that meet took place off the track. "I was standing in the paddock with [1976 4×400 Olympic gold medallist] Herman Frazier, and we were getting ready to run the mile relay. The greatest all-time compliment I ever received came from him when he said 'I've run a lot of mile relays, but you're one of those guys I've always gotta be looking over my shoulder for. You're just crazy, I never know what you're gonna do.' Having one of the top four-by-four guys say that really meant a lot to me. Harry used to say that if he could put anybody at the anchor leg of a four-by-four, it would be me. That's because I was a team-first guy. If Harry felt I could do it, I would do it. I loved being on the track. I would've gone nuts at a meet if I specialized [in one event]. I just loved the sport. It was fun."
Ultimately, what Shine loves most about hurdling is the fact that it is always new, that there is always more to learn, more ways to improve. His advice for young hurdlers is to realize that hurdling "is a special event" that "takes time and patience" to become skilled at. "Most young hurdlers," he said, "have no patience level. They think they oughtta pick it up just like that. Little do they know that it takes tons of practice time to become a good hurdler. After [clearing] hundreds of thousands of hurdles, I was still working at it. Even at the Games, there were still things I was still trying to hone, and that was after ten years of hurdling. A lot of kids don't want to go through that whole process. Even my son gets that way. That's when I'll just say take a break and we'll try it again tomorrow. You can't force it, but you do need to keep trying. It may take forever, but once it clicks, that's when you make the next step up. You just keep looking for the next drill, to help you with whatever it is you're trying to work on. Eventually, you get to a point where you put it all together. Then, it's about eliminating the mistakes and staying with the basics. Pigeonhole the mistakes, remember them, then when you see the same thing happening again, you can remember how to correct it from how you corrected it in practice. Hone the feeling, so you can do it without thinking about it. Do it over and over and over. You never get to be perfect, I guess, but you keep getting better."
A lesson of major significance that we can all learn from the athletic career and coaching philosophy of Mike Shine is that being the best you can be is ultimately far more important than being the best. Unless, of course, you are capable of being the best. While some athletes torture themselves mentally for the rest of their lives for not having ever won the big, career-defining races, Shine is secure in the fact that, given his natural athletic ability and physical build, he brought out the best in himself every time he stepped out on the track. The fact that his effort did not result in any gold medals does not make him feel like a failure any more than garnering a gold medal would have inherently made him feel like a success. To Shine, success lies in the effort, not the result. To put it in his words, "I never won the big one; I was right there a lot of times, but I never pulled one off. In the NCAA's I got second, and in the Olympics I got second, but there's nothing wrong with that." Indeed, there is not.
© 2005 Steve McGill