Laron Bennett: Time is on his Side
One of the top 400m intermediate hurdlers in the USA today is Laron Bennett, a senior at the University of Georgia. In the 2004 outdoor season, Bennett set a school record at the East Regional meet in a time of 49.04, he finished fourth at the NCAA National Championships in a time of 49.99, and he finished 7th in the final round of the 2004 Olympic Trials at Sacramento State University in July. Bennett is off to a fast start in 2005 as well, as he finished first in the University/Open division at the Mt. Sac Relays on April 17th in a time of 49.42. Earlier this week, Bennett talked to me on the phone about his hurdling career up to this point, and his future goals as he continues to compete in both the 400m and 110m hurdles, in which he has a pr of 13.89.
The 22-year-old Bennett began his track career, and his hurdling career, as a seventh grader while growing up in Brunswick, Georgia, just outside of Savannah, but the hurdles were only one of several events in which Bennett participated as a high-schooler at Glynn Academy. He also ran the 800 and the 4x400m relay, and basically filled in wherever he was needed. In fact, during his high school days, he was probably better known as a half-miler than he was as a hurdler, and was even recruited by the University of Georgia not as a hurdler, but as a half-miler. He finished third in the Georgia 5-A state meet in the 800 in his sophomore and junior years, and finished second in the state meet in his senior year. He also won Region titles in both the 800 and the 300m hurdles in all of his last three years of high school. "In high school," he explained, "my coach was more points-oriented. We had some pretty good 400 guys, but nobody in the 800. When I went to states my senior year, I ran five events and [the University of Georgia] kind of liked that diversity." Bennett, whose pr in the 300 hurdles was 37.8, and had a personal best of 14.1 (hand-timed) in the 110's, considers himself to have been "kind of a B+ athlete" in high school. "I was kind of average, but had a good work ethic."
When Bennett arrived on the Georgia campus in 2001, he wasn't sure what events he would specialize in as a collegiate athlete. "I knew I would be on one of the relays," he said, "but as far as everything else, I knew it would be a trial and error type of deal." At UGA, he has focused on both hurdle events, the 4×400, the open 400 at times, and he would love to run a 4×100 leg as well, although that hasn't happened yet. He commented that "I didn't run the 400 until I got to college. Up here, they had enough guys running the eight, so I could do my event. It was kind of ironic, at the Clemson Relays [earlier this spring], our four-by-four team ran the four-by-eight, and I ran a 1:53 split. Coach was like, 'You sure you don't wanna do this?' But that race reminded me of how much I really don't wanna go back [to the 800]."
The multi-talented Bennett considers himself a hurdler first because he has a natural affinity toward the hurdling events. In the summer between his sophomore and junior years of high school, he attended a hurdling camp where his instructor was Jon Stuart, who now coaches Bennett at UGA. During the one-week camp, Bennett learned a lot about hurdling and hurdling drills, and was able to succeed as a hurdler throughout high school despite the fact that he didn't have a hurdling coach. His coach, Glenn Etheridge, "gave me a lot of individual attention because I was one of the few who took [track] seriously, but he focused me more on the 800." Bennett says that he gravitated toward the hurdles because "it's one of those events where it's a lot easier to move up in the ranks. These days, anyone can run a 400, 800, 100, 200, and do fairly well, but with the hurdles you have to put a lot of work in. Also, the [hurdle] drills came naturally for me. I was kind of coordinated for it." Still, we all know that efficient hurdling technique does not develop without the guidance of a knowledgeable coach. Since coming to UGA, Bennett has benefited from the teachings he has received from Coach Stuart, who ran both hurdle events for UGA back in the early '90s. "He fine-tuned me a lot," Bennett said, "because my hurdling form was horrible." Stuart must have fixed things quickly, because in Bennett's first 400m hurdle race as a freshman at UGA, he immediately jumped to third on the school's all-time list in the event.
The 6'1", 187-pound Bennett is one of but a few hurdlers in the U.S. who has been able to achieve a high degree of success in both the intermediates and the highs. While most hurdlers and hurdle coaches would argue that it's too difficult to train effectively for one without compromising your ability to train effectively for the other, Bennett enjoys the challenge, and he also likes how each event complements the other. "It's not too difficult to train for both," he said. "I've become pretty efficient at adjusting the start pattern of each race. Usually, I'll do a 400 hurdle workout twice a week, and three times a week I'll do a 110 workout. It's kind of tricky, it's a big adjustment [to go back and forth], but I like it."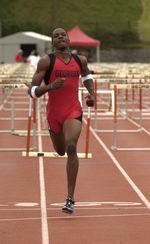 Obviously, Bennett's fourth place finish at the NCAA Nationals and his seventh place finish at the Olympic Trials in 2004 make it clear that he is doing his best work in the intermediates. While his 13.89 pr in the 110's is quite respectable, it won't put him in the running for any national championships. Still, Bennett feels that running the 110's is more than worth his time. "I have a tendency to focus on the 400 hurdles," he explained, "because it's easier for me. But it's easier to move up in the ranks [in the intermediates] if you're pretty efficient at the 110's, especially if you keep flexible. The highs prepare me for the 400's and open 4 by loosening me up a bit. Of late, I've been doing a lot more technique work for the 110's so I can bring that up to the level of my 400's. I wanna be a 48 hurdler and a 13.7 hurdler. It's happening in the 400's, and it's coming in the 110's."
Another thing Bennett likes about the high hurdles is that they force him to maintain "a certain level of respect for the hurdles, because it's one of those events that'll beat you up pretty bad. Every hurdler I know has hit a hurdle hard, or fell over one. I teach at the [Georgia hurdle] camp now, and I tell the kids don't be afraid to fall, because you're going to. It's what you do afterwards that matters." When asked to discuss any incidents when he has fallen over a hurdle, Bennett provided the following anecdote: "I've fallen only once – five minutes before the 110 finals in my senior year [of high school] at states. I was already warmed up, and then I saw some guys doing some new kind of trail leg drills where they would go over the hurdle, so I tried to do it, and I fell. It messed me all up and I ended up finishing seventh or eighth. I definitely fell at one of the worst possible times."
In order to improve in the 110's, as well as in the 400's, Bennett feels he needs to get quicker between the hurdles, and to run cleaner races. "It's all about getting quicker," he said, "and leaving more than two hurdles up in the race," he joked. "Any time I have a clean race, I run fast. I ran 13.89 at Georgia Tech [a couple weeks ago], and every hurdle was up. So that tells me something. I've gotten to where even in practice I'll leave some up, knock some down. We focus on speed off the hurdle, so I've gotten to where, even if I hit one, it doesn't slow me down. In a race, if I hit two in a row, it doesn't slow me down too much, but if I hit more than two, I can feel it slowing me down. I try to hit with the underside of my thigh instead of my foot. My coach says it's a good sign [when I hit them that way] because it means I'm getting speed to my next hurdle, but it also means I gotta be a little bit quicker. That's what I love about the hurdles – there are so many minute details to work on, and I'm still coming along."
In regards to stride pattern in the intermediates, Bennett is still experimenting with different strategies as he continues his evolution as a hurdler. He is in no rush to run the perfect race, but, instead, is enjoying the process of learning and developing as his knowledge of the intermediate hurdle race increases. Although he possesses the ability to lead with either leg, he doesn't feel that this trait necessarily ensures a smooth race. "It's really more about what you do in between the hurdles," he said, "and that's really key in the 400's. A lot of the greats can't lead with either leg, but they're so strong between the hurdles. As for me, I'm working on the start of my race. At practice, when I do starts for the 400's, I'm usually at 5.6 or 5.7 to the first hurdle, which is a 48-flat pace. In the meets, as soon as the gun goes off, it's always 6-flat, which is like a 49 pace. I'm usually at fifteen steps between the hurdles, but since I've got more speed than last year, we're trying to move to a fourteen-step, at least for the first 200, and alternate leads. At Georgia Tech I was able to alternate for two of 'em. At Mt. Sac. I didn't have my rhythm, but I know that as soon as I iron it out, I'll get into the 48's, then I'll get some respect." The lack of respect he was referring to had to do with the fact that at the Mt. Sac. meet, he was entered in the University division instead of the Invitational heat. He won the University division, and only two of the hurdlers in the Invitational heat ran a faster time than him. Still, he doesn't let the disappointment get to him too much. "I've learned you've gotta earn your respect," he said, "so it's all right."
As someone who prefers to lead with his right leg, Bennett has a couple of approaches he employs when hurdling on the curve. For one of them, "I have a tendency to hug the curve half-way to the hurdle, and then move to the outside [part of the lane]. So, if my trail leg is kind of low, it won't go to the outside of the hurdle." His other method goes something like this: "On the first curve, I angle my blocks to the outside of the curve, and keep to the outside part of the lane all the way around. Coach [Stuart] is more partial to me staying outside." Bennett feels that there isn't much difference between the two approaches, but he does believe that hugging the curve and then edging to the outer part of the lane can get him into an unsteady, swervy motion that can feel inefficient.
Bennett is probably one of the best mentally prepared athletes out there these days, as he puts a good deal of energy into making sure he has a sense of what he is trying to accomplish, and how to go about accomplishing it. At the beginning of each school year, before the indoor track season even starts, he writes down a list of goals that can include as many as "twenty-something" items. These goals serve as a guide and motivator, but he does not necessarily feel that not reaching them all would signify failure. "I write down my individual goals and my team goals," he said. "I made all but one of my goals for last year. I write 'em down and have 'em stored away, but I don't focus on 'em every time I run. I focus on practicing hard, improving each race, then I'll look back and say hey, I got that goal, I got that one. But I'm not obsessed with reaching the goals."
Instead of waiting until the day of a race or the day before to begin his mental preparation for a competition, Bennett says that "Usually I'll start out thinking about my race on Monday." On the day of the meet, before heading out to the track, he'll "make sure my hair is cut, get my uniform laid out, then sit down and read a Bible scripture." The Bible scripture he chooses will be a specific one that will serve as his motivational words for the day, and he'll write it down and bring it with him to the track. Usually he'll find a selection from the book of Joshua, Psalms, or Proverbs. When deciding on scripture, "I'll look at the level of the race. If it's nationals and I know I'm not the favorite, I'll look at scripture that talks about dealing with adversity. When I'm in a race where I know I'm favored, I'll find something that says to stay confident." In the first round of the Olympic trials last year, "my scripture was about having no fear and running my race." Once he arrives at the track facility, Bennett will "walk around the track in my lane, visualizing, then I'll get the piece of paper with the scripture and I'll put my goal time on it and put it in my shoe." He also writes the Bible scripture on his left forearm and right bicep. "Then, when I'm getting in the blocks, I can read the scripture. I kind of developed that [routine] in my junior year of high school. I usually have slow gospel music playing while I stretch. I've tried crunk music; it gets you hyped, but it throws my rhythm off a little bit. I prefer to think through my race." Bennett does admit that his pre-race ritual is a bit odd. "I get a lot of people asking me what I'm doing when I'm reading my left wrist," he said. "My teammates think it's strange, but they always remind me to do it when I forget."
One track meet in 2004 in which Bennett's faith was truly tested was the Olympic Trials in July, where the schedule for the Men's 400m Intermediate Hurdles was particularly demanding, as the competitors had to run three races in three back-to-back days. "In the first round," Bennett said, "I had [Bershawn] Jackson in my heat in lane six, and Angelo Taylor in lane four, and myself in lane nine. I put it all out there and ran 49.1; I won the heat and made it to the next round." His official time was 49.07. "That shocked everybody. I realized that if I run my race, I can beat anybody." In the next round, Bennett got a much better lane, but the competition was even stiffer. Once again, he had to go against Jackson and Taylor, and Rickey Harris was also in his heat. "The nervousness was back," Bennett said. "I ran well, but I hit the second hurdle kind of nice, looked around and I was in last place. You have to get in the top four [to qualify for the finals], so coming off the last two hurdles I said to myself, 'It's not time for me to go home yet.' I ended up fourth in 49.5 or something like that." Actually, it was 49.35, to be exact. In the finals, Bennett finished seventh in 49.82 – his slowest race of the week. Still he couldn't feel disappointed with his outstanding overall performance at such a high-pressure meet, running three sub-50.0's in three days. "I was running against my idols," he said. "I didn't have my best race [in the finals], but it was big."
After coming so close to a trip to Athens in 2004, Bennett has dreams of Beijing in 2008 on his mind, but he's trying to focus more on the here and now, which includes helping the University of Georgia track team to do as well as possible in his senior year. "[Going to] Beijing is definitely the plan," he remarked. "I really wanna go because I wanna take the next step, which is to get into the Olympics. It's one of those things where, I know if it's meant for me, so be it, but I know I won't stop [trying] until I get there. I don't wanna be running in a body suit at the age of fifty trying to make the Olympics," he joked, "so I'd like to make it in 2008. At the end of this year I'll try to get on the [European] circuit. . . . I know that stuff is there, but I'm too much focused on right now because I have the university team to focus on. A lot of guys wanna get started on finding an agent and all that, but I know my teammates look up to me."
From the team perspective, Bennett's versatility as a hurdler, sprinter, relay leg, and emotional leader have proven invaluable to the UGA men's success. In reference to running the 4×400, Bennett said that "I'm one of the most nervous people on the track, and it gets magnified times ten when it comes to the four-by-four. My teammates would never believe it, because I do a great job of playing it off. I'll tell the guys we can do this, but as soon as the first guy goes, I'm too nervous to speak. But once I start running I'm fine." When talking about the pressure of being the anchor leg, he noted that "When we have first place, I gotta hold first place. When we're behind, my guys expect me to catch the other guys. It's a great feeling when you do catch 'em. I try not to show too much anxiety because my teammates are looking at me, they feed off of me, but I'm definitely the most nervous one. It's a lot easier to get to the top [as one of the first three legs] than it is to stay at the top [as the anchor leg]. We have a freshman on our relay now, and he's constantly asking me question. I'm in the spotlight; every meet I have people expecting me to run well."
In spite of the pressure, Bennett says that he definitely values the college experience because, as he pointed out, "I had never been anywhere but between North Carolina and Florida, so it helped me learn about different competitors and getting on the bigger competing scale. One kind of down part about it," he acknowledged, "is you're running every weekend. And with me being so important to my team, if it's a point-scoring meet, it's kind of hard to take a break, but I have a strong enough mindset to go out each week and run fast."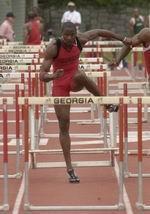 To keep his muscles from wearing down, Bennett stays on the "much dreaded ice baths" after practice, in which he basically sits in a tub of freezing cold ice water for several minutes. "I promise you," he said, "there may be other methods of torture, but I think the ice bath is the best method. It's worth it, though," he added, because going back and forth between 400 hurdle workouts and 110 hurdle workouts puts a lot of wear and tear on his muscles. In describing his workouts, he said that he'll start off with a base of uphill runs, 600's and the like in the fall, and that he won't start going over hurdles until mid-January. During the outdoor season, "My Tuesdays and Thursdays are my long workouts. On Tuesday I'll do something like two 300's over hurdles, then one 200 over hurdles. My coach is big on the end of the race, so my 300's finish at the finish line. On Thursday I'll do something faster – maybe four or five 200's over hurdles, and I have to average 23 or 24. On Mondays and Wednesdays I'll do a 110 workout, and then do the sprinter workout. Friday is kind of a warm-up." When asked how he is able to do a hurdle workout and a sprint workout on the same day, Bennett didn't seem to think it was all that big of a deal. "I recover pretty well," he said, "so it's kind of nothing for me. It gets you strong for the end of the season. I've definitely grown accustomed to it."
Because Coach Stuart puts so much of an emphasis on finishing strong, all of Georgia's sprinters and hurdlers "pretty much kick at the same time," Bennett said. Finishing all of the practice reps at the finish line "definitely pays off because we all come in very strong at the end of our race. My last 150 is very strong. If you're in front of me, my mindset is, I'm gonna be able to out-kick you. I get that from my 800 background. I was always able to kick it in the last 200, and that shows up in my 400 hurdles. It's a great thing, but it can kind of hurt you too. I already know I'm strong enough to kick at the 200, but I've gotta get to where I can start stronger and still kick."
Bennett feels that once he makes the necessary improvements to the first part of his race, he will crack the 49.00 barrier. "I'm physically capable of running a 48 low," he said, "but you gotta be patient. Each year I wanna try to drop a second. When it comes to track and times, you're only gonna get down but so far, so I don't hate on the guys running real fast when they're twenty, but I like my situation where I have a consistent way of running. I think I'm one of the most consistent hurdlers out there. I'm always in the 49's. There are guys in the 48's, but only in spots. I know once I hit 48, and know how it feels, it'll be a lot easier to keep doing it. I'll know where to kick a lot earlier in the race."
Bennett says that his two biggest role models in the world of Track & Field are Michael Johnson and Edwin Moses, both because of their tremendous work ethics. "I read up a lot about these guys," he stated, "and ask myself, What did they learn about track that made them excel? What were their training methods? What was their coaching like? After I see that, I look at my own training, my environment, and try to form a system that works for me. I kind of take that approach to everything. I listen to everybody's advice, then once I get it, I keep what's useful, and weed out what I don't wanna keep."
One personal quality of Bennett's that became quite apparent through the course of our conversation is that he has a very good sense of balance. He cares about his teammates, but he has individual goals as well; he sets goals early in the year, but he doesn't attach himself to them; he has achieved noteworthy success in the 400's, but he works equally as hard in the 110's; he gets himself amped up before races, but not so much that he throws himself off his rhythm; he wants to run the 400's in the 48's, but he won't feel like a failure if he doesn't do it in the next meet. Bennett understands that success in the hurdles comes through plain old hard work, trusting his coach, relying on his strengths, and improving upon his weaknesses. Since he is willing to do the work, and is in no immediate rush to drop his time, there can be no doubt that time is on his side.
© 2005 Steve McGill
Update: Bennett finished fifth in the 400m hurdles at the NCAA Nationals in a time of 48.74, breaking his own school record in the process. Prior to that, he finished second at the East Regional in 49.04, and prior to that he finished second in the SEC Championships in a time of 48.76, which was a new school record at the time.