One of the top 100m hurdlers amongst collegiate female athletes is Kasia Williams, a senior at the University of Arkansas. Competing for a school known more for its distance runners and field-events stars, Williams has made a name for herself in her two years as a Razorback hurdler, having qualified for the NCAA Outdoor nationals last year, and having competed in the Jamaican Olympic Trials in 2004. Last week, Williams chatted over the phone with me about her hurdling career and her goals for 2005 as she heads into the most intense portion of her last season of collegiate competition.
The 5'8" Williams, who ran her non-wind-aided personal best of 13.13 in April of 2005 at the Texas Relays (good for third place), began her hurdling career very early on in life, when she was just a fourth-grader in Brooklyn, NY. "I was born in Jamaica," Williams said, "but raised in Brooklyn. My family moved to Brooklyn when I was eight. My mom had moved when I was younger, so I moved to live with my mom." As a second-grader, Williams was encouraged by her gym teacher to try track, and she did so, trying out in "every event possible 'til I found one I liked, which was the hurdles." As soon as she was old enough to, she began to run club track for the East New York Impalas in Brooklyn. As far as the hurdles go, she "just started doing it because it had obstacles and it involved running and jumping, and I kind of liked that. Plus it was short," she added, laughing.
Williams credits her coach at Paul Robeson High School, Corey Sutherland, for providing her with the opportunity to succeed throughout her adolescent years. "He kind of led me in the right path," she said. "I was kind of a problem child, kind of bad in high school. Coach Sutherland helped me to stay focused in track and in school. He was kind of like my father, in a way. He knew what he was doing; he always motivated us when we needed motivation. He was like a father figure to everybody on the track team." Under Coach Sutherland, Williams achieved great success throughout her career in the intensely competitive environment of New York City. As a senior, she finished second in the 55m hurdles at the Indoor Nationals, and she won the New York State Championship in the 100m hurdles. She also ran a leg on the Robeson High state champion 4×200 relay team.
After graduating from high school, Williams decided to attend Barton County Community College in Great Bend, Kansas instead of enrolling in a four-year university. "I didn't do so well on my SAT's," she explained, "and I didn't have a good GPA, so my coach recommended that I go to Barton County. They wanted me to come, so I ended up going." The rural landscape of Kansas marked a drastic change for Williams, a city girl who loves the big city for its wide range of activities to choose from and its colorful collage of people. Still, she says the adjustments was not a very difficult one. "I'm a people person," she said, "so it was easy to adapt to the environment. Other than [the rural setting], everything was fine. My teammates were encouraging; they were cool people." Williams' coach at Barton, Lance Brauman, who now coaches the Arkansas Razorback men's team in the sprints and hurdles, helped her to further her improvement as a hurdler and sprinter. Williams explained that, at Barton, "the competition was more intense, but I improved mentally, and physically I got faster and stronger. In high school, I didn't lift weights at all. [At Barton], we lifted three times a week, and it was pretty intense, because everybody was trying to get stronger than everybody else. The lifting directly helped my speed, and also my endurance." Under Coach Brauman's guidance, Williams qualified for the World Junior Championships in her freshman year, and earned a second-place finish in the 100m hurdles. In her sophomore year, she finished second at the National Junior College Championships in the 100's.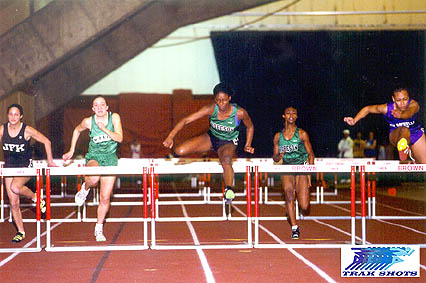 Williams hurdling at the Armory in NYC as a high-schooler.
Upon arriving at Arkansas, Williams made an immediate impact on the women's track program as a sprinter and hurdler, focusing on the 100m hurdles and the 4×100 relay. She says that she instantly took a liking to Arkansas because "it's a college town where everybody's nice and they know who you are. The track program is very good. We've won the SEC something like sixteen times, so I know I have to live up to that." Although she is the only hurdler on the lady's team, she likes that situation because "I get one-on-one attention" from women's sprint/hurdle coach Rolando Greene. "We have a very good relationship," Williams said of herself and Coach Greene. "We get along perfectly well. He's a good person. If I have any problems, I can always go to him for help." In addition to being a good person, Greene has also facilitated even more improvement in Williams' hurdling ability, as well as in her knowledge and understanding of the complexities of the event. "When I left Barton," she noted, "I was running 13.6; now I'm at 13.1. I've improved so much over the last two years. I know more about the hurdles – how to run the hurdles. I mean, it's a ballistic event, not just a sprint event. I'm a lot better now at maintaining my speed over the hurdles. When I was at Barton, I was waddling when I was hurdling; now I'm not all over the place. I'm quicker with my lead leg, and with my trail leg."
In her junior year – her first at Arkansas – Williams let it be known that she was a force to be reckoned with in the sprint hurdles. She opened the outdoor season with a wind-aided 13.20 at the Stanford Invitational, then went on to finish fifth in the Mideast Regional, qualifying for Nationals, where she finished seventeenth overall with a 13.33. Last summer, she ran in the Jamaican Olympic Trials, but was unable to make the team in the 100m hurdles. "I didn't do so good at the Jamaican Trials," she said, but she did do well enough to go to Ontario, Canada for the 2004 NACAC (North American, Central American, and Caribbean) Championships. In Canada, she finished second in the hurdles in a time of 13.27, which, at the time, was her non-wind-aided personal best. As most knowledgeable track fans know, Jamaica is one of the strongest countries in the world when it comes to the sprints and hurdles, so qualifying for the NACAC championships and running well there went a long way in making up for her disappointment for not making the Olympic team. In comparing the competition in the USA to that of Jamaica, Williams said that "the competition is pretty much the same in both countries. The USA may have more [top-notch athletes], but they're all running the same times. I like running for Jamaica," she added, "it's fun to get a chance to represent my country." Though she considers the USA to be her home, she enjoys going back to Jamaica once a year to visit family.
The 2005 season up to this point has featured more high-level success for Williams in the 100m hurdles, as she has continued to fine-tune her technique and raise her level of performance. "I'm kind of impressed with my season thus far," she said, noting that she opened with a 13.19 at the Stanford Invitational, finishing second to Virginia Powell of the University of Southern California, who ran a meet record 12.95. One week later, at the Texas Relays, Williams ran a 13.13, which was good for third, behind Ashlee Williams of Texas and Priscilla Lopes of Nebraska, who both broke the previous meet record with a 12.83 and 12.89, respectively. Most recently, at this past weekend's Drake Relays in Des Moines, Iowa, Williams finished second to former LSU stand-out Lolo Jones, running a 13.17 to Jones' 12.93.
When considering that all of her losses this year have come at the hands of competitors running under 13.00, Williams is aware that she'll have to run in that range if she is to improve upon her 17th-place finish at the NCAA Nationals of 2004. "I know I'm ready to run fast," she stated. "I know I can run sub-thirteen. By nationals it should be there. My goal is to make the finals and place in the top three. I'll have to run something like a 12.7 or 12.8 to get there. So I'm working more on my speed, my get-away from the hurdle. I'm working more on accelerating through the hurdles."
Williams' speed is also aided by running on the Lady Razorbacks' 4x100m relay team, in which she runs the first leg. Arkansas finished fifth at the NCAA's last year in 43.84. In regards to her hurdling mechanics, Williams feels that she needs to work on her concentration level during races more so than on her technique. "I need to focus more on my ten hurdles," she said. "At [the] Texas [Relays] I had a bad start, and as soon as I got up I started looking around me. I could've run faster if I wasn't so worried about trying to catch other people." To gain her competitive edge, Williams likes the race-modeling workout Coach Greene has her do with Beyonka McDowell, another Lady Razorback senior. McDowell, a heptathlete, runs the 100m hurdles in the mid-13 range. "We'll go over the first four hurdles," Williams explained, "and that really gets me ready to run. Doing it with a teammate helps a lot. I can develop a race mentality by having someone next to me." Williams is hoping to peak at the NCAA's, and then again in late June, for the Jamaican Trials for the World Championships that will take place in Helsinki, Finland in the latter part of the summer.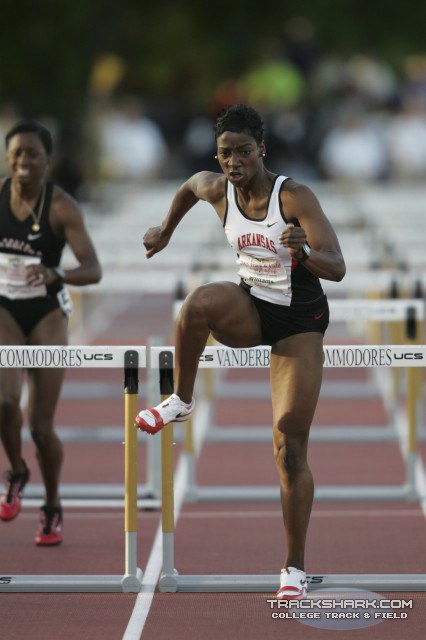 Williams winning the SEC 100m hurdle championship in May 2005 in a time of 13.25.
Off the track, Williams likes to surf the internet, watch TV, and hang out with friends. She isn't sure yet as to whether or not she plans to run professionally after graduation. Although her major is in Social Work, she wants to do more with fashion, and plans to go to graduate school for Apparel Studies. As for running professionally, "hopefully, if I can run 12.8 I can get a contract, but even if I don't, I'm gonna keep running. I wanna break thirteen seconds and get consistent with it."
Like many female hurdlers and sprinters, Williams looked up to Gail Devers as an athletic role model when she was growing up. Williams admires Devers not just for all of the success she has achieved in track, but even more so for all the adversity she has overcome in doing so. "She's a motivator," Williams said, referring to Devers. "I like her style, I like everything about her." Williams has overcome much adversity in her own life as well, moving from Jamaica to Brooklyn as a child, and then having struggled academically throughout her high school years, leading to her decision to attend community college for two years. Appropriately, her advice for young hurdlers is to "be focused, know what you want, and know what you've gotta do to get it." At this point in her life, Williams seems to be following her own advice quite well. Hopefully, if she keeps making the progress she has been making, 2005 will prove to be a year to remember for her.
© 2005 Steve McGill
Update: Williams finished ninth overall at the NCAA Nationals in a time of 13.43 after running 13.21 in the prelims and 13.23 in the semi-finals. Prior to that, she finished fourth at the Mideast Regional, and prior to that she finished first in the SEC Championship meet in a time of 13.25.