There is no 110m high hurdler in the history of the event who inspires as much passionate, lively discussion as the legendary Renaldo Nehemiah, who is arguably the greatest 110-meter man who ever lived, and is definitely the standard-bearer of greatness in the event. One evening this past week, I had the pleasure of talking with Nehemiah's high school coach, Jean Poquette. A veritable fountain of wisdom in all things pertaining to Track & Field, Poquette is known primarily in the hurdling community as the man who coached The Great One to greatness. Personally, I can say that at least ninety percent of my coaching philosophy when it comes to the hurdles is based on things I read while in high school and college about how Poquette trained Nehemiah. Getting the chance to speak with someone I consider to be a mentor, although I've never actually met him in person, was a thrill for me of the highest magnitude.
Poquette, who is now 68 years old and retired, currently resides on the outskirts of the small town of Brevard in western North Carolina, where he has lived for the past seven years, but he originally hales from Newark, New Jersey, and graduated from Montclair State College in the same state. He began his teaching and coaching career in 1959 at Cranford High School in Cranford, NJ, where he taught accounting and business education and coached cross country, winter track, and spring track for three years. From Cranford he moved on to Scotch Plains / Fanwood High School in New Jersey, where he taught and coached from 1962 until 1978. His last year of coaching outdoor track (in the spring of 1977) at Scotch Plains / Fanwood coincided with Nehemiah's senior year at the school. At that point in time, Poquette focused less on track, and more on spending time with his family and on raising his three sons. Nevertheless, he maintained a close relationship with Nehemiah throughout the hurdler's collegiate and professional track career, coaching and advising him all the way through his attempt to qualify for the 1992 Olympic Games.
Although Nehemiah is the athlete Poquette is most well-known for coaching, he had plenty of star athletes in a multitude of events during his tenure at Scotch Plains / Fanwood. Poquette, who considers himself a track coach, not a hurdle coach, was in charge of all the running events and jumping events; he had only one assistant, who was in charge of the weight events. "Of the fourteen individual events in track," he pointed out, "we had state champions in twelve of them in the time I was there." One notable athlete was national record holder Vincent Cartier, who ran a 4:06 indoor mile on an eight-lap track at Jadwyn Gym in New Jersey. In 1971, Scotch Plains / Fanwood won the Championship of America distance medley relay at the Penn Relays in Philadelphia, coming very close to a national record. In that same year, in that same meet, they finished second in the Championship of America 4×800 relay. Nehemiah's best high school performances were a 24'10" in the long jump, 9.4 in the 100 yard dash (everything was in yards back in those days), a 20.8 in the 220 yard dash, and a 46.5 split in the mile relay at the Penn Relays as a senior. In the 110's (or 120y, to be specific), he broke the national record three times in the same meet – the Eastern State Championships at St. John's University in New York. In the first two rounds, he ran a 13.1 and 13.0, respectively, without using starting blocks. "They wouldn't let the kids use starting blocks in the first two rounds," Poquette explained, "because it was one of those new all-weather surfaces and they didn't want it to get too messed up before the finals." No, the days of mondo and super-mondo hadn't arrived yet. In the finals Nehemiah ran 12.9, which still stands as the only high school race ever under 13.0. One week later, in a large invitational for seniors at Northwestern University, Nehemiah tied the 330y intermediate hurdle national record, ran a 13.1 in the 110's, and was voted the meet's outstanding performer.
The success of Nehemiah, as well as that of the many other superb athletes Poquette coached, was due primarily to Poquette's emphasis on strength training – not weight-room strength, but track strength. As Poquette put it himself, "I believe that strength work is 85% of training – respiratory strength, strengthening the muscles, building up the conditioning. I didn't emphasize a lot of speed work." For Nehemiah, this strength work came largely in the form of back-and-forths – the workout that Poquette created himself, and has now become a staple of many hurdle coaches. In this workout, the athlete sets up five hurdles facing one way, and five more beside them facing the other direction, shuttle-hurdle style, with the hurdles twelve yards apart. The athlete five-steps the first set of five hurdles, turns around and five-steps going back the other way, going back and forth as many times as he or she can before stopping to rest. Poquette said that Nehemiah got to where he could do ten back-and-forths (100 hurdles) in a set. Anyone who has done this workout, or attempted to do it, can appreciate what an astounding number this is. According to Poquette, Nehemiah would do up to three sets for a total of three hundred hurdles in one workout. "What was really good about that workout," Poquette observed, "was that it really enabled you to master the mechanics of hurdling, and at the same time it made you master your conditioning, and it also strengthened your muscles. We spent a lot of time that junior year mastering the mechanics. All of his conditioning came in the back-and-forths. In his senior year, we didn't have to hurdle as much mechanically and could spend a lot of time on conditioning."
In Nehemiah's senior year, the "conditioning" Poquette referred to consisted of such workouts as three sets of three 600's. "He'd run one, bounce a 200, and do three of these." Nehemiah would do this workout on Mondays. On Tuesdays he would do the back-and-forths, and on Wednesdays he would do a latter of some sort, something like a 100-200-300-400-500, and back down. Another workout Poquette had Nehemiah do was four sets of 4×200. "He'd run one, bounce one, with a quarter jog between each set," Poquette explained. "We timed everything. Everything was built around developing an inner clock, because you don't wanna become a victim of what the other guy is doing. You have to know how fast you're running, so you don't predicate what you're doing on what they're doing. If they go out fast, your inner clock will tell you if you need to go out with 'em. Without an inner clock, you can't control what you're doing. Because I believe in strength, even my 100 men trained with the quarter-milers. Sometimes the quarter-milers and the milers would train together. Most of my 100 men could run a four-by-four leg. In 1965, the kids who ran the 100 ran 48 legs in the four-by-four at the Penns." In regards to Nehemiah's workouts, Poquette also pointed out that he tried to have the total amount of running, minus the bouncing between reps, to add up to two miles.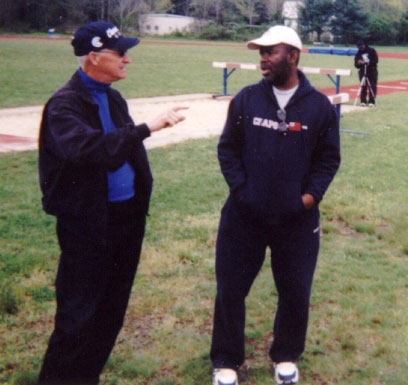 Coach Poquette (on left) talking hurdles with youth track coach Aaron McDougal, April 2005.
In Nehemiah's senior year of high school, as he grew stronger and faster, Poquette employed a new workout that helped his hurdling star to further his development and drop more time. Poquette refers to this workout as "jamming," or, "bringing the hurdles closer together." The purpose of the workout is to take the hurdler out of his or her comfort zone, where three-stepping comes so easily that he or she does it perfunctorily, or, at the very least, without a sense of urgency. "What you find," Poquette pointed out, "is that hurdlers get into a certain cadence. So you've gotta come up with a way to make 'em run faster [between the hurdles]. Renaldo tied the national indoor record in his senior year, but he couldn't break it. So you ask yourself, 'what do you do to get him to run faster?' What we had to do was increase his cadence. By jamming him, bringing the hurdles in to 8.5 yards or 8 yards [apart], and have 'im go at 'em full speed, you increase the cadence. Hurdling is a rhythm event; it's not sprinting, you see, there's a rhythm to it. So what we had to do was increase his rhythm. We didn't worry about him being too far away from the hurdles on race day because the adrenaline is flowing, which makes up for the extra distance. But the cadence is quicker."
When it comes to hurdling technique and hurdling mechanics, Poquette placed a heavy emphasis on the lead leg, and he still believes it is the most important aspect of technique. "We spent a lot of time on the lead leg," he said. "You never try to coach a hurdler by teaching him all aspects of mechanics at the same time. You can't run if you're not on the ground, so we spent a lot of time on the lead leg. The back-and-forths worked that out. Only after the lead leg is where you want it to be do you work on the trail leg. Then the arms. Then you try to unitize – try to at least mentally make it one unitized motion. Try to get the trail leg back on the ground soon after the lead leg hits.
When asked why Nehemiah didn't lean as much as most 110 hurdlers do, Poquette made the following observation: "His style of hurdling was always more erect. Too much of a dive restricts the knee coming up. There's a difference between a lean and a dive. Everybody needs to lean, especially in the highs, but a dive is an excessive lean. It drives the chest down so low that it doesn't give the lead-leg knee room to get high enough. You can lean too much, and what that does is, it restricts the lead leg. While you're waiting for the lead leg to get up and down, the trail leg is waiting to do its thing. You don't want that. The proper lead leg is never fully extended, and we never said 'pull the trail leg through.' We said unitize it. The second the trail leg leaves the ground, it never stops moving. Same with the lead leg; it's never locked in a certain position. There's no pause on top; it's just one big step." Poquette then went on to note that a sports scientist once studied the air time of elite hurdlers and discovered that Nehemiah spent less time in the air than any hurdler in history. "Mechanically," Poquette said, "[Renaldo] was superior. He didn't spend any time in the air, and he didn't hit hurdles. He ran clean races."
Nehemiah's professional career was one marked by a mixture of glory and disappointment. Between 1978 and 1981, he broke the world record in the 110's four times, bringing it all the way down from 13.21 (by Alejandro Casanas) to a 12.93 at the Weltklasse meet in August of 1981 in Switzerland. The 12.93 was the first race ever run under 13.00. Also, as Poquette pointed out, Nehemiah improved the world record by .28 over a period of three years, whereas, since 1981, the world record has improved by only .02. As for the world-record race, Poquette said that Nehemiah told him afterward that it was the easiest, most exhilarating thing he had ever done.
The disappointment in Nehemiah's career came with the 1980 Olympic boycott led by U.S. President Jimmy Carter, and then Nehemiah's decision in 1982 to quit track to play professional football with the San Francisco 49ers. In regards to the 1980 boycott, Poquette said that Nehemiah handled it very well, but that "I was a mess. That was the year that the gold medal was an automatic. Or as close to automatic as you can get. Nobody could beat him. [Greg] Foster couldn't beat him. We went to Europe [early in the summer] and kicked butt, then came home and watched a German win the gold medal. Then we went back to Europe and kicked butt. It wasn't even a question of whether he was going to win, but how fast he was going to run." Poquette feels that the boycott served no legitimate purpose, and, at the same time, it ruined the dreams of many athletes in many sports. "All [the boycott] accomplished was that four years later [the Russians] boycotted the L.A. Olympics. All it did was politicize the Olympics." Poquette feels that the 1980 boycott may have contributed to Nehemiah's decision to embark upon a professional football career, as "there was no guarantee it wouldn't happen again." Nehemiah did not achieve much individual success as a football player, and never became the top-notch wide receiver the 49ers were hoping he would be. Nevertheless, he was a member of their 1984 championship team. Ironically, as Poquette noted, "It's interesting that he's got a super bowl ring, but no gold medal."
After Nehemiah retired from football and returned to the track in the late '80's, Poquette continued to coach him in his training for the 1988 and 1992 Olympic Games. Nehemiah ran some excellent races in his comeback, but never broke the 13.00 barrier again, and never earned an Olympic medal. Poquette notes that "football didn't help him. He had a lot of injuries – a lot of back injuries. He wasn't the same athlete when he returned."
So what made Nehemiah so great? According to Poquette, it was his enormous talent, and his willingness to work hard enough to maximize his talent. "As a ninth grader, at 5'6", he was three-stepping already," Poquette said. "I could see right away there was something special about him." At Scotch Plains / Fanwood, "only my milers worked as hard as Renaldo. He had a combination of speed, flexibility, size, and he worked so terribly hard to develop it. He was 6'1", had a great inseam – 36 or 37 inches. When he was really in top running shape he weighed 165. He bulked up for football, then was 172 after football. And he was relatively injury-free. The emphasis we put on strength work made his muscles strong enough to stand up to the speed work. We look at a training program to be the whole year, not a season. So we weren't in a rush to get fast."
While many athletes who achieve phenomenal success as high school athletes tend to fall off once they get to college, Nehemiah is one of those rare athletes who dominated as a high-schooler and then went on to aspire to even greater heights as a collegian and as a professional. Poquette attributes Nehemiah's continual evolution to his high level of emotional maturity, and to his strength training. "A lot of kids, they get injured early on [in college], come back too soon, get discouraged. Many don't have the mental strength. And in an individual sport, you really have to have the mental strength. Renaldo, Michael Johnson, Edwin Moses – those are really unique individuals. Moses would do back-to-back 600's in practice. By himself. Most of the kids who don't pan out after high school maybe don't have the support from home, maybe they don't have good friends. You know, kids go to college, they're immature. All kinds of things can happen, and every individual is different. That's why, when it comes to the Nehemiahs of the world, the Johnsons and Moses of the world, there's so few of them."
One of those few was Greg Foster, who entered the track program at UCLA a year before Nehemiah began at the University of Maryland. The two of them engaged in a heated rivalry in the late seventies and early eighties, before Nehemiah left for football. Although Nehemiah won most of their battles, Foster was the only other hurdler in that window of time who could compete on Nehemiah's level. Indeed, after Nehemiah's departure, Foster stood alone at the top of the hurdling heap for a couple years, before Roger Kingdom of the University of Pittsburgh surprised the world with his gold medal victory in the 1984 Olympics. The public perception during the peak of the Nehemiah/Foster rivalry was that the two genuinely did not like each other, but Poquette says that the animosity between them was overblown by the media. "Track men are not team players," he explained. "It's an individual sport. If you traveled throughout Europe on the European tour, basically, they all tend to be kind of friendly with each other, but it's not like team sports where all your teammates are your friends. You're out there all by yourself. The only time there's a closeness is when they train together," he noted, pointing out Jeremy Wariner and Darold Williamson of Baylor University as an example. Wariner won the gold medal in the 400m dash in the 2004 Olympics, and he and Williamson were both members of the winning 4×400 relay team. As for Nehemiah and Foster, Poquette said that "I don't think the animosity really existed, but if it did, it's because they didn't know each other."
Nehemiah is the only athlete whom Poquette coached beyond his high school years. When Nehemiah traveled during the summers of his professional career, which began mid-way through his sophomore year at Maryland, Poquette would sometimes accompany him. Poquette said that Nehemiah "quit his college team in the middle of his sophomore year because the college schedule was interfering with his development as a hurdler. By the time the really good college kids get on the European circuit, they're already beaten up from running so many races in the college program." As for Poquette himself, he never considered coaching on the collegiate level because of his commitment to his family. "My observation of the Track and Field world," he said, "is that a lot of marriages don't last too long, especially when you get up to the international level. You're away from home a lot; I don't know if professional athletics is conducive to good marriages."
Poquette also pointed out that coaching at the high school level enabled him to do the thing he loves to do the most: teach. "I'm not so sure that athletes develop as much at the college level as they do at the high school level," he said. "There's not as much teaching at the college level." In addition, the heavy emphasis on speed work at the college level does not appeal to him. "I think that at the college level speed work is over-stressed, and strength work is under-stressed, which causes a lot of injuries. So what happens is, the great runners are the ones who can 'survive' the training."
Again, when using the term "strength training," Poquette is not talking about weightlifting. The fact that Nehemiah was able to run such jaw-dropping times in high school – and not just in the hurdles – without following a regular weightlifting program may seem shocking beyond belief to those of us who have grown accustomed to the idea that lifting is an essential aspect of an athlete's training regimen. But when considering that he was running 16×200 in one workout, 9×600 in one workout, clearing 300 hurdles in one workout, it is not difficult to explain how he was able to do it, and how he did in fact have the strength necessary to run so extraordinarily fast.
To Poquette, weight training becomes more important as the athlete develops, and, quite simply, when the athlete has more time to do it. "The average high school kid," he said "is in the classroom from about eight in the morning 'til three in the afternoon, then he has track practice, dinner, and homework. If you also want him to put time in the weight-room, what are you gonna do, not work on the track? Not do your homework? In college, there's plenty of time to put your weight-room time in and do your track work. But I wasn't going to sacrifice track time for weight-room time. In high school, you're dealing with kids, not mature men. In college? Sure. But even then you don't want to sacrifice flexibility. But at the high school level, quite honestly, there was no need. If you go to school, go to practice, eat dinner, do homework, and lift weights, when do you have time for a social life? For the high school athlete, there's no room or time for the weight-room. If you're making time for it, you're doing so at the cost of something else. Personally, I think a lot of strength comes from track work." Poquette also strongly believes in the importance of maintaining and increasing one's flexibility by developing a daily stretching routine. An athlete should stretch three times a day, he says – in the morning when he wakes up, as part of his warm-up before practice, and at night before he goes to bed.
In terms of the evolution of technique in the 110m high hurdles over the years, Poquette feels that not much really has changed from the days when Nehemiah was competing, or even before then. As he put it, "I don't think there's any fantastically new mechanics that you can bring to the event. The high jump had the Fosbury Flop, the pole vault had the fiberglass pole, but in the hurdles, you still have to clear one leg at a time. What evolves is probably training techniques, not necessarily mechanics. Different coaches have different emphasis."
When asked to discuss why there are certain track programs that are known for their ability to consistently produce great hurdlers, Poquette made the observation that one great athlete can create a perception, which draws more athletes to the school. "When I coached Cartier," he said, "I was a distance coach. When I coach Renaldo, I was a hurdles coach. But I'm not a distance coach or a hurdles coach. I'm a track coach. You have a school like [the University of] Tennessee that has some good hurdlers – they had Willie Gault back when Renaldo was running – then a reputation builds, and kids who hurdle want to go there." As for the high school level, Poquette feels that coaches need to gain a knowledge of technical events like the hurdles so that they don't automatically funnel all their best athletes to the sprinting events. The hurdles, Poquette said, "are an event that most [coaches] are not that familiar with. In high school, if most coaches get a really fast kid, they're gonna put 'im in the 100. So what happens is, most of your hurdlers come from your second-string sprinters. What you want is to use your first-string sprinters. But if you don't know how to coach the hurdles, you're not gonna do it."
Poquette is not an advocate of the idea of hurdlers doubling in both hurdle events, except perhaps at the high school level. The high hurdles and the intermediate hurdles, he observed, are two very different events, requiring very different skills. "An intermediate hurdler is more of a quarter miler," he said, "and a 110 guy is more of a sprinter. You can't seriously train for both. The intermediates is more of a flow, you don't snap the lead leg down as quickly." When asked if a 110 hurdler should run the intermediates as a means of building up strength, Poquette responded with, "You build up strength with the back-and-forths, not the intermediates. Maybe in high school you can do both, but with Renaldo, when it came to the state championships, all he did was run the high hurdles. A lot of coaches burn out kids by having them run too many events, so you have to be very careful about that."
For all of his success during his tenure at Scotch Plains / Fanwood, and despite the fact that he is the man who coached the greatest hurdler who ever lived, Poquette remains a humble family man who has no trouble keeping his ego in check. He did not get involved in coaching as a means of seeking glory, but simply because he wanted to help kids. "I became a teacher," he said, referring back to his original teaching job at Cranford High School, "because I wanted to coach. Fortunately, I was blessed to have some kids with great ability. . . . But then life goes on, priorities change. . . ."
All of us in the hurdling world, and in the world of Track & Field in general, are indebted to Coach Poquette, because, whether we realize it or not, we have all been positively affected by the contributions he has made to our sport, and by the wisdom he has so graciously imparted to us all. Even though he has retired from teaching and coaching, he is still a teacher, still a coach, still a guide. Keep that thought in mind the next time you set up five hurdles going one way, and five more going the other. . . .
© 2005 Steve McGill