"Hey, get your weight up, my motto, you heard?
And I grown a deaf ear to felonious words"
-Q-tip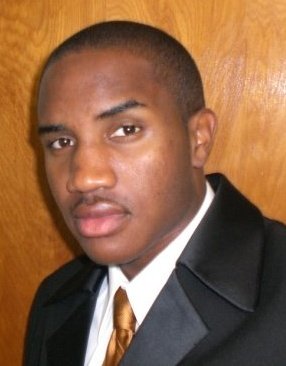 Three summers ago a skinny kid about six feet tall with long, baggy shorts that looked more like a skirt came to the track asking me if he could train with the guys on my club team. He had just graduated from J.F. Webb high school in Oxford, NC and was looking to get his times down before entering college. I can't promise any miracles, I told him, but you're welcome to join us. Harold Sims worked hard that summer and got his 400 hurdle time down to the 55-low range, then took his talents to Campbell University in Buies Creek, NC, where he now shines as one of the top collegiate 400 hurdlers in the nation. Sims has qualified for NCAA regionals and boasts a personal best of 51.59.
Born in Ogden, Utah on October 20, 1987, the 21-year-old Sims began running track during his freshman year at Webb, at the age of fifteen. Prior to that, he had tried his hand at basketball, but "I was awful," he said. So he turned to track. "My sister ran," he said, "so I figured I would give it a try." The first event he tried was the hurdles, and it didn't go so well at first. "I ran a minute in the 300 hurdles and a 20-second 110 race. I stuck with it because it was a challenge and no one else wanted to do it. In my first race I was waving to my mom mid-race. That is how slow I was."
But as Sims adapted to the demands of the hurdling events, he improved. By the end of his high school career, he had gone on to become a two-time state qualifier in the 110 meter hurdles, and a conference champion in both the 110's and 300's. His personal bests dropped all the way down to 14.40 and 39.98, and 56.70 in the 400h. While respectable, these times didn't bring any college recruiters knocking down his door. Yet he did receive scholarship offers from some smaller Division I programs in North Carolina, such as Davidson, Lees-McRae, and UNC-Wilmington, in addition to the Campbell Camels.
In the summer before enrolling at Campbell, he chose to train with the group of athletes that I trained, even though it meant driving an hour to practice every day. Working out on a regular basis with the likes of Johnny Dutch, Booker Nunley, Wayne Davis, and others, Sims found the training environment to be very invigorating. "Those guys helped me transition from being a high school athlete to a collegiate athlete," he said. "I learned a lot about hurdles and high-level competition there. Training with those guys was like training with Olympians. I mean those guys made me feel like I could actually be good just by training alongside of them."
While Sims didn't come close to achieving the level of success reached by the others, he did improve, and most importantly, he found himself believing he could be a top-flight intermediate hurdler. He acknowledged that a lack of speed and power limited him in the 110's, but saw plenty of potential for himself in the 400h.
Even during the summer when he trained with us, it was obvious that Sims needed to put on weight if he was going to continue to drop time. Even in the 400h, the lack of strength – upper body and lower body – was preventing him from finishing races as well as he would otherwise. He couldn't have weighed more than 150 pounds, so he'd be good for about half the race before he'd start making mistakes and losing rhythm. He understood that if he was going to excel at the next level, he'd have to hit the weights.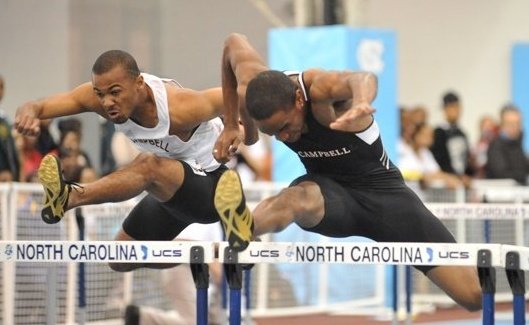 Sims (right) in a 60m hurdle race at UNC-Chapel Hil.'s indoor facility.
Enter Coach Jim Patchell at Campbell. Patchell, who coached previously as an assistant at Tulane and Arkansas, provided Patchell with the type of workouts that would put him at the fitness level required to step up his 400h performance. When he first visited Campbell in his senior year of high school, Sims liked what he saw. "After I first saw the workouts that Coach Patchell had at Campbell, I knew that he would make me a strong runner." Now a junior, Sims, at 6-2, weighs a solid 173. Though he has put on fourteen pounds of muscle since entering college, he has maintained his relatively lean frame, so the added weight is only helped him in the hurdles.
"The biggest change," he said, "has been in the weight training and running workouts. When first started I could not finish a hard workout, especially the 450's. But by the end [of my freshman year] I was asking for more and running the times too fast. Coach Patchell was the hurdle coach at Arkansas [in the late-90's], so he has made me stronger than I have ever been. With the weight I've gained, I am able to run faster and longer. I have dropped a lot of time in both my hurdle races, especially the 400's. I mean I am not 100m fast but I am strong. So the 400 workouts have had a great effect on me."
The increased strength and endurance have enabled Sims to reach a level in the 400h that would have seemed implausible, at best, during his high school days, when he was barely squeezing under 40-flat in the 300h. When I coached him in the summer of 2006, he was taking fifteen steps between the hurdles, and switching down to seventeen late in the race. Now he takes thirteen strides between hurdles, then switches to fifteen for the rest of the race after hurdle seven. "I plan to run thirteen all the way by the end of college," he said. "I hate to alternate legs. It only happens when I mess up my stride pattern. But I can alternate if I have to. Honestly I believe I will run a low 50 / high 49 race."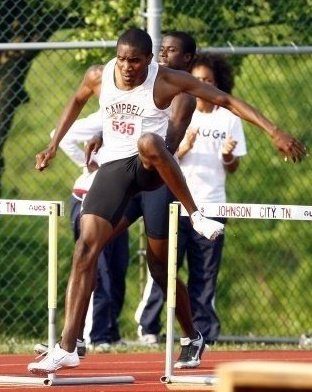 Sims negotiates the curve in a 400h race.
Despite his devotion to the intermediate hurdles, Sims does not have any role models in the event that he looks up to. He prefers to critique his own race instead of studying the habits of others. "I don't really study many other runners," he said. "I'm at the point where I know what I have to do. Now I just have to do it." And no matter how many times he does it, it never gets any easier. That's just the nature of the event. "The 400 hurdles still makes me nervous up until the gun sounds. I think it's because it is a long race when you have hurdles in your way, but that is why I love it. Anyone can run a 400, but add some hurdles and then it gets interesting. If you let it, the 400 hurdles will eat you alive, due to the fear of fatigue, but there comes a point when the pain is just another part of the race, so you stop letting it scare you."
Heading into NCAA regionals, with a chance to qualify for nationals, Sims remains focused on rising to meet each new challenge, all the while remaining humble, polite, and spiritually grounded. When asked to provide a favorite quote for this article, he came up with one from the Book of Corinthians that pretty much sums up his journey to success: "But by God's grace I am what I am, and His grace shown to me was not wasted. Instead, I worked harder than all the others – not I, of course, but God's grace that was with me."
Sims, who credits his mother as being "the only reason I am here," provides the following words of wisdom for young hurdlers on the rise: "Never sell yourself short. Statistically, I should not be running at this level, especially when considering my beginnings. But through the grace of God I have done things that should have been impossible, but I worked hard and believed."
© 2009 Steve McGill