A week ago David Oliver won the men's 60 meter hurdles at US Nationals in New York City. A week from now Oliver will be racing in Valencia, Spain to contend for the World Indoor Championship against the likes of China's Liu Xiang, Cuba's Dayron Robles, and fellow American Allen Johnson. In between those two meets David found time to talk with me over the phone about his US Nationals victory and a look ahead to the upcoming Indoor World Championships.
HurdlesFirst: Both in the Birmingham meet the week before Nationals, and in the finals at Nationals, you started out slow and came on strong at the end for the win. So this is a two-part question: are you satisfied with your start the way it is now, and how are you able to finish so well in a race that is so short?
Oliver: My start needs a little bit of work but [Coach Brooks Johnson and I] have been working on that, trying to get better block positioning. We're not working too too hard, but just focusing on getting that front quad loaded up. The initial push out of the block hasn't been there, but we'll keep working on that. As for my finish, we've got that piece of the puzzle figured out. We've been doing a lot strength work, doing sets of 300s, and that's helped me to push on.
HurdlesFirst: Have you had a chance to watch the race yet?
Oliver: Yeah, I watched the race to see where I could pick up time, where I could find flaws in the race. The first couple times I was just reveling in the fact that I won, then I became more analytical in breaking down the race, seeing the parts of the race I needed to execute better. The Birmingham win was a personal best at the time, but I didn't execute very well; I just competed real well. My trail arm and trail leg weren't as strong. After Millrose, I started focusing on quickening up my lead leg because that's why I didn't perform well at Millrose. So my lead leg was faster in New York, but the trail leg hasn't been synched up with it yet. At Birmingham I drifted badly to the right because of the trail leg. I cleaned that up a little bit better at indoor nationals, but it's still not there all the way. I'm keeping it tight coming off the ground, but the initial heel-to-butt action isn't really there. We'll be brushing up on that before I take off for Valencia on Sunday.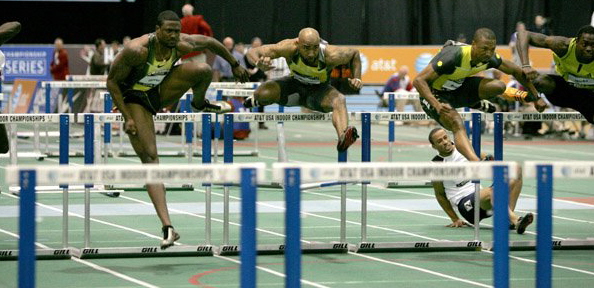 Oliver on his way to victory over at the 2008 USA Indoor Championships over Anwar Moore, Joel Brown, and Antwon Hicks.
HurdlesFirst: A lot of times, indoor personal bests indicate that an athlete is ready for an outdoor personal best. Do you think that's the case with you? Do you think it's a given, or do you think it's something you'll have to work for?
Oliver: It's not a given. Indoors and outdoors are two different races. But for me personally, if I stay healthy, I think it has to go down that path that I'll pr outdoors. My hurdling style is such that I don't get caught from behind. The first part of my race isn't as fast, but I come on very strong at the end. I do well in the critical zone [from the last hurdle to the finish line] due to my training and the things I've been coached to do. Indoors I usually run out of space before I can catch people, but outdoors, if I get out and get comfortable, it'll take someone very fast to catch me from behind. I think I can get my indoor pr down even lower next week, so I feel confident that I can get my outdoor time lower too.
HurdlesFirst: That was pretty much the pattern you followed last year, right?
Oliver: Last year I figured I'd have a good outdoor season because, coming into the indoor season, my pr was 7.61 and I ended up running 7.56. So I figured outdoors I'd be able to really cause some damage because I've always been a better outdoor hurdler. (Oliver went on to run an outdoor pr of 13.14 in '07). In our training with Brooks, we don't taper, we don't peak, we don't do anything for indoor. Any success indoor is just icing on the cake. We have a saying that all indoors can do is show you what you can do outdoors. This year I had calendar pr's in all my races, and absolute pr's in the last two races. Brooks told us that if the indoor season ended right now, we've accomplished our goals.. We haven't even worked on speed at all. I've done maybe three workouts of absolute speed. Other than that, as fast as we get is 200 reps. People think I'm peaking for indoors because I've done so well this season, but this is all strength. None of this is speed. You can't make Olympic teams indoors.


Oliver (left) in a close race against Hicks, Moore, and Herring at the 2008 Millrose Games. Hicks won this one.
HurdlesFirst: Are you surprised at all by the success you've had indoors?
Oliver: I wouldn't say I'm surprised, because when you put in the work, the results will follow. But I'm happy in the sense that I'm not really a speed hurdler, like a lot of guys are. My style isn't really suited for indoors. Mine is like a constant acceleration. At Birmingham, at every hurdle I was gaining ground on the guys who got out ahead of me. I ran 7.47 at Nationals, which for me is a great time. So you'd have to run 7.45 to beat me, and not many guys can do that. There's Xiang – he'll get out slow but he'll walk you down. Robles'll get out and stay out. Terrence [Trammell] will get out and either stay out or get walked down. Xiang just dominates the critical zone. He has the ability to walk you down. When you're able to walk down guys that are running in the 12.90s? That's crazy. He's done that three times that I know of. He has that strength, but he doesn't have the first half [of the race] down. He doesn't run much indoors, or else he'd have a stronger first half and would be running like 7.30s like Robles. Robles' strength level is off the charts. He takes seven steps to the first hurdle. But it gets him in trouble outdoors because he has to back off of hurdles. At the World Champs last year he was cruising through the rounds running 13.20s, slowing down at the end. I figured that when he really cranked it up in the finals he'd get crowded, and that's what happened. Once he starts reining in his strength and refines it, and gets his arms and legs synched up, he can run 12.70 or so. His feet are so fast, but his arms aren't as efficient as Liu's.
HurdlesFirst: What's your mindset heading into Valencia?
Oliver: It's gonna be a tough race. Europeans take indoors more seriously than we do, so the crowd will be really into it. My goal is the same goal as in any race – I'm there to win it. It'll take a phenomenal performance, but like Brooks always says, "Do the extraordinary today so that it'll be ordinary in the future." If Allen [Johnson] could run 7.36 for the American record, then why can't I do it? Somebody else is gonna do it if I don't. I train hard and I'm as talented as anyone else.
HurdlesFirst: Do you think the schedule in Valencia will help you or hurt you?
Oliver: We have three races on one day, and I've been training heavily for outdoor, so I have the ability to go through the rounds. That's what it's like at the [Olympic] trials. I don't really have good one-and-done performances. The best meets are the ones where prelims and finals are only 45 minutes or so apart. You don't have to get re-warmed-up. So the schedule for Valencia plays into my favor. Even though there's more time between the races, the fact that they're all on the same day helps someone like me. Every meet should be like that – the way to get better performances is to have the hurdlers run rounds. The Hurdles are one of the most competitive events in the sport, depth-wise. With that set-up, I guarantee that in the final somebody's gonna do something big. In the prelim all kinds of things can go wrong. You might not warm up properly or whatever. But by the final you've gotten all the crap out of your system – achy muscles, jet-lag. So you can roll in the final.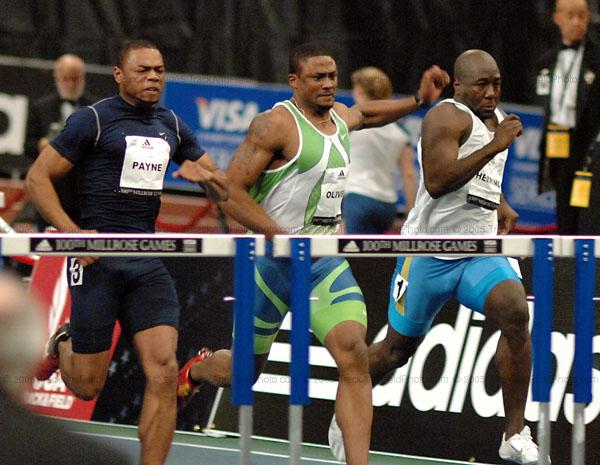 Oliver (middle) battles against David Payne (left) and Aubry Herring (right) at the 2007 Millrose Games.
HurdlesFirst: There were only enough hurdlers for two heats at nationals, and only one athlete was eliminated heading into the finals. Why do you think the turnout was so low?
Oliver: That's a good question. I guess people are trying to wait so they can peak at the right time. I ran 7.61 in the prelim with no adrenaline, after a false start. I was just working on technique. Definitely wasn't gonna get myself dq'ed. Brooks would've killed me for that one. That's the dumbest thing you can possibly do. Plus there were only three people in my heat. You could've ran 10 seconds and made it out of my heat. But you know, my attitude is, you train, you hurdle in practice, you're in shape, so compete. I get paid to run the high hurdles. I go over a hundred hurdles in practice, so you're telling me now I only have to go over ten? You're asking for just 13 seconds of my time, not three hours? I can do that. My training allows me to be able to race. One race is not that hard to me. Practice is so hard that the meets are the easiest day of the week. Just execute one time what you've been ingrained to do since you decided to do this event. Everybody gets into a slump, but if I'm healthy and fresh, I can go on and give you ten [hurdles] any day of the week.
HurdlesFirst: When you watched the US Nationals on TV, did you notice that your name didn't even get mentioned until after you crossed the finish line?
Oliver: I already knew that because people were calling me telling me the commentators didn't even say anything about me. But when I watch the replay, it's all right. I don't need the attention beforehand. I want the attention everybody wants – after the race. You get to do the [post-race] interview with [sideline reporter] Lewis [Johnson], you get to do the victory lap and wave to the crowd. But it is kind of frustrating because when you listen to the announcers talk, they act like they don't know anything about track and field. And these are people who participated in the sport themselves. I got third in this meet last year and the people who beat me aren't here. I got third outdoors and the people who beat me there aren't here. I don't mind Allen getting a lot of attention because he deserves the attention he gets, doing this as long as he's been doing it. But I don't need any gratuitous attention, I need the attention I deserve. I would just that they should at least name every guy in the race, like they do in Europe, just go down the lanes and name everybody.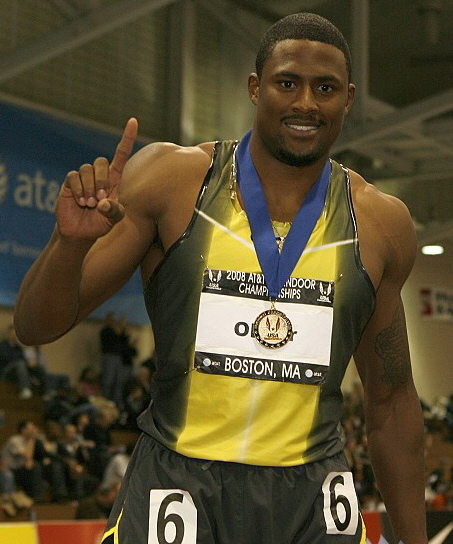 Oliver celebrates his indoor national championship.
HurdlesFirst: Seeing as how you've pr'ed twice this winter, do you focus on running fast times?
Oliver: Times don't matter. You gotta do well at the right time. All a fast time can do is get you a ticket to the big dance. Ryan Wilson ran 13.02, but he didn't do it at the right time so it didn't get him anything. David Payne ran the same time, but he did it at Worlds, so he's got a bronze medal. Times are overrated, except for contract purposes. Unless you do it all the time, like Robles running these 7.30s, then times don't mean much. I'm not from Missouri but you still gotta show me. Until you step on the track and do it live and in living color when I'm lined up beside, you, then I'm not worried about times.
HurdlesFirst: Okay, David, best of luck in Valencia.
Oliver: Thanks a lot, I appreciate it.
© 2008 Steve McGill