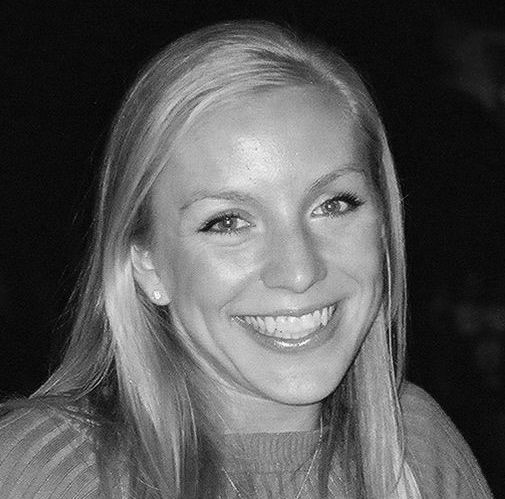 Of all the events in Track & Field, none are as daunting as the 400m hurdles, so only a person with extraordinary resolve and commitment has the mental toughness needed to endure the tough training sessions that this event requires in order to achieve any level of success. One athlete who possesses such resolve is Andrea Mosher, a junior at Illinois State University. Conference champion in 2004 in the MVC (Missouri Valley Conference) with a time of 1:00.02, Mosher, whose personal best is 58.39, has high hopes for the 2005 season as she comes back from a hip injury that slowed her progress in 2004.
At 5'5", the 21-year-old Mosher serves as an inspiration to all smaller athletes out there who don't fit the prototype of the tall, long-legged hurdler. Mosher credits her high school coach, Bryan Westfield, at Pioneer High School in Ann Arbor, Michigan, with giving her the confidence that, in spite of her size, she could excel as a hurdler. "Coach Westfield influenced me to try the hurdles," she said. "I had moved my junior year of high school to Ann Arbor. My family worked in the Ann Arbor area, and we lived about forty minutes away. My goal was to get a college scholarship and run collegiately. And Westfield is one of the best high school coaches in the nation, without a doubt. I had tried the hurdles earlier in my career but didn't think too much of it. Westfield was the one who said if you really want a scholarship, you need to be more versatile." Therefore, he suggested that Mosher try the hurdles. Westfield, a former hurdler himself who ran for Cornell University in the 1960's, and also ran in the 1964 Olympic Trials, helped her to approach hurdling with a positive frame of mind. "I had a high school teammate who could just step over the hurdles," Mosher explained. "She was 5'9", with long legs. Westfield said don't try to hurdle like her, you have to hurdle in a way that is conducive to what your strengths are. So, yeah, I have a different style; I've gotta commit to being more technical, to getting over the hurdles, because I can't just step over 'em like taller girls can. It is tough in the short hurdles, though," she admitted.
Coach Westfield's goal, Mosher said, is to help his students to get into college, so they can live a successful life, and he utilizes "the gift of track" to get them there. For Mosher, things worked out very well. In her senior year, she ran a personal best of 43.19 in the 300m hurdles, which earned her a first-place finish in the Michigan State Championship meet. She also finished second in the 100m hurdles in the same meet, running a 14.3, and ran the anchor leg of the state champion 4×400 meter and 4×200 meter relays, both of which were state records. After the state meet, she finished sixth in the 400m hurdles at the USATF Junior Nationals, thereby gaining All-American status. After making such a name for herself, the decision to attend ISU was not a difficult one. "I liked the total package," she said, "the environment of the school, the team dynamic; I felt like I could be a contributor." Having run club track for most of her life, making the adjustment from the 300m hurdles to the 400m hurdles was not difficult either, as she had run several 400m hurdle races in summer meets throughout her high school years. "I'm more of a long sprinter anyway,"she noted. "I like doing the 500, 600 workouts. So it wasn't really much of a transition except I had difficulty getting into the rhythm of the race, and maintaining that rhythm for the whole race."
At ISU, Mosher has run the 400m hurdles, the 100m hurdles, the open 400, and the 4x400m relay. In her freshman year, the 2003 season, she placed third in the conference in the indoor 400m dash with a time of 56.63, she placed second in the outdoor 400 hurdles with a time of 1:00.00, was part of the 4x400m relay outdoor team that finished third in conference with a time of 3:44.50, finished fifth at the NCAA Mideast Regional Championships in the 400m hurdles with a time of 1:00.45, which qualified her for Nationals, and was part of a 4×400 team that competed in the NCAA Regionals. In her sophomore year, the 2004 season, she placed third in the 400m dash at the MVC Indoor Championships with a 55.93, she placed fourth in the 100m hurdles at the MVC Outdoor Championships in a time of 14.47, she was on the 4x400m relay team that broke the school record at the Drake relays in a time of 3:43.02, and the same team broke the record again at the MVC Outdoor Championships, placing second with a time of 3:40.66. In the 400m hurdles, she qualified for the NCAA Mideast Regional, placing ninth with her personal best of 58.39.
Although Mosher owns a personal best of 14.07 in the 100m hurdles (which she ran at the Redbird Classic at ISU in 2004), she is not competing in that event this year because of the hip injury she suffered last year, which bothers her most when she runs the short hurdles. The injury did not occur at any specific moment, but seemed to develop over a period of time. "Last year, my sophomore year, I had a slew of injuries," she said. "It was weird, because I had never been seriously injured before. I don't really know when [the hip injury] happened; in October I had a high hamstring tear, so I think the hip thing happened when I was rehabbing that. It could have been a freak thing while stretching or warming up or something. I don't know. But I tore cartilage within the hip, which takes forever to heal. On some days it would feel fine, and on some days it would hurt real bad. I had surgery during the summer [of 2004], and now I'm coming back from that." A woman of strong faith, Mosher is able to see the positive side in spite of how discouraging coming back from an injury can be. "It's made me a more mentally focused athlete," she stated. "I had to focus on every practice, every workout. Just to get through it at eighty percent, I had to work one hundred percent. I have to believe there's a purpose for everything, that everything happens for a reason. I have to keep the faith, not get too down."
Mosher did have a very successful sophomore year, but feels she could have done even better if not for the injury to her hip. The pain did not allow her to train rigorously, and in competitions, she never felt free to let loose and run without inhibitions. "I was able to focus long enough to get through a 400 hurdle race," she said. "I pr'ed on not very much training and just getting through [each race] from a mental standpoint. I think I could've done better, but I was pleased to be able to run faster than I had ever run before. But I was disappointed to not go back to nationals like I did freshman year. I wasn't able to train like I wanted to, so you can only get so much better when you can't train like you want to, because you can't perform to the level you want to. I'd run in the meet, tear up the hip, couldn't train for three days, then run in the meet again."
Mosher admits that, because of her competitive nature and desire to help her team, she probably didn't listen to her body as much as she should have – a problem that she is trying to correct in 2005. "This year," she said, "I've gotten away from the 100's and have focused more on 400's because of the hip injury. It's the first time I haven't done both. This year I'm doubling in the 400 and 400 hurdles. The hip injury makes the 100 hurdles difficult because it's such a violent, reactionary race." While the open 400 and the 400 hurdles make for a grueling double, it's not as stressful on her hip as the 100h/400h double would be. Besides, Mosher has no plans of running the open 400 in the championship meets at the end of the year. "I won't be doing the four-hundred during regionals and nationals, but during the season I can get away with it. Coach [Elvis Forde] has been gracious; I don't always run the four-by-four or the open four. But it can be done; Joey Woody did it when he was at [The University of] Iowa, and there've been others; so I'm not the first to do it."
Still, the fact that Coach Forde has been so understanding has helped a great deal. "Coach," she said, "has let me dictate whether or not to race based on how I'm feeling; of course, I always wanna get out there and run, but I don't wanna go through what I went through last year. This past week, I didn't feel confident going into the meet, and when I told coach, he said that's fine, he wasn't gonna put me in there anyway," she laughed. "I don't wanna just get through the meet and get hurt again," she added, showing the wisdom she has gained from her experiences of the past year. "I'm listening to my body more because I want to compete when it's time to compete," which would be in the NCAA regional and national championship meets. "I could go out there and run it, but is it worth the risk? I know how much I can handle. You gotta be smart about it. . . ."
Ironically, hurdling on the curve has not given Mosher any trouble, at least not when it comes to her hip. "Curve hurdling doesn't bother my hip as much as the 100 hurdles did," she said, sounding a bit surprised herself. "In the indoor season I'd come up lame after the 60 hurdles, but the 400 hurdles really doesn't bother my hip; I'll be sore the next day, but just that sort of soreness that lets me know I did a good workout. One thing I do notice is that I'll start to alternate lead legs on the curve, and my trail leg isn't as fast on the right side as it is on the left; that means I just need to be diligent about doing equal work on both sides." Curve hurdling is arguably one of the most inexact sciences in all of Track & Field. Mosher's approach is to trust both lead legs and to try to maintain the rhythm she established on the backstretch. "When hurdling on the curve," she said, "you wanna be smooth. Because, that last curve, that's where it gets ugly, that's when form starts breaking down, so you wanna stay as smooth as you can and hang on till you get to the straight-away. Just being confident that you can lead with either leg is key."
To develop confidence in both lead legs, Mosher relies primarily on a variety of hurdle drills. The only workout designed specifically for this purpose consists of setting up the hurdles "at odd distances, and Coach just says go head and run 'em, and whichever leg comes up comes up." Mosher enjoyed a laugh when observing that the biggest challenge with switching lead legs lies not with the legs, but with the arms. "Sometimes," she said, "the arms don't switch with the lead legs. Sometimes the arms have a mind of their own," which can makes for very awkward hurdle clearance, for sure. That's why doing hurdle drills for both lead legs is so essential for someone like Mosher, and for any 400m hurdler who alternates lead legs.
In the age-old question of whether or not a 400m hurdler should count his or her strides, Mosher falls on the side of those who choose not to. "There are very strong feelings on both sides of that argument," she joked, though quite aware of the seriousness of the issue. For Mosher, hurdling is not a science, but a rhythm event that she tries to "feel." As she put it herself, "For me, it's just about being able to feel it. Being shorter, I gotta keep my quickness and my rhythm. I listen [to my cadence] to know what my rhythm is. It's more about being in tune with my body and feeling for which leg to use. I was never taught to count, so I never try to do that." She also noted that male hurdlers are more into counting strides than female hurdlers are. "Guys can break it down," she said, "and when they ask me, I'll be like, I have no idea how many steps I take."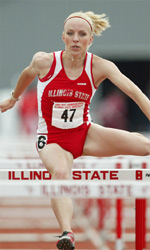 More so than counting strides, Mosher relies on her conditioning and her ability to alternate leads to get her around the track and over the ten barriers. In regards to conditioning, Mosher, who says that the 400 hurdles "is all about conditioning," likes to do 450's, 400's, and 350's over hurdles. What a nut. But aren't all intermediate hurdlers nuts? The 450's and such, she says, "get your lungs up to where they need to be." Mosher's favorite workout, meanwhile, consists of running 4 or 5×200 over hurdles. "I like it," she explained, "because your speed is up, you can attack [the workout], you can really work on your speed and your speed-rhythm. It's surprising how you can maintain that rhythm for the rest of the race. Your second two-hundred is always gonna be a little slower [than your first]; everybody's gonna die out, but who's gonna hang on longer? If you can be quick in the first half of the race, even if you fall off in the second half of the race, you'll still run a faster time. Once you're in the rhythm, it really inspires you to keep going faster." Mosher strongly believes that the combination of conditioning along with the abililty to lead with either leg makes for a confident 400m hurdler who will not back down from a hurdle, will not back down from a big race, will not back down from any kind of challenge. As she put, "you've gotta accelerate into the hurdle; speed up before the hurdle. You gotta be aggressive. You gotta believe you can get over it without overstriding, 'cause that's no good, and without chopping, because that's even worse."
Another element to Mosher's success, besides conditioning and alternating lead legs, is her technique. Despite the fact that she no longer competes in the 100m hurdles, she still does 100m hurdle workouts for the purpose of maintaining and improving her hurdling technique. As she explained, "I've been decent in the 100's, but I've never been a sprinter and I don't do the speed work for the 100's, so I basically do the 100's for the technique. The amount of drills you have to do for the 100 hurdles is just phenomenal, so the technique work I do comes through when I'm doing the 400 hurdles. I've mostly done the 100's at small meets. I wish in the back of my mind I could do both, but you really have to put in a lot of speed work, and because I'm a long sprinter, I really don't have a lot of time to put in the speed work. My passion is in the 400 hurdles. In the 400's, you can always change something; there's always an aspect of your race you can work on, which is constantly motivating."
What is most amazing about Mosher is not just the fact that she prefers to do the strength work that most sprinters and 110/100m hurdlers abhor, but that, because she is the only 400m hurdler on the ISU squad, she does most of her workouts alone. Although she doesn't mind this scenario, she does admit that it is not easy, but she also points out that it has made her a more disciplined athlete. "Every once in a while," she said, "Coach will throw somebody in there [with me]. I've been the only 400 hurdler ever since I've been here, which was an adjustment for me; in high school, I always had a training partner. You have to be really mentally focused to train by yourself, and I often do train by myself. You definitely have to be very in tune with what's going on with yourself. At the end of the season, I'll have sprinters run alongside me. It really helps, especially during the end of the season, when you're getting ready for big competitions, you need to get sharp. . . . It's tough," she added after a pause, "you have to know what your goal is; you have to [mentally] prepare for workouts, or else there's no way you're gonna get through 'em."
Mosher has much more she wants to accomplish on the track before she graduates from ISU in 2006 with a degree in exercise science. Her foremost goal is to get back to the big stage of the NCAA Nationals and to make some noise there. "I wanna go back with a goal," she said, with an edge of conviction in her usually cheerful voice. "I wanna go back with something to prove. I wanna get out there and do the best I can at that level. I don't feel like I'm anywhere near my potential. That's what I love about the 400 hurdles – you never have the perfect race, you never run it the same way twice. I wanna run 57.35 in the 400 hurdles; I wanna get to that 57, 56 range. I wanna improve my open 400 too. I wanna see our 4×4 improve as well, I wanna see us run 3:39 or better."
Whether or not she wants to continue to compete after she leaves the college scene is not a question she contemplates, preferring to live her life one day at a time. "I want to run as long as I can," she said, "and as long as I feel competitive. Sometimes I think I might be done after college, but as long as I have the ability and the passion . . . I'll put my faith in God and let him tell me how long I'm gonna run. I just try to do the best I can every day and see where that takes me." Her faith in God is something that Mosher takes very seriously, and it is something that has helped her through her hip injury, and in just dealing with the demands of being a student/athlete. "We're all given gifts," she stated, "and [hurdling] happens to be one aspect of mine. I obviously can't run forever, so I have to do my best while I can. . . . You wanna have a positive impact. You learn from your mistakes – and I've made plenty of them – because that's what makes you a stronger person. Everything I do in track is faith-based because that's where the talent that I have comes from."
It's interesting to note that Mosher has team goals (4×400) in addition to individual goals. Adjusting to the more individually-based collegiate atmosphere has been an adjustment for her. Her high school team went undefeated her junior year, and won the Michigan state championship in both her junior and senior years. In college, the team aspect isn't emphasized nearly as much because of the high degree of specialization necessary to compete in any event at this level. Mosher still, as a junior, finds herself trying to find a balance in being a member of a team in an individual sport. "The team aspect means a lot," she remarked, "but I feel like if you take care of the individual aspect, the team aspect takes care of itself. A lot of times you try to force [team camaraderie], but track is an individual sport. In college, people have their own individual agendas, but I think it's neat when you can share that with somebody. If given a choice, you wanna rely on yourself, because I can control how much effort I put forth, and you can't control what somebody else does, but when you do get that effort from teammates, it's special. We had a real successful team in high school; we grew up together through some difficult things. But Coach Forde always reminds me this isn't high school."
Off the track, Mosher likes to listen to music – "anything that makes me smile," and she likes to hang out with family and close friends, because "they keep me grounded." In addition, she likes to watch Sportscenter on ESPN, pointing out that she is definitely not the "Desperate Housewives" type. In the end, it is the hurdles that Mosher loves, and it would be hard to imagine that she won't be involved in Track & Field in some capacity far beyond her college years. She started running track when she was ten years old, and now, during her summers, she coaches youth track and loves it, as it gives her an opportunity to give back.
Further evidence of Mosher's love for the hurdles lies in the fact that one of her primary sports heroes is Gail Devers – probably the best combination sprinter/hurdler in the history of Track & Field on the women's side. "I have a picture of [Gail] on my computer desktop," Mosher said. "I really admire her story and the things she's had to overcome as far as injuries. One of my pictures in my room is of her taking down a hurdle." This picture is not there to remind Mosher of Devers' failure, but to remind her of Devers' strength. "She's been through it all and she keeps coming back. Plus she has so much faith and she has really become a student of the event. That's really inspiring. . . . I really look up to her." In addition to Devers, Mosher made it a point to mention that "I'm really a big fan of the new generation of 400 hurdlers to come along. I've run with Lashinda Demus, Sheena Johnson, I'm really glad to see them have so much success. On the guys' side, too, I have a lot of friends who are up and coming 400 hurdle runners, it's great to see them do their thing too. All my friends are hurdlers across the world."
One of Mosher's outstanding qualities, as evidenced from the above paragraph, is her ability to celebrate the accomplishments of others while still retaining her competitive spirit and keeping her own goals in mind. As she said herself, "It takes a special kind of person to run the hurdles – a dynamic individual." I think it would be fair to say she fits that description.
© 2005 Steve McGill