It was another exciting World Championships in 2005, replete with remarkable achievements, heroic efforts, moments of heartbreak, and, specific to this year's meet, some of the most bizarre weather in which a track meet has ever been conducted. The United States finished the Championships with an astounding total of fourteen gold medals – stunning when considering that many of these golds were won by new kids on the block who had never medalled, or, in some cases, even appeared in a World Championships before. In the hurdling events, America came away with two of a possible four gold medals, and six of a possible twelve total medals in the four events. Quite impressive, I'd say. Let's break it down:
Men's 110m High Hurdles
In the men's 110m high hurdles, four-time world champion Allen Johnson failed in his bid to add an unprecedented fifth title to his list of accomplishments. I must admit that I didn't watch the finals, because I had found out earlier in the day that he didn't win, so, in spite of the fact that I'm a hurdle coach, hurdle junkie, hurdle enthusiast, it was the Allen Johnson fan in me that couldn't bear to watch. Let's still acknowledge, although he had to settle for the bronze, that running a 13.10 at age 34 is mind-boggling unto itself, and it serves to further add to what can now be called a legendary career. But let's give proper accolades to Ladji Doucoure for garnering his first major victory on a world stage, and for doing so in a very impressive time of 13.07. Doucoure came into this meet with demons of his own to exorcise, having stumbled in the 2004 Olympic final while on his way to what surely would have been a medal, possibly even a gold one. He didn't get a big head when he beat Johnson and Liu Xiang earlier this year, but continued to train hard and stay focused on the World Championships. His level-headedness and resiliency most certainly proved to be determining factors in his success.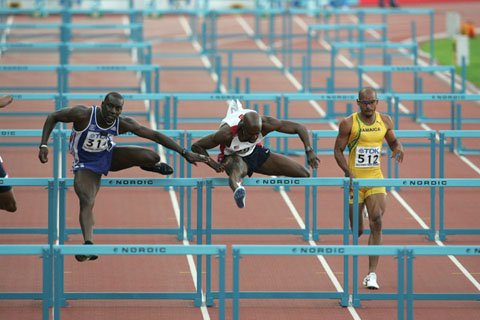 Johnson may have the better technique, but Doucoure gets the victory.
As for Xiang, his second-place finish in 13.08 is worthy of praise as well. Winning Olympic gold in 2004 with a world-record-tying 12.91 has led to a tremendous amount of pressure being put on the youngster by the Chinese media and fans, as he is one of but a handful of international athletic stars in China. As Allen Johnson has proven, the true measure of greatness lies in the ability to perform at a high level consistently, not to just bust one fast race. Xiang's 2005 has not been as eye-catching as his 2004 was, but he nevertheless has had a very consistent season, entrenching himself as a top-level hurdler who can run in the 13.10 range or better on any day of the week.
As for the other Americans, let's note that they all finished right behind AJ, as the US ended up third, fourth, fifth, and sixth in the final, with Dominique Arnold, Terrence Trammell, and Joel Brown crossing the line behind the leaders. I don't have any stats with me, but I would have to believe that Trammell's 13.20 has to be the fastest time ever for fifth place in a 110m hurdle race. As for US hurdling, my only concern would be that, with AJ and Arnold both in their thirties, with Trammell in his late twenties, there doesn't seem to be anyone else out there right now who is ready to challenge on the level of Xiang and Doucoure. So, unless Trammell, Brown, or someone else steps up soon, AJ's gold medal in the 2003 World Championships may end up being the last gold medal the US earns in this event for years to come, especially when considering that both Xiang and Doucoure are still only in their early twenties.
Men's 400m Intermediate Hurdles
The men's 400m intermediate hurdles proved to be one of the most exciting events of the meet, as the final was run in horrid conditions of wind and rain. America's Bershawn Jackson pulled off one of the greatest intermediate hurdle races ever run, crossing the line in a 47.30, shattering his own personal record, and dominating the field in the process. You gotta love Jackson. A 5'8" hurdler, even in the intermediates, is about as rare a species as the komodo dragon these days. Also, if we're talking about exorcising demons, no one in this meet had as much of a mental barrier to clear as Jackson, who failed to make the Olympic team last year when he finished fourth at the US Olympic trials in spite of being in first place going into the last hurdle. You've gotta just love to see someone come back from such disappointment, learn and grow from his mistake, train hard, and come back and show the world what he's really made of. When you think of how far he's come in a year, and of the positive example he has set to young athletes out there watching, it's just an inspiring, breathtaking story. But getting back to the race itself, running a 47.30 in such bad weather conditions – wind, rain, and cold – has to make Jackson's performance one of the best ever in the event, Edwin Moses or no Edwin Moses. When I saw him attack that tenth hurdle in perfect rhythm, without the least hint of a stutter, I couldn't help but get up out of my seat and shout, "That's what I'm talkin' about!" even before he crossed the finish line. There is simply nothing in the world more beautiful than a well-executed hurdle race.
We also have to give props to James Carter, who also ran a personal best on his way to earning the silver – his first medal in a major championships after many close misses. If not for Jackson's spectacular burst between the ninth and tenth hurdles, the gold would have been Carter's. I must admit that I still have issues with Carter because of that time back in 2000 or 2001 when, in a semi-final heat, right before crossing the finish line, he gestured back to his competitors to "come get me." I despise taunting in track, and to taunt in a semi-final heat was, in my opinion, particularly juvenile. But Carter has proven to be a serious student of the event over the years, and his success in 2005 is well-earned.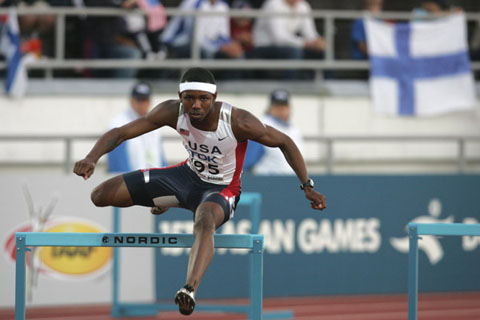 Jackson on his way to a preliminary round victory.
Meanwhile, Kerron Clement, who I had picked to win it all, seemed to run out of gas in the final. The intermediates are never fun out of lane one, and Clement didn't handle the tight curves well. Still, in spite of some stuttering, he had a bronze medal within his sights coming off the last hurdle, and that's where all the air went out of him, as he missed medalling by a few hundredths of a second. Regardless, he had an outstanding season. He came up huge in the NCAA's, and again in the Olympic Trials. It might be a bit too much to expect for someone to come up that big three times in one season. But Clement is very young, and he'll be back again.
As for Felix Sanchez, you've gotta admire his courage in trying to compete despite the fact that he was obviously running injured all week long. He wanted to defend his championship, and you've gotta respect that. He, too, will be back, and the hurdle wars will continue.
Women's 100m Hurdles
In the women's 100m hurdles, Michele Perry lived up to her billing as the one to beat, as she ran smoothly through the horrid conditions of each round, and ran smoothly again in the final, maintaining focus and control through the finish line in spite of the fact that there were three other women right beside her every step of the way for the first eight hurdles, and despite the fact that Joanna Hayes crashed two lanes across from her.

Perry sprints to victory as Hayes crashes into the tenth hurdle.
As for Hayes, you have to feel bad for her, because she was running a great race, and seemed to be making a bit of a surge when she caught hold of the ninth hurdle. As we all know, when it comes to the hurdles, there are no guarantees. Anybody can fall. And considering the conditions during the week of the World Championships, things were even more treacherous than usual. It seemed to me that the women's 100m hurdles was, through all the rounds, the event that was most effected by the weather. The semi-finals, in particular, looked downright surreal with the driving rain and howling winds. I guess, since there had already been delays in the schedule earlier in the meet, the officials decided to trudge forward anyway, but I don't feel the semi-finals should have taken place in all that wind and rain. The hurdles, more than any other running event, are dangerous when the track is so wet and slick, whether you have spikes on or not. More than one female competitor either slipped or stumbled in what appeared to be weather-related mishaps. It's not fair, but, as Tupac once said, that's just the way it is.
Women's 400m Hurdles
The women's 400m hurdles went pretty much as expected, as Russia's world record holder Yuliya Pechonkina took the top spot, followed by Lashinda Demus and Sandra Glover of the US. It was another great race. Pechonkina is a strong, powerful runner, and her strength won out in the end. Early in the race, it was Demus who dictated the pace, and, coming off the final curve, the top three finishers were all pretty much even. Demus and Glover both pr'ed in the final. The fact that Glover pr'ed at the age of 36 cannot go without being noted as an amazing feat. This woman is old enough to be running in master's meets, yet here she is still among the very best in the world. Wow.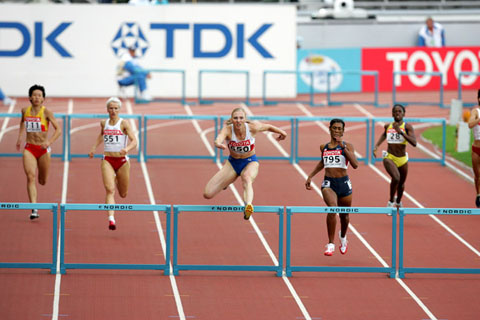 Pechonkina leads Glover over the last hurdle as Demus, stuck in lane eight, is out of view of the camera.
Ironically, although this event was the one that I considered to be the least predictable, this is the one that I was most accurate with in my World Championships preview back in early July, as I got the top two finishers right. Just thought I'd throw that in there.
All in all, it was an exciting weekend in Helsinki. Hope you enjoyed it as much as I did.
© 2005 Steve McGill