With another World Championships in Osaka, Japan less than a month away, it's time to make some projections as to who the medalists will be in the hurdling events. Some hurdlers have been very active in the past six weeks or so while others have been injured or have limited their competitions in order to avoid injury. This year it looks like we have some old veterans in the mix as well as some up-and-comers who could make some noise. Without any further smick-smack or jaw-jacking, let's go ahead and look at the favorites in the four hurdling events.
Men's 110m Hurdles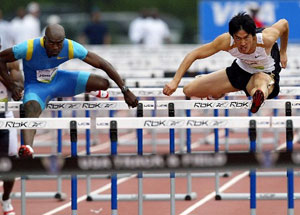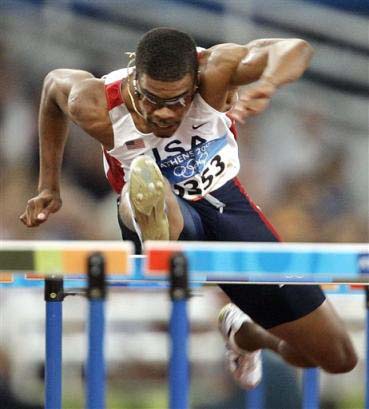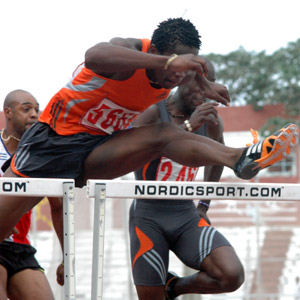 For the first time in many years, Allen Johnson will not be around to challenge Liu Xiang. Expect Terrence Trammell and Dayron Robles to
put some pressure on the world record holder.
Few events in track and field have as clear-cut a favorite than this event. China's Liu Xiang has been close to dominant in the 110's ever since his big breakthrough in the 2004 Olympics. In 2006 he broke the world-record of 12.91 he co-owned with Colin Jackson by overcoming Dominique Arnold of the US, 12.88 to 12.90. As of this writing, Xiang has the fastest time in the world in 2007 – the 12.92 he ran at the Reebok Invitational in New York. He did lose once this year, but the opponent who beat him – Anwar Moore of the US, did not make the WC team. Xiang's toughest competition will come from US veteran Terrence Trammell, who pr'ed with a 12.95 behind Xiang's 12.92. In post-race interviews, Trammell talked of a strained adductor muscle, but he went on to run 13.08 in winning the US championships. Since then, Trammell hasn't competed, so his physical status remains a mystery, although his will to win does not. Another major contender is Cuba's Dayron Robles, who has run 13.11, 13.16, and 13.17 this year, and also won the Pan-Am Games in a rainy 13.25. Arnold has struggled before and after his 2nd-place 13.17 at US Nationals, but is someone who can't be counted out. America's David Oliver has struggled with consistency, but he came up big at USA's, and generally tends to do better in meets that feature several rounds. So he could also possibly medal if he puts together a complete race in the finals. France's Ladji Doucoure is a big name, but he hasn't done much in 2007, his best race being a 6th-place 13.27 in Paris on July 6. So here are my medal predictions for the high hurdles:
Gold – Liu Xiang China 12.94
Silver – Terrence Trammell USA 12.99
Bronze – Dayron Robles Cuba 13.01
Men's 400m Hurdles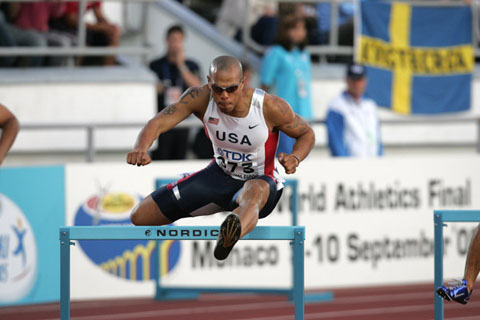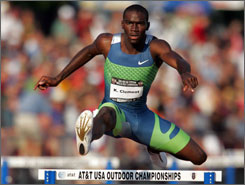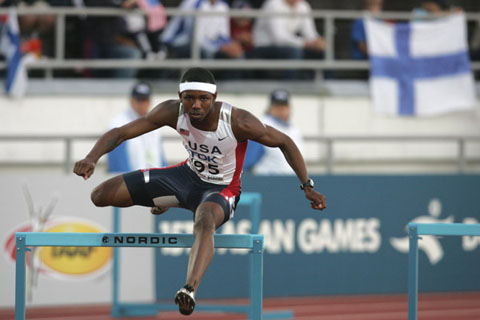 James Carter has been the most consistent 400 hurdler this year, but Kerron Clement and Bershawn Jackson have had their moments too.
James Carter of the US has had a very strong 2007 thus far and appears to be the favorite for the gold. His 47.72 at US Nationals is the fastest time of the year thus far. Though he has lost twice this year, one of the athletes who beat him, Kenneth Ferguson, won't be in Osaka, and another, L.J van Zyl of South Africa, is someone Carter defeated earlier. Carter has been consistently in the 48-low range all summer long, and there's no reason to believe he won't dip well under 48.00 again in Japan. Fellow American Kerron Clement is the only other athlete to enter the 47 range this summer with his 47.80 at US Nationals. But he has run as slow as 49.95 this summer, so his inconsistency makes it hard to know what he's going to do when the gun goes off. Defending champion Bershawn Jackson has also been inconsistent and has battled off and on with injuries, but you gotta figure he'll be ready to go by late August. Other contenders would include van Zyl, Felix Sanchez of the Dominican Republic, Adam Kunkel of Canada and Derrick Williams of the US. van Zyl has run 48.24, 48.32, and 48.50 this summer. Kunkel ran 48.24 in his Pan-Am Games championship. Sanchez, one of the greatest in the history of this event, was on his way to a sub-48 at Pan-Ams before clipping the final hurdle and finishing fourth. But it seems that the injury woes that have plagued him the past couple years are no longer plaguing him now. Williams' 48.26 at USA's puts him in the mix. Haven't heard much of anything from Japan's Dai Tamesue this summer, but he's been one of the best in the world for the past few years, so don't sleep on him. Here are my predictions for the intermediates:
Gold – James Carter USA 47.62
Silver – Kerron Clement USA 47.84
Bronze – Bershawn Jackson 47.91
Women's 100m Hurdles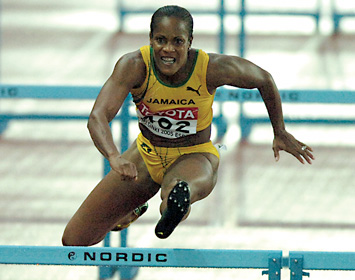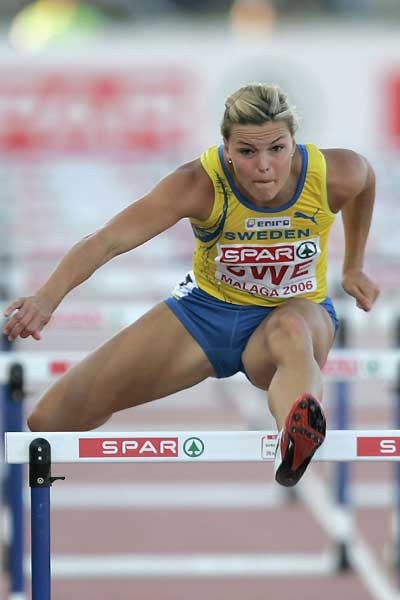 Michele Perry is the favorite because of her consistency and experience, but look for Ginny Powell and Susanna Kallur to give her all she can handle.
As in the men's short race, there is a clear favorite here, although, as we all know, anything can happen in a hurdle race. The favorite here is Michele Perry of the US, who finished second at US Nationals with a 12.72. But Perry has run 12.51, 12.56, 12.58, and 12.60 this summer, and she owns the world-leading time of 12.44. Perry's stiffest competition should come from fellow American Ginny Powell, who defeated Perry at USA's with a 12.63. Powell has run 12.45 this summer, and although she hasn't competed since USA's, you've got to assume she'll be ready to go in Osaka. Other contenders would include Lolo Jones of the US, Deloreen Ennis-London of Jamaica, Perdita Felicien of Canada, Angela Whyte of Canada, Susanna Kallur of Sweden, and Josephine Onyia of Spain. All these women are in the same range (12.60-12.80) time-wise, so it's just a matter of who peaks at the right time and who competes the best. Here are my predictions for the women's sprint hurdles:
Gold – Michele Perry USA 12.51
Silver – Ginny Powell USA 12.54
Bronze – Susanna Kallur SWE 12.62
Women's 400m Hurdles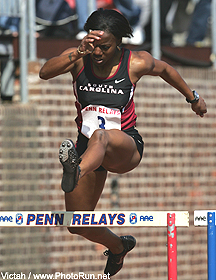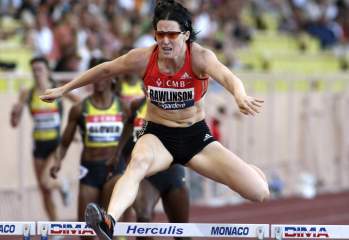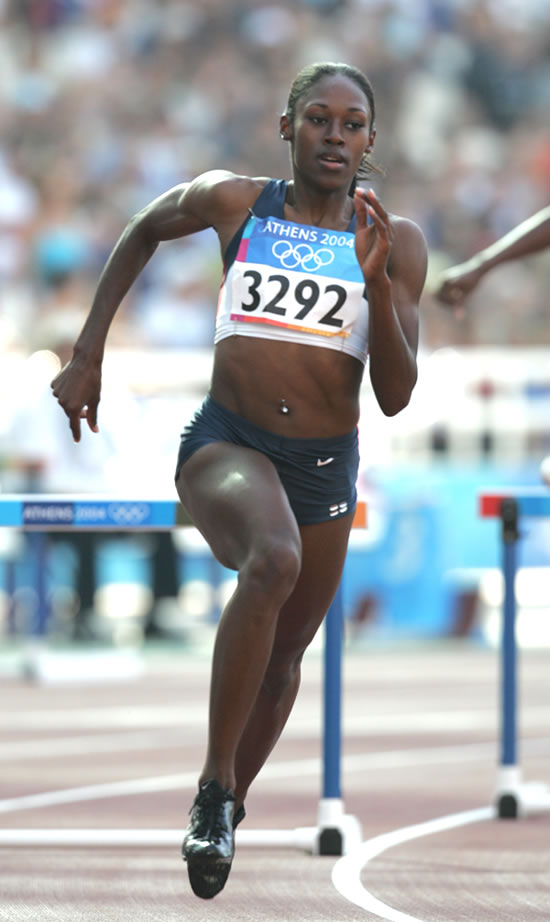 The women's 400h race is up for grabs, but only Tiffany Williams, Jana Rawlinson, and Sheena Johnson have gone under 54.00 this year, so they're the favorites.
With no LaShinda Demus this year (pregnancy), this event is wide open. All three Americans – Tiffany Williams, Sheena Johnson, and Nicole Leach – have a chance to medal. Williams owns the fastest time in the world this year – the 53.28 she ran at USA's. Johnson's 53.29 right behind her is the second-fastest this year. They've run the top two times in the world this year, but that doesn't make either one a lock to earn a medal. At the Prefontaine meet two weeks prior to USA's they were both defeated by Melanie Walker of Jamaica who ran a seasonal best 54.14. Jana Pittman of Australia defeated Williams at the Athens Grand Prix meeting in early July with a 54.25. But a few days later, Pittman, Williams, and Walker lost to Yevginiya Isakova of Russia, who ran 54.56. Other contenders would include Natalya Ivanovna of Russia, who ran 54.90 in Lausanne on July 10, and Jana Rawlinson of Australia, who ran 54.91 in Rome on July 13 and 54.59 in Sheffield on July 15. Most recently, as of this writing, Rawlinson defeated Walker with a 53.46 in Monaco on July 25, making her a huge favorite to medal. As for Leach, she ran 54.49 at USA's after running 54.32 at NCAA's. God only knows who's gonna win this joint, but here are my predictions:
Gold – Tiffany Williams USA 53.36
Silver – Jana Rawlinson AUS 53.41
Bronze – Sheena Johnson USA 53.55
© 2007 Steve McGill