The 2005 Track & Field World Championships in Helsinki, Finland, set to take place in mid-August, will feature some intense battles in the hurdling events. Since it wouldn't be very courageous of me to predict the winners after a whole month of European meets take place, I'll go ahead and make my predictions now, because even if it turns out that my predictions are wrong, so what? As the hot August winds are blowing and you're sitting in your air-conditioned living room watching the World Championships on NBC, I mean CBS, I mean ABC, I mean ESPN, I mean ESPN2, I mean the Pax Channel – that's right the Pax channel – refer back to this article and see how accurate I was.
Men's 110m High Hurdles
Prediction:
Gold – Allen Johnson 12.94
Silver – Liu Xiang 12.99
Bronze – Ladji Doucoure 13.00
Analysis:
Obviously, by picking AJ to win the gold, I'm going with my heart on this one, but there are plenty of practical reasons to believe that Johnson will pull through yet again. Firstly, he has the fastest time in the world this year, having run the only sub-13.00 of 2005 with his 12.99 at the US Outdoor Nationals. Also, he has defeated 2004 Olympic champion Liu Xiang in a head-to-head meeting, which was an important mental hurdle to clear. Most significantly, Johnson has always had big years after experiencing big disappointments. After he lost the 1998 Goodwill Games to Mark Crear, he came back in 1999 and won the World Championship. After he finished fourth in the 2000 Olympic Games, he came back in 2001 and won the World Championship. I believe he'll do it again, after having fallen in the early rounds of the 2004 Olympics. At 34 years of age, he's defying the odds by still being among the world's elite hurdlers at all, but the times he has run this year, and the consistency he has shown this year, indicate that AJ is still the man to beat in the 110's.
While all of us in the US would like to believe the Americans are going to sweep, the odds are against it, although the possibility is there. Considering that Terrence Trammell is a two-time Olympic silver medallist and is running faster this year than he ever has, he is definitely a major contender to medal in 2005. As the 2004 Olympics showed, if it comes down to a lean at the tape, you've got to like Trammell's chances. Meanwhile, veteran Dominique Arnold has had a breakthrough season, running 13.10 or under three times by early July, which makes him a legitimate contender to medal.
Although Xiang hasn't quite picked up where he left off in 2004, you've got to figure he is Johnson's greatest obstacle to an unprecedented fifth world championship in the high hurdles. He has been running consistently in the very low 13's, and although he hasn't broken 13.00 yet this year, you have to believe, based on how he peaked for the Olympic Games last year, that he will peak similarly this year. He's young, he's got fresh legs, he's tall, he doesn't hit a lot of hurdles, and he competes well.
Why do I like Frenchman Doucoure for third? His big win over Johnson and Xiang in Paris convinces me that he knows he can do more than just compete with the best, but defeat the best. Also, after that victory, he wasn't talking like he felt he had accomplished anything, but noted that he needs to do it again in August, when it really counts. Such level-headedness is a necessary attribute for the kind of success he is trying to achieve. Also, Doucoure has been knocking at the door for a couple of years now, but just hasn't come up big in the biggest races. My gut feeling is that he'll come up big in Helsinki.
Meanwhile, don't sleep on Stanislav Olijars, and although I haven't heard anything about Anier Garcia this year, if he's there, he'll be a contender.
I expect that all of the top five performers will be under 13.10, which would be quite remarkable.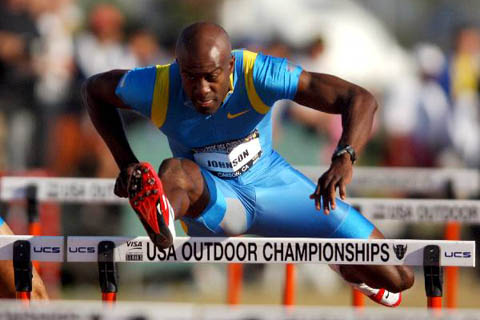 Allen Johnson exhibiting superior hurdling technique at the USA Championships in June, 2005.
Men's 400m Intermediate Hurdles
Prediction:
Gold – Kerron Clement 47.10
Silver – Felix Sanchez 47.21
Bronze – Bershawn Jackson 47.49
Analysis:
Predicting that Felix Sanchez will finish anywhere lower than first sounds like a foolish thing to do, and maybe it is, but the way Kerron Clement has been running this year, I feel that betting against him would be even more foolish at this point. In my opinion, the only thing that can stop Clement from capturing a gold medal in the 400m hurdles before turning twenty would be burn-out caused by the long collegiate season. But I don't think that will happen. As the US Nationals demonstrated, he is just now hitting his stride, just now figuring out the best way for him to run this race, just now getting to the point where he can execute his game plan throughout all ten hurdles and through the finish line. Some observers believe that Kevin Young's world record will fall in this meet, but I doubt that will happen. All the rounds the athletes have to run almost preclude the possibility of a record being set. Olympic and World Championship finals are all about winning, not setting records, so, if the record does fall, it will occur at one of the European meets before or after the World Championships. Still, I do expect that Clement and Sanchez will challenge Edwin Moses' pr of 47.02.
Speaking of Edwin Moses, Sanchez, in 2005, seems to be employing the Moses strategy of not competing against anyone until he's good and ready, until he feels 100% healthy. He hasn't raced much at all this year; the only result I've seen for him was a 48.4 back in May. Still, I believe he'll come to Helsinki with guns blazing, with a big old chip on his shoulder, feeling he has something to prove. He's got to be tired of all the talk about Kerron Clement this, Kerron Clement that, and he must be eager to squash all of that noise. I expect a highly dramatic final, but I give Clement a slight edge because that 47.24 he ran at the US Nationals was highly impressive, and the fact that he thirteen-stepped the entire way for the first time is impossible to ignore.
For bronze I like Jackson over fellow American James Carter simply because Jackson has gone under 48.00 more often, and he has proven himself, at least up to this point in the season, to be the best of the rest. It will take a herculean effort from him, however, to challenge Clement and Sanchez for one of the top two spots.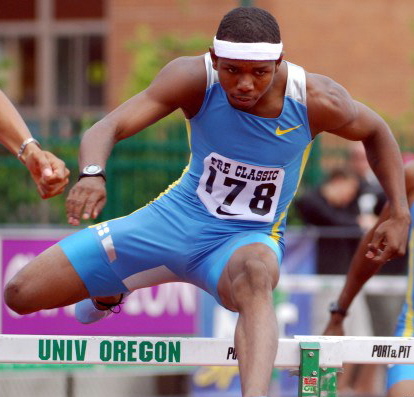 Bershawn Jackson hurdling on the curve at the Prefontaine meet in Oregon in June, 2005.
Women's 100m Hurdles
Prediction:
Gold – Michele Perry 12.35
Silver – Joanna Hayes 12.39
Bronze – Perdita Felicien 12.52
Analysis:
In the women's 100m hurdles, it seems like more or less a foregone conclusion that the medals will go to Perry, Hayes, and Felicien, but the question is in what order. The truth of the matter is that there are other contenders out there, such as Spain's Glory Alozie and Jamaica's Vonette Dixon and Brigitte Foster, not to mention Virginia Powell of the University of Southern California. Still, based on the goings-on of 2005, Perry, Hayes, and Felicien definitely stand out as the cream of the crop. I like Perry for the gold because, like Clement in the men's 400m hurdles, she is still learning the event, and is just beginning to master the event. A heptathlete by trade, Perry has focused her attention on the hurdles for the first time in 2005, and the results have been instant. She has run a world-leading 12.43, and has defeated all of the best hurdlers out there.
Meanwhile, Hayes, like Xiang in the men's 110's, hasn't quite picked up where she left off in 2004, but has had a very impressive season nonetheless. Her best time this season is 12.47, which is second only to Perry. She is very fast between the hurdles, so she will always be in the thick of things in any race. If she would bring her shoulders down and tighten up her arm motion during hurdle clearance, I don't think that Perry nor anyone else could compete with her. But if she doesn't correct those technical mistakes before the World Championships, I give Perry the edge.
Felicien hasn't run as fast as Perry or Hayes this year, but she is a very fast, very powerful hurdler, and she probably has the best overall technique of the three of them. She's got to be tired of everybody reminding her of her fall in Athens, and the desire to prove that she is back in full form could provide the motivation she needs to defeat her rivals. I wouldn't be surprised if she wins the gold, but, based on the progress of her season up to this point, things don't seem to be headed in that direction.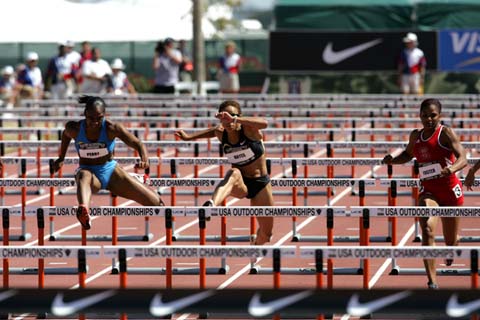 Michelle Perry and Joanna Hayes battle it out at the USA Outdoor Champs, June 2005.
Women's 400m Hurdles
Prediction:
Gold – Yuliya Pechonkina 52.89
Silver – Lashinda Demus 52.99
Bronze – Jana Pittman 53.32
Analysis:
This is always a hard race to predict because there doesn't ever seem to be any consistency as to who is at the top of the game from year to year. So I'll go with the safest bet and say that world record holder and current world leader Yuliya Pechonkina of Russia will come out on top, followed by Lashinda Demus of the US. Demus' victory at the US Nationals was a rather convincing one, so I like her to peak once again at the Worlds. As for the bronze, the major contenders seem to be Jana Pittman of Australia, NCAA champion Shauna Smith of the University of Wyoming and American Sandra Glover, who has got to be as old as Allen Johnson by now. Like AJ, she hasn't let age slow her down in the least. Of those three, however, Pittman has the fastest time this year at 53.44, so, all else being equal, I give the edge to her to win a medal.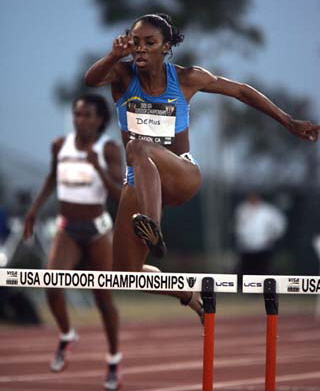 Lashinda Demus on her way to a first-place finish at the USA Champs, June 2005.
While making predictions is fun, I also want to say that I wish all the participants in the 2005 World Championships in Helsinki, Finland — hurdlers and non-hurdlers alike — the best of success. They have all cleared many hurdles, made many personal sacrifices, and defied many odds by making it this far.
© 2005 Steve McGill