It's that time of year again. With the World Championships rolling around in another week, it's time to make some predictions as to who will earn the medals in the hurdling events. It's a very inexact science, but it's still fun to do. With that being said, let's take a look at the four hurdling events.
Men's 110 Meter High Hurdles
Gold: David Oliver, USA.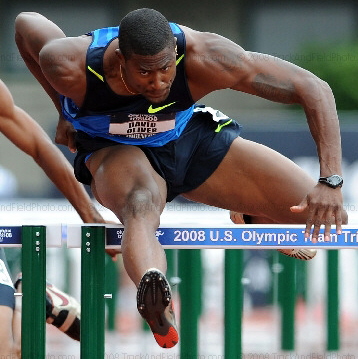 Silver: Dayron Robles, Cuba

Bronze: Liu Xiang, China

Although Oliver has no major championship medal above a bronze at this point in his career, I believe that this is the year he'll break through and win the gold. Coming off an outstanding 2010 where he dominated the scene, he has proven to be more vulnerable in 2011, having lost close races to the likes of Liu Xiang, Dayron Robles, and Jason Richardson. Nevertheless, he still owns the fastest time of the year thus far – the 12.94 he ran to defeat Liu in their second matchup – which is also the only sub-13.00 run by anyone this year. The reason I like Oliver is because he's been saying all along that he's been training for this meet, doing a lot more over-distance than usual in preparation for the multiple rounds. Oliver's problem in races he's lost has been his start. Like a lot of the hurdlers who will most likely be lining up in the final, Oliver takes a seven-step approach to the first hurdle, but he has met with inconsistent success in executing it. With a good start, Oliver is the best hurdler out there. With a bad one, he's in trouble, because it's hard to race from behind against hurdlers like Xiang and Robles who have superior technique. I'm betting Oliver's start will be on point, which is why I'm predicting he'll win the gold.
Robles dominated the 110's in 2008 and 2009, but hasn't consistently run at that level since. It's hard to tell how much of that has had to do with injuries versus how much of that has to do with the plain fact that there hasn't been much to get excited about since then, with 2010 being a down year and 2011 being all about staying healthy for the WC's, which are very late in the summer this year. Robles is a master of the seven-step approach to the first hurdle, so if Oliver messes up the start, expect Robles to be the one who takes advantage. Also, Robles runs clean races, so you know he won't make any costly mistakes.
As for Liu, he too has begun seven-stepping, and his start has been looking good. As anyone who follows this site knows, I consider Xiang to be the greatest technical hurdler in the history of the event. But even with that being said, I can't predict him higher than a bronze here because of the major injury battles he has fought over the past few years since the Beijing Olympics. He has been on a very cautious competition schedule, and it seems to me that he is most concerned with making sure he's healthy enough to compete at next year's Olympic Games in London. He has said himself that his goal for the WC's is to make it to the final and then try his best to win a medal. That may be mere modest talk, but I think he's been genuinely shaken up by his injury woes, so I don't think he'll run with the wreckless abandon he'll need to beat Oliver and Robles. But you never know, when the gun goes off he might forget all about that cautious stuff and compete with his usual fervor. As the saying goes, never underestimate the heart of a champion.
Whatever the case, I doubt the distance between the top three finishers will be more than .03.
The only other hurdler I see having a legit shot at a medal is Jason Richardson of the US, who is seven-stepping to the first hurdle, has dropped his personal best all the way down to 13.08, and ran that time into a negative .8 wind. He's competing well, doesn't seem to have any fear of the big three. Other contenders who could make it onto the podium if others make mistakes are Aries Merritt of the US and Oliver's training partner Dwight Thomas of Jamaica. Andy Turner of Britain has been running fast but a lot would have to go right for him to earn a medal.
Men's 400 Meter Intermediate Hurdles
Gold: Bershawn Jackson, USA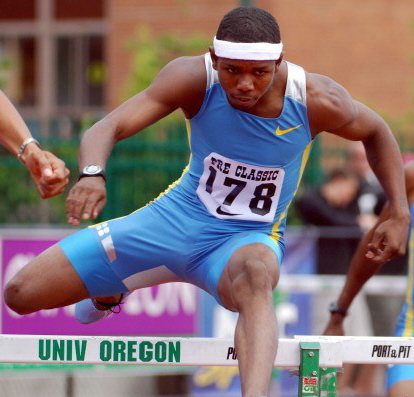 Silver: Angelo Taylor, USA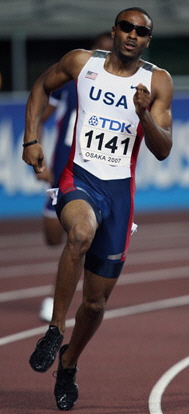 Bronze: Jeshua Anderson, USA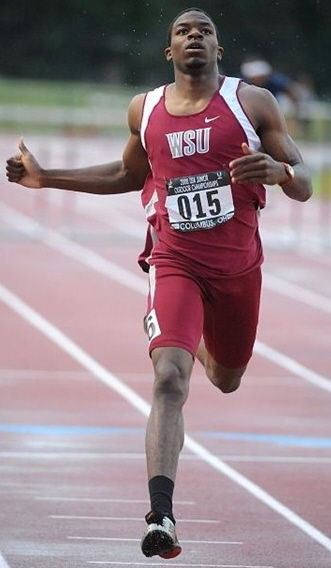 Yeah, I know, my American bias is coming out. But really, these three hurdlers, as well as Kerron Clement, who has a bye this year because of his World Championship victory in 2009, are the top contenders. Batman is a monster of a competitor, runs a killer second half of the race, and he knows how to peak for championship meets. I like him over Taylor even though Taylor is another huge competitor who has come up big in big races time and time again. I just think Bat is hungrier this time around, and I'm gambling that age will have to catch up to Taylor sooner or later.
As for Anderson, he's probably the most impressive athlete of the whole group. I don't recall ever seeing a 400 hurdler as big and strong as him. But even though he narrowly defeated Bat and Taylor at USA's, you've gotta assume he won't be able to do it again at Worlds. The pros train specifically for this meet. And it's very hard for collegiate hurdlers to run so many races in the spring, peak in June, then peak again in August. Maybe he'll be able to do it. But I don't think it'll be enough to overcome Bat and Taylor.
There are several other contenders who could make some serious noise in this event. I mentioned Clement above. The reason I don't have him on the medal stand is that there is no evidence that he is taking the 400 hurdles seriously this year. With his bye, he has run the open 400 in meets, and hasn't been all that impressive there. And I feel that the 400 hurdles is a race that requires races to get into race shape and to develop a race rhythm. I don't see where Clement can hardly run the 400h all year long and suddenly pop on the scene and drop a sub-48 at Worlds. Again, I could be wrong, but I'm just not seeing it.
The man with the fastest time thus far this year is L.J. Van Zyl of South Africa. He has run four sub-48's, and they are the top four times in the world heading into Worlds, with 47.66 being his fastest. The reason I don't have him in the medals is because he hasn't run that fast since May, and he hasn't proven he can defeat the Americans head-to-head.
Others who could make some noise include David Greene of Britain (sb 48.22), Jehue Gordon of Trinidad, and Javier Coulson of Puerto Rico. Gordon and Coulson haven't done much this year, but have done much in the past (especially Coulson, who won the 2009 WC gold medal), so you can't count them out.
Women's 100 Meter Hurdles
Gold: Sally Pearson, Australia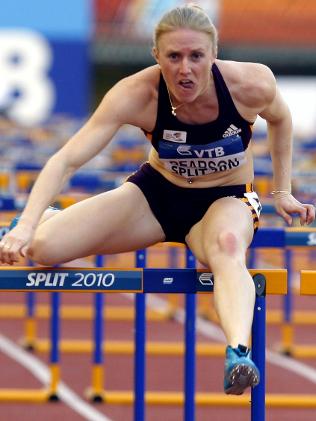 Silver: Kellie Wells, USA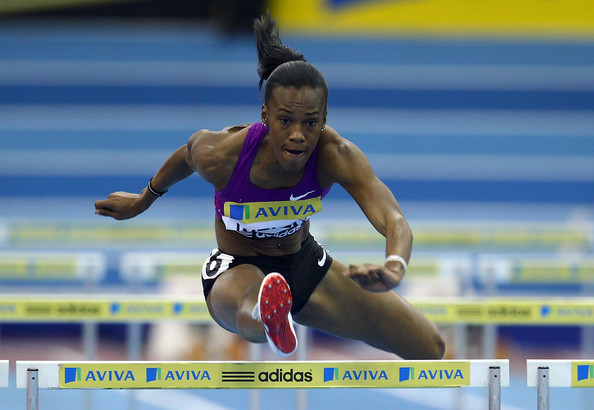 Bronze: Danielle Carruthers, USA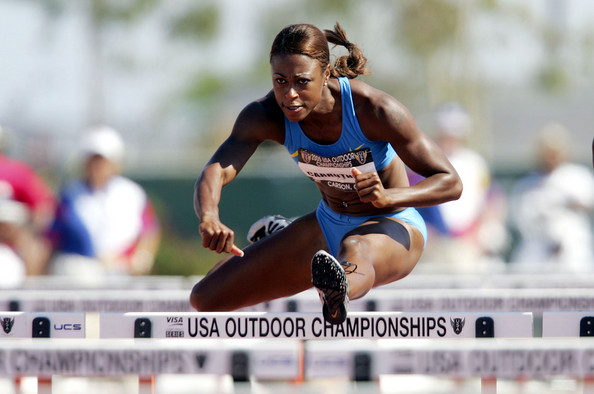 This is usually a hard race to predict, with no clear-cut favorites, but that's not the case in 2011. Pearson has been dominant in the 100m hurdles, having run the only sub-12.50 of the year, 5 sub-12.60's, and she also owns five of the year's ten fastest times. She has defeated all comers, and she's looking great doing it. Her start is excellent, her technique as about as close to flawless as you can get, and she has outstanding speed between the hurdles. Over ten hurdles and through a finish line, I don't see anybody beating her.
The only ones with a chance of overcoming Pearson are Wells and Carruthers, and maybe Dawn Harper. Wells has looked great this year. She won USA's, she narrowly lost to Pearson (12.48 to 12.50), and she seems to have that refuse-to-lose mentality that can't be coached and which is a very important intangible in championship meets. But her tendency to kick out her lead leg gets her too close to hurdles late in races, which, against Pearson, means trouble.
Carruthers has also run very fast this year (12.52), but the consistency hasn't been there, and she has looked sloppy technically in a couple races. Harper has championship credentials, and she is the only other hurdler who has dipped under 12.60 this year (12.58), so she definitely could make it into the top three.
Other names to be aware of who haven't done as much this year but could rise to the occasion include Ginny Crawford and Perdita Felicien. Also, Tiffany Porter of Britain and Lisa Urech of Switzerland have run 12.60 and 12.62, respectively, so they could be in the hunt for a medal as well.
Women's 400 Meter Hurdles
Gold: Kaliese Spencer, Jamaica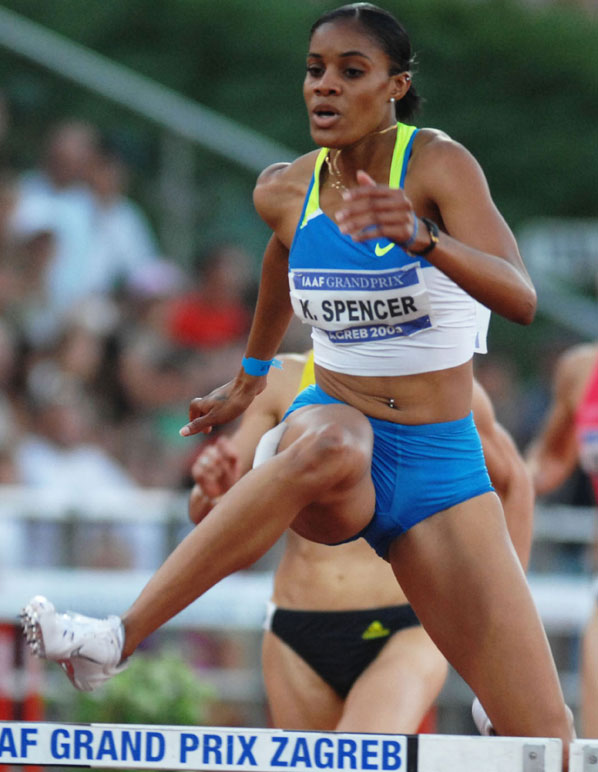 Silver: Lashinda Demus, USA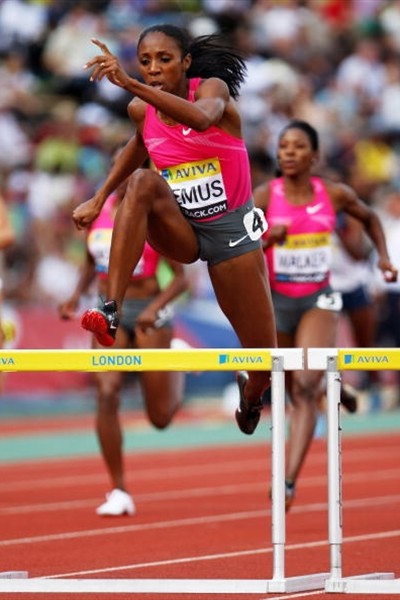 Bronze: Melaine Walker, Jamaica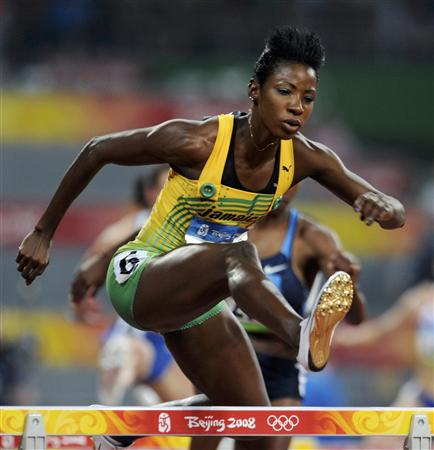 Spencer has been on fire this year, so there is no doubt that she is the clear-cut favorite here. Her 52.79 in London earlier this month makes her the seventh-fastest woman ever in this event. She has also run two 53.45's to go with it, so she is on top of her game, and has distinguished herself from the rest of the field.
But in both of those 53.45's, she finished second. One of those losses was to Demus, who, more so than any other woman in this event, has the tools to break the world record if she can put together a complete race. Having defeated Spencer once this year should give Demus the confidence that she can do it again, so this is going to be a real battle.
Speaking of which, Walker has been in plenty of 400h battles over the years and has come out on top her share of times. She hasn't been as sharp this year, as her seasonal best heading into Worlds is 53.56. But she's a legit contender for the gold. Nobody's gonna run away with this race.
Meanwhile, there is the other woman who has defeated Spencer this year – Zuzana Hejnova of the Czech Republic. I'll be honest, whenever these women from these Eastern European countries emerge on the scene, I don't know who the hell they are, so I can't speak about Hejnova with any authority. Vania Stambolova of Bulgaria has also run under 54.00 (53.68 and 53.70), as has Natalya Antyukh of Russia (53.75). Again, don't know much about them, but they're obviously running fast enough to contend.
© 2011 Steve McGill