In an earlier article I discussed my thoughts on the men's 400m hurdles at the Olympic trials. So let me go ahead and make some more observations in the other hurdling events:
Lolo Jones has arrived
One of the biggest developments of the US trials is that Lolo Jones emerged as the unequivocal best American 100m hurdler. While injuries hampered the performances of several of her competitors, Jones did not win the trials by default. She won by running an electric 12.29 with the aid of a 3.8 tailwind, dominating the rest of the strong field. Jones' form is clearly tighter and more efficient than it was in past years, and the improvements she has made in her technique have enabled her to more fully use her sprinting speed. That her lead leg tends to flair out to the right also helps her – although, perhaps, not intentionally – because it allows her to sprint faster between the hurdles without running up on the barriers. Jones has had a fantastic 2008 thus far, dating back to her enormous success indoors. And she has to be considered one of the top favorites in the event heading to Beijing.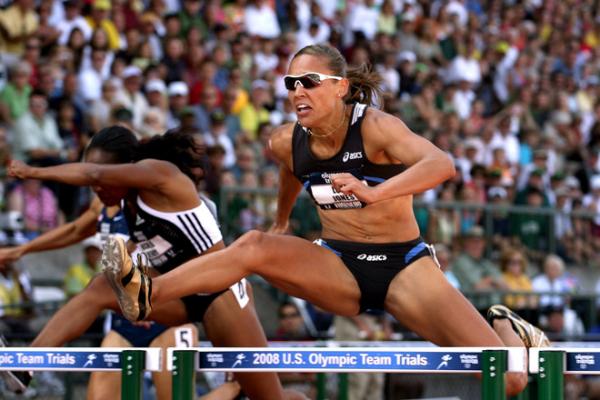 Jones on her way to victory in the 100 meter hurdles.
D.O. is Dominant
As dominant as Jones was in the women's race, David Oliver was equally impressive in the men's race. With the aid of a 3.5 tailwind, Oliver won in 12.95 after running 12.89 in the semis with a 3.2 wind behind him. Even with the wind, two sub-13s on the same day is remarkable. Don't know if that's ever been done before. It's quite apparent that Oliver has replaced Terrence Trammell as America's best chance to claim gold versus world record holder Dayron Robles of Cuba and defending Olympic champion Liu Xiang of China. Not only has Oliver made significant improvements with his trail leg and lead arm, but he is also a very imposing figure with those broad shoulders and that scowl of determination. Unlike many hurdlers and sprinters, Oliver brings his A game to every round, which I think does wonders for his confidence. Oliver doesn't worry about using up too much energy through the rounds because he knows he has the type of conditioning that will allow him to go all-out without breaking down. Like Jones, Oliver has been head and shoulders above all other American hurdlers throughout 2008. Defeating Xiang and Robles will be a huge task, but Oliver just well may be up to it.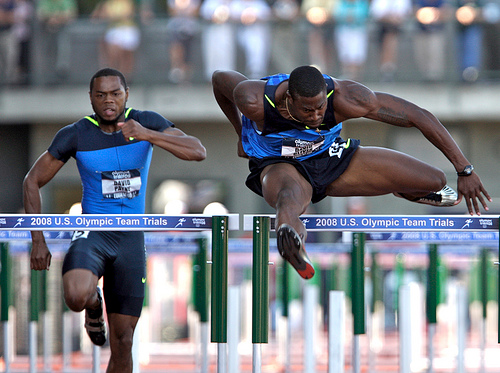 Oliver (right) handles his business as he pulls away from David Payne.
Heartbreak
There were many casualties in the hurdling events at the Olympic trials. Plenty of athletes who probably would've had a good chance to medal in Beijing will not even be going. Let's go down the list of big names:
· Lashinda Demus in the women's 400 hurdles: Demus, the world champion in 2005, was coming back after giving birth not too long ago, and, heading into the trials, looked to be ready to take one of the top three spots. In the final, she ran an outstanding race for ten hurdles, but things fell apart in the run-in to the finish line. She tightened up severely and ended up finishing fourth, out of the medals.
· Anwar Moore in the men's 110 hurdles: Moore, like Demus, ran a great race for ten hurdles. But Moore landed off-balance coming off the last barrier and fell. Replays show that he did not hit the hurdle, but seemed to over-rotate his trail leg. Which is very ironic, because his trail leg has been looking very, very good all year. Moore had the third spot locked up coming off hurdle ten, but, sadly, he too will miss out on an opportunity to compete on the world's biggest stage.
· Michelle Perry, Ginny Powell, Joanna Hayes, and Kellie Wells in the women's 100 hurdles: Can you say "Injuries"? Wow, I've never seen so many top-tier hurdlers struggle with injuries in the same meet. Perry was wearing an old-school 1970s-style wrap on her thigh throughout the rounds. Powell managed to make it to the finals, but never looked like the quick, powerful hurdler we had grown accustomed to watching in 2007. Hayes was looking good in the rounds, but the bandage she wore on her knee when she lined up for the final did not look like a good sign. Indeed it wasn't, as she labored through the race and never showed any of her customary speed and strength. Finally, Wells, ran a great race in the semis – 12.58 with an allowable 1.7 tailwind. She surely would've had a great shot to make the team, but right after crossing the line in her semi-final race, she fell over, grabbing her hamstring. A severe cramp – not much unlike that of sprinter Tyson Gay, apparently – prevented her from running in the final.
Eleven Hurdles?
The biggest "wow" moment for me came in the women's 400 hurdle final. Rarely is the winner of a race overshadowed by someone who finished behind her, but such is the case this time. Tiffany Ross-Williams won by more than half a second, but all eyes were on second-place finisher Queen Harrison, a Virginia Tech sophomore. Coming off hurdle nine, Harrison, in lane eight, had to hurdle an opponent, as Miriam Barnes in lane seven clipped the ninth hurdle and fell into Harrison's lane. Without losing stride, Harrison stepped right over her and kept on running. Talk about focused. My goodness. Harrison went on to clear hurdle ten and sprint to the finish line, just nipping Sheena Tosta (formerly Sheena Johnson) for second place. To me, Harrison's race serves as a brilliant example of how hurdlers have to be ready for anything that may happen in the course of a race. "Be ready for anything, fear nothing," I always say. If Harrison had panicked or lost hope even for an instant, she would not be going to Beijing.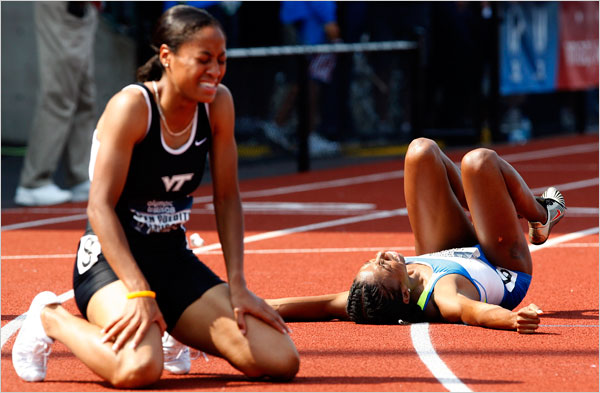 Harrison (left) made the Olympic team. Demus did not. Can't you tell?
Congrats to Terrence Trammell
Yes, Terrence Trammell did it again. He made his third Olympic team (2000, 2004, 2008), and at age 29, he's running as fast as he ever has. The only other 110 hurdler I know of to qualify for three Olympics is Tonie Campbell (1980, 1984, 1988). If Trammell can stick around for London 2012, he'll match Willie Davenport, who made four Olympic teams (1964, 1968, 1972, 1976). Trammell's 13.00 in the finals at the trials puts him back on the map after not doing too much in 2008 beforehand. While I do believe that Oliver has surpassed him as America's top hurdler, I wouldn't exclude Trammell's name from any medal talk when it comes to Beijing. His experience with international competition and with running rounds cannot be discounted. His speed and consistency make him a constant threat, as does his competitive warrior's spirit.
Thank You Allen Johnson
It looks like we may well have seen Allen Johnson's last bid to make a national team. He's at that age where his body keeps betraying him. He has given us many magical, breathtaking moments on the track, and for that we'll be forever grateful.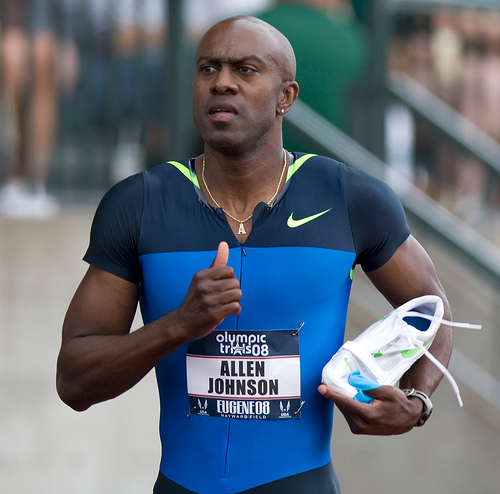 A disappointed Allen Johnson leaves the track after pulling up in the first round of the 110s.
© 2008 Steve McGill