I got oodles and oodles of O's, you know.
I get 'em from my sister, I get 'em from my bro.
–De La Soul
My goodness, the second weekend of June 2005 proved to be one of the most exciting ever in the world of hurdling, as all kinds of remarkable performances were turned out at the NCAA National Championships, as well as in the Reebok Grand Prix Invitational in New York. Here are some of my observations about the goings-on in hurdleland:
Before I get into the actual races themselves, I have to say something about the TV coverage, or should I say the lack thereof, of the NCAA meet. What's the deal? It's going to be shown a week after the fact? On tape delay? Talk about no respect. For the love of all that is good in this world, why is it that I can turn on the TV and see a *@#()! NCAA lacrosse game, softball game, or baseball game without having to work that hard to search for it, but I have to wait a week to see a track meet? As the Black Eyed Peas once asked, Where is the love? I don't get it; I really don't get it. But anyway . . .
Both the men's and women's 400m hurdle races at the NCAAs were awesome competitions in which the athletes truly brought out the best in each other. If anyone was asking why the University of Florida's Kerron Clement continued to insist he was a hurdler even after breaking Michael Johnson's indoor record in the 400, I think he answered that question with his blistering 47.56, repeating as the NCAA national champion. The fact that LSU's Bennie Brazell finished in 47.67, and was ahead after the last hurdle, informs us that he has made a significant breakthrough to a higher level of performance that makes him a legitimate contender for world championship gold. I can't wait to actually watch the NCAA race next week. (Note the bitterness in my voice). I also can't wait to see what happens at the USATF national championships, when the likes of Clement, Brazell, Bershawn Jackson, James Carter, Angelo Taylor, and several other intermediate hurdle monsters will be battling it out for the three spots that will lead to Helsinki, where a cat named Felix will be waiting to show what he can do. Whew!
Meanwhile, on the women's side, three women broke 55.00, which is ridiculous. Shauna Smith of Wyoming, who garnered 6th place at the US Olympic Trials in 2004, finished first in 54.32, while two of Curtis Frye's South Carolinians – Shevon Stoddart and Tiffany Ross-Williams – finished second and third, respectively, in times of 54.47 and 54.56. Meanwhile, Melanie Walker – one of the pre-race favorites – finished fourth in 55.32. That's pretty doggone fast for fourth place. So what was ESPN showing its viewers while all this hyped-ness was going on? I don't know, but it wasn't a track meet. As with the men, the USA championships are going to be all the way live as the collegians battle the likes of Brenda Taylor, Sheena Johnson, Sandra Glover, Lashinda Demus, and Raasin McIntosh for the right to go to Helsinki.
While all this noise was being made in Sacramento, more noise was being made in the professional ranks on the other side of the United States, as Allen Johnson and Liu Xiang finally met up for the first time this year in a head-to-head battle. This race, fortunately, was on live television, and I was fortunate enough to remember to tune in. AJ didn't run a perfect race, but he won in 13.03, which is a very fast time for so early in the year. Xiang finished third in 13.11, while Dominique Arnold – another American old-schooler – threatened to defeat both Johnson and Xiang, but finished a very close second in 13.05, as Johnson out-sprinted him to the line. This was an exciting, thrilling, downright electrifying race, one that will help to put the men's 110m hurdles back at the forefront of the track world, as everyone will be eager to see, come Helsinki, whether AJ, the grand old man, can defeat Xiang, the young upstart, on the world's biggest stage. Meanwhile, it seems quite apparent that hurdlers like Terrence Trammell, Ladji Doucoure, Dominique Arnold, Stanislav Olijars, and a host of others will be racing for the gold themselves, and won't be conceding anything to either AJ or Xiang. That's what I'm talking about.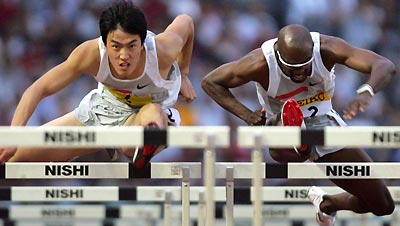 AJ vs. Xiang in September 2004. Xiang won this one.
One thing about the New York meet really stood out to me in regards to defining the basic difference between hurdlers and sprinters, and it was the reaction of AJ after his victory in comparison with that of Maurice Greene after his. Johnson smiled, shook hands with his opponents, did a quick TV interview in which he firmly but calmly asserted that he is not, was not, and has no reason to be intimidated by Xiang, and then he walked off the track, acknowledging the applause of the crowd. Even after a big victory over a major rival, he remained gracious and humble, revealing, yet again, his high emotional IQ. In stark contrast, Greene, who won the 100 meter dash in a relatively pedestrian 10.08, strutted around after the race doing his pimp walk, sticking out his tongue in a braggadocios manner that let everybody know he's the man. The problem is, we all already know he's the man, so why does he feel the need for all the excessive swaggering? I don't know Greene personally, and I'm sure he's a great guy on a one-to-one level, but all that football-style preening just gets on my nerves. On one level, you could say that the contrast between AJ's reaction and Greene's reaction to their respective victories is representative of the fundamental difference between hurdlers and sprinters. With very few exceptions that I can remember over the years, you generally just won't see hurdlers behaving the way Greene behaved, but you'll see sprinters behaving that way all the time.
In the same meet, the women's 100m hurdles provided more thrilling, get-up-out-of-your-seat excitement as Michelle Perry defeated Joanna Hayes in a photo finish. They both ran blistering times – 12.45 to 12.47. Perry, better known as a heptathlete, has apparently decided to focus this year on her best heptathlon event – the hurdles, and success has come quickly. In the Reebok meet, she bettered her personal best by two tenths of a second! My goodness, what was she doing messing around with the heptathlon if she could hurdle that well?
Finally, let me give proper respect to Joshua Walker, the 110m high hurdler from the University of Florida who repeated as NCAA champion over the 42's. He ran a 13.39 in the final this year, after running a 13.32 in the final in 2004. He is one of the most fluid, technically sound hurdlers I have seen in a long time, and hopefully he can be one of the youngsters who continues American excellence in the 110's after AJ retires, whenever that may be.
© 2005 Steve McGill