In watching the US trials last weekend, a thought suddenly hit me a few minutes after the men's 400 hurdle final: no one had broken 48 seconds. Not Bershawn Jackson, whose personal best is 47.30, not Kerron Clement, whose personal best is 47.24, not Angelo Taylor whose personal best is 47.50. And James Carter, whose personal best is 47.37, didn't even make it to the final. What's going on?
Inconsistency
It seems to me that the men's 400 hurdles has become an event in crisis. Or at least on the brink of crisis. The problem doesn't seem to a lack of talent, nor a lack of depth, nor even a lack of rivalries. Mainly, it's a lack of consistency.
When Tyson Gay lines up to run the 100, you know something exciting is going to happen. When Allyson Felix lines up to run the 200, you know something electric is going to happen. When Jeremy Wariner or Sanya Richards lines up to run the 400, you know something crazy is about to happen. But when Clement, Jackson, and the other top 400 hurdlers line up to run, you don't know what's going to happen. And the inconsistency is taking some of the shine off the event.
Where Have You Gone, Edwin Moses?
I'm not one to dwell on the past, but when the past is all you've got, then you don't really have much choice. I'm a 76er fan, so trust me, I know what I'm talking about. In the 400 hurdles, the past largely consists of one name: Edwin Moses. Moses dominated the event throughout the late '70s and almost the entire decade of the '80s, and if the Moses of the '80s were around today, he'd still be dominant. It took a while for other hurdlers to catch up to Edwin, but they eventually did. Still, during the entire Moses era, his was a marquee name and the 400 hurdles was a marquee event. The popularity of the 400 hurdles has not been matched since. The reason why is obvious: consistency. Every time Edwin stepped on the track, you knew the world record was in jeopardy. And the beauty of his graceful gazelle-like stride was breathtaking. And once his opponents started closing the gap, everyone wanted to see if any of them could topple the great Edwin Moses.
The last time Moses broke his own world record was in 1983, when he ran 47.02. That was twenty-five years ago. Since that time, dads have become granddads and sons have become dads. The internet, cell phones, and mp3 players didn't even exist back then. Was there even cable television? Yet only once in the last twenty-five years has anyone run faster than Edwin's 47.02, when Kevin Young won the 1992 Olympic gold with a 46.78. The event has not progressed since the days of Edwin Moses. It has stood still. Why?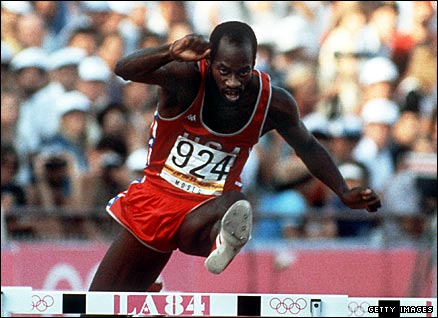 There has been virtually no progression in the 400m hurdles since the days of Edwin Moses.
The Hurdles Must Come First
For Moses, the 400 hurdles came first. With his abilities and work ethic, he could have been a great quarter-miler, a great half-miler, or even a great 110 hurdler. But he chose to dedicate himself to the 400 hurdles. It was his art, his science, his life. It baffles me how today's 400 hurdlers can be such beastly quarter-milers and yet not be able to crank out sub-48's on a regular basis. Clement and Taylor, for example, have run sub-45 in the open quarter, out of the blocks, not just on relay legs. With such speed and strength, they should be running in the 46 range when they're on their A-game, and should still be in the 47-mid range on a bad day. I think part of the reason they don't is because they still consider themselves quarter-milers. Taylor tried to run both events at the trials, and Clement, Jackson, and Carter also run plenty of open quarters. This is not a bad thing, of course. If you have the talent, use it, and running open quarters is always good preparation for the hurdle race. But I think one of the problems that comes with being so gifted is that, on some level mentally, you tell yourself that if things go wrong in the hurdles, you can always turn to the open event. You always have a back-up plan. To me, that very fine line – between making a total emotional commitment versus glancing to see whether the grass truly is greener on the other side of the fence – marks the difference between being merely a great athlete and being a great hurdler.
Details, Details, Details
Edwin Moses was a detail-oriented guy. And the longer I coach, the more I believe that being detail-oriented is essential to being able to maximize one's potential in the 400 hurdles. I'm biased of course, but I believe that there is no event in track and field that is more demanding physically, emotionally, and intellectually than the 400 hurdles. You not only have to be willing to put your body through punishment, you not only have to deal with the seemingly endless disappointments that come with not being able to "get it right," but you also have to be able to think the event. And many hurdlers aren't willing to think the event. Thinking is what coaches are for, right? But coaches can't run the race for you.
The "details" of a 400 hurdle race consist primarily of stride pattern and hurdling technique, assuming that sprinting mechanics are solid. Strategies regarding stride pattern must be made before every race, and technique must steadily be improved upon so that the stride pattern can be executed effectively. Moses was known for taking 13 strides between hurdles all the way around the track. It was revolutionary at the time, and it's still something that very few hurdlers can do. But what was remarkable was the rhythm of his stride pattern. Early in the race the emphasis was on turnover, in the middle part of the race the emphasis was on speed, and in the late stages of the race the emphasis was on strength. The transitions were seamless, but, upon further review, quite obvious. Edwin Moses knew exactly what he was doing every step of a 400 hurdle race. He knew exactly how long he wanted each stride to be.
Today's hurdlers don't want to be bothered with all that. Jackson doesn't know how many strides he takes between hurdles, and Clement's stride pattern varies randomly from meet to meet. I'm not saying that it's necessary to be as meticulous as Moses was. And counting strides is not the issue here. You don't necessarily need to literally count your strides while you're running. But you should be able to feel your stride pattern. In other words, you should be able to tell the difference between what a 13-step pattern feels like compared to a 14-stride pattern, 15-stride pattern, etc. So if, in the course of a race, you're shifting from 13 to 14, or 13 to 15, or whatever, you should be able to feel the transition. And you should be able to identify, after the race, where the transition(s) occurred.
Please, Sweat the Technique
There are two ways to address technical flaws: 1) fix them, or 2) mask them. Unfortunately, because masking them is easier, that's what many 400 hurdlers choose to do. It's like in basketball – you see guys who can run jump and dunk, muscles rippling like a body builder's, but they don't know how to box out, post up, or set a screen. You watch some of these games and find yourself thinking, How did these guys make it to the pros without learning how to do the most basic things? The answer is simple: their athletic ability always allowed them to mask their flaws. Who needs to box out when you can just jump over people? But then when they play against people of equal ability and they have to learn how to box out, they don't know where to start.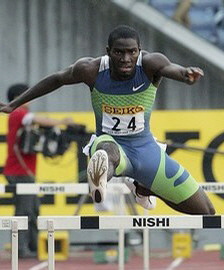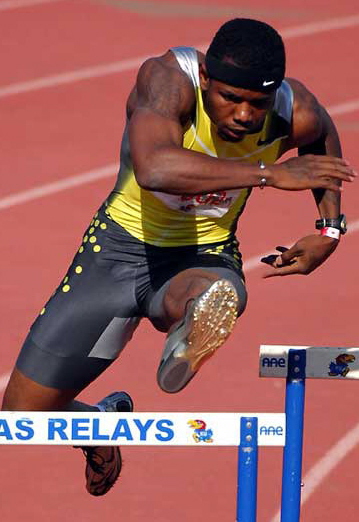 Refining his technique would certainly help Clement to drop some time. Jackson, meanwhile, has the best technique among today's 400 hurdlers.
Not to pick on Kerron Clement, but there is not another hurdler on the planet who has as much ability and potential as he does. If he ever puts it all together he'll be running in the 45's, no joke. But somewhere along the way he figured out that he could beat everybody without running the whole race well. He relies heavily on his quarter-mile speed and on his ability to cover ground and suck people up coming off the last hurdle. These strengths serve to mask his stride pattern issues and his iffy technique (very high over the hurdles, and a straight lead leg that delays the motion of the trail leg). I really can't think of many 400 hurdlers over the years who were truly excellent technicians. Moses of course comes to mind. His technique was as good as that of the best 110 guys. Derrick Adkins, the 1996 Olympic champion, is another that comes to mind (except when he alternated). Of course, 1988 Olympic champion Andre Phillips was almost equally good in the 110s. Among today's hurdlers, Jackson't technique is the most efficient. But many of today's 400 hurdlers have only functional technique that allows them to get through races without falling apart. But they waste a lot of energy with their technical flaws, leading to a lot of stuttering and/or a rapid onset of fatigue.
Final Thoughts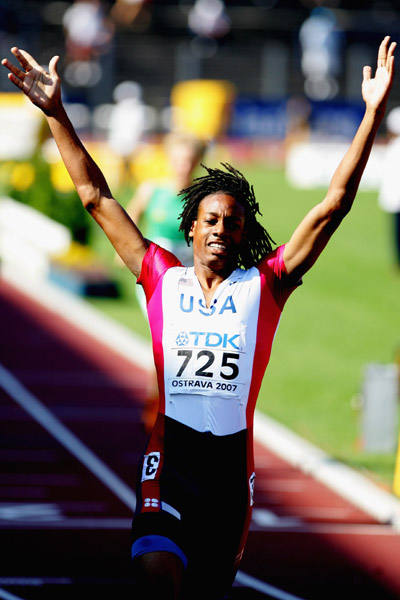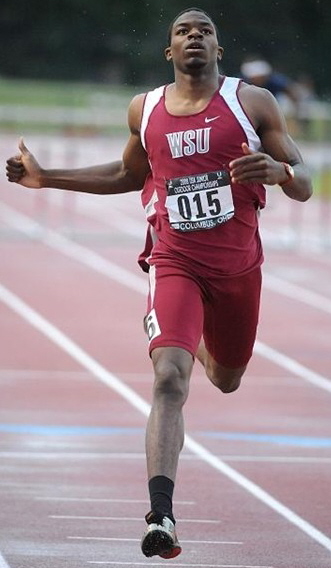 The next generation of American 400 hurdlers includes (from left to right) William Wynne, Jeshua Anderson, Justin Gaymon, and Johnny Dutch.
If the best 400 hurdlers can reach a level of consistency that matches that of an Edwin Moses, or of a Felix Sanchez in the early part of this decade, the event will regain its status as one of the most attractive in track and field. The talent is there, the rivalries are there, and with young stars like Justin Gaymon, Jeshua Anderson, Robert Griffin, Johnny Dutch, and William Wynne on the rise, the future looks very bright. No, the men's 400 hurdles is not an event in crisis, but it sure could use a boost.
© 2008 Steve McGill