It was an exciting 2012 London Olympics. I'll use this space to break down my analysis and reflections on the hurdling events in particular, as well as on some other goings on at the track.
Men's 110 Meter Hurdles
Gold: Aries Merritt (USA) 12.92
Silver: Jason Richardson (USA) 13.04
Bronze: Hansle Parchment (JAM) 13.12
All season long Merritt was looking like a gold medal contender. He and Richardson have both had outstanding, very consistent seasons. I think it's safe to say that after this Olympic performance that American hurdling has returned to a level of supremacy. At the US Trials, five guys ran under 13.20, all of whom could have made this Olympic final if more than three athletes per country were allowed. American record holder and America's most prominent hurdler over the last four years, David Oliver, didn't even make the team despite running a 13.17 at the Trials. It's a tough team to make.
In regards to Merritt and Richardson, what I'm most impressed with is the quality of the hurdling itself. I've been hard on American hurdlers in the past because of their lack of attention to detail when it comes to technique, and their over-reliance on speed and power to get through races. But Merritt and Richardson have made signficant improvementss in their technique that have allowed them to run more rhythmic races, to be stronger late in races, and to be better dancers in between the hurdles.
The two Americans share similar styles, but Aries' version is more refined, more efficient. Though his lead arm action is basically the same as it has always been, he has tightened up the range of motion so that the action doesn't take as long to execute. He has also reduced the upward kick of the lead leg; his lead leg now extends like Robles' does – on a slightly downward angle, and then he cycles it back under his hip. Between the hurdles, he gets his feet down quickly, giving him the space he needs to execute his style.

Merrit shows the technique that made him an Olympic champion.
The knee of Jason's trail leg points downward after he takes off, which is why it doesn't get to the front as fast as Aries' does. Also, Jason's lead leg, unlike Aries', does kick upward before he pulls it back down, thus creating more airtime.
Both Aries and Jason get into hurdling position very well. A lot of American hurdlers have a low trail leg off the ground. Both of these guys get theirs up, even though Jason, as I said above, points the knee down.
It seems to me that Aries finishes his hurdling motion before his lead leg foot gets to the bar, so, by the time his lead leg reaches the other side of the bar, he is in running position, so he is literally running off the hurdle. Jason, meanwhile, by adding that extra little kick with the lead leg, is still hurdling after his lead leg has already passed the hurdle.
Both hurdlers could be consistent sub 12.90 guys if they fix some of their minor flaws. Jason's I mentioned above. With Aries, he's still clearing a little bit high. There's more space between his calf/hamstring and the bar than there needs to be.

Jason Richardson on his way to an Olympic silver medal.
It's also worth notiong that both Aries and Jason are seven-stepping to the first hurdle now. When I pointed out a couple years ago that seven-stepping to the first hurdle might become a trend, some people thought I was getting way ahead of myself, but now, if you look at the line-ups at any elite level meet, you'll see that more than half the guys on the starting line are seven-steppers.
As for Xiang and Robles, it was disappointing not to see them at their best. Xiang's body betrayed him again, as it did in 2008, and as it has done off and on ever since then. He smashed into the first hurdle of his preliminary round, unable to push off of an already wobbly achilles of his trail leg. He ruptured the achilles, and who knows, at this point, if he'll ever be back. Injuries speed up the aging process, and, from a psychological standpoint, it gets harder and harder to keep coming back to train at a high level. Hopefully, we haven't seen the last of Liu Xiang, but if we have, I'd like to thank him for providing us with some of the best high hurdling we've ever seen in the history of the event. Personally, he's one of my favorite hurdlers of all time, right up there with Rodney Milburn, Renaldo Nehemiah, and Allen Johnson. And I would definitely argue that Liu is the greatest technician the event has ever known.

Liu is helped off the track by fellow hurdlers after rupturing his achilles.
Robles, meanwhile, pulled up with a bad hamstring mid-way through the finals. It must've been bothering him all season, because he hasn't run many races this year, and he looked a bit off his game through the rounds. Earlier this year, the word "retirement" came out of his mouth, as he too has grown tired of being often injured. But at 25, it would be tragic for the event if someone of such magnitude were to hang up the spikes at such a young age. Hopefully he'll back at full strength for next year's world championships.

Robles grabs his hamstring after bowing out of the Olympic final.
Still, the injuries to these two mega-stars do nothing to diminish the accomplishments of Merritt and Richardson. This time last year you could've argued otherwise. Liu and Robles were clearly on their way to a 1-2 finish at the 2011 World Championships before Robles grabbed Liu's arm (whether it was intentional or not, he did grab his arm), whereas in this race there was no doubt going into the Games that Merritt and Richardson had a very good chance of earning medals, as they had both run sub-13 more than once.
By all appearances, what we witnessed at this year's Olympics was a changing of the guard in the men's 110 hurdles. Besides Merritt and Richardson, you had to be impressed by the young Jamaican Hansle Parchment who garnered a third place finish. I was also impressed by the other young Cuban, Orlando Ortega, who, although he ran like garbage in the finals, looked very fast, very fluid, and very solid technically throughout the rounds. He also ran a 13.09 earlier this year. So he'll be a force to contend with in the future, no doubt. Another cat to look out for is the Russian, Sergey Shubenkov. He ran like crap in the semi-finals and missed out on the final, but he came into the meet having run 13.09 earlier this year, and ran 13.26 in his first round race, looking very crisp and effortless in the process. So, don't sleep on this Russian dude.
And a quick shout out to my man Wayne Davis II for making it to the semi-final round of his first Olympic Games, running for Trinidad, hopefully the first of many more to come.
Women's 100 Meter Hurdles
Gold: Sally Pearson  (AUS) 12.35
Silver: Dawn Harper (USA) 12.37
Bronze: Kellie Wells (USA) 12.48
As far as medalists go, this race turned out pretty much as expected. Pearson has been the world leader over the past two years, Harper won the US Trials, and Wells has been very sharp all season long as well. Heading into the race, when asked by a friend how I thought things would shake out, I said that I believed that, of the three Americans (Harper, Wells, and Lolo Jones), I liked Harper's chances the best of upsetting Pearson for the gold. The reason being that Harper, like Aries Merritt as mentioned above, has refined her technique, has eliminated the kick of the lead leg that locks it at the knee, and is therefore truly running over the hurdles instead of hurdling the hurdles. That's what Sally does, and if you want to beat the best you have to do what the best do. (Incidentally, that's why the seven-step revolution has taken place in the men's race. It started back around 2008-09, when Robles, a seven-stepper, was dominating).
Still, I believed that Sally would have to make a mistake in order for Dawn to beat her. Not a big one. Just clip a hurdle, have a misstep somewhere down the line, and Dawn would be there to take advantage. Well, Sally didn't make any mistakes. And when someone with her start, her speed, her technique, and her race execution makes no mistakes, then yes, you can run a personal best 12.37 and still come in second, which is what Harper did. And it didn't help that they were four lanes apart from each other and couldn't even see each other.
When discussing Wells with my friend, I commented that I didn't think her technique would allow her to keep up with the other two women over ten hurdles. She's just not as fluid, not as efficient, although she's very fast and very powerful. And from what I can tell, Kellie is a straight-up gladiator, so you can never rule her out. I felt that she ran an excellent race in the finals. Like Harper, she set a personal best, and I have a rule with my athletes that they can never be disappointed with a personal best. But it wasn't a great race just because it was fast, but because it was well executed.

On a wet track in London, Pearson crosses the finish line just ahead of Harper and Wells.
All right then, on to the Lolo controversy. For me, it was just a colossal aggravation. Leave the girl alone and let her run her damn race. As Bob Marley once said, simmer down. A lot of people in this country don't understand how manipulative, conniving, mean-spirited, and downright ruthless the media can be. So instead of saying squash all that noise, we buy into it, and even add to it with all the Twitter yackety-yack. The media members make their living off of building up heroes and tearing them down. The build-up is newsworthy, and the tear-down is newsworthy. In both cases – on the way up and on the way down – the media wins. So we just play along like a bunch of puppets. The media says Lolo is a hero, so we say yeah yeah, Lolo is a hero, look at all she's overcome. The media says Lolo is a fraud, so we say yeah yeah, Lolo is a fraud, talkin all that noise and didn't even earn a medal. Come on y'all, understand what is happening here. Understand how we are being manipulated. If you watched any of the swimming, you saw it happening with Michael Phelps. He finished fourth in his first race, and the media was saying he had grown lazy, unmotivated since 2008, that he preferred smoking weed over training, that he was a one-Olympic wonder. Mean stuff. Then he came back and won another bucketload of golds and all you heard was praise for being the greatest, most decorated Olympian of all time. Man what a fickle bunch we are. Because it wasn't just the media. It was us. We were right there with 'em. And the thing about it is, the dude who beat him in that first race, the Lochte dude, had been beating Phelps in that race over the past year or more. None of the people who knew swimming were surprised that Lochte won.

Jones looks up at the big screen after finishing the Olympic final.
For me, Lolo is neither a hero nor a fraud, but a great athlete and a dedicated hurdler who deserves our respect for being such. If you know hurdles, and have been following the hurdles for the past couple years, you're not upset that she "only" finished fourth. You appreciate that fourth in a race that hot, at a level of competition that high, is a very significant accomplishment.
Yes, I am disappointed in Harper and Wells for throwing Jones under the bus in that television interview the day after the final. Just say she ran a great race and leave it at that. I understand how annoying it can be to always be answering questions about another athlete when you're out there busting your ass every day too, especially when you're running faster times than her. But come on, again, understand what the media is doing, understand that they thrive on creating controversy, and leave the grumbling to when you're talking amongst yourselves.
Honestly, the Olympics have become one big commercial. A two-week advertisement. If you're an athlete in the Olympic village and you use toilet paper that isn't the official toilet paper of the 2012 London Olympic Games, the IOC will be fining you. The commercialism is exponentially more pervasive than that of even the Super Bowl. Lolo was part of the story, part of the hype, part of the commercial. For people who don't follow track, the media created an image of this glamour girl Lolo so that the average citizen would watch the track meet. That's not her fault. It's wack, yes, but it's not her fault. So leave her alone.
Men's 400 Meter Hurdles
Gold: Felix Sanchez (DOM) 47.63
Silver: Michael Tinsley (USA) 47.91
Bronze: Javier Culson (PUR) 48.10
One long Flava-Flav wowwwwwwwwww for Felix Sanchez. I did not, I'm talkin did not see this coming. Sanchez had a never-underestimate-the-heart-of-a-champion moment on that track. I mean, did you see it coming? Where in the depths of his heart and soul did he find this race? I thought this cat was done. I'm talkin done. Seems like over the last six or seven years he's been running around the track on one leg. Injury after injury after injury has set him back. I don't blame him for breaking down in tears the way he did on the victory stand. Those tears were real. I don't think he even knew where that race came from. When he ran sub-48 in the semis I felt like he had run too hard, that he had put too much into the semi, that he had run his final in the semi-final and wouldn't be able to come back with another race like that. But he did.

Sanchez illustrates the range of emotions that come with winning an Olympic final. He found out about the death of his grandmother earlier in the meet, and dedicated the race to her.
Can't say I wasn't surprised by Michael Tinsley's second-place finish either, because I was. When he won the US Trials back in June, I still assumed that, based on recent history, America's best chance for a gold lie with Angelo Taylor and Kerron Clement. But Tinsley picked up right where he left off, running well through the rounds and finishing with another very well-executed race.
Like most observers, I felt like Javier Culson was a heavy favorite to earn the gold. He's been the best in this event over the past two years and has been the most consistent intermediate hurdler over that span of time. But in a race like this the rounds can do strange things to people, and it seemed like Culson just wasn't sharp in the final. He didn't run a bad race, but he didn't take over coming off the last curve like he usually does. Sanchez did this time. I'm sure Culson is disappointed, because you always want to run your best race on the biggest stage. But 48.10 is still fast, and he should still be among the world's best when the 2016 Games roll around.
It's hard to say what the future holds for America in this event. The core group of current stars – Taylor, Clement, and Bershawn Jackson – may have already run their best races. It's often hard to gauge how much a disappointing Olympic year takes out of an athlete. Taylor, you would have to assume, is either at or near the end of his career. Clement and Jackson have been plagued by injuries and just haven't been their old selves of late. And the young crop of stars has yet to step up and claim the mantle. On an international scale, there's Jehue Gordon of Trinidad, Dai Greene of Britain (who I thought would medal here), but it looks like it'll be a pretty wide open event heading into next year's World Championships.
Women's 400 Meter Hurdles
Gold: Natalya Antyukh (RUS) 52.70
Silver: Lashinda Demus (USA) 52.77
Bronze: Zuzana Hejnova (CZE) 53.38
I'm not gonna lie man, I was really cheering for Demus to win this race. I watched this race with absolutely no objectivity. I knew she had her hands full with Antyukh, and that proved to be the case. Coming off the curve it looked like Antyukh's race hands down, but she stuttered a bit coming into hurdle ten, whereas Lashinda hit it right in stride. Lashinda gained much ground coming off the last hurdle, but Antyukh was able to hold her off at the finish line for the slight margin of victory.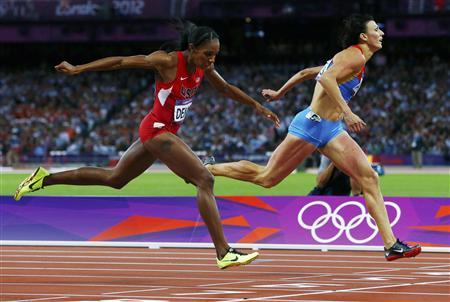 Antyukh and Demus lunge for the finish line.
Meanwhile, it was good to see three Americans make the final, as Georganne Moline and T'erea Brown finished fifth and sixth, respectively. The USA should remain strong in this event for the foreseeable future.
Other Stuff
I do believe that Usain Bolt established himself as the greatest sprinter of all time, and as the greatest showman in the history of the sport. I've never seen anyone run so fast, and I've never seen anyone capture the imagination of an entire world wide audience the way he did. His victory celebrations were events within themselves. Without a doubt, he was the King of the entire 2012 Olympic Games. He is a megastar on a level that is unprecedented for a track athlete.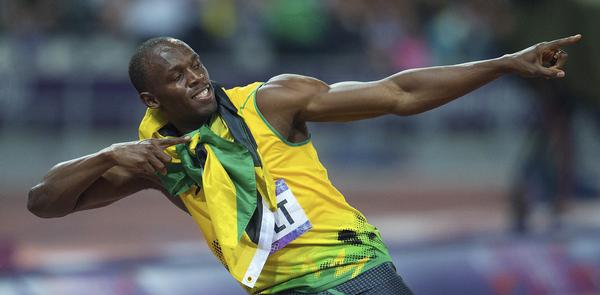 Bolt pleases the audience with his trademark lightning-bolt pose.
Congratulations to all the outstanding athletes who came through with outstanding performances. Ashton Eaton in the decathlon, Sanya Richards-Ross in the 400, Allyson Felix in the 200 were the Americans who stood out the most to me.
The two most enjoyable moments of the Games for me came from the same guy – men's 400 meter dash winner Kirani James of Grenada. After his semi-final race, he walked over to Oscar Pistorius and exchanged bib numbers with him. Then after winning the final, the first thing he did was walk up to every other finalist and shake their hand. I'm feeling that. To me, that kind of sportsmanship and appreciation of the efforts of one's fellow competitors goes a long way.  While I love Bolt and feel he is a tremendous asset to the sport – the Michael Jordan of the sport if you will – guys like James are the ones that I prefer for my athletes to emulate.

Pistorius and James after their semi-final race.
Gotta point this out at the risk of being crude, but what was with all of the old guys standing behind the starting blocks staring at the booties of the female athletes when they were getting into the blocks, fronting like they were checking for hand placement on the starting line? Am I the only one who noticed that? Shaking my head on that one.
That Jamaican men's world record smashing 4×100 relay was just ridiculous. The Americans broke the national record and still got blasted. Wow.
Props to Tyson Gay for his fourth-place finish in the men's 100 after coming back from hip surgery earlier in the year. While I know everyone has a story, he wins my courageous athlete of the meet award, hands down.
Did you see Jessica Ennis drop that 12.54 100h in the heptathlon? That would've been good for fourth in the open hurdle final. Which begs the question, why didn't she run the hurdles? Guess she decided that doing that and the heptathlon would've been too much.
Loving the US women's world record in the 4×100, and the 4×4 team's gold medal performance.
All in all, it was an immensely enjoyable Games to watch. Hope you enjoyed it too.
© 2012 Steve McGill