It would be fair to say that 2009 was an exciting year in the women's 400 meter hurdles, and that two particular women – Lashinda Demus of the USA and Melaine Walker of Jamaica – are the reason why. These two exceptional athletes battled for supremacy throughout the summer, with Walker emerging as the World Champion with the world-leading time. In any event, rivalries help to draw attention and create a crowd buzz, so hopefully Walker and Demus will continue to battle each other for the next few years.
The first of the two to drop a world-record-threatening time was Demus, who ran 52.63 at a Golden League meet in Monaco, putting her .01 behind Tonja Buford-Bailey on the all-time US list, and only .02 behind Kim Batten's US record of 52.61, set in the 1995 world championships. Having run 53.78 to win the US Championships, Demus' 52.63 in late July seemed to put her back on top of the event, and it looked like she had a very good shot of defeating Walker, the 2008 Olympic champions, as Walker finished a distant second in Monaco in 54.20.
Three weeks later at the World Championships in Berlin, Demus and Walker both breezed through the rounds, with both winning their semi-final heat easily, and were heading for an apparent showdown in the finals.
In that race, they did not disappoint. Lined up next to each other in lanes four (Walker) and five (Demus), they both took off flying out of the blocks. They matched each other stride for stride for the first four hurdles, then Walker took a slight lead at hurdle five, which she maintained through hurdle seven. They both cleared hurdle eight at exactly the same time, and zoomed around the last part of the curve into the final straight-away. They matched strides heading into hurdle nine before Demus stuttered slightly. That was all the advantage Walker needed. She stormed home to the finish line, crossing in 52.42 – the second-fastest time ever. Demus also broke 53-flat, finishing in 52.96.
In Demus' 52.63 in Monaco, she had 16-stepped the last two hurdles after 15-stepping all the previous ones. In Berlin, that slight stutter caused her to 17-step hurdle nine, and consequently hurdle ten, and Walker, who had 16-stepped hurdles 8 and 9 before 17-stepping hurdle ten, capitalized on the mistake. In this race, the victory went to the athlete who was better able to maintain her rhythm.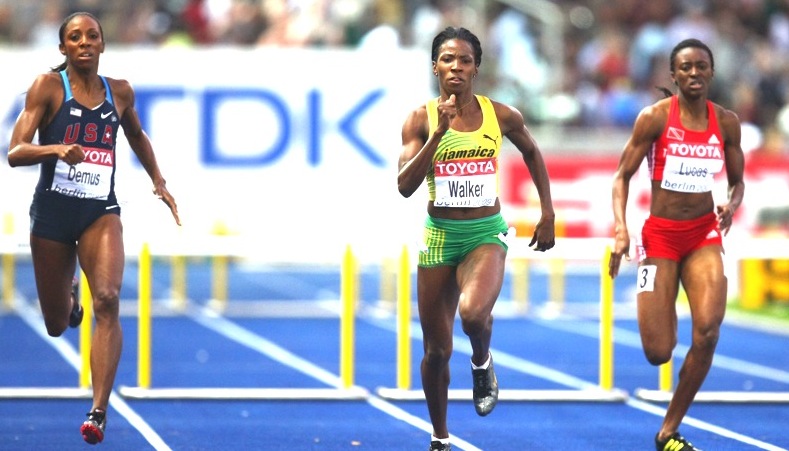 Demus, Walker, and Josanne Lucas of Trinidad race to the finish at the 2009 World Championships in Berlin.
Walker, who had been leading the Monaco race before hitting hurdle seven, savored her Berlin victory. The following passage from an article on www.trackalerts.com says it all:
A key moment en route to Melaine Walker's second consecutive major title was the Aviva London meet on July 25. Lashinda Demus beat her Jamaican opponent by a comfortable margin (53.65 to 54.55) showing her that she had been back at the top after giving birth to twin boys in 2007 and missing the Olympics in Beijing the following year.
"I gave it all I had, but I did not like her face after she had won. She wanted to tell me 'You will not be able to beat me.' It made me mad," Walker admitted smirkingly. She committed herself to the most rigorous training she had ever gone through, thinking about Demus "over and over and how she looked like after she won (in London)."
Okay, no love lost there. Looks like the US vs. Jamaica rivalry is alive and well in the women's 400 hurdles. We'll see what happens in 2010, and beyond.
© 2009 Steve McGill
youtube footage of the World Championship final: