The story of the year in the men's 400m intermediate hurdles would have to be Kerron Clement. Not only because of his second consecutive world championship victory, but, more importantly in my opinion, because he has finally found his rhythm. In both the semi-finals and the finals the WC's, he 13-stepped the whole way. Although his winning time of 47.91 wasn't earth-shattering (indeed, since 1976, only two World Championship or Olympic gold medalists have run slower), his ability to maintain that stride pattern bodes well for the future.
While Clement himself has run faster plenty of times himself, it seems that it has always been a hit-or-miss situation. When he keeps his rhythm, he's a monster; if not, he can look like a beginner. Or, at best, he'll have to rely on a blazing finish coming off the last hurdle to compensate for all the speed he lost by stuttering heading into hurdles nine and ten. For someone of his height and quarter-mile speed, it has seemed nothing short of mystifying as to why, in the past, he wasn't able to 13-step the whole way with consistency. But anyone who has run the 400 hurdles knows that it's not so mystifying. In this race, when it comes to developing a rhythm and maintaining it, you can get it right over and over again in practice and then mess it up in a race. Not everybody is Edwin Moses. Most of us aren't. He made it look so easy that we think it should be that easy for everybody. But it's not.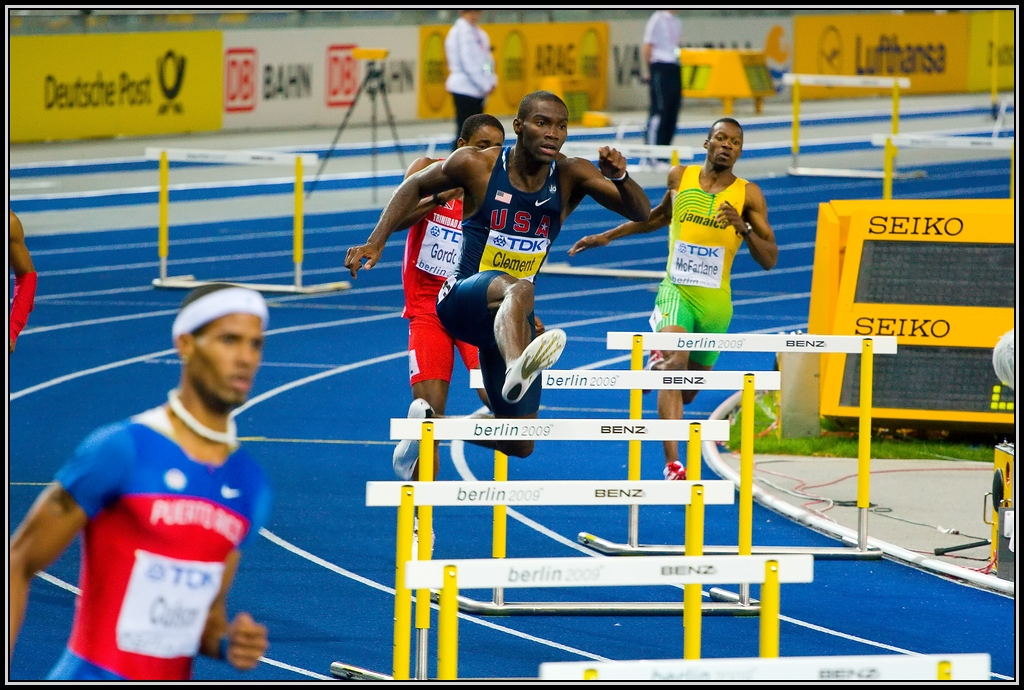 Clement on his way to World Championship gold. Puerto Rico's Javier Culson (bottom left) finished second. Trinidad's Jehue Gordon (behind Clement) was a surprising fourth.
Clement is one of those athletes who, when push comes to shove, has always been able to rely on his athletic ability, his will to win, and his speed to cover up his flaws. But there comes a time in every hurdler's career when you have to learn how to hurdle. From a technical standpoint, Clement still has some flaws to fix, but from a rhythmic standpoint, he has arrived. Because he was so good at such a young age, it's easy to forget that he's still only 23 years old. If he can ingrain this 13-stride pattern in the coming years, then he should be a 47.50-and-under guy for a good stretch of his career.
Only two other athletes – L.J. Van Zyl and Bershawn Jackson – broke the 48.00 barrier in 2009. Both did it in Monaco in late July, with Van Zyl edging Jackson, 47.94 – 47.98. Jackson, who was bothered by nagging injuries throughout the year, finished third at the World Championships, while the silver went to Puerto Rico's Javier Culson, who had a break-out year and looks like he'll be contending for many years to come.
Trinidad's Jehue Gordon finished fourth; the performance of this 17-year-old was a bit of a shocker. I certainly didn't see it coming. It looks like Gordon can be included in the youth movement that the event is undergoing, along with NCAA champion Jeshua Anderson, NCAA runner-up Johnny Dutch, Pan-Am Junior champion William Wynne, and Pan-Am Junior runner-up Reggie Wyatt, who spent last spring busting up all the high school 300h records. Anyone who knows me knows I was rooting for Dutch in Berlin, but things didn't go as well as hoped, but he'll be back, as will the rest of these guys.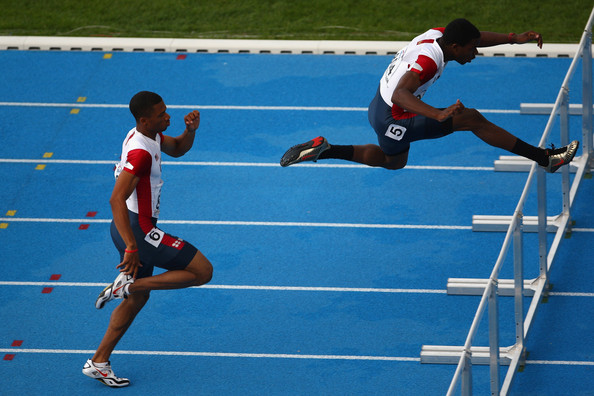 Johnny Dutch (left) and Jeshua Anderson, seen here at the 2008 World Junior Championships, are leaders of the group of rising stars in the 400 hurdles.
With all these young guys ready to go to battle against the current stars, the event seems to be in very good shape for the foreseeable future.
© 2009 Steve McGill