I'd say that 2009 was definitely a down year in the men's 110 meter high hurdles. The fastest time in the 110s was Dayron Robles' 13.04. I don't know the last year no one broke 13.00 in this event, but it had to be a long, long time ago. Part of the explanation has to be injuries. For all or parts of the year, several of the world's top high hurdlers missed competitions due to injury. Most obvious was Liu Xiang, who did not compete at all until September, David Oliver, who ran a 13.09 very early in the year before being shelved for basically the rest of the outdoor season with a calf injury, and Robles, who had to bail out of the World Championships semi-final due to a hamstring strain.
Overall, Robles stands head and shoulders above the rest as the world's best for 2009. In many of his victories, he seemed to be straight-up bored out there, running just fast enough to win. Perhaps those races were early signs that his hamstring was already giving him trouble. Whatever the case, he dominated, but never looked as fast and sharp as the Robles of 2008.

World record holder Dayron Robles of Cuba goes down with a hamstring injury in the 2009 World Championships semi-finals.
As for Xiang, his 13.15 second-place finish to Terrence Trammell in late September in Shanghai gives us reason to believe that he will be back to full strength in 2010, and that maybe he and Robles will actually have some head-to-head battles with both of them healthy and in their physical primes. For me, the return of Xiang was the highlight of the season. The event needs him. I consider him the most technically efficient hurdler who has ever raced. Were his career to be shortened by injury, that would be nothing less than tragic, and we'd all be the worse off for it.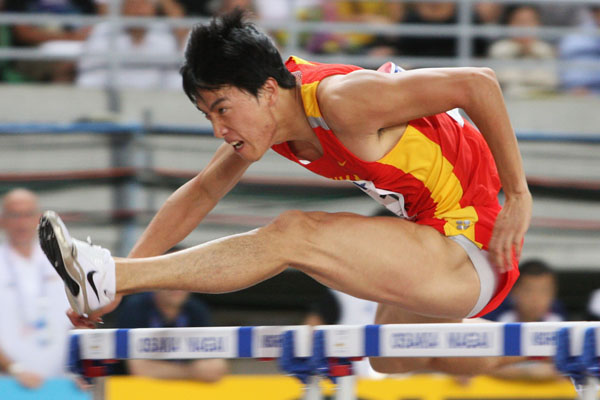 Liu's late-season 13.15 in Shanghai gives reason to believe he'll be back in top form in 2010.
For Oliver, who has steadily improved in each of his seasons as a professional, 2009 had to be especially frustrating not only because he didn't get a chance to compete at the national and world championships, but also because he seemed so primed to have a breakthrough season, as evidenced by his early-season 13.09. Still, D.O. is young enough, good enough, and mentally-tough enough that there's no reason to think he won't return to top form next year. It is my opinion, with apologies to Trammell, David Payne, and others, that Oliver represents the United States' best hope of the U.S. once again having the world's #1 ranked high hurdler.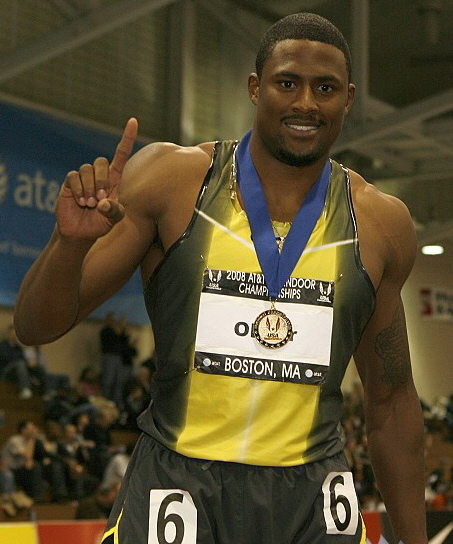 Thanks to a persistent calf injury, it was no-go for D.O. in 2009.
Also of interest were the development of a few hurdlers on the rise, including former hurdler turned sprinter turned hurdler again, Dwight Thomas of Jamaica, who finished the season with a new personal best of 13.16. Then there was Dexter Faulk of the US, who had what was arguably the best season of any US hurdler. Faulk brought his personal best down to 13.13 and seems intent on continuing to run faster. Finally, and perhaps most obviously, there was Ryan Brathwaite of Barbados, who shocked a whole lot of people, including myself, with his World Championship gold. The time, 13.14, was more or less mediocre for a first-place finish at a major championship, but gold is gold, and Brathwaite is only 21, so he still has a way to go before he reaches his peak.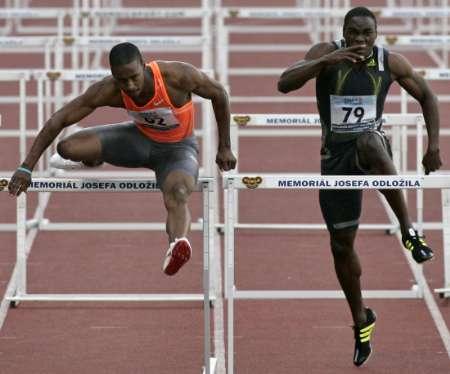 Expect to see a lot of Faulk (left) and Thomas (right) in 2010, as both had big years in 2009.
It's hard to talk about Brathwaite's gold medal without talking about Trammell's silver, which I would argue was the greatest disappointment of the season. With Xiang, Oliver, and Robles out with injury, this seemed to be the moment when Trammell would finally claim that ever-elusive major-championship gold. Personally, I'm more disappointed for him than I am with him. Any true fan of the sport and the event would have to appreciate his level of commitment, dedication, and consistency. And it's hard to name many athletes who have represented the US with more class and dignity than Trammell over the years. So of course you want to see him do well, and you don't want to see him burdened with the stigma of not being able to win the big one. He hit some hurdles in the WC final and didn't seem to ever really establish a rhythm. It seems to me that because he relies so heavily on his speed and his lead leg, there's always going to be a point in the race when his trail leg is either too slow, too late, or too wide, and that even if he doesn't make a major mistake, he'll lose just enough balance to negate his speed advantage.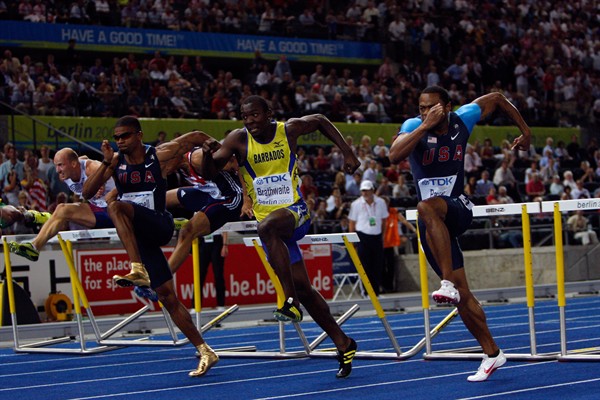 Brathwaite edges Trammell and Payne in the World Championship final.
Overall, if I had to assess the 110 hurdles in 2009, I would have to let out a relatively wide yawn and hope for better things to come in 2010.
© 2009 Steve McGill
Youtube footage of the World Championship final: