The 2008 Olympic Games in Beijing, China ran through the gamut of emotions. They were dramatic, disappointing, tragic, breathtaking, awe-inspiring, frustrating, agonizing, touching, disastrous, and inspiring all rolled into one. In this article I'll take a look back on some of my own impressions of the track events, then onto general impressions of the Games and the US telecast.
US Men Sweep 400 Hurdles
For me, the highlight of the Games was the US men's sweep of the 400 meter intermediate hurdles, and particularly Angelo Taylor's incredible "don't-call-it-a" comeback to the top of the event at the age of 29 after falling off the map for several years after his 2000 victory in the same event in Sydney, Australia. Taylor looked very strong throughout the rounds, was the only hurdler to break 48 seconds in the prelims, and then went on to claim the gold in the final in a world-leading time of 47.25, which ties him with Felix Sanchez for the 8th-fastest time ever. Taylor pretty much dominated the race, pulling away from co-favorites Kerron Clement and Bershawn Jackson in the homestretch.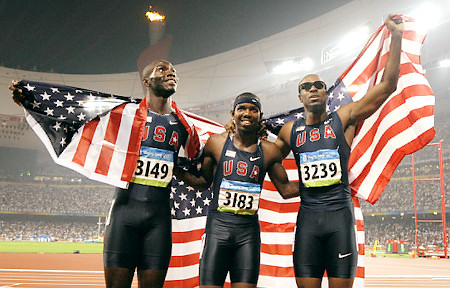 Clement, Jackson, and Taylor celebrate their sweep of the 400m hurdles.
Taylor's victory was impressive on many levels. Firstly, it takes a man of courage to come back after eight years to reclaim a title that no one gave him much of a chance of winning. Prior to the meet, all the talk was about Jackson and Clement, and I was as guilty of that as anyone. While acknowledging that Taylor was a great athlete, I saw no reason to believe that he could surpass his younger countrymen. At the Olympic trials, he was fifth coming off the last hurdle, then roared to the finish line to claim the third spot and punch his ticket to Beijing. More than anyone else on the entire US team, Taylor peaked at the right time, running his best races at the Games. That can't be an accident. That must've been the plan all along, and you've got to give him major credit for pulling it off.
Another reason Taylor's Olympic final race was so impressive is because it brought the event back to the level where it belongs. After the standards set by past greats like Edwin Moses, Andre Phillips, Kevin Young, Derrick Adkins, Sanchez, and Taylor himself in 2000, the idea of an Olympic final being won without someone going under 48-flat really didn't seem very appealing, although it seemed very possible heading into the meet. A 47-low is what it should take to be an Olympic champion, and anyone with hopes of being a gold medalist should expect to have to run that fast. It almost looks like Clement and Jackson were just counting on each other to make mistakes, while Taylor ran aggressively without regard for either of them and didn't look back.
Dayron (yawn)
It was just too easy for Dayron. In the men's 110 meter hurdles, Robles cruised to an easy victory over Americans David Payne and David Oliver. Robles didn't touch a hurdle, ran a precision-perfect race, and was never challenged. Oliver got out to a slow start, and though he made up much ground in the latter half of the race, it wasn't nearly enough to come close to Robles, and not quite enough to catch Payne for the silver. You've gotta give much credit to Payne and Oliver for earning Olympic medals when considering they weren't on anyone's radar this time three years ago. Oliver's races earlier this year, including an outstanding performance at the US Trials, led me to believe that he had a legitimate chance to upset Robles, but it seems that his start did betray him. As for Payne, he's another one, like Taylor, who comes up with his best races at the best times, and comes through under pressure.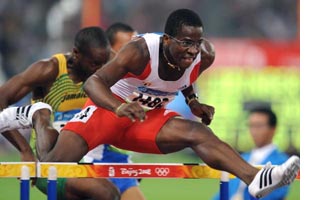 Robles on his way to an easy victory in the 110s.
But let's face it, with Liu Xiang out of the race due to injury, the finals lost much of their luster before the gun even went off. I mean, wasn't the whole point of having the Olympics in Beijing so that Liu could do his thing in front of the home crowd?
The Liu Xiang situation is one that I find very confusing, and perhaps even a bit disturbing. It was his hamstring that had been bothering him all year, keeping him out of meets, then it turns out that his Achilles was the reason he was unable to make a go of it in the Games. And now his coach says that he's been having problems with both for six years or so. I know it's not always wise to speculate, but in putting the pieces together, it seems to me that Xiang never had a legitimate shot of being healthy enough to compete at the Games, and that if it had been any other year besides an Olympic year – with the Games in his home nation no less – he would've shut it down for the season. Now, who knows how much he has aggravated his injuries in the attempt to compete and not let down the millions of Chinese fans who were so desperate to see him emerge victorious? Who knows if we'll ever again see the sensational Liu Xiang who won a gold medal at the 2004 Olympics, set a new world record in 2006, and won a World Championship gold medal in 2007? I mean, look at Ladji Doucoure. Although never the master technician that Xiang is, Doucoure suffered injuries after winning the World Championship in 2005, and although he is still among the elite, he has yet to return to that 2005 level of performance ever since. Xiang wouldn't be the first athlete who tried too hard to come back too soon from injury and thereby did significant damage to his career. NBA player Grant Hill stands out to me as an obvious example. Back when he played for the Pistons, he tried to play through an ankle injury and ended up aggravating the injury to the point where he missed huge chunks of seasons for the next several years, and never returned to the level of superstardom that had become commonplace for him.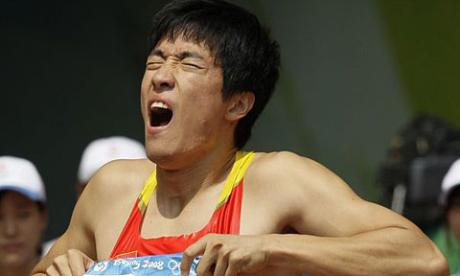 Liu Xiang expresses the agony of a nation after bowing out of competition
The pressure that Xiang felt to perform shouldn't be brushed off as something unique to the Chinese. We here in America are very bad when it comes to putting superhuman demands on our athletes, and then vilifying them when they fail to meet such lofty expectations. But anyway, I just hope that Xiang can return to his old self in 2009 and renew his rivalry with the sensational Robles.
On message boards on various websites, I've seen where people are saying that the anguish Xiang showed in his face prior to settling into the starting blocks for his preliminary heat was contrived, as was the limping he did after the false start. These people are saying that Xiang was putting on a show in order to let the fans know he was experiencing tremendous pain, not just bailing out. All people saying such things really need to go somewhere and shut the f*#% up. I hate how people try to trivialize someone's else's genuine struggles, how they try to make light of someone else's heartbreak. People who think everything in life is contrived or staged have been watching too many reality TV shows. Xiang's physical pain was real, and the emotional anguish he displayed was equally real. He wanted to run, and he couldn't. Any athlete who has been where he was knows he felt. Enough said on that subject.
No Terrence
Another athlete who was prevented by injury to get a chance to compete in Beijing was American 110 hurdler Terrence Trammell. Definitely one of the favorites to win a medal, and also considered a gold-medal hopeful, Trammell had to stop in the midst of his preliminary race because of a strained hamstring. A silver medalist in 2000 and 2004, as well as at the 2007 World Championships, a healthy Trammell would've been in the thick of things here, and may have given Robles a run for his money. But as Charles Barkley once said (yes, I'm quoting Charles Barkley), "If ifs were gifts, every day would be Christmas." Hopefully Trammell will get in some good races in Europe before the season ends, and with 2009 being another World Championship year, fully expect him to be back fighting for a spot on that team.
American Tragedies
Besides Trammell, several other American gold-medal hopefuls fell short of their dreams in Beijing. In the hurdles, the most tragic figure would have to be 100m hurdler Lolo Jones. Jones was having a season for the ages all the way leading up to the Games, and didn't seem to be letting up through the rounds. Entering the finals she had established herself as the prohibitive favorite in a very strong field. Susanna Kallur, who had looked very sharp in her preliminary heat, ran on top of the first hurdle in her semi-final race and actually ran under the hurdle with her lead leg. So, with no Kallur, Jones would not have to worry about the rival with the most credentials. There would still be plenty of competition, but it was one of those situations where, if you run your race, you win.
And for eight hurdles, Jones was running her race, I'm talking, she was rolling. No doubt, she'd've been in the 12.30 range if she had stayed mistake-free. But the sole of her lead foot grabbed the ninth hurdle, then she amazingly stayed on her feet to clear the tenth hurdle and stumble through the finish line in seventh place. Jones' mishap serves as a reminder that, in the hurdles, you constantly have to keep adapting to your speed. It's so easy to get into the "zone" that you forget there are hurdles in your way. In Lolo's case, it doesn't look so much like she got too crowded, but more like she was trying to snap down before her foot had cleared the crossbar. She was so intent on sprinting that she started sprinting before she had cleared the hurdle. It's an easy mistake to make, and not an uncommon one, especially for women, who are able to run much closer to maximum speed than the men. In the post-race interview with NBC's Bob Neumaier, Jones put on a brave face and answered all the questions diplomatically. But a few minutes later the camera found her in the runway, all alone, standing against a wall and crying her eyes out. For me, it was the saddest, most moving moment of the entire Games. Though yes, NBC was exploiting her in a private moment of grief, I was glad they showed it, because it reminded me of just how much all of this matters when you give your whole life to it.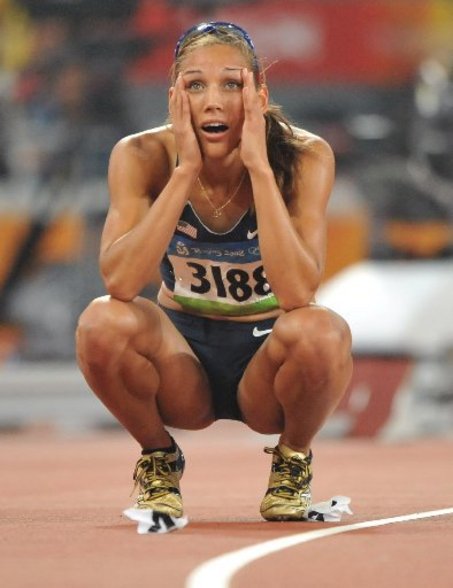 Lolo Jones reacts in stunned disbelief after the 100h final.
Jones' grief helped create joy for Dawn Harper, who seized the opportunity to take the gold in the 100 hurdles. Harper, who finished 3rd at the US trials, ran a really strong race from start to finish in the Olympic final, although not many of us took notice because our eyes were focused on Lolo.
In the women's 400 hurdles (the only hurdle event in which I successfully predicted the winner), US trials winner Tiffany Ross-Williams hit one of the hurdles on the second curve pretty hard, and that was pretty much the end for her. She finished the race, but in last place, as the crash was too much to recover from. Meanwhile, let's congratulate Sheena Tosta for her 2nd-place finish, earning herself a silver medal. Like Taylor in the men's 400h, Tosta peaked at the right time.
American Comedy (of Errors)
Yeah yeah yeah, batons were falling like rain in Beijing, and you had to laugh to keep from crying. In the prelims of both the men's and women's 4×100 meter relays, Americans dropped the baton on the exchange from the 3rd to 4th leg. My thing is, it's a prelim, turn around and look the baton into your hand if you have to. Just get into the final. To their credit, all of the athletes accepted their share of the blame and no one tried to point fingers, but damn, just get the stick around safely. Is that too much to ask for a prelim? Especially when you have that kind of speed? The worst was watching it all tape-delayed, already knowing what had happened, just waiting for the disaster to unfold.
Gotta feel sorry for Tyson Gay. He was part of the muffed exchange on the men's side, he didn't make it to the 100 meter final, and he had to watch Usain Bolt revolutionize the sprinting landscape with his out-of-this-world performances in the 100, 200, and 4×1.

This was, arguably, the low point of the meet for the US track team.
Then there were the disqualifications in the men's 200. Wallace Spearmon found out at the end of his victory lap that he would not be receiving the bronze medal because of a lane violation. In the ensuing protest, the American contingent managed to get silver medalist Churandy Martina disqualified for the same violation, thus allowing Americans Shawn Crawford and Walter Dix to move up to the silver and bronze positions. This violation takes place much more often than it is called (much like the three-second lane violation in professional basketball), and while replays reveal that neither Spearmon nor Martina gained much of an advantage (if any at all), the fact remains they did break the rule. I'm not sure that I'm cool with the American coaches taking down Martina in order to get Dix a medal; it just reeks of that ugly American win-at-all-costs attitude. But I do understand the need to advocate for your athletes. To their credit, neither Crawford nor Dix expressed much joy over being moved up into the medal ranks. Crawford was quoted as saying that he felt like a charity case, and, on the NBC telecast, Dix could be heard saying "I still got beat" as he was leaving the stadium with a family member.
Insane Usain
Obviously, the story of the Beijing Games in the Bird's Nest is Usain Bolt of Jamaica. All I can say is wow. Nothing but gold medals and world records. Because of the rounds, world records are rarely set at the Olympic Games. This cat could probably set a world record in warm-ups if he wanted to. With the way he covers ground, he could probably B-skip to a 10-flat. I remember thinking, when Michael Johnson ran 19.32 in the 200 at the 1996 Olympics, nobody is gonna break this record for the next 100 years. It was the most astonishing track performance I had ever seen. Twelve years later Usain comes along and puts a thick layer of dust on that old record. And that 9.69 in the 100, chillin' for the last 15 meters, well, that's just insane.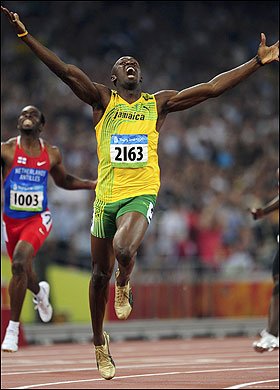 Bolt celebrates his record-setting 200.
Merritt vs. Wariner
If rivalries are good for sports, then the one between quarter-milers LaShawn Merritt and Jeremy Wariner is very good for track and field. These two cats really don't like each other, and though they both try to be diplomatic about it, neither of them is very successful. Wariner truly laid an egg in the final, while Merritt ran the type of race that I was expecting both of them to run. To his credit, Wariner offered no excuses and gave Merritt credit for a great race. And it was nice to see the two of them working together as teammates in the 4×4 on the way to setting a new Olympic record.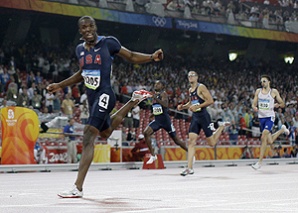 Merritt wins convincingly over Wariner in the 400 final.
NBC
NBC's coverage was, in a word, garbage. I'm sick of Tom Hammond. I'm sick of Lewis Johnson. I'm sick of Carol Lewis. I'm sick of Ato Boldon. And I'm super-sick of Bob Neumaier. This whole "sideline reporter" thing might work well in team sports like pro football and basketball (actually, it's annoying as hell there too), but in track it's just downright ridiculous. Why are you interviewing athletes right after they've run, when they're too tired to talk and their emotions are still sky high? By my count, three athletes basically told Neumaier where he could go: Wallace Spearmon when Neumaier reacted with surprise when Spearmon said he was going to file a protest after being disqualified from the 200, Jeremy Wariner when Neumaier asked if the coaching change earlier in the year had anything to do with why he came up short in the 400, and Walter Dix when Neumaier giddily asked him a question about how great Usain Bolt is. There were plenty of other athletes who would've been justified in reacting more angrily (Lolo Jones and Tyson Gay, to name two), but didn't. I guess Neumaier would say he's asking the "tough" questions because that's what gritty reporting is all about, but really he's just being ignorant. You just lost a race that you've trained all your life for, then here comes this fool who knows nothing about your training regimen asking you if you should've stuck with your old coach. Whether or not Wariner should have switched coaches is a legitimate question in light of the fact that he fell short of his goal, but it's not a question that should've been asked at that moment.
And then there's Bob Costas. What a royal pain in the ass. I guess he considers himself a 21st-century version of Jim McKay, but he just reeks with smugness and arrogance, and is nowhere near the comforting, welcoming figure that McKay was. The very sight of Costas makes me want to change the channel. What really irked me the most was his criticism of Usain Bolt. Costas is supposedly a sports guy. He's covered professional basketball, football, baseball, tennis, golf. Everything. You mean to tell me that, with all the over-the-top egomaniacs he's seen over the years, he's gonna criticize Bolt for celebrating before he crossed the finish line? You've gotta be kidding me. Costas spent a whole week kissing Michael Phelps' butt, then when something other-worldly happens on the track, the first thing he does is find something critical to discuss. Personally, I had no problem with Bolt's celebration. Bolt is a breath of fresh air in a sport filled with a whole lot of pollution. He's funny, he's gregarious, he's playful, and he gets down to business when it's time to get down to business. What more could you want? And your boy Ato Boldon had the chance to school Costas on his ignorance, but instead, he agreed with him. You mean to tell me that someone who trained with Maurice Greene, Jon Drummond, and Larry Wade would agree that Usain Bolt needs to tone it down? Please tell me I'm dreaming, because this can't be happening.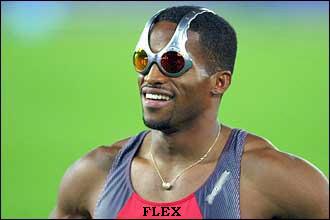 Considering how Boldon had a flair for the dramatic during his career,
it's hard to understand why he would have a problem with Bolt.
Then, after Sanya Richards explained that she had cramped up at the end of the women's 400, Boldon had the nerve to doubt her. As the replay of the final 100 meters of the race played on the television screen, he was saying that he didn't see any cramp occur. Come on Ato. Why are you doubting the word of an athlete who never makes excuses, who puts it all out on the line every time the guns goes off?
Kudos to Hammond and Johnson for their criticism of the 4×1's. Their criticism was harsh, but it was well-deserved. What bothers me with Hammond and Johnson is that they always focus on one or two athletes before each race, like the other six (or more, for distance events) athletes lining up aren't even there. Then when someone who wasn't on their radar does well, they don't even know who the athlete is. When watching a telecast, you expect the commentators to be able to provide you with information and insightful analysis. Too often, I feel like these guys aren't telling me anything I don't already know. Too often, I find myself feeling that their analysis is pretty shallow.
One more thing about Costas. In one of the little "feature" things between actual event coverage, Mary Carillo – a regular tennis commentator for NBC – did a piece on Kung Fu Monks. Guess it was supposed to be an enlightening cultural piece. It was awful. She basically took something sacred and made a joke out of it. At one point, she started punching a Shaolin monk in the stomach and said something stupid like, "Wow, there's no way I can hurt him." Then she smiled and turned to a kid who was standing nearby and said, "You try." What an ignorant idiot. Then, when the piece was over and she and Costas were talking about it in the studio, he commented that the only thing missing was Carl Douglas' old '70s song "Kung Fu Fighting." What a complete and total ignorant idiot. How can you be so arrogant that you don't even know you're being ignorant?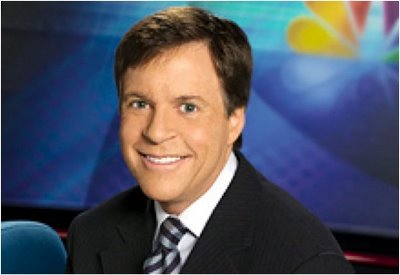 Don't you just love that smile?
Finally, the way NBC handled the coverage just made no sense. And I'm not just talking about track, and how all the big races came on after 11pm est. My question is, CAN A BROTHER GET SOME BOXING UP IN HERE? The first Olympics I remember seeing was the 1976 Olympics in Montreal. That was the Olympics of Sugar Ray Leonard, Michael and Leon Spinks, Leo Randolph, Howard Davis, and big John Tate. All won gold except Tate, who fell to Cuban legend Teofilo Stevenson. This year I saw only one boxing match on TV, and that was on the last day of competition. Maybe there was more boxing shown, but I didn't see any of it. I couldn't even tell you who the American boxers were. Back in the days of my youth, boxing and wrestling were two huge Olympic sports, but now we're inundated with beach volleyball, diving, synchronized diving (you've gotta be kidding me), and the usual litany of swimming and gymnastics. They even threw in some rhythmic gymnastics and motorcycle riding.
Final Thoughts
All in all, it was a rough Olympics on the track for the USA. Gold medal hopefuls Sanya Richards, Tyson Gay, Allyson Felix, Bernard Lagat, and the 4×100 relays all came up short, and we were swept out of the medals in the women's 100. But the demise of USA Track & Field is being greatly exaggerated. The overall medal count fell into the usual range. In the hurdles, America won three of the six medals in the short hurdles, and four of the six medals in the long hurdles. A lot of the disappointments took place in highly visible events, which is the reason for all the outcry. But in every track meet, you win some and you lose some, some things go your way and some things don't. Either way, keep a level head, and you'll always be ready for the next meet.
© 2008 Steve McGill