Although 2006 features no World Championships and no Olympic Games, the competitive level in the 110 meter high hurdles is arguably at an all-time high. The 110s have turned into one of the most competitive events in track and field. Of course, I would argue that it is the most competitive event. Several hurdlers have broken or tied their personal bests and some new hurdlers have emerged to make a major impact on the international level, while some old-schoolers are fighting to stay in the hunt.
Let's take a look at some of the big happenings that have occurred so far: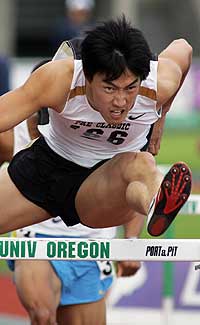 The most notable achievement was Liu Xiang's new world record of 12.88 on July 11th in Lausanne, and Dominique Arnold's new American record of 12.90 in the same race. As mentioned in a previous article, Xiang and Arnold have significantly raised the standards in the event, to the point where running sub-13.00 has to be considered a requirement for anyone with plans on winning a gold medal in 2007 or 2008. Xiang's coaches believe that he can run even faster. And he probably can. He's still young, can still improve technically, and seems to have the emotional stability necessary to deal with the pressure of being the top gun. One of his coaches declared that Xiang could go as fast as 12.51. The day anybody runs 12.51 over ten 42-inch hurdles will be the day I dunk on Shaq Diesel, but the point is well-taken. Xiang could well become the unequivocal best hurdler in history if he keeps doing what he's doing.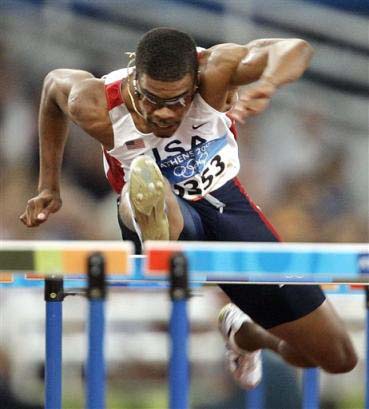 As for Arnold, he and Terrence Trammell have taken on the mantle of America's best hope to take on Xiang and others. In the Lausanne race, Trammell tied his personal best of 13.02, and he has been running with remarkable consistency in the last two years. Both are young enough to be major players in the next two years. Arnold is the better technician, while Trammell is the better flat sprinter. Right now, you would have to say that Arnold's 12.90 has created some separation between the two, but only if he stays in the sub-13.00 range.
Another American who has made his way onto the A-list of elite high hurdlers is Aries Merritt, who broke Greg Foster's 28-year-old NCAA record of 13.22 by running 13.21 at the NCAA nationals. Since then, the Tennessee grad has lowered his personal best to 13.12, also at the Lausanne meet. He has run under 13.20 two other times as well, so, he has arrived.
Meanwhile, it seems that ageless wonder Allen Johnson is finally beginning to show some wear. After a phenomenal 2005, he has definitely dropped off in 2006. For the first time since I can remember, he didn't even make the finals at the US Nationals. Maybe because it's a down year in track, Johnson has decided to take it easy so he can gear up for 2007 and one more Olympic run in 2008. That's what I'd like to think, but I don't know.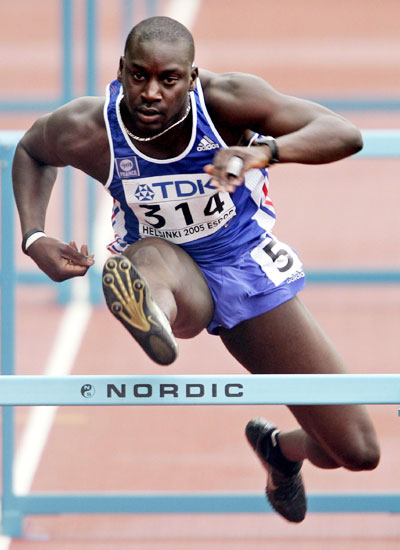 Another veteran, albeit a much younger one, who has fallen down a few notches on the depth chart is France's Ladji Doucoure. After his 2005 World Championship victory, it looked like he and Xiang would be slugging it out for hurdle supremacy for the next decade. But while Xiang has continued to progress, Doucoure has struggled. In the Lausanne race, where just about everybody pr'ed, Doucoure finished seventh in 13.46. And he looked sloppy doing it. In Paris on July 8th, he finished fifth in 13.21, which is his fastest time of the year thus far. A tremendous talent, Doucoure will have to seriously address his technical issues if he's going to consistently roll down the track as fast as his opponents are.
Okay, so who is this Dayron Robles cat? Amidst all the talk about Xiang and Arnold, this nineteen-year-old Cuban has kind of slipped under the radar. But time may prove him to be the best of them all. At the Lausanne meet, he finished fourth in 13.04. If you're like me, you didn't pay him any notice because you were too busy watching Xiang and Arnold battle for first. But hey man, 13.04, and he's only nineteen years old. As Grady on Sanford & Son would say, goodgooblygoop. He has also run 13.11 this year, and most recently, in Madrid on July 17th, he defeated Merritt, 13.08 – 13.19. After that race, he was quoted on www.iaaf.org as saying, "definitely Liu Xiang is not unbeatable, let's see in a couple of years." Obviously, Robles doesn't lack confidence.
Funny thing is, new stars usually emerge in Olympic years, not in years with no major championship meets. Which makes this resurgence in the high hurdles all the more fascinating. It's not hard to envision a 2007 World Championships final in which as many as six guys break 13.00 (Xiang, Arnold, Trammell, Robles, Doucoure, Merritt). Maybe seven if Johnson can get his mojo back before riding off into the sunset. Wouldn't that be something.
© 2006 Steve McGill