Well it's that time again. Time to play "Who ya got?" as another international championship meet approaches. This one, the 2008 Olympic Games in Beijing, China, should prove to be very exciting in the hurdling events. Besides the usual hype, there's the massive media attention surrounding Liu Xiang's attempt to win a gold medal in front of the hometown crowd. There are images of Liu on busses and billboards and posters all over the country. Will Xiang be able to repeat as the Olympic 110 champion? For my answer, and my predictions for the other hurdling events, keep reading.
Men's 110m High Hurdles
Gold: Liu Xiang
Silver: Dayron Robles
Bronze: David Oliver
Who would've thought a year ago that by predicting Xiang to win the 110s, I'd be going with the underdog. But what a difference a year makes. Since the World Championships in August of 2007, Robles has taken over as the best high hurdler in the world. He dominated the post-WC invitationals last year, and has been dominating ever since. Indoors this year he flirted with the 60m HH world record, and then of course went on to break Xiang's outdoor record. Robles owns the top three times in the world this year, and his margin of victory at times – against quality competition – has been ridiculously wide. So why am I picking Xiang?
Rounds. In a meet with multiple rounds, I like Xiang over Robles. I could be wrong on this one, but if I am, I am, and I'll have to go to work the next day and teach my classes either way. Meets with rounds require the ability to sustain a high level of concentration and relaxation in a very high pressure situation. Xiang won the World Championships last year out of lane eight, while Robles ran a disappointing sub-par race in the final. I know Xiang has the weight of the world on his shoulders with the whole country of China laying all its hopes on him to grab a gold for the honor of the nation, and I know he's been having trouble all summer long with that hamstring of his. But he did run 13.18 against nobody in a practice meet recently, and I'm counting on the belief that he has been extra cautious about racing this summer in order to ensure that he'll be ready for the Olympics. In other words, I'm thinking that Xiang's hamstring is healed and he'll be ready to go.
But let's be honest, for Xiang to win, Robles has to make a mistake. Robles is clearly the better hurdler now. His technique is the equal of Xiang's, and Robles is the better athlete. But I think the rounds will wear on Robles more than on Xiang, and that Robles will make a mistake in the final. And it doesn't have to be a big one for Xiang to take advantage.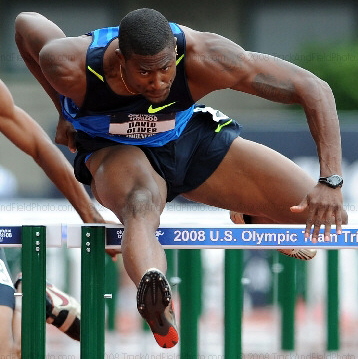 The race between Xiang and Robles is what everyone is coming to see, but Oliver should have something to say about that.
Oliver is the clear-cut favorite for third. If you're basing your predictions solely on 2008 performances up to this point, then he's the clear-cut favorite for second; the only hurdler to run faster than him this year is Robles. Oliver and Robles own all of the top ten fastest 110 times this year. Like Xiang, Oliver runs very well in meets with rounds, as revealed by his remarkable showing at the US Trials, where he ran two sub-13's in one day, although granted they were both wind-aided. I do believe that, barring a disaster, Oliver is a lock to medal. I'll be cheering for him to win the gold for the obvious reasons that he's an American and because he has been so gracious in granting interviews for this website, but defeating Robles will be a monumental task with the way Robles has been running this year, and a healthy Xiang will be similarly difficult to surpass.
Other top medal contenders include Americans Terrence Trammell and David Payne, as well as Xiang's Chinese countryman Dongpeng Shi. Both Payne and Shi have an outside chance to medal at best, but they should both be in the final, so they can't be counted out. If Xiang's hamstring does not hold out through the rounds, then Trammell should medal. And with his vast international experience and his proven ability to come up big in big races, there's always the chance he could medal higher than a bronze. Hopefully he's not too upset about having finished a distance in second in both of Robles' sub-12.90 races earlier this year. That kind of experience can do damage to your psyche, no matter who you are. But at championship meets where the focus is on getting through the rounds, all that stuff goes out the window, so expect a quality performance from Trammell.
Men's 400m Intermediate Hurdles
Gold: Bershawn Jackson
Silver: Kerron Clement
Bronze: Angelo Taylor
Yes, I'm predicting an American sweep here, and not just because I'm American, but because that's the way it looks like things will play out. And I'm predicting that the order of the top three will be the same as it was at the US trials.
While Clement owns the fastest time of the year thus far, is the only hurdler to run under 48.00 up to this point of 2008, and defeated Jackson in a meet in Rome a couple weeks after the trials, I still like Jackson here. Neither has done anything to create separation from the other, but I'm going with Jackson simply based on the fact that he is less prone to make mistakes. Clement's hurdling technique is still average at best, which causes him to waste too much energy getting over hurdles. Jackson being a left-leg lead all the way around the track also gives him an advantage, which he quite clearly uses. Jackson hugs the curve like a quarter-miler, and clears the curve hurdles just on the edge of the bar, wasting no space whatsoever in the lane.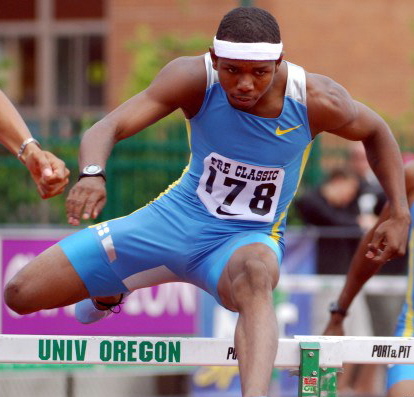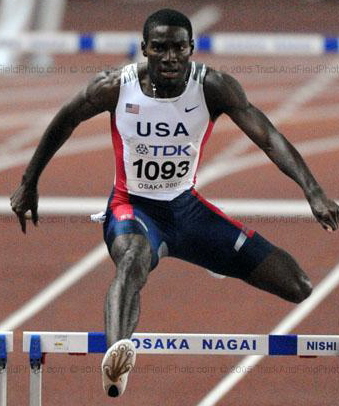 If I'm good at predicting the future, then Jackson and Clement will finish 1-2 at the Games, just like they did at the trials.
Another reason I like Jackson is because I think he has figured out how to beat Clement. Clement's strength has always been his quarter-mile speed and his ability to walk down opponents in the run-in off the last hurdle. In the trials final, Jackson started off with a nice bounding stride before cranking it up to a higher gear after the fifth hurdle. Jackson must have figured out, "If I'm gonna beat this cat, I've gotta save something for the end." So that's what he does now, and by doing so, he pretty much negates one of Clement's major strengths.
Still, if Clement 13-steps the whole way and doesn't stutter to 15 anywhere on the final straight-away, Jackson shouldn't be able to hold him off. But Jackson definitely has a big heart; I'll never forget that 47.30 he ran in the rain in the 2005 WC's. I think his heart will be the difference here too.
Taylor is looking like the best of the rest, so I like him for the bronze. Other contenders for that spot would be L.J. Van Zyl and Danny McFarlane.
Women's 100m Hurdles
Gold: Lolo Jones
Silver: Brigitte Foster-Hylton
Bronze: Josephine Onyia
This is a very hard race to predict because there are so many legitimate contenders. Unlike in the men's race where there are four hurdlers who stand out as the top medal contenders (Xiang, Robles, Oliver, Trammell), any woman who makes the final has a very real chance to win. I'm going with Lolo Jones to earn the gold medal because I was so impressed with her victory at the US trials, where she ran a windy 12.29. She's been looking very fast all year long, dating back to the indoor season. She owns the fastest legal time of the year thus far (12.45), and her combination of speed and technique is breathtaking to watch.
Meanwhile, Foster-Hylton has been similarly impressive. If you're only as good as your last race, then Foster-Hylton is pretty darn good. She ran her seasonal best of 12.49 at Monaco on July 29th, and has defeated Jones earlier this year. Though there are many top-flight hurdlers in the 100 hurdles, I really think it's going to come down to Jones and Foster-Hylton. Both of them are blazing hot right now, but I'm giving the edge to Jones based on her trials performance.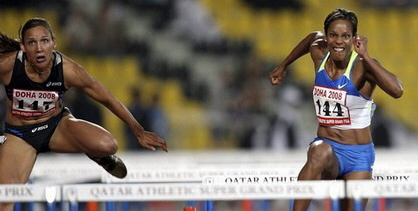 Like they did here in May, Jones and Foster-Hylton should be battling for first at the Games.
Who will be the third medalist? Very good question. I like Josephine Onyia, but I also like Damu Cherry, Sally McLellan, and Delloreen Ennis-London. It's gonna come down to who has the best start and who makes the fewest mistakes along the way. And although Susanna Kallur hasn't done much outdoors this year, I'm not counting her out either. Jones and Foster-Hylton will also have to run mistake-free races to avoid falling back to the pack. Should be exciting.
Women's 400m Hurdles
Gold: Melaine Walker
Silver: Tiffany Ross-Williams
Bronze: Nickiesha Wilson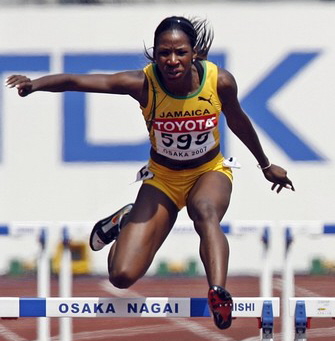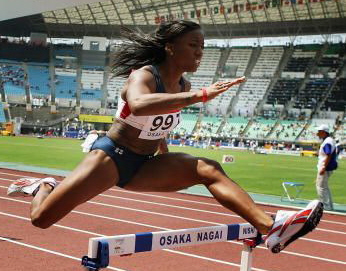 Walker has emerged as the favorite, but Williams has also been very impressive lately.
With Yuliya Pechenkina and Jana Rawlinson out with injuries, Walker definitely stands out as the favorite in this event. She owns five of the twelve fastest times this year, including the world-leading 53.48 that she ran at the end of July in Monaco. Williams, who finished second in Monaco, has also been consistent in 2008. She ran a very strong race at the US trials, winning by a wide margin of more than half a second. I like Wilson over Anna Jesien for the bronze for the simple fact that a meet with multiple rounds generally favors the younger athlete. Other medal contenders include Sheena Tosta (53.58 for 3rd at Monaco) and Ekaterina Bikert (seasonal best 54.34). Queen Harrison will be a sentimetal favorite for many American viewers, but her chances of medalling are slim.
© 2008 Steve McGill