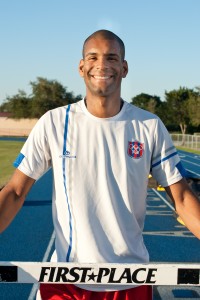 Hector Cotto, a long-time friend and one-time athlete of hurdlesfirst.com webmaster Steve McGill, designed the weight training routines for the workout plans provided by the website. In addition, he has served as a very helpful advisor throughout the process of revamping the site. The 30-year-old Cotto, who competes internationally in the 110 hurdles  for Puerto Rico, was born in Rio Grande, Puerto Rico in 1984. He later moved with his family to Irondequoit, NY, where he attended East Ridge Senior High School. From there, his family moved again, to North Carolina, where he attended Green Hope High School in Morrisville. Cotto began hurdling because his coaches "threw me in the event, and I was pretty good so I stuck with it." Despite not hurdling for long, he finished high school with personal bests of 14.40 in the 110's and 7.46 over the 55m hurdles, which was 11th-fastest in the nation in 2002.
Cotto then attended Fayetteville State University for one year before transferring to East Carolina University, where he set the school record of 13.66. He graduated in 2007, then went on to compete professionally for Puerto Rico. His professional career highlights include competing in the 2008 and 2012 Olympic Games, as well as the 2007, 2009, and 2011 World Championships. He was the 2010 Ibero-American gold medalist in 2010, silver medalist in 2012, and has medaled three times at the Central American and Caribbean Championships. His personal best now stands at 13.49, which is Puerto Rico's national record. He also holds the national record of 7.72 in the 60m hurdles.
When it comes to running the hurdles, Cotto feels that "running is the easy part. To me it's always been about the technique. The ultimate goal is to be so efficient over the hurdles that you can let loose and just run when you race. That's when hurdling is fun. That's what all the hard work is for." Possessed with a highly perceptive hurdling mind, a genuine passion for the sport, and an equally genuine passion for helping kids to grow, don't be surprised to find Cotto coaching hurdlers after his own hurdling career ends.